We'd just crossed a nameless, murky Amazonian river and were moving toward our objective on foot. The two-star general accompanying our motley crew of misfit medics through the Peruvian jungle informed us the advanced security element, just ahead of our location, uncovered a guerilla fighting position equipped with teneraite charges and several automatic weapons. The information elicited little more than a twisted grin from the seasoned special operations alumni on our five-person team.
Somewhat analogous to the current poppy predicament in Afghanistan, the Peruvian military had been engaged in a lengthy and costly battle with violent cartels, some cleverly disguised as legitimate political resistance parties. Tactics of these groups included, but were not limited to, kidnapping women, forcibly impregnating them, and raising the children to follow their own extreme ethos. More often than not, their cocaine cash crop was compulsorily grown against the will of local farmers on their own land. The alternative was death.
Our team had been in country for less than a week but had already treated over 500 patients in tiny remote villages like the one we were currently advancing toward. One of the patients was a particularly adorable 10-year-old girl whose right knee was as pustulent and infected as the radical wing of the third-wave feminist movement. I aspirated about 10cc's of the rancid, green substance from the child's affected leg, gave her a run of strong antibiotics, and wished her well before she disappeared back into the jungle. The team surgeon credited me with saving her leg, a notion I would have otherwise dismissed if she had access to any other medical treatment facility whatsoever. Unfortunately, she did not.
Despite knowing only one of the other team members 10 days ago, our camaraderie quickly became palpable. We came together through the pleasurable adversity of standing over an operating table into the early hours of the morning, reconstructing the faces of disfigured local children, then waking at first light to instruct 28 of Peru's finest military medics on the art of tourniquet application and other notable tactical combat trauma interventions. The 3-day combat casualty course contained enough valuable instruction to leverage access to the Peruvian military rotary wing aircraft responsible for dropping us in our now-remote location.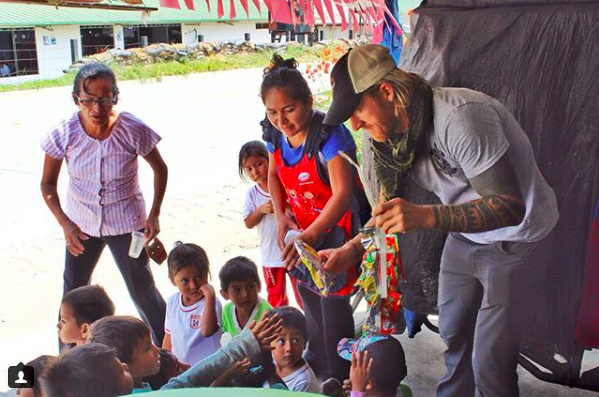 The risk we were taking being here was made subtly evident by the kneeling silhouettes of heavily armed and evenly spaced commandos pulling vigilant security just inside the treeline. Our team leader, a former Israeli special operations medic known to his friends and enemies as "The Hammer," was in a nostalgic state of bliss in our current situation. This was his sixth or seventh international operation as the head of Team Five, a fact that only makes up the last line of his lengthy and illustrious special operations resume.
We arrived at the village without incident. Most of the town's local population had already gathered in the central meeting place after hearing American doctors were coming to provide free medical attention to all those in need.
"I made myself as useful as a trauma medic can be in the absence of exposed bones and spurting blood …"
The team's oral surgeon, a former US Army Ranger named Kevin whose build more closely resembled a linebacker than a dentist, began extracting rotten teeth, while the medical team's sole female made instant rapport with the tribe's women. Brigit's dichotomous resume as a pediatric care nurse and accomplished bodybuilder made her the perfect fit for the specific blend of physical and mental work the mission demanded.
Doctor Keith, the team's medical surgeon, had been treating patients in war zones since before I could spell EMT. The line of 30 anxious patients he would need to see over the next hour didn't even phase him — just another day at the office.
I made myself as useful as a trauma medic can be in the absence of exposed bones and spurting blood, handing out solar lights and anti-malaria pills. Given our high-profile, two-star tag-along, the security element informed us we would not be staying long. The distant crack of an old rifle round further expedited our outing.
I joked to the general about the team camping here for the night, but he politely declined. After handing out every bit of medicine we could and watching Kevin remove a tooth with a Leatherman tool, we made our way back to the safety of a small forward operating base (FOB) that was reminiscent of the FOB just outside of Kunduz, Afghanistan, where I spent a ruckus-drunk Christmas in 2008 with a horde of rambunctious German soldiers and one very pissed off female reporter.
By the end of the week-long mission, our five-person team had treated close to 600 patients and received about as much sniper fire as former Secretary of State Hillary Clinton did in Bosnia. Before leaving the country, I managed to acquire a large bottle of a substance known as Ayahuasca, walked 12 miles barefoot to Machu Picchu, and subsequently consumed the truth serum — alone on a stone in the middle of a river.