"Well, we got him," Bexar County Sheriff Javier Salazar said Saturday evening. The announcement concluded a massive manhunt for the second of the two brothers involved with the shooting of Balcones Heights Police Department Sgt. Joey Sepulveda. The search stretched into Mexico and back, first with Sijifredo Montemayor, the driver during the shooting incident, arrested by Mexican authorities and later extradited, and Wilfredo Montemayor arrested within several miles of where the shooting took place.
Wilfredo Montemayor, the brother of Sijifredo Montemayor and alleged trigger man responsible for the bullets that hit Sepulveda Thursday afternoon, was arrested Saturday and booked into the Bexar County Jail the same day.
On Saturday morning, a plainclothed investigator walked up to an apartment complex to follow up on a lead from the US Marshals Service Lone Star Fugitive Task Force. According to Salazar, while approaching the building the investigator passed a man who had on a mask and a beanie-style hat pulled down over his eyebrows.
Being an experienced investigator, Salazar said, he "shot him the deuces" while continuing to walk past and then noticed that the man turned around to get a second look, signaling that he could be the suspected shooter. The investigator radioed to the "takedown team" to identify Wilfredo Montemayor and gave them the location.
"Two of our SWAT [team] deputies, in marked vehicles, in full uniform, and in marked vehicles, were able to close in on that suspect and catch him by surprise," Salazar said. "They were able to get him into custody and before he even knew what was going on, they were on him."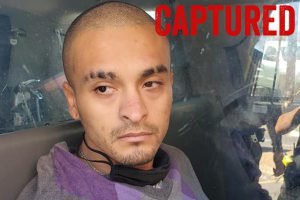 The two deputies found a loaded handgun and narcotics in a fanny pack that they ordered Wilfredo Montemayor to drop before handcuffing him. He was then immediately transported to the Bexar County Jail and questioned for a couple of hours before the Saturday night press conference. "It would literally chill your blood to hear the lack of emotion" that the suspected gunman expressed while being questioned about his part in the shooting of Sepulveda, Salazar said.
The investigation is still underway as they start digging into other persons of interest connected with this case, Salazar said, even with both brothers arrested.
Also during the Saturday press conference, Balcones Heights Police Department Chief John Jahanara provided an update on Sepulveda's current status. For someone who was shot at such close proximity, he said, Sepulveda is recovering quickly, which he described as a "miracle." As of Saturday, Sepulveda is responsive and walking. Jahanara said after talking to Sepulveda and his fellow deputy, it was obvious the two men were worried about each other — and Sepulveda's fellow deputy was relieved to find out that he was going to be okay.