He's tattooed motorcycle gang leaders, Army privates, and special operators, and even Jasen Rauch, the lead guitarist of rock band Breaking Benjamin.
Before he became a tattoo industry star, Will XX was an undocumented immigrant, a Los Angeles resident, and an Army aircraft electrician. He made sergeant, did nine years in the service, and deployed to South Korea and Iraq.
He showed the owner of a Clarksville, Tennessee, tattoo shop "my shitty MySpace pictures from my portfolio" and snagged an internship on the spot. Years of work made Will XX a blue-ribbon champion of the Salt Lake City International Tattoo Convention.
He founded Utah's Blaque Salt Studio, where he likes to remind customers he's not a tattoo artist.
He's an artist who tattoos.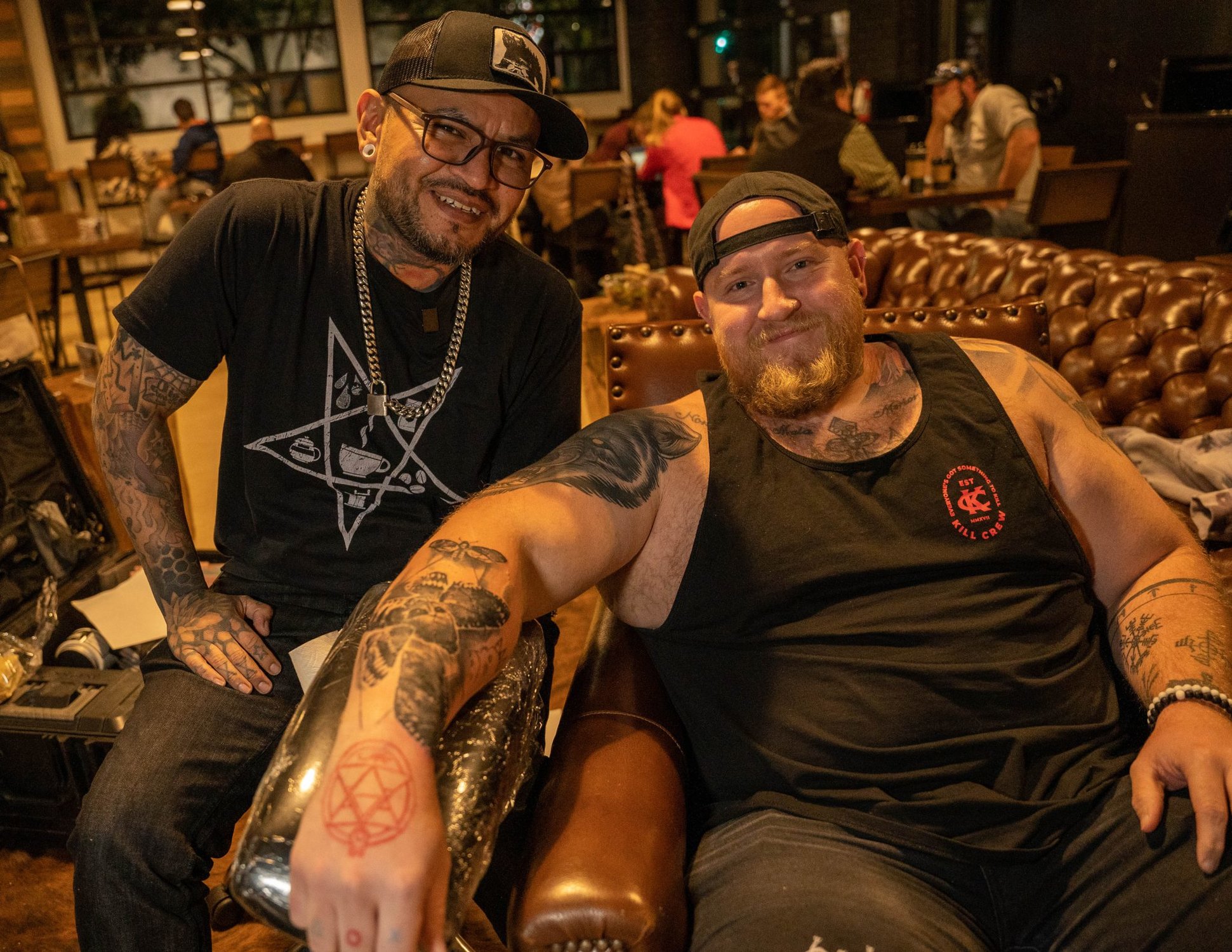 Coffee or Die Magazine caught up to Will XX on Jan. 3, 2022, while he spent four hours inside the Black Rifle Coffee Company shop along Bitters Road in San Antonio, Texas.
Will XX was carefully inking a death moth on the forearm of Caleb Francis. Francis is the gamer better known on Twitch and Instagram as GrizzlyPuncher. And he was talking to Will XX about some of his earliest tattoos, which were inked by an ex-girlfriend.
This interview was edited for length and clarity.
COD: When did your interest in art begin?
Will XX: Since I was 5, I've been just drawing on anything. I've always loved art. It was something I could do for fun. It always felt natural, which turned me into a really arrogant teenager as far as drawing. I almost failed out of art class a few times because I wouldn't do the assignments. That didn't go away until I was in my 30s when I finally decided to go back to college. But I've been drawing since I was little. It's just a thing that I love to do.
In the Army, just like Caleb's girlfriend, I got my bullshit tattoo kit from eBay. So now I'm in a barracks full of drunk soldiers. You get all the practice you want, but you don't make any money. Like usually I'd say, "Yeah, give me a six-pack, you give me a beer, you give me this." And so people would bring me things, and I would go, "Okay, the sharp end, I guess goes that way, so we'll try that out."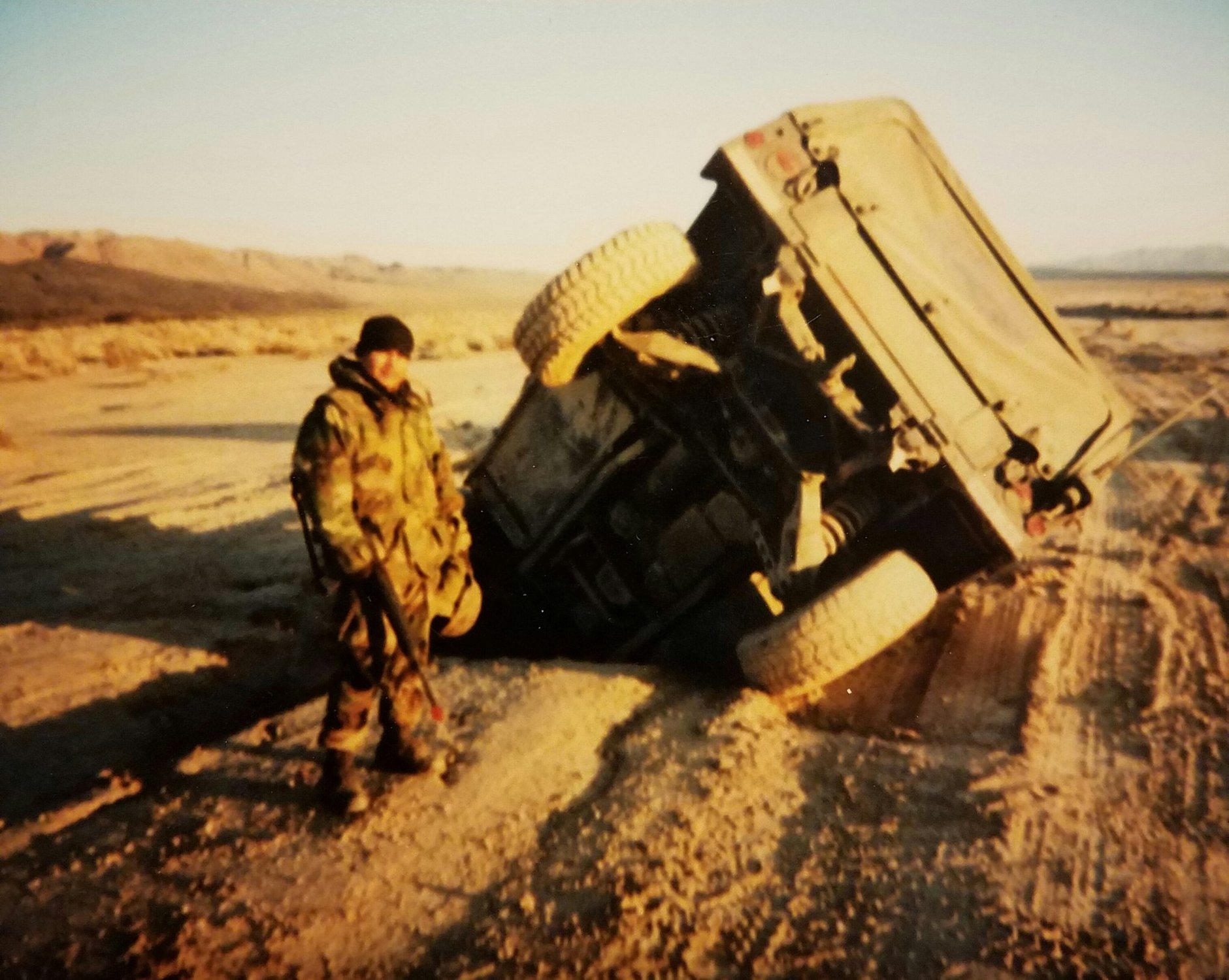 COD: Have you had anyone you gave a barracks tattoo to ever come back in or set up appointments to expand on their original tattoo or cover it up?
Will XX: There are only two people that I still talk to that got tattooed by me when I was tattooing out of the barracks. One of them, I covered up all of them already. The other one refuses to let me cover it up. He tells everybody that I'm the one that did it. Just so he can go — he'll usually show my main portfolio to someone and be like, "That's pretty nice, huh? Yeah, he did this one."
COD: Have you done other tattoos for him though?
Will XX: Yeah, off to the side of it.
COD: So he just keeps that …
Will XX: It was one of the first tattoos I did, and I think he paid me with a pizza. It was in my kitchen, in Fort Sill, and he paid me with a pizza for it.
You just can't get those moments back anymore. Just like all the relationships that you've made. And I never even worked with this guy. He happened to be a friend of mine. Just because we lived right next to each other.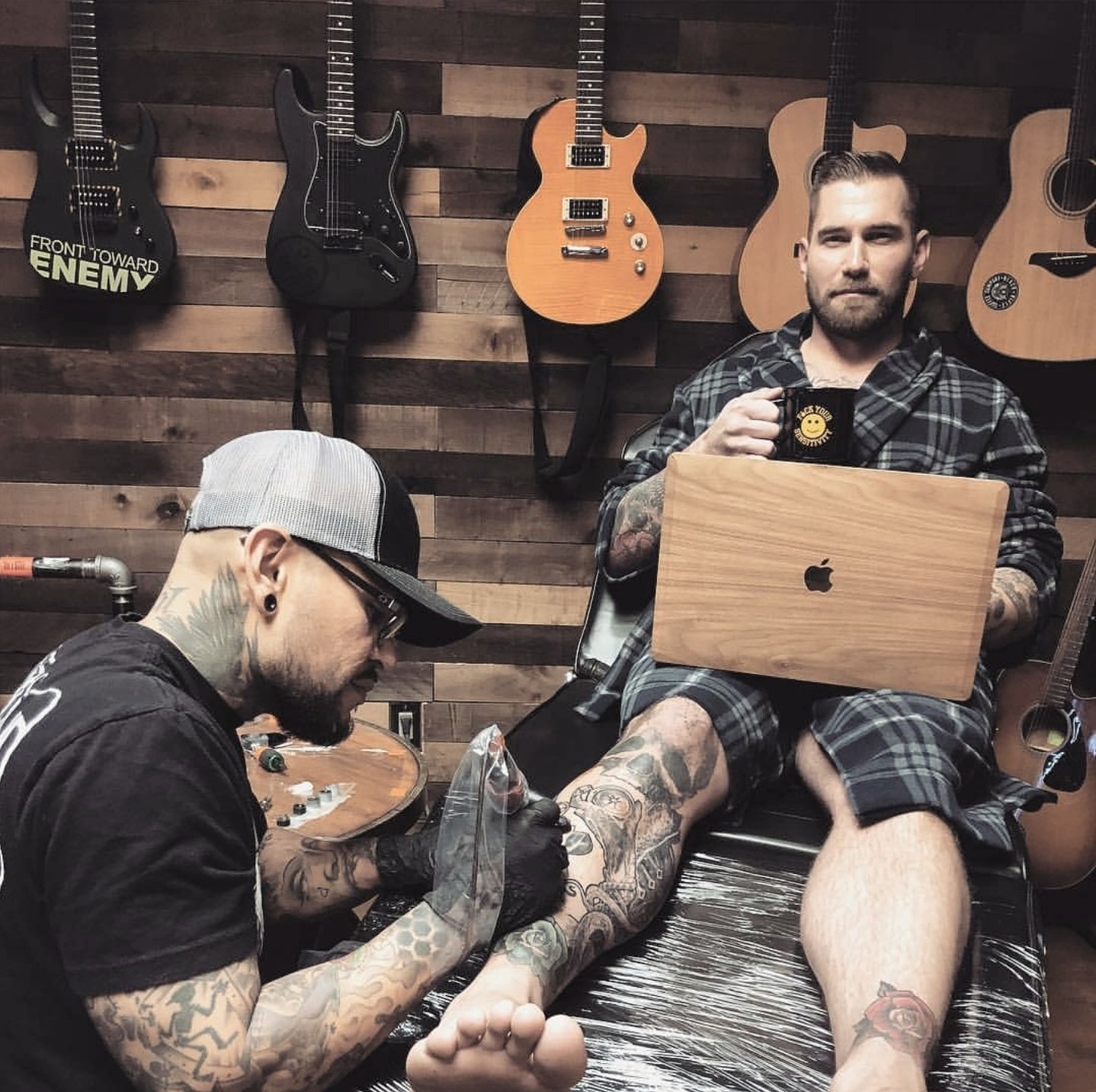 COD: What is it like to go from where you came up in the tattoo industry — where you'd seen somebody shot right in front of you [during the apprenticeship in Clarkesville] to giving a tattoo in a coffee shop?
Will XX: There are certain parts of it that I love.
I love that we can do stuff like this. I love that I'm not looked at like I'm a criminal anymore just because I tattoo, which is pretty freakin' cool. But also the underground grime is kind of appealing, you know? Like before, when I used to walk around with my neck and my hands tattooed and people would — I saw a lady, like, clutch her purse and people would get the fuck out of my way and now it's like, "Oh, it's just another dude with tattoos."
COD: How has the industry itself changed?
Will XX: I guess, rooting for the bad guy, I do miss kind of the outlaw part of it a little bit. It was fun. But now it's a lot safer. It's more lucrative. There's a lot more knowledge. There's a lot better people in it — a lot kinder people, which is cool and better. It's just that the respect is not there anymore. The appreciation for having survived being the only apprentice that moved on to be a professional — that's gone. You don't have to fight for it. It's not like tooth-and-nail type of shit anymore.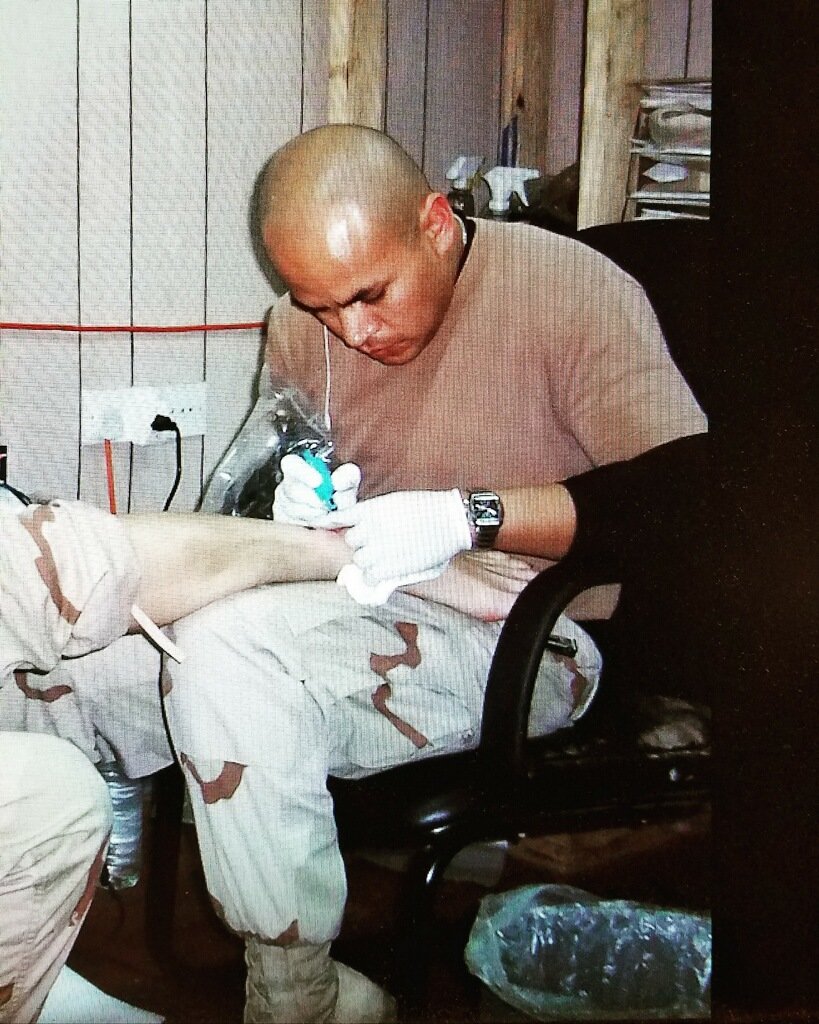 COD: Have you noticed any trends set by celebrities that are driving you nuts?
Will XX (pointing to his knuckle): This female who got a lion portrait tattooed on her finger right there. So you see a lot of people have a lot of little teeny portraits right here. It's not gonna last. It's not gonna hold. That girl has inspired a few tattoos.
Before these little teeny things, there were all the dudes who wanted Vin Diesel from fucking Fast and the Furious — awful design. They wanted — I think it was Russell Crowe had another big tribal thing in an older movie that he had. Or the vampire one with George Clooney, Dusk Till Dawn.
People would come in with pictures of the movie and stills and everything, "Like, yeah, that's what I want!" And I was like, "You don't look like George Clooney, buddy. You're not going to get that type of look when you're done. You're going to still be the same scrawny dude with this weird tribal tattoo."
I try to tell them, like, "I care about this. I care about your skin. I care about my reputation. And I'm not trying to, like, discourage. I'm just trying to set you up for success."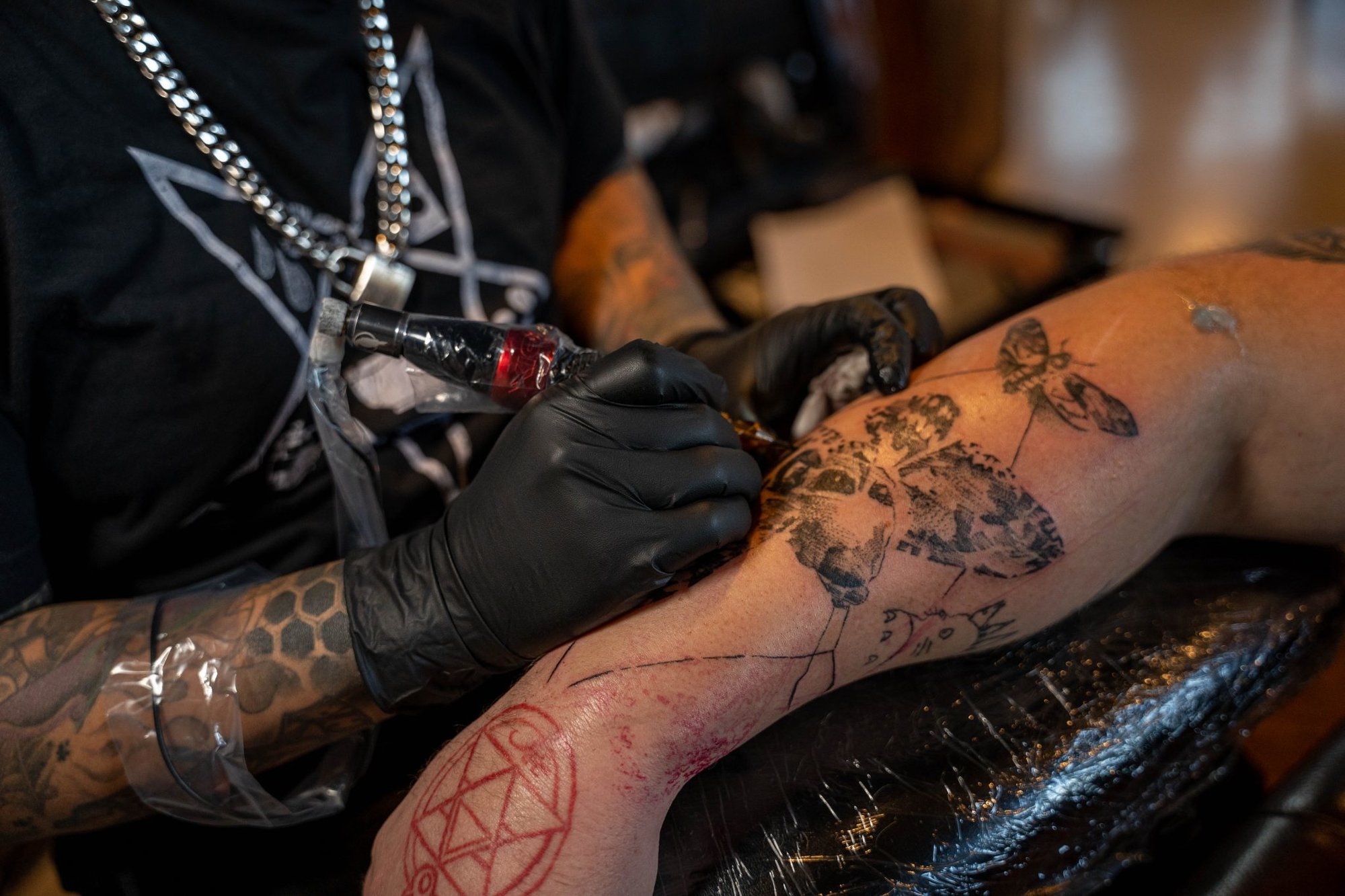 COD: What do you think about clients that refuse your advice on why they shouldn't go through with their tattoo idea or refuse some change to the initial idea?
Will XX: Sometimes people deserve what they want, right? And I've had clients where, especially early in my career, where I didn't have confidence.
I didn't have the experiences that I do now and I would just say "yes" to everything because it's my job. Sometimes you just got to bite the bullet and just do what you do, even if it's a bad idea, or you can try to guide them a little bit. But ultimately,
if they turn you down, you just got to do whatever they want.
COD: Has tattooing had any therapeutic effects in your life?
Will XX: So right now, like, I could feel my blood pressure already coming down. Just because this is my favorite thing. I love tattooing. I love the sound. Just, you know, every time I wipe it's, like, this is fucking cool. I get to add art to somebody's body permanently. It's, to me, it's fundamentally so simple and so amazing. I still trip out on the fact that this is what I do for a living.
---
This article first appeared in the Spring 2022 print edition of Coffee or Die Magazine as "XX Marks the Spot." Black Rifle Coffee Company is the parent corporation of Coffee or Die.
Read Next: