Slain Houston Police Department Senior Officer William "Bill" Jeffrey will be buried Monday in Texas. Jeffrey, who spent more than three decades on the force, died Monday, Sept. 20, after being shot while trying to serve a warrant in the city. He was 54.
His killer died in an exchange of gunfire that also wounded Jeffrey's Major Offenders Unit partner.
Services for Jeffrey are slated to begin at 10 a.m. Monday at Grace Church Houston. On Wednesday, a funeral procession snaked more than 30 miles from the Harris County Institute of Forensic Sciences to the Klein Funeral Home in the suburb of Tomball, just west of the officer's home in Spring.
Shortly before the line of police escorts departed, Houston Chief of Police Troy Finner told reporters that Jeffrey was "one of the best of the best, so strong and so tactically strong."
Finner said, "And a lot of people ask the question, 'Well, how did things happen?' Sometimes it's just fate and sometimes it's God calling somebody home when it's their time."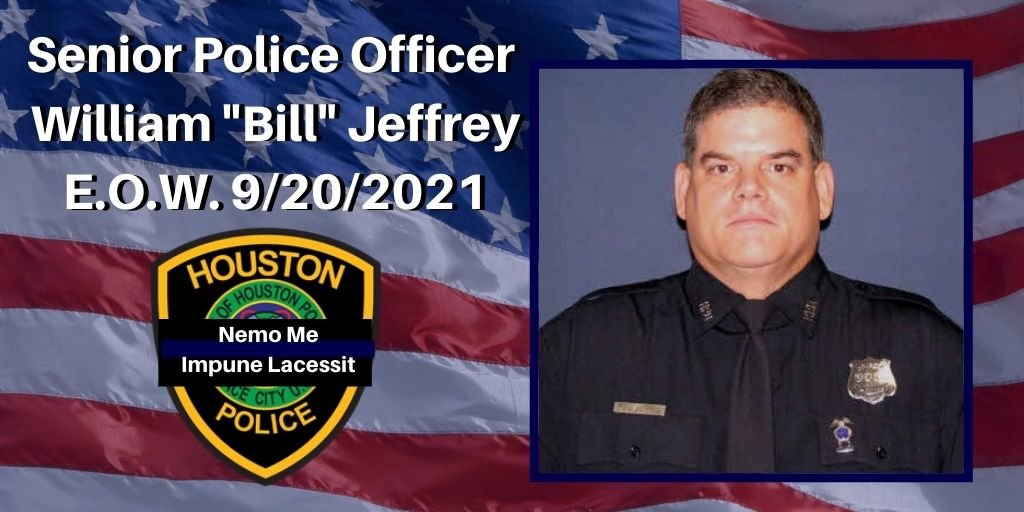 Harrison County Sheriff's Department investigators continue to probe Jeffrey's death.
Authorities have said Jeffrey and his partner, Sgt. Michael Vance, 49, knocked on the apartment door of Deon Ledet around 7:30 a.m. on Monday and began talking to his girlfriend. Then Ledet opened fire, according to Finner. Both officers returned fire and struck Ledet, 30, who died at the scene. First responders rushed Jeffrey to a nearby hospital, where he also died.
Vance remains hospitalized in stable condition following surgery, authorities say.
Despite the exchange of gunfire, neither Ledet's girlfriend nor her small children were hit, showing what Finner described as great discipline and courage under fire by his officers.
Ledet was wanted on multiple drug charges.
During his brief comments before Wednesday's procession, Finner praised Jeffrey's family for remaining strong and faithful in the wake of the tragic shooting. Jeffrey's wife of three years, Susanne, retired on Dec. 11 as a senior police officer in the department's Internal Affairs Division.
William Jeffrey was born July 1, 1967, to John "Jack" Jeffrey and Patria Ann (Moquin) Jeffrey in Montclair, New Jersey. A graduate of Sam Houston University's criminal justice program, Jeffrey served in the US Navy before entering the Houston Police Department Academy Class 140 in 1990, according to his official obituary. Following stints in North and South Central Divisions and the department's Division Tactical Unit, he joined the Major Offenders Unit, serving warrants for more than 10 years, according to the obituary.
He also played for the semiprofessional Houston Gunners football team, comprised of first responders.
He is survived by his wife, Susanne Marie (Reaves) Jeffrey; daughter Lacie Christine Jeffrey; 2-year-old granddaughter Laney Grace Kaiser; and sisters Lynn Jeffrey, Kathy (Jeffrey) Sharman, and Melissa "Missy" Jeffrey. He was preceded in death by his parents, sister Lisa (Jeffrey) Guentert, and infant brother Jay.
In lieu of flowers, the family requests that donations go to The 100 Club or Wounded Warriors.
Read Next: