Willie Blazer has a hangover. Surrounded by a sea of military memorabilia in the tasting room of his distillery in Ennis, Montana, the big ginger from Appalachia sips water from a bottle, trying to gather the energy and mental clarity to tell me the story of Willie's Distillery, the business he founded and has built into a local treasure and nationally distributed brand in his adopted home in the southwestern corner of the state.
The night prior, Blazer tied one on — as one sometimes does in Ennis — at the local saloon that sits kitty-corner to Willie's in the single-street frontier town that almost passes for an Old West Hollywood set. The night full of beer and spirits started with a small fire team of military veterans and distillery employees and accelerated when more of Blazer's Special Forces brothers and one of his old smokejumper friends showed up.
With his hazel eyes wide and cheeks flushed with childlike reverence, Blazer introduced a beautiful Native American woman with long, brown hair past her hips and explained that she's a Montana smokejumping legend. It was one of those nights where the energy in the bar was humming at that ideal frequency. Locals celebrated the day's hunting and fishing victories while Green Berets and Army Rangers traded war stories from Afghanistan, Iraq, or wherever else their service had taken them. Children out for a midweek family meal chewed on burgers and fries, and smiling snow bunnies sipped cocktails with Tinder dates eating prime rib sandwiches.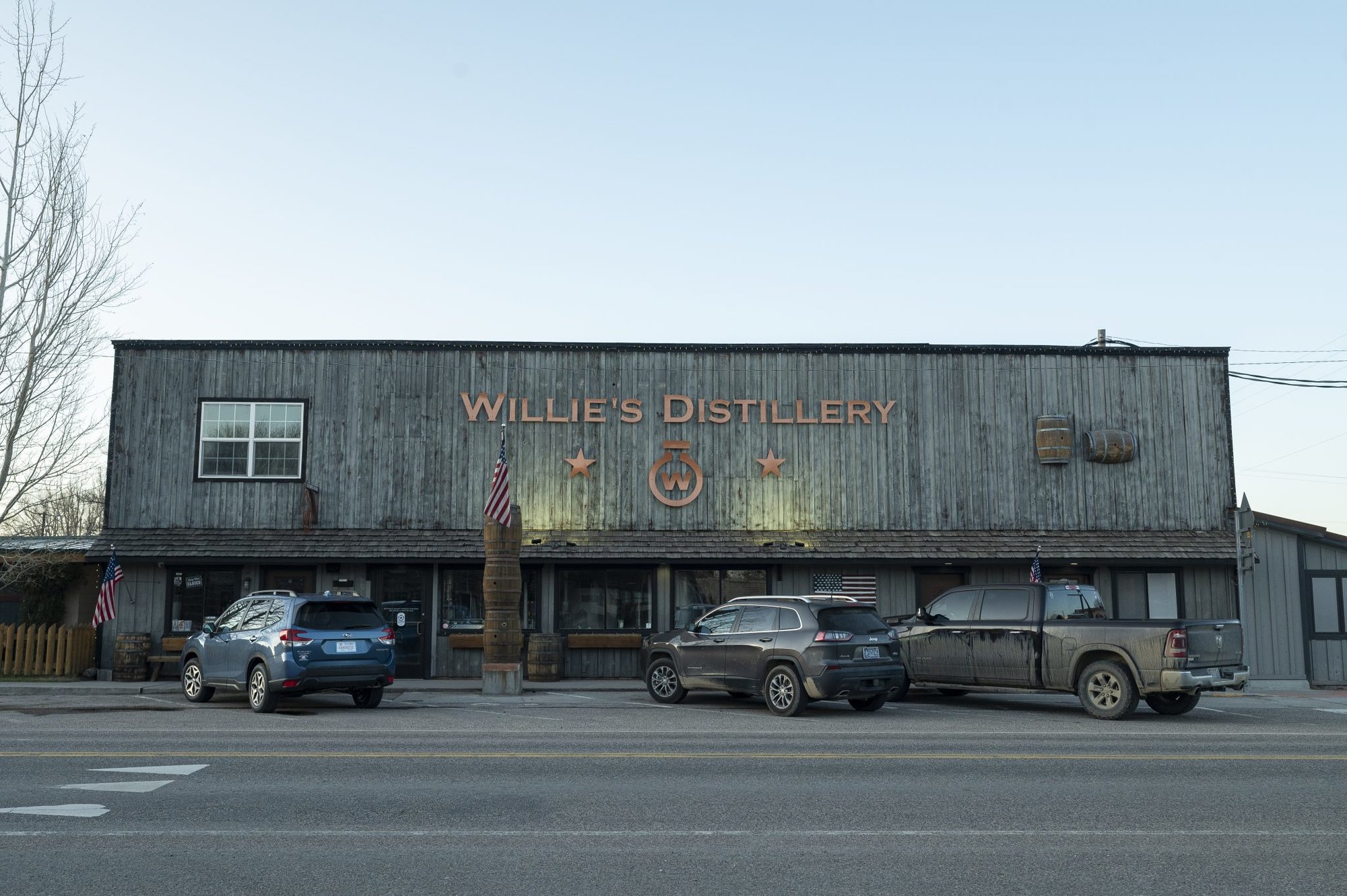 Blazer didn't go home and hydrate for his big video interview the next day because you don't walk away from a night like that. There were stories to be told, friendships to be fortified, culture to be celebrated — a few of Willie Blazer's favorite things.
Back in his tasting room the morning after, Blazer daydreams about biscuits and gravy from the local cafe inside the pharmacy a few doors down, while Tyr Symank, a sergeant major with the 19th Special Forces Group, fills the role of battle buddy and hype man, offering words of encouragement: "You got this, man. Soon as we're done, we'll get breakfast."
Long before Blazer ever (legally) sold a drop of liquor to anyone, he and Symank trained to become Special Forces medics together at Fort Bragg, North Carolina. When Blazer and his wife hosted a party at their home in Fayetteville in 2002, Symank tried some of Blazer's moonshine for the first time.
"I gripped the bottle with both hands, like a toddler holding a big-ass bottle," Symank recalls. "Willie gently corrected me, showing me how to hook my thumb through the glass loop and tip the bottle up with my elbow. I don't remember much after that, but photographs show me playing the harmonica while Willie picked the banjo. I do not play the harmonica."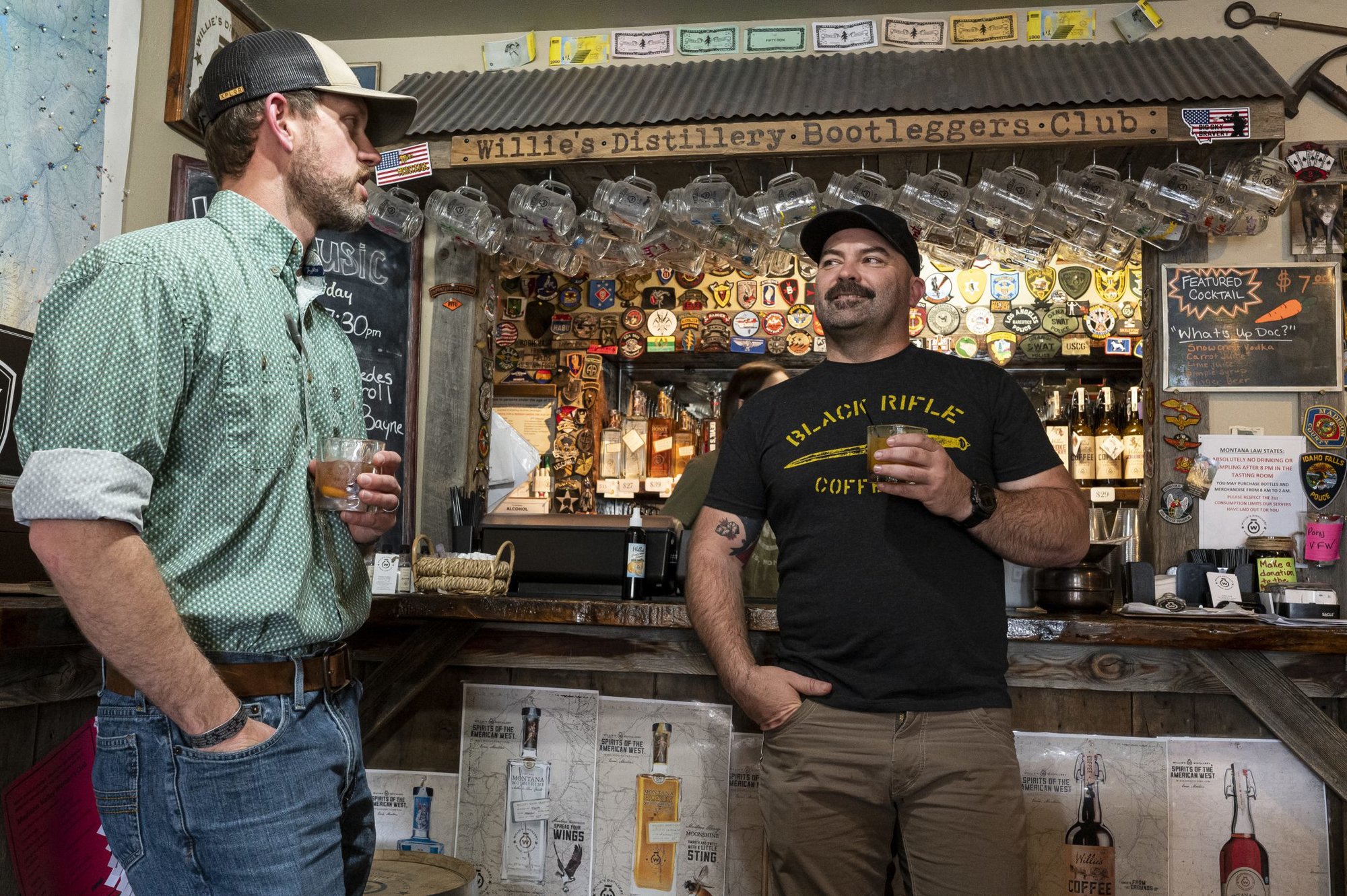 Symank, the son of a preacher from Portland, Oregon, has been extolling the gospel of Willie and his Appalachian-bootlegger origin story ever since. The real story of Blazer and the distillery he and his wife, Robin, founded in 2010 is a bit more complex than the romanticized truncation Symank often delivers with familial pride.
Willie Blazer grew up in a small tobacco-farming community in western North Carolina's Appalachian moonshine country. He enlisted in the airborne infantry after high school and, after Airborne School, volunteered for the Ranger Indoctrination Program — now called the Ranger Assessment and Selection Program. After nearly six years of peacetime service with 3rd Battalion, 75th Ranger Regiment, Blazer left active duty in 1997 and moved to Montana, not far from where Robin was raised on a grain farm.
"I was always intrigued by Montana," Blazer tells me between sips of coffee. "My grandpa was a World War II veteran, and after the war, he and a lot of his buddies would come out to Montana to fish, and he'd show me these pictures of them in the late '40s and '50s, catching these huge trout. I grew up fly fishing. Since I was 5 years old, I had a fly rod in my hand. Grandpa taught me that. And that's part of what drew me to Montana."
At 24, Blazer enrolled at the University of Montana to study forestry. He walked on to earn a spot as a lineman on the Grizzlies' football team. His teammates nicknamed him "Old Sarge." Robin was studying English literature and philosophy in her third year of college at UM when she and Willie found each other. After playing one season for the Grizzlies, Blazer joined the US Forest Service as a wildland firefighter in the summer of 1998, and he and Robin stayed together, marrying in December 2000.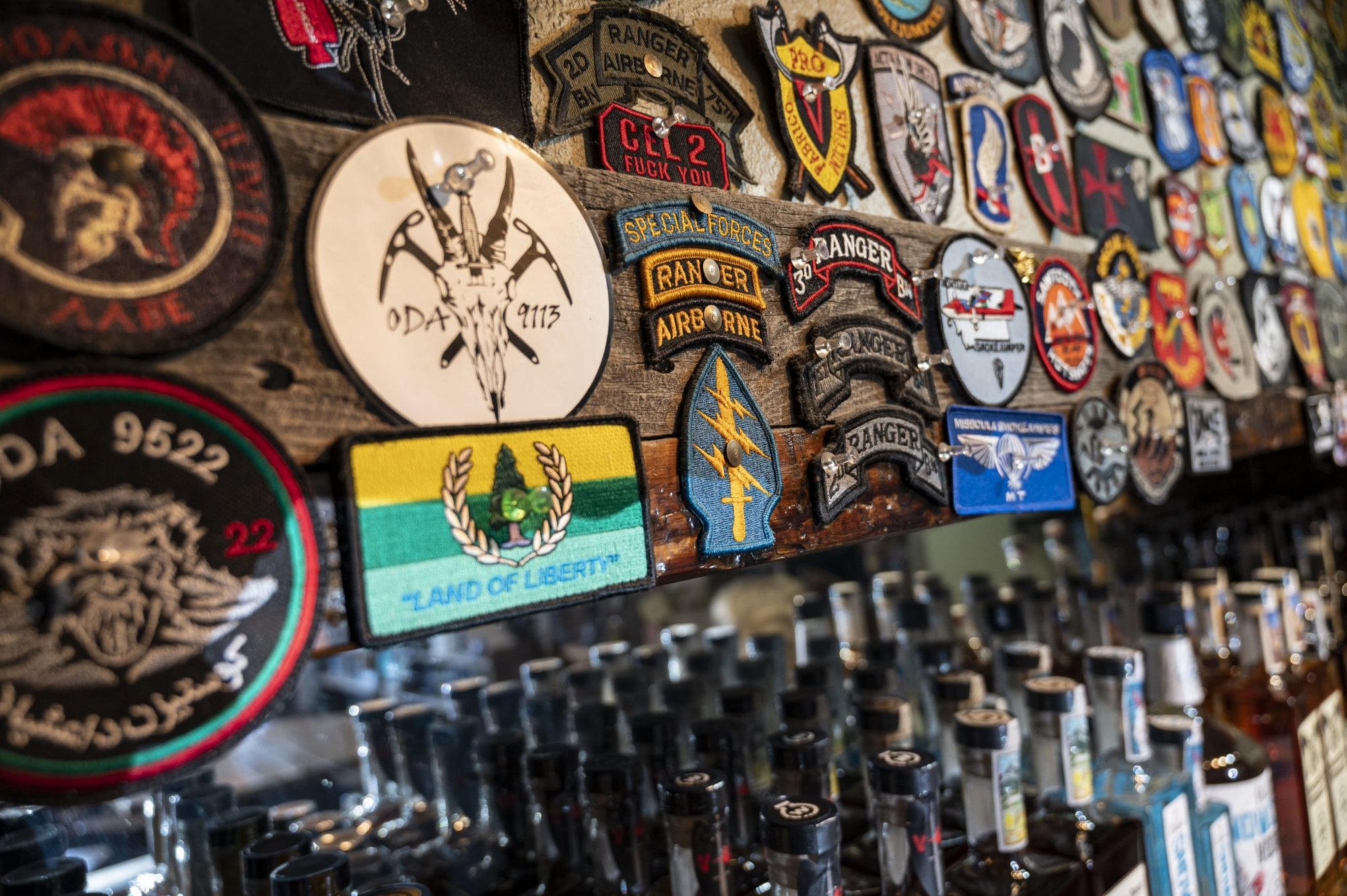 While serving with Idaho's Sawtooth Hot­shots, Blazer worked 21 days on and one day off for months, cutting fire lines all over the Western US with a Pulaski tool and a chainsaw to earn his place and work his way up.
"I had some great leaders and mentors there," he says. "It was fun — probably some of the hardest manual labor I've ever done, but it was good, hard work. And it really reminded me a lot of my time in the Ranger Battalion, working with close small groups and having dudes that you could trust by your side in these life-and-death situations. It was a good transition for me."
Willie maintained a connection to the military by serving as a member of the Montana National Guard's 163rd Infantry Regiment, but he didn't care much for the mechanized infantry life. "It just wasn't what I like to do," he says. "I'd rather be out running around the hills."
Smokejumping was the next logical step for the Airborne Ranger. Smokejumpers are Hotshot wildland firefighters who parachute or insert via helicopter into remote, roadless areas to fight fires as quickly as possible before they get too big.
"A lot of times, you're just jumping with a partner on what we call a two-manner," Willie tells me. "Those are always the best fires, you know — jumping on a snag that got hit by lightning on top of a mountain or a ridge, and you and your jump buddy jump in and put it out and tend to it over a couple days to make sure it's out and dead. Then you pack up all your stuff and hike out, carrying 120 or 130 pounds of gear — your parachute and chainsaw and all that stuff — to the nearest road. Then somebody will pick you up from there."
"Everybody was pretty excited about the opportunity to not only serve our country but actually get in the game and put our training to use."
Though smokejumping was scratching Blazer's itch for adventure, adrenaline, and hard physical work, he missed the special operations lifestyle. After friends in the 19th Special Forces Group mentioned that Blazer could transfer to the unit and train to be a Green Beret, he put in his request, and by the spring of 2000, he was in Special Forces Selection.
Blazer and Symank were in the midst of their training to become Special Forces medics when terrorists attacked the US on Sept. 11, 2001.
"Everybody was pretty excited about the opportunity to not only serve our country but actually get in the game and put our training to use," Blazer says.
Blazer and Symank deployed to Afghanistan with A Company, 1st Battalion, 19th Special Forces Group (Airborne), in 2003. Blazer served as a mentor to Symank, who had no tactical background when he joined Special Forces. Symank says Blazer passed on many important lessons, but one maxim in particular is seared into Symank's brain.
"One day in the Q Course, he said to me, 'Tyr, you can shit your pants twice a year before you lose cool points.' And I didn't know you could shit your pants at all before you lose cool points. But he was right. In Afghanistan, I knocked out those first two fairly quickly. Living on the local economy and in mud huts catches up to you. So I've carried that wisdom with me throughout my career," Symank recalls with a wide grin.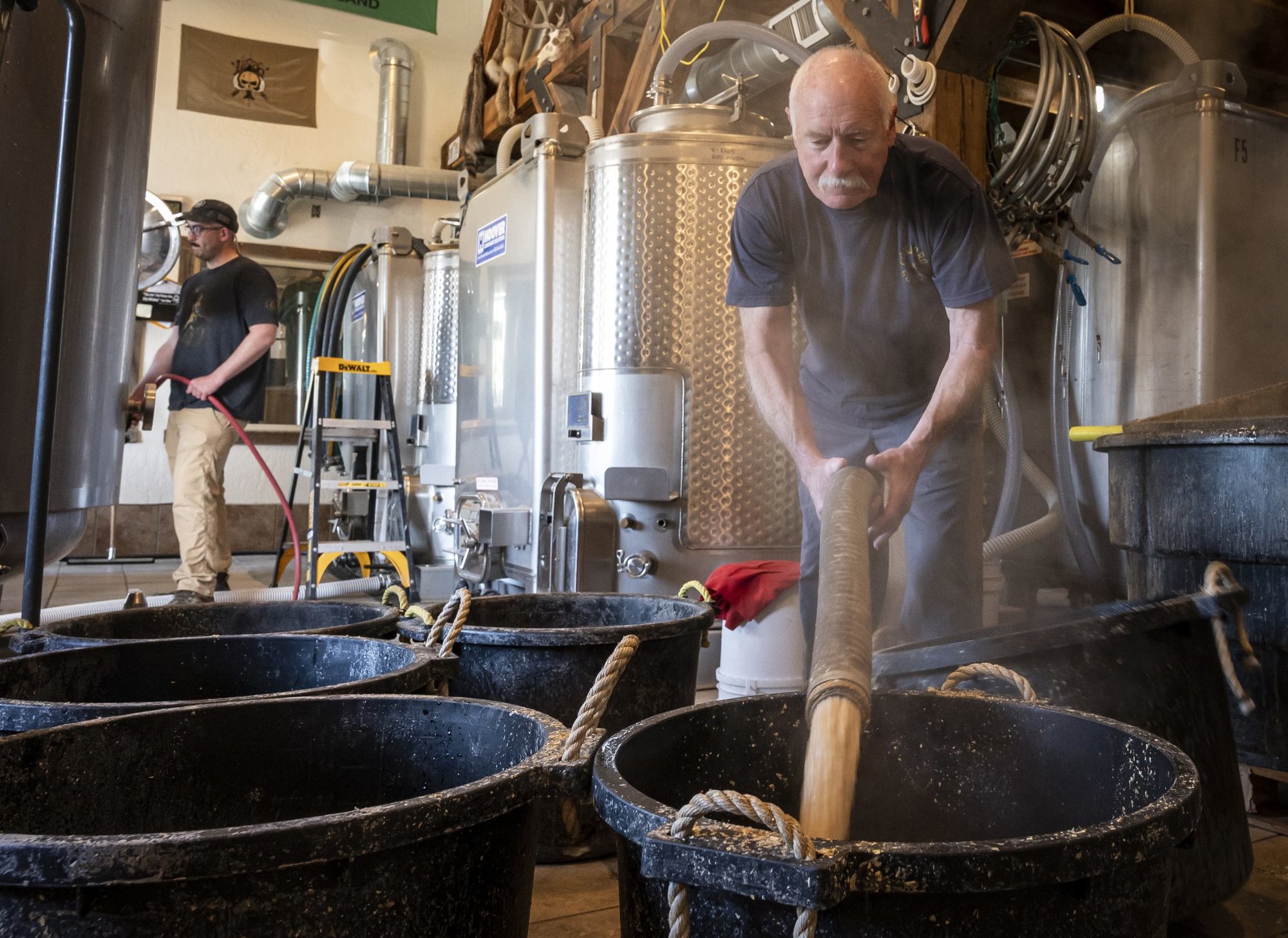 After completing one combat tour in Afghanistan, Blazer and Symank found their way into government contracting jobs overseas. After several years, Blazer had saved up some money and was ready to start the next chapter of his life.
Robin and Willie had always enjoyed making their own beer and wine, and with Robin being a Montana native from a family of barley and wheat farmers, her "grand connections" were the perfect complement to Blazer's Scots-Irish roots and the distilling prowess they'd instilled. When the state of Montana passed legislation making it friendly to microdistilleries, Willie and Robin decided it was time to try their hand at the business.
"We'd never run a business before, so it was definitely something different," Blazer says. "And we've made some mistakes, but we've learned from them. When we started, I figured, you don't need to be a scientist or chemist to do this; a lot of people that maybe only passed eighth grade were making pretty good stuff. So if they can do it, so can I."
"Heck, I'm a damn 18 Delta. I'm the smartest guy in the world," Blazer says sarcastically.
While Blazer may not actually be the smartest guy in the world, Robin brought a strong business-development and marketing background to the operation. The certified personal trainer, CrossFit enthusiast, and mother of two served as president of Willie's Distillery and the Montana Distiller's Guild until she died Jan. 27, 2022, after a long battle with cancer.
"I didn't know you could shit your pants at all before you lose cool points. But he was right."
Robin's obituary in the Helena Independent Record attributed the success of Willie's Distillery to Robin's "dogged persistence" in researching the industry, developing business and marketing strategies, and constantly innovating and improving operations. Willie's Distillery opened in 2012 with Robin's family's revised cattle brand as the business's logo.
"Willie's really is Robin's distillery," Symank says fondly. "It's Willie's whiskey, but it's Robin's distillery. She was the boss. He's just a good-looking redhead."
Blazer is quick to endorse Symank's assessment. Since Willie's opened in 2012, the popular tourist spot that doubles as a mini military museum has become a favorite stop for military members, veterans, first responders, and anyone looking for good spirits, good people, and good times.
I first visited Ennis on my way back to Oregon from a hunting trip with Symank in eastern Montana in 2020. When I told a veteran friend I was headed to the tiny town, she replied excitedly, "You have to check out Willie's Distillery!" When we arrived on a snowy November evening, we found Blazer already telling war stories with a Navy SEAL in the tasting room.
Ennis' humble oasis is a magnet for military veterans, especially special operations types, whose units are sure to be represented in the hundreds of military and first responder unit patches plastered all over the tasting room, or on the throwback recruiting posters, flags, and other memorabilia.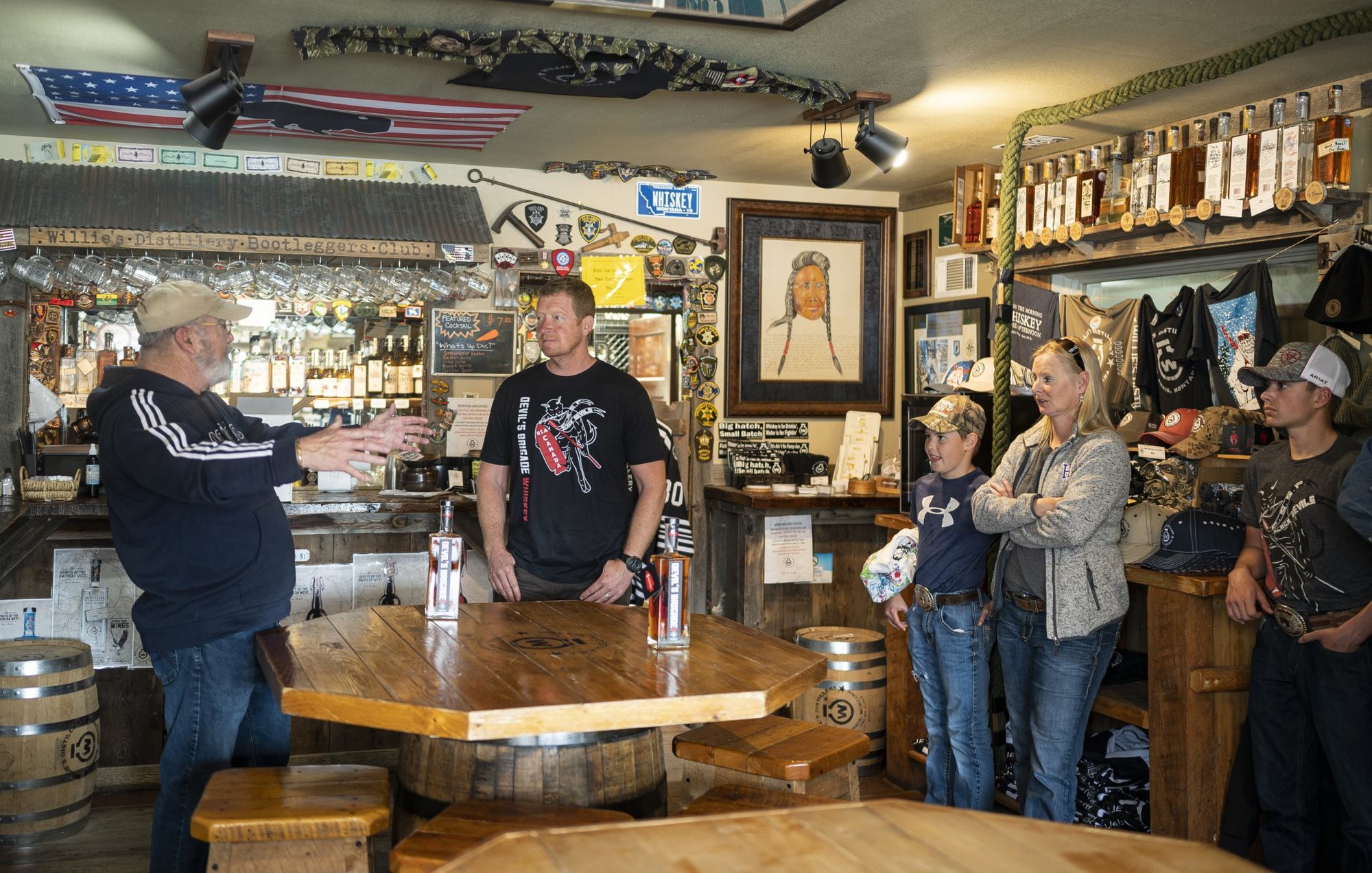 When I visited Willie's in April of 2021, a local family with strong military and first responder roots had brought three generations to the distillery to revel in the history of the late Col. T. Mark Radcliffe, father to the oldest man, grandfather to his son, and great-grandfather to that son's boys. They were also there to pick up bottles of batch No. 3 of Devil's Brigade Whiskey, which bore the name "T. Mark Radcliffe," the patriarch of the family who served in the 1st Special Service Force, an elite American-Canadian commando unit in World War II that was organized in 1942 and trained at Fort William Henry Harrison near Helena. Nicknamed "the Devil's Brigade," the unit provided inspiration for Quentin Tarantino's Inglourious Basterds.
"The stuff is just some of the best whiskey I've ever had," says Mark Radcliffe, a firefighter and grandson to the colonel who served in the Devil's Brigade. "I really enjoy drinking a little bit of whiskey after dinner, and Willie's is one of my favorites, especially Devil's Brigade, which is just off the charts."
In addition to Radcliffe's grandfather being a Devil's Brigade member, his father served in Vietnam as a member of a long-range reconnaissance patrol, and his great uncle fought on Iwo Jima as a member of the 1st Marine Division. Both units are represented in the extensive military memorabilia that adorns the walls of Willie's tasting room and distillery.
"It's a great history," Radcliffe says. "We've got a family of warriors, and that history was passed on to me, and now I want to make sure my boys know who their grandfather and great-grandfather were and what they went through. I don't want their story to die, so I'm passing it on so they can pass it on to their children too."
And that's what makes Willie's Distillery special. Though it's just barely a decade old, Willie's is a business and brand full of rich history and culture. Smack in the middle of "a cowboy town with a drinking problem, or a drinking town with a fishing problem," Willie's mission brings people together around the proud history of the region, a deep reverence for service to others, and a love of the outdoors and great spirits.
"Instead of buying a car and another wife, Willie saved the money he made overseas to actually start something and make it grow," Symank says. "And man, I like drinking his booze, and I like hanging out with him, and I'm super proud of him."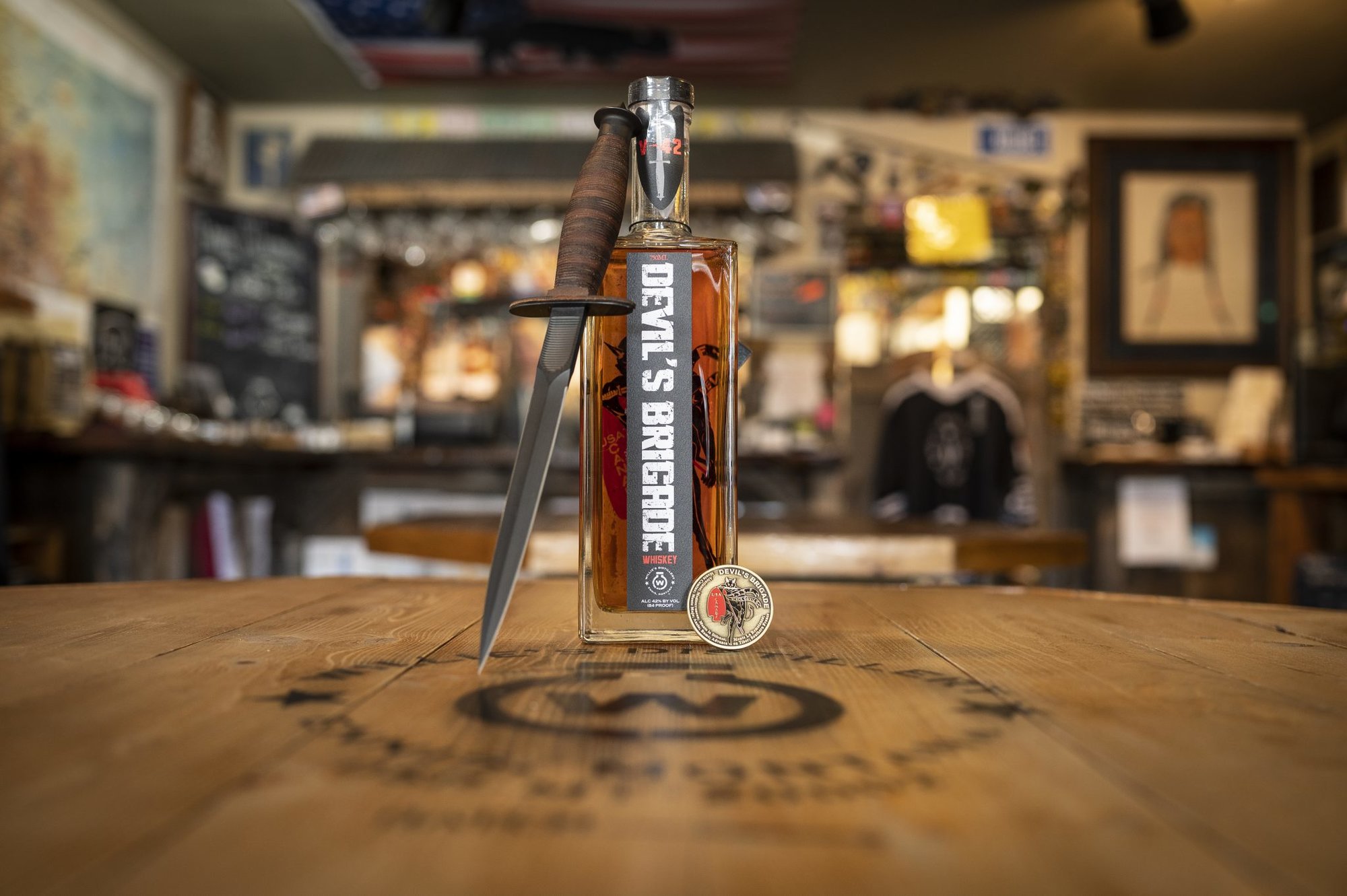 History and Heritage in Devil's Brigade Whiskey
Willie Blazer developed Devil's Brigade Whiskey to pay tribute to the World War II commando unit that served as a precursor to the Army's modern Special Forces. "The Devil's Brigade" was the moniker earned in World War II by the 1st Special Service Force. The elite American-Canadian commando unit was organized in 1942 and trained at Fort Harrison near Helena, Montana, and Willie's blend of 60% American bourbon and 40% Canadian whisky reflects the percentage of American and Canadian men assigned to the Devil's Brigade.
Composed of back-country rangers, soldiers, lumberjacks, north-woodsmen, prospectors, explorers, game wardens, and mountain men, members of the brigade fought in the Aleutian Islands, Italy, and southern France before the unit was disbanded in December 1944. Known for their stealth and skill with the V-42 dagger (the whiskey's 42% ABV is another nod to the unit) and their fierce style of fighting at night in blackened faces, members of the Devil's Brigade earned the nickname "Black Devils." The 1,800-man unit, which accounted for some 12,000 German casualties and captured approximately 7,000 prisoners, struck fear in the hearts of their enemies by leaving death cards on dead Nazis that read Das Dicke Ende Kommit Noch! or "The worst is yet to come." Quentin Tarantino's Inglourious Basterds took inspiration from the Devil's Brigade, and Brad Pitt's character, Lt. Aldo Raine, wears the unit's distinctive red USA-Canada arrowhead patch on his service uniform in the film. The legacy of the 1st Special Service Force lives on with current American and Canadian special operations forces, who trace their lineage and heritage to the "Forcemen."
---
Editor's note: This article first appeared in the Spring 2022 print edition of Coffee or Die Magazine as "How a Montana Moonshiner Made It." It has been updated to include Blazer's and Symank's battalion.
Read Next: George Washington's Massive Whiskey Distillery Empire