While American ground forces complete their withdrawal from Somalia, the US Navy and Marine Corps have parked some serious firepower offshore in the Indian Ocean — sending a stark warning to the al-Shabab terrorist group that any attempt to capitalize on the US departure with an attack will be met with "swift retribution."
Known as Operation Octave Quartz, the US withdrawal from Somalia is being supported by a formidable joint task force, which now includes the USS Nimitz Carrier Strike Group armed with F/A-18E and F Super Hornet fighters. Also waiting offshore is a Navy Amphibious Ready Group, comprising F-35B Lightning II advanced fighter aircraft and some 2,500 Marines from the 15th Marine Expeditionary Unit. And, not to be outdone, the US Air Force is also supporting Operation Octave Quartz with AC-130W Stinger II gunship missions over Somalia. Air Force CV-22 tilt-rotor aircraft have also been flying into Somalia to support the joint task force.
Altogether, it's an impressive display of flexible combat power with a clear audience in mind.
"We will execute this mission swiftly, methodically, and with additional forces to protect both our partners and U.S. forces," US Air Force Maj. Gen. Dagvin Anderson, commander of Joint Task Force-Quartz, said in a release, adding that America's "enemies should expect continued pressure and swift retribution if they choose to attack."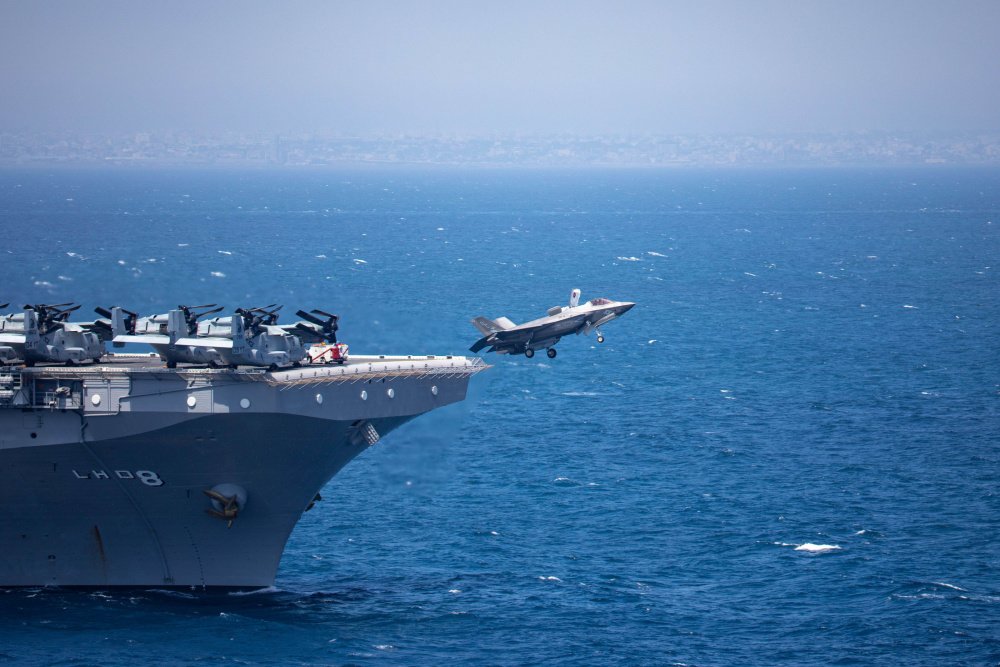 As part of a broader reduction of the US military footprint in Africa, the outgoing administration of President Donald Trump is withdrawing all US forces from Somalia by the time President-elect Joe Biden takes office in January. About 700 US military personnel have been deployed to Somalia for years as part of a mission to advise and assist Somali troops in combat against al-Shabab, as well as to support those operations with precision airstrikes.
"To be clear, the U.S. is not withdrawing or disengaging from East Africa. We remain committed to helping our African partners build a more secure future," US Army Gen. Stephen Townsend, commander of US Africa Command, said in a recent statement regarding the US withdrawal from Somalia. "We also remain capable of striking Al-Shabaab at the time and place of our choosing — they should not test us."
The al-Shabab terrorist group, which has sworn allegiance to Al Qaeda and serves as Al Qaeda's principal wing in East Africa, has a history of committing violent attacks against US interests and citizens. Nevertheless, US officials say they've successfully limited the global reach of al-Shabab — thereby reducing the threat to the US homeland — by maintaining constant pressure on the jihadist militancy in Somalia with ongoing counterterrorism operations.
Most recently, US Africa Command conducted two airstrikes targeting al-Shabab explosives experts in the vicinity of Jilib, Somalia, on Dec. 10. The US airstrikes reportedly killed eight al-Shabab militants, according to a Department of Defense release.
"Al-Shabaab remains a dangerous franchise of al-Qaeda," Townsend said in the release announcing the Dec. 10 airstrikes. "This mission illustrates our continuing commitment to eradicating this threat and supporting our Somali partners in the region. We're repositioning, but we will maintain the ability to strike this enemy."
The USS Nimitz Carrier Strike Group arrived in Somalia on Dec. 21 to support Operation Octave Quartz. Aboard the USS Nimitz aircraft carrier is Carrier Air Wing 17. Comprising some 60 aircraft, the air wing includes squadrons of F/A-18E and F Super Hornet warplanes, F/A-18C Hornet warplanes, as well as other surveillance and electronic warfare aircraft, and helicopters.
The Nimitz Carrier Strike Group also includes the guided-missile cruisers USS Princeton and USS Philippine Sea, and the guided-missile destroyer USS Sterett.
"The Nimitz Carrier Strike Group brings incredible capability and allows us to maintain pressure against regional threats throughout Operation Octave Quartz," Anderson, commander of Joint Task Force-Quartz, said in a release.
The Expeditionary Sea Base USS Hershel "Woody" Williams is also conducting maritime operations off the coast of Kismayo, Somalia, in support of Operation Octave Quartz. So is the Makin Island Amphibious Ready Group, which includes the amphibious assault ship USS Makin Island, amphibious transport dock ships USS Somerset and USS San Diego, and the embarked 15th Marine Expeditionary Unit.
Based out of Camp Pendleton in California, the 15th Marine Expeditionary Unit is a Marine Air Ground Task Force comprising some 2,500 Marines supported by F-35B fighters, MV-22 Osprey tilt-rotor aircraft, AH-1Z Viper attack helicopters, and RQ-21 Blackjack drones, as well as utility helicopters. In addition to its aviation component, each Marine Expeditionary Unit, or MEU, also typically includes a Marine infantry battalion reinforced with armor and artillery, as well amphibious vehicles and light armored vehicles.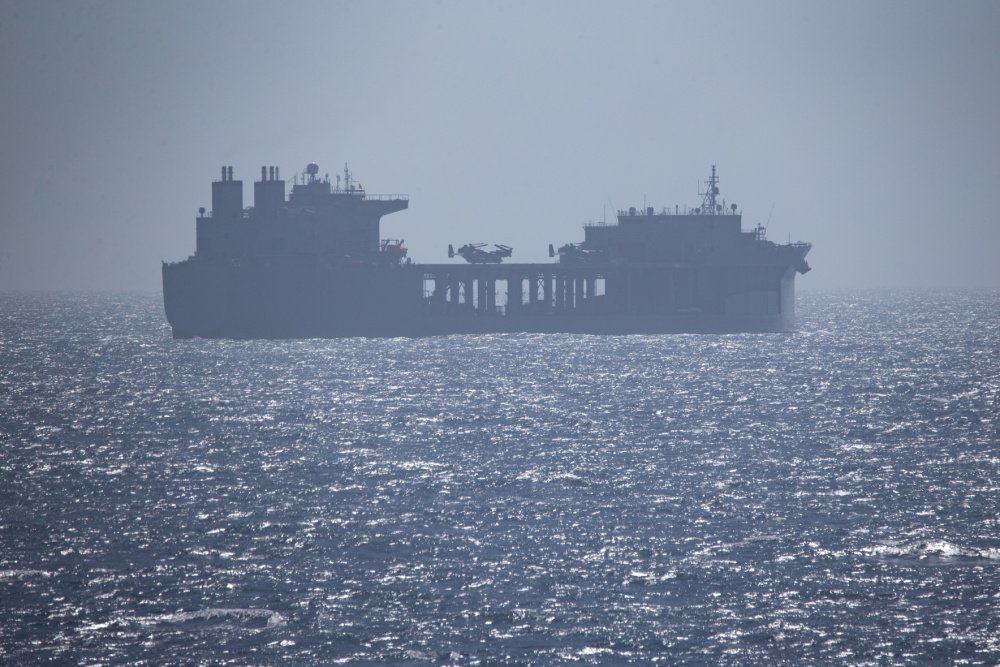 Marine ground forces aboard the various ships in the Makin Island Amphibious Ready Group can be transported to shore by tilt-rotor aircraft, helicopters, or hovercrafts. The Hershel "Woody" Williams is effectively a seaborne port for the various Marine and Navy assets in the region, negating the need to go ashore. A Wasp-class amphibious assault ship, the USS Makin Island carries Marine F-35B fighters and MV-22 tilt-rotor aircraft.
Designed for close air support and air interdiction missions, the AC-130W Stinger II is a special operations version of the C-130H cargo plane equipped with precision strike weapons, including a 30 mm gun capable of firing 200 rounds per minute, and one side-firing 105 mm cannon. The gunship is also armed with AGM-176 Griffin Missiles and GBU-39 Small Diameter Bombs. The AC-130W Stinger II is "ideally suited for close air support and urban operations," the US military said in a recent release.
According to a Defense press release: "The mission of [Operation Octave Quartz] is to relocate U.S. [Department of Defense] forces in Somalia to other East Africa operating locations while maintaining pressure on violent extremists and supporting partner forces."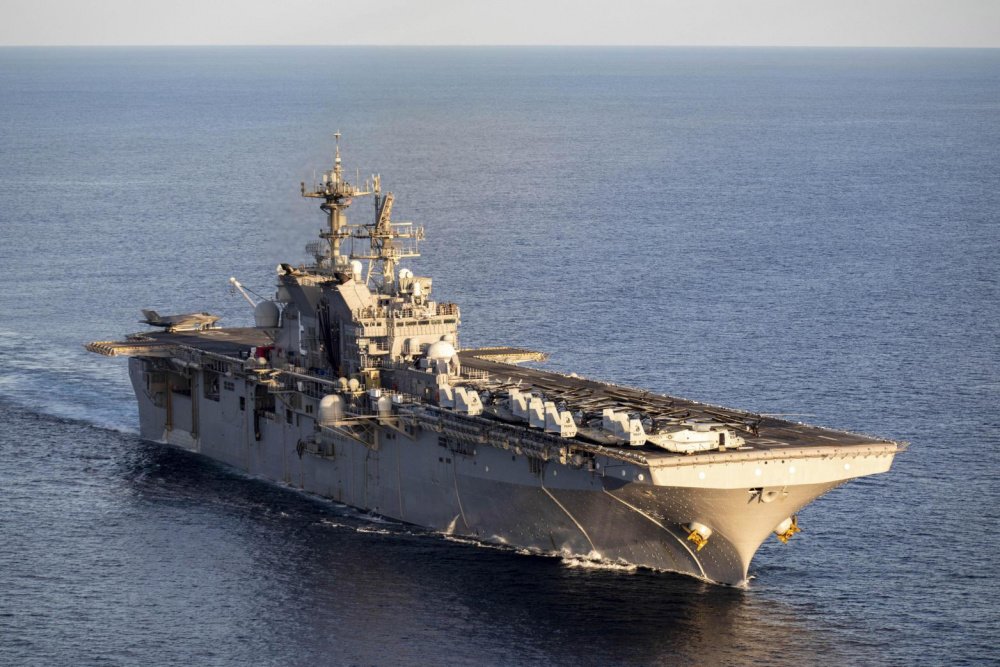 The al-Shabab terrorist group, which has sworn allegiance to Al Qaeda and serves as Al Qaeda's principal wing in East Africa, has a history of committing violent attacks against US interests and citizens.
The terrorist group attacked a hotel in Nairobi, Kenya, on Jan. 15, 2019, killing some 21 people, including an American named Jason Spindler who had survived the Sept. 11, 2001, terrorist attack on New York's World Trade Center.
On Sept. 30, 2019, al-Shabab attacked a US military facility in Somalia. The group struck again on Jan. 5, killing three Americans — a US service member and two Pentagon contractors — during an attack on another US facility in Kenya.
More recently, a US service member was wounded in combat in Somalia on Sept. 7 during a counterterrorism operation against al-Shabab. And a senior CIA officer from the agency's paramilitary division was killed during a recent al-Shabab terrorist attack in the Somali capital of Mogadishu.
And on Dec. 16, the US Department of Justice announced charges against an al-Shabab operative who tried to conduct a "9/11-style" terrorist attack by hijacking a commercial aircraft to crash in an American city.
According to US officials, al-Shabab's primary objectives are to conduct attacks in East Africa as well as against US targets around the world — a posture that US officials say mirrors that of Al Qaeda in the time period prior to 2001. Al-Shabab is the "largest and most kinetically active [Al Qaeda] network in the world," US Africa Command said in a January report to Congress.
"[Al-Shabab] remains a dangerous enemy. Continued pressure is being placed on this Al Qaeda-affiliated threat to limit its ability to expand and export violence, terrorism, and crime more broadly," said Air Force Col. Chris Karns, director of public affairs for US Africa Command, in a September statement.