At midday in Disney's Epcot Theme Park, the bridge near the China pavilion of the World Showcase lifts to stop all pedestrian traffic. Hundreds of tourists who had moments before been traversing the path that leads around the World Showcase stop in their tracks and watch as barges filled with explosives slowly make their way through a small canal, originating from a hidden marina behind the trees. The barges float out to slips where entertainment technicians moor them and begin preparing the fireworks for that night's "IllumiNations: Reflections of Earth" pyrotechnics show.
Until her recent retirement, Carol Brickett was an integral member of Walt Disney World's pyrotechnics team. She began in 1986, working on Epcot's "Laserphonic Fantasy," the show that later morphed into the current nightly "IllumiNations" centerpiece.
Disney recently announced that "IllumiNations" will cease operations in late 2019 but has not yet made public what its next fireworks spectacle will be.
"I don't have any information on what is being created," Brickett said, "but it's always an exciting time when a new show is being designed and tested. There are so many talented people putting their ideas together."
Brickett began doing pyrotechnic work as a student in lighting design at the University of New Hampshire. After getting her degree, she stayed at the school to teach briefly, but as a single mother of two, she needed a job with stability, benefits, and "enough money to put food on the table." Disney provided that.
Brickett started doing daytime lighting at Walt Disney World but became bored with it.
"It just wasn't challenging," she said. "So I fell into the pyrotechnics because it was part of a show" that she was already working on.
"Laserphonic Fantasy" alone had four barges and eight mini-barges loaded with explosives, with cabling running under the water in the lagoon.
Given that Brickett came "from a theater world where you were always starved for budget," she was amazed by how Disney "started so blue-sky with all of their shows. Then by the time it got pared down, if you were on the original committee knowing what the show looked like in the beginning, everybody always laughed. It looked like a full forest and now there's a twig out there."
But even a twig required massive amounts of pyrotechnics — "Laserphonic Fantasy" alone had four barges and eight mini-barges loaded with explosives, with cabling running under the water in the lagoon.
"It was exciting," said Brickett. "It was challenging because it was all brand-new."
The spectacles have only grown since then.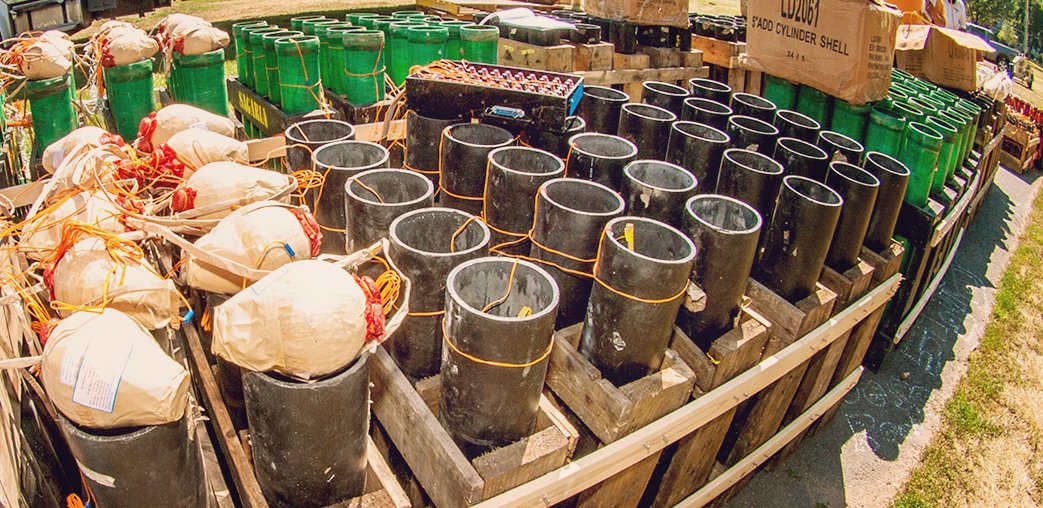 After starting with "Laserphonic Fantasy," Brickett also worked on a daytime show called "Skylidoscope." "Skylidoscope" involved not just stage pyrotechnics but an aerial group using larger fireworks from planes. The aerial team was comprised of fireworks specialists, mostly part-time firefighters who Brickett, as a manager, helped train.
"We preferred people to come in with no fireworks or pyrotechnics experience because we didn't want to have to change their bad habits," explained Brickett. "We taught them our way. We wanted people who weren't afraid of it."
Brickett worked on teams that wrote training and safety guidelines and hired trainers for new technicians. Although she was not one of the designers, she was integral to the success of the shows.
She also hired the first woman on the aerial fireworks team.
"She told me, 'I became a firefighter so you could hire me to load the fireworks,'" Brickett said. "It was not met well. Luckily, she has a lot of stamina; she's still working there. I said, 'Get over it, boys!'"
Working at Walt Disney World could often feel like working for any big corporation, but Brickett still felt a sense of Disney magic, especially in her early days of setting fireworks. She got to know the buildings well, including where all the hidden doors and stairways are located.
"It's a love/hate relationship," she said. "For the most part, if you're left alone, you're in your own little world, and it's a nice place to be."
Although her children were teenagers when she began working there, her grandchildren later lived in the Orlando area and got to enjoy the behind-the-scenes experience as well.
"They tell people all the time, 'My nanny does those fireworks!'" Brickett said.
However, Brickett's grandkids aren't the only ones to see the fireworks shows from up-close on the docks.
Anything can happen at any time, and that's what we teach people. It's explosives.
"We do that for guests as well. We choose 10 people a night to come down and enjoy the show. The crew will just go out in the crowd and talk to people and say, 'Come on down,'" she said, adding that surprising and delighting guests is what Walt Disney World employees do. "It is very much a part of the culture. It's all about making sure the guest is having their best time. If someone dropped a soda or an ice cream, we're able to say 'Oh, wait a minute,' and replace it. That's definitely taught to everyone."
On occasion, making sure the guests are having their best time takes quick thinking. Brickett recalls a special event with extra barges when the plastic cover used to keep the fireworks dry in the lagoon caught on fire. "We had to get out there and put the fire out so the guests didn't panic," she said.
Brickett was instrumental in creating safety guidelines for all the entertainment technicians, and she takes safety very seriously. "Anything can happen at any time, and that's what we teach people. It's explosives. It's fireworks. Something is going to happen. It's not if, it's when."
Walt Disney World has expanded enormously during the course of Brickett's long career, and she said that managing new shows, such as "Fantasmic" at Disney's Hollywood Studio, "was a challenge — I'm not sure I would call it fun."
But through all the ups and downs, Brickett committed much of her working life to Disney — and she's certainly not unique in that capacity.
"Most people absolutely love what they're doing, especially the characters," she said. "You can't get them to stop."
During the course of her decades at Disney, from her early work loading, setting, and firing pyrotechnics through her time managing shows and other employees, Carol Brickett not only contributed to the famous spectacle of Walt Disney World, she got to experience it firsthand.