Cynthia Cline was deployed to the Middle East when she started doing research on getting out of the military.
"I was looking for some encouragement from women who had separated and what they were doing now," she said.
That's when she stumbled on a blog by a former airman who had transitioned out of the military to become a stay-at-home mom and eventually started writing — just the path Cline was considering for herself.
"I spent probably hours on her website reading her stuff," she said. "It very much felt like here's this person who's a few years ahead of me."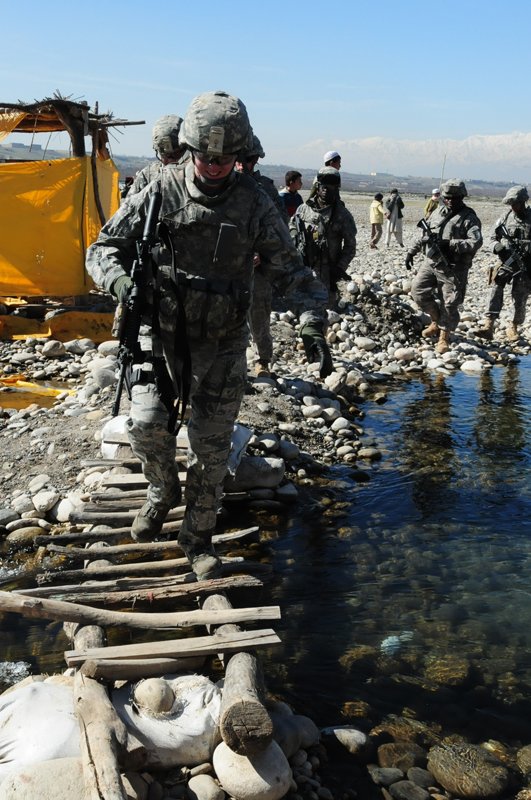 That's exactly the kind of resource Amanda Huffman is trying to provide. A former captain in the Air Force who separated in 2013 after giving birth to her first son, Huffman started the blog Airman to Mom that helped Cline prepare for her own transition in June.
Through Huffman's posts and the blog's spinoff book and podcast, Women of the Military, as well as her online "Girl's Guide to the Military" resource, she aims to reach women at all stages of their military career with tips, advice, and an overall message that they're not alone.
A tough transition
Huffman, 36, had a difficult transition out of the military. Prior to becoming a stay-at-home mom with a new baby, she'd spent six years as a civil engineer in the Air Force, which included a deployment to Afghanistan. While there, she worked on a provincial reconstruction team tasked with building bridges, wells, schools, and other projects to win over the hearts of the Afghan people.
She earned a Bronze Star, as well as the Air Force Combat Action Medal and Army Combat Action Badge for her service.
"I really struggled with my identity after I left the Air Force, and motherhood was not what I thought," she said.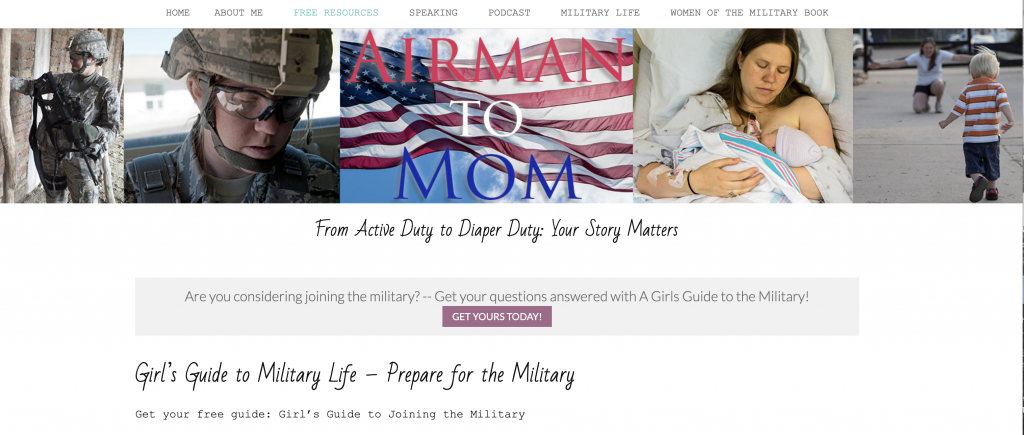 "At the time I really felt like he wasn't sleeping through the night — failure. He wasn't walking fast enough? Failure," Huffman said. "I had this pressure on myself to force my son to do whatever the [baby] book said, and if he didn't, then it was like I was a failure."
Huffman, now a homeschool- and work-from-home mom of two boys and a military spouse, started blogging in 2014 as a way to process what she was experiencing.
"Writing was something where I wasn't a failure because people read it and they responded and were like, 'Oh this resonates,'" she said. "It was the start of finding myself, but it was more like something I couldn't see as a big failure over my life."
Proving herself
Though her blog had a nod to her military experience in its title, Huffman initially shied away from divulging too much of her military story.
"I was anti-veteran stuff, which is actually really common for veterans, especially female veterans," she said. "The stereotype of the veteran community that I had in my mind was like the [Veterans of Foreign Wars], going to a bar with a bunch of old guys and having to be like, 'Yeah, I am a veteran. I deployed.' And so, I was like, 'I already was in the military. I had to prove myself just because of my gender. I don't want to have to go and be part of a community and have to prove myself.'"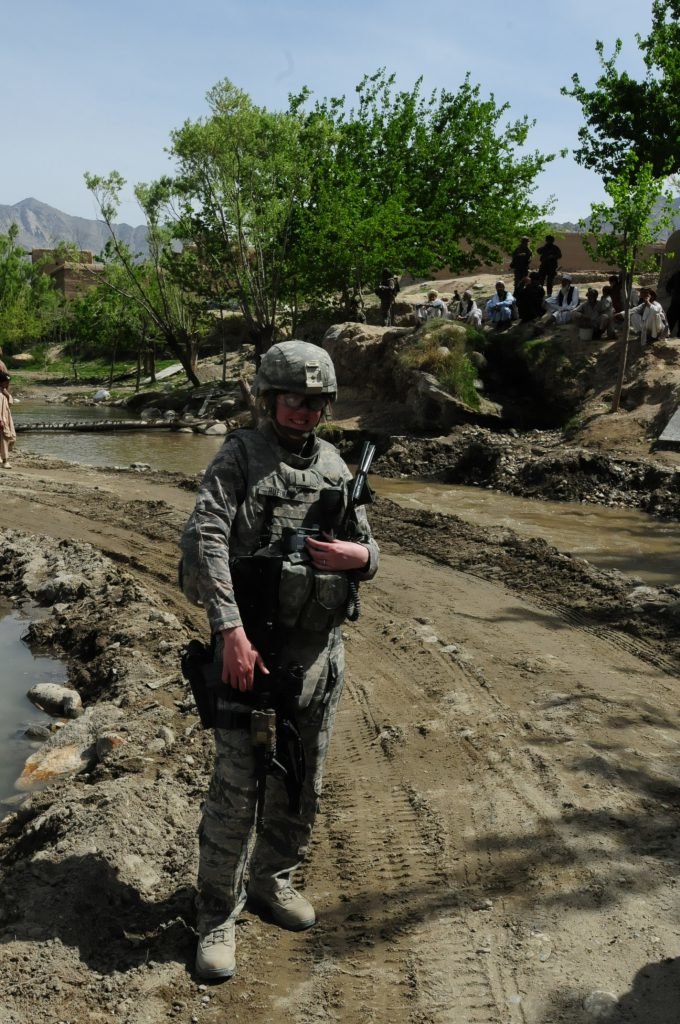 Huffman said at the time, it made more sense to get involved in the Christian and mom blogging communities because she already knew she would be welcome for who she was.
"I didn't have to prove like yes, I do deserve to stand here because I am a veteran. I think that was a lot of it," she said.
But Kristen Smith, Huffman's blogging mentor and a fellow military spouse, noticed Huffman wasn't fully tapping into her story and encouraged her to step out of her comfort zone.
"She was trying to narrow in on this one piece of who she was, which was being a mom and how everything else shaded it" — but Huffman wasn't just a mom who happened to be a veteran, Smith said.
Huffman took the advice and started writing more about her military experiences. Website traffic soon showed there was an audience for it.
She then published a downloadable resource, "Girl's Guide to the Military," on her website, which has drawn readers from all over the world, including women serving in foreign militaries, and is the inspiration for Huffman's upcoming YouTube channel of the same name that she plans to launch in January.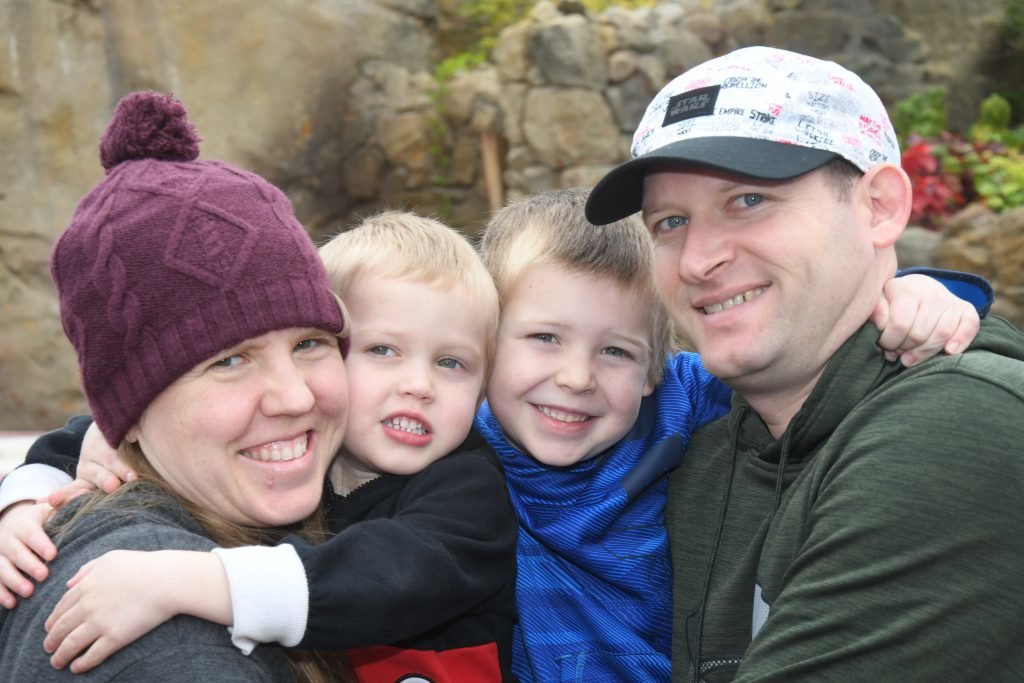 Huffman also started asking readers to submit their own military stories, which she published in a series on her website that she later made into a book.
"I did an interview-style 31-day series on deployment, and what I was expecting was that it was going to be a bunch of men who deployed sharing like their war stories of being deployed, but instead it was mainly all women and it was a realization that I'm not the only woman veteran who has a story to tell," she said. "I thought my story was pretty unique because I deployed with the Army — blah blah blah — but all these women had these amazing stories, and I had no idea what women were doing, and I was like, I don't care about deployments anymore. I just want to hear women's stories."
In 2018, she planned to do another series focusing solely on women veterans' stories, but with a cross-country permanent change of station move coming up for her husband, who is active-duty Air Force, Huffman's friend suggested she look at turning the stories into a podcast instead of writing out the interviews.
So Huffman reached out to one of her fans and booked her first guest for the show: Cline.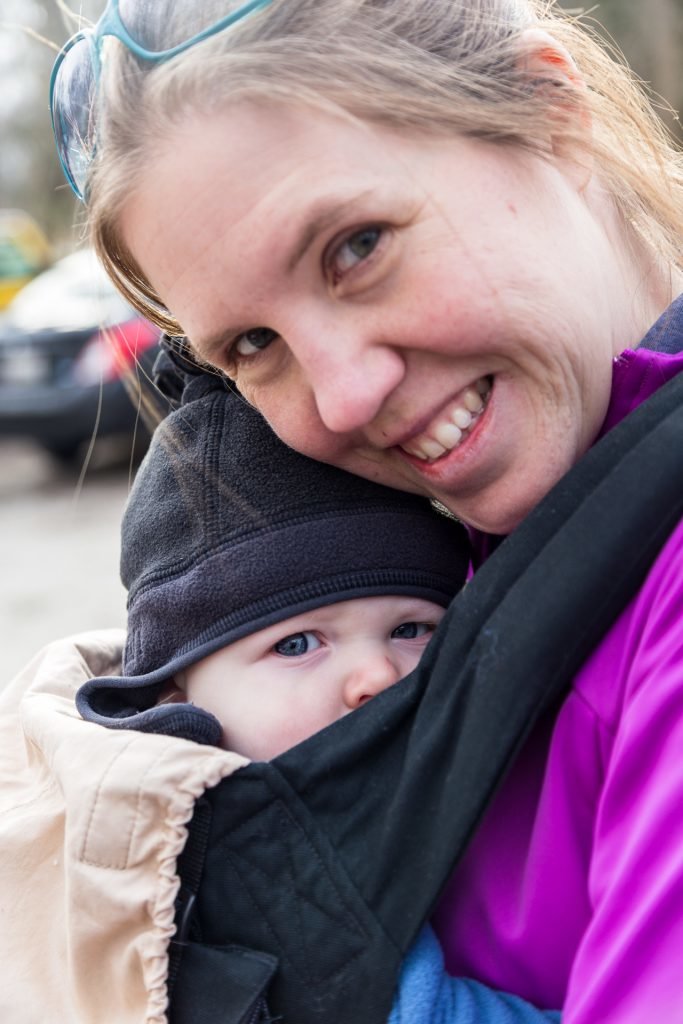 Getting to know the 'Women of the Military'
Huffman typically interviews one woman per episode, beginning by asking each guest why she joined the military and ending with any advice the guest would give to younger women who are thinking about joining.
The podcast has garnered 34,000 downloads, and guests have included women of all branches and ranks — from enlisted women who served four-year terms to four female generals and a former secretary of the Air Force. Some interviewees have shared stories of sexual assault or harassment in the military that they had never before told publicly.
While all stories are different, "they all resonate for different reasons," Huffman said. "It doesn't matter if you're a guy or a girl; the military pushes you. They break you down to build you back up, and so that part of that transition into who the military makes you and then that transition out and trying to find yourself as a civilian — there's a lot of commonalities in that, just experience of changing you into someone and then trying to find your new path."
The way Huffman talks about her own military experiences on the show is refreshing and somewhat uncommon among narratives of women veterans often heard in the media, said Smith, who has been following her mentee's journey as Huffman has expanded her portfolio.
"She did some really cool shit, and she talks about her service in a way that I think we typically are accustomed to hearing men talk about it," Smith said. "She tends not to talk about this really uncomfortable situation and the ways that being a woman sort of impacted [her]. She just talks about her service."
Cline, who has since started a blog of her own, said Huffman's work is "extremely encouraging" and helped prepare her for her transition out of the military and the potential struggle she might have in finding her new identity as a civilian, though it ultimately went smoothly.
"First, when you initially look at the idea of sharing women's stories, it might not seem like a big deal for most people — and yet on the sheer fact that she shared her story and that's what encouraged me to take the next step in my blogging world, I feel like that changed my life. Storytelling changes lives," Cline said.
"People need to hear our stories," Huffman said. "But also, we need to tell our stories, and when we tell our stories then another women veteran hears it and is like, 'Oh, I'm not the only one.'"