In the second episode of The Book of Boba Fett, showrunner Jon Favreau re-created The Great Train Robbery in a galaxy far, far away. Like a smuggler's cup overflowing with Corellian wine, "Chapter 2: The Tribes of Tatooine" was brimming with awesomeness. Favreau's latest take on Western TV serials swaps horses for speeder bikes and steam engines for a spice train, but of all the new things The Book of Boba Fett introduced during the heist episode, the best was the Star Wars version of everyone's favorite machine-gunner from Full Metal Jacket: Animal Mother.
When Fett finds himself opposite two hefty Hutts, he encounters a massive, black-furred Wookiee who struts up with the look of a character who came to chew bubble gum and kick ass (and who's all out of bubble gum). Rocking what looks like a Galactic Empire version of Animal Mother's trusty M60 "Pig" from Vietnam, the menacing antagonist makes a memorable entrance.
While fans who limit their Star Wars consumption to movies and television are likely unfamiliar with the character, Black Krrsantan is a rogue Wookiee who first reared his ugly head in Marvel's Darth Vader comic book series.
After fleeing his home planet, Black Krrsantan trained as a gladiator, volunteering for the job typically reserved for slaves and prisoners and quickly becoming a formidable Star Wars version of Maximus Decimus Meridius. Krrsantan firmly established his reputation as a fearless fighter before moving on to a better-paying profession: bounty hunting.
Though Krrsantan and Fett work in the same career field, it's immediately obvious the two aren't friends. When the towering Wookiee first appeared on screen carrying the biggest gun on Tatooine, the only thing missing was Alice in Chains' "Rooster" blasting in the background. We hope that Krrsantan will put his colossal blaster to work before the season ends. Even if Favreau deprives audiences of seeing the mammoth henchman embrace his inner E-3 and hip-fire what should be a crew-served weapon, there's a good chance Krrsantan will be back.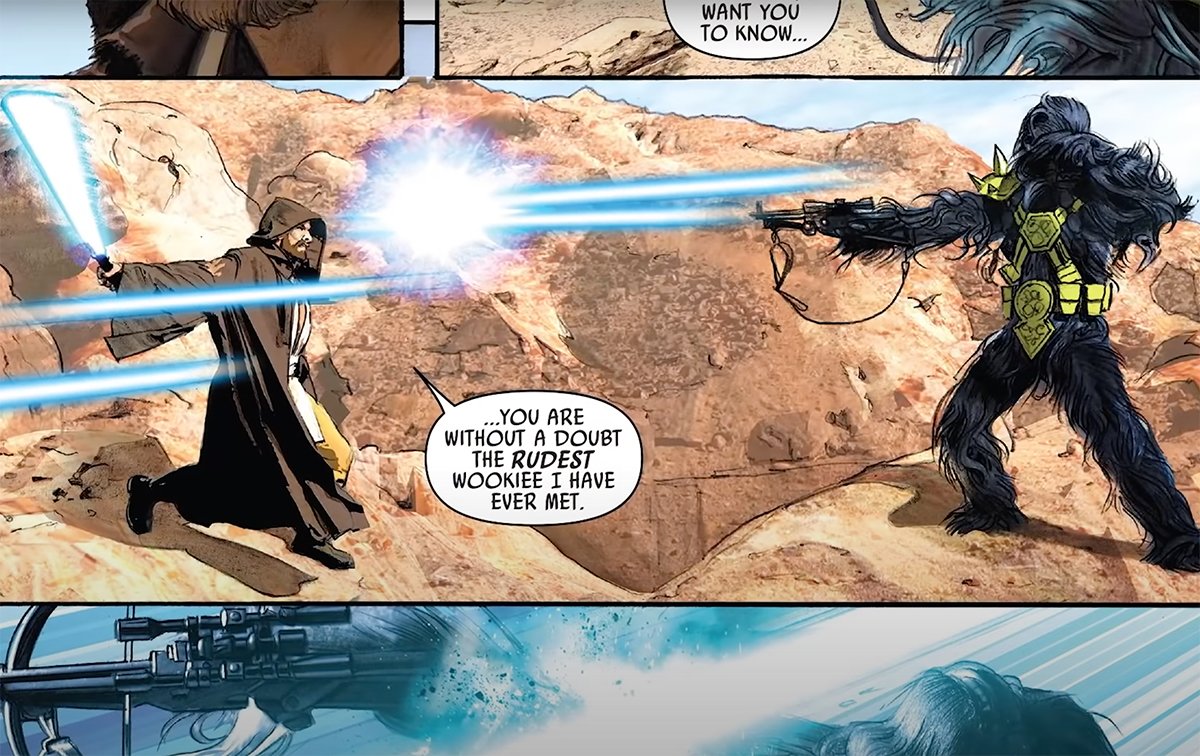 For super-nerds, it's no surprise Disney+ introduced the galaxy's version of Animal Mother ahead of the upcoming Obi-Wan Kenobi series. The two warriors faced off in the comics after Jabba the Hutt sent Krrsantan to accost Luke's adopted uncle Owen Lars. The sluggish crime lord employed Krrsantan 10 years before Luke blew up the Death Star and 14 years before Leia strangled Jabba to death with the same chains he (briefly) enslaved her with.
One hopes the Kenobi series will include the epic showdown between Jedi and Wookiee in live-action. The only thing that could make that fight better would be if Krrsantan showed off his lethality throughout the rest of The Book of Boba Fett.
Read Next: