Three medical first responders died over the past month in Texas and Arkansas while working to save others.
The three men combined served their communities for more than a century.
David Ray Eads
A paramedic with the University of Texas Health Science Center at Tyler, David Ray Eads died Nov. 17 when his ambulance struck a semitrailer truck on US Highway 69 in Hunt County.
Authorities believe the Peterbilt rock-hauler was trying to back across two lanes of traffic before the collision occurred. The driver of the tractor-trailer received a citation for backing unsafely, according to the Texas Department of Public Safety.
A resident of Frankston, Eads, 42, had worked as a first responder for 24 years. He joined the health center four years ago and became the county's lead paramedic, according to the facility.
Eads was born April 30, 1979, to Ray and Sherri Eads of Canyon, Texas, according to his obituary.
He's survived by his parents; sister, Melody Laney; brother, Mark Eads; wife, Vicky Josefina; five children; and seven grandchildren.
Memorial services were held for Eads on Nov. 29 in Tyler at the Stewart Family Funeral Home and Dec. 1 at Freedom Fellowship Church of Canyon.
"Church on Wednesday nights he'd be in his EMT uniform, and a lot of times with the ambulance there, […] because it didn't matter where we were. If we went to dinner, the house, or whatever, there was always going to be a call. And that's the way David was. He went to those calls," Daniel Downey, the pastor from First Baptist Church of Memphis, Texas, said during the Nov. 29 service.
"David's story does not end today. It continues on through the many lives that David has touched for over 42 years," Downey said. "David's impact continues today. He would say, 'If you can get through this, you can get through anything.'"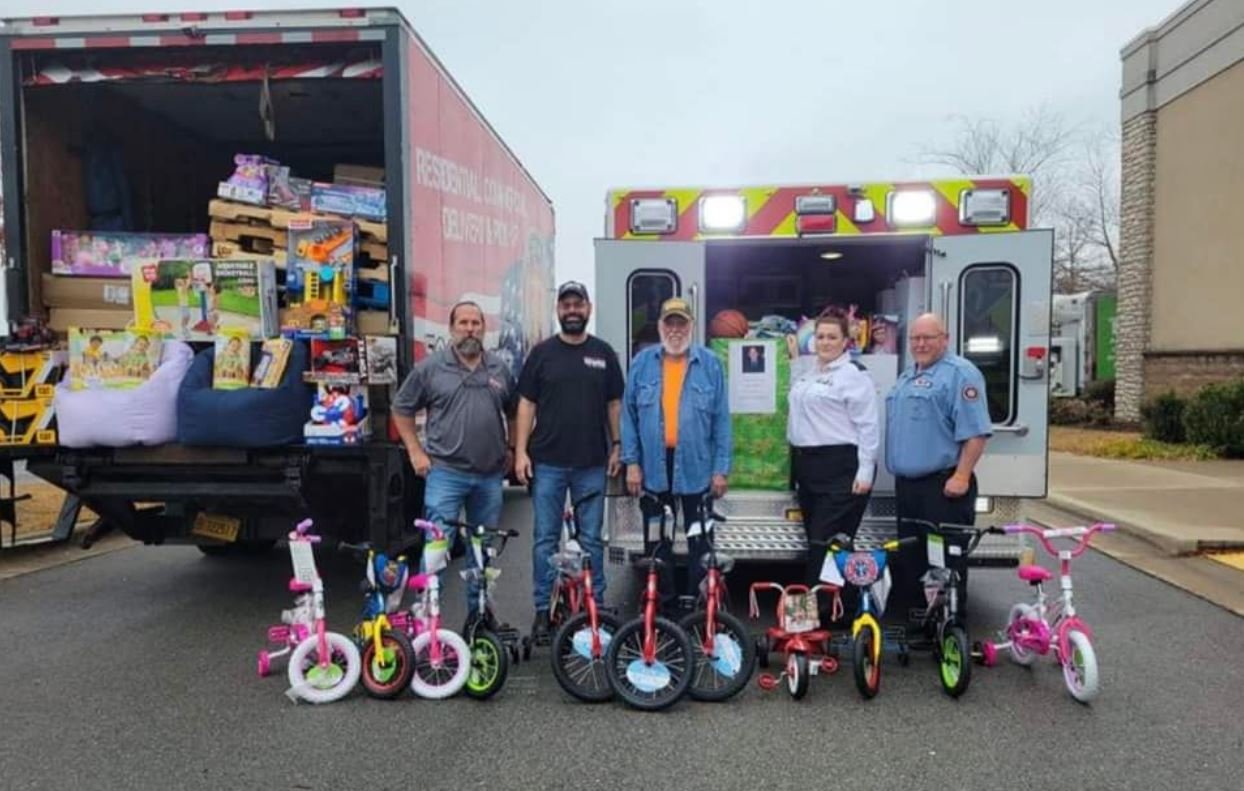 S. Dean Douglas II
Metropolitan Emergency Medical Services Maj. S. Dean Douglas II died Nov. 26 at the University of Arkansas for Medical Sciences in Little Rock five days after he was injured while working as a paramedic at the Little Rock Marathon.
Before the start of the race, Douglas, 50, received a call to respond to a medical emergency involving a marathon runner. He was grasping the roll cage of a utility vehicle while riding a bicycle when he was pulled under the vehicle, according to the Arkansas Democrat-Gazette.
Greg Thompson, executive director of Metropolitan Emergency Medical Services, took to Facebook on Nov. 27 to recall Douglas as "a colleague, friend and hero" who had been on life support since the accident at the marathon.
"In his last act of heroism, he donated his organs so that others may live," Thompson said. "This is the only line-of-duty death that our organization has experienced in our 37-year history. Our prayers are with his family and the colleagues who served alongside him."
Douglas' decision to be an organ donor affected the lives of eight recipients, according to an Arkansas Senate Memorial Resolution in his honor.
A Navy veteran, Douglas served in Operation Desert Storm before moving to Arkansas and beginning his 28-year paramedic career with the Metropolitan Emergency Medical Services. He also served as a fire captain with the Gravel Ridge Fire Department.
"This was truly a life of service, from beginning to end, and beyond," Arkansas state Sen. Clarke Tucker said in a social media post. "He leaves a hole for his family and all of Central Arkansas. It was an honor to be a small part of honoring his life today in the State Senate."
Douglas was born May 27, 1971, in Hampton, Virginia, to Dean and Ernestine Douglas, according to his obituary.
He's survived by his parents; wife, Brandy Douglas (née Cormier); and three children, Bralee, Kameron, and Mattie.
Douglas' funeral arrangements were handled by Smith North Little Rock Funeral Home.
In lieu of flowers, Douglas' family and Metropolitan Emergency Medical Services asked that donations be made to the Marine Toys for Tots program. So many presents were brought to the hospital by Dec. 4 that volunteers were able to deliver toys to surrounding counties in his name, according to his agency.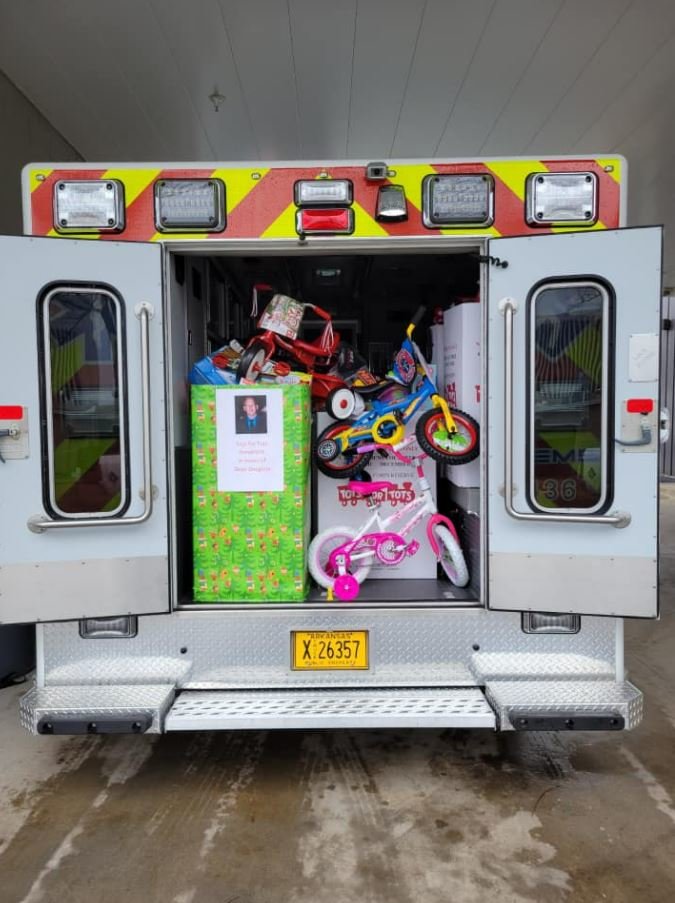 Michael Lane Scudder
Michael Lane Scudder, 61, chief of the Alpine Volunteer Fire Department and the Emergency Medical Service director for the West Texas Ambulance Service, died Dec. 5.
Although he began to complain of chest pains and trouble breathing while working on an unidentified patient, Scudder drove the person to Big Bend Regional Medical Center.
After the patient was wheeled into the hospital, Scudder suffered a "cardiac emergency," and medical providers couldn't resuscitate him, according to Alpine EMS.
A prepared statement released by the city said Scudder left "a legacy of immense enthusiasm and unparalleled dedication to the City of Alpine and its citizens through his public service to our community."
Scudder was born Aug. 30, 1960, in El Paso, Texas, to Lane Eric Scudder and Betty Scudder (née Simpson).
Michael Scudder and his identical twin brother, Mark Edward Scudder, completed an Emergency Care Attendant Course and were certified by the Texas Department of Health at Sul Ross State University as emergency care attendants. The brothers became emergency medical technicians in 1977.
They were only 16 years of age. They became full members of the Alpine Volunteer Fire Department two years later and established the Alpine EMS – West Texas Ambulance Service in 1985.
When Mark Scudder died in 2019, he had been serving as the fire chief, and his brother had been serving as his assistant chief. Michael Scudder became chief with his brother's passing.
"The City of Alpine is eternally grateful to Fire Chief Scudder for his passion, dedication, and over 45 noble years of service to our community," city officials stated in a prepared release.
He was preceded in death by his parents; brother; and wife, Traci Scudder (née Felsot). He's survived by his daughter, Jessica Scudder Patterson, and grandson, Michael "Mikey" Patterson.
Michael Scudder's burial was slated for 4 p.m. Monday, Dec. 13, at Elm Grove Cemetery. Arrangements were handled by Alpine Memorial Funeral Home.
Read Next: