A 97-year-old World War II veteran who escaped a prisoner-of-war camp on foot and later survived two gunshot wounds was finally recognized by the Army nearly 80 years after his actions on the battlefield.
William Kellerman was awarded the Purple Heart and the Prisoner of War Medal Tuesday morning, June 28, during a ceremony at Fort Hamilton, New York.
"I'm so overwhelmed it's hard to find words," Kellerman said to the crowd gathered in the Fort Hamilton Community Club after Chief of Staff of the Army Gen. James C. McConville presented him with the medals. "But your presence is my best present. It's like I've been in the shadows all my life and someone turned a light on and I can really see who I am."
Kellerman's journey started when the 19-year-old from the Bronx was sent to Utah Beach in Normandy, France, five days after D-Day as a soldier with the 79th Infantry, 315th Regiment, Company D.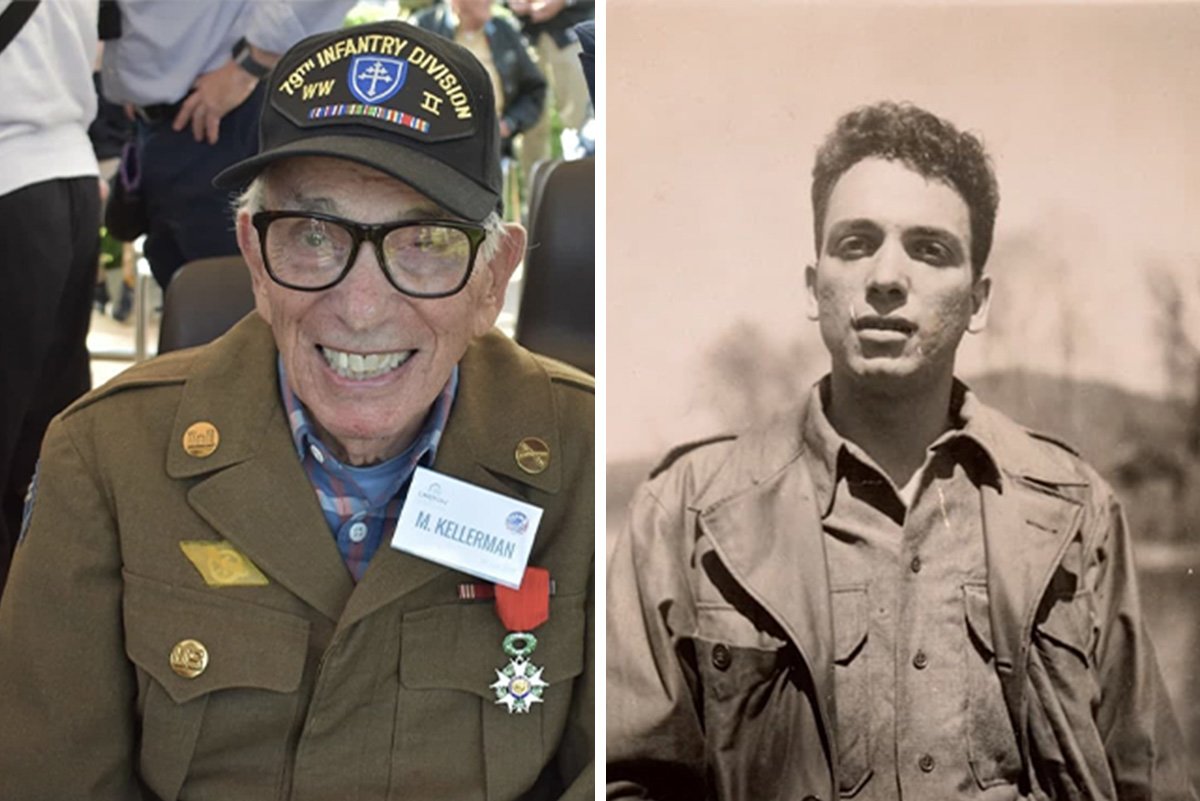 On July 4, 1944, Kellerman's unit came under heavy fire in the French countryside. One shot took out the soldiers' radio. Left without communications, Kellerman's captain sent him to find his battalion's headquarters and tell them what had happened.
As Kellerman dashed through fields and jumped over hedgerows, bullets flying all around him, he suddenly found himself looking straight at a German tank, then at the machine guns aimed at him by the soldiers who were exiting the vehicle.
Kellerman was taken to a POW camp with a few dozen other Americans. They received a single piece of bread to eat each day. At night, the German soldiers would march the prisoners across France, and during the day they forced the POWs to stay inside barns or other buildings so that the American planes flying overhead would not see them. During one of the nightly marches, Kellerman made a break for it.
"I said, heck with this, and I crawled into the bushes," he said in a 2020 interview. "As soon as they were out of sight, I ran like hell in the other direction. I kept on going until it got light."
He eventually stopped at a French farmhouse, where the owner realized he was an American soldier. The farmer gave Kellerman clothes, food, and a map, then burned the soldier's uniform. Kellerman took off on foot, walking for days before he came across a bicycle leaning against a tree. He'd never stolen anything in his life, but he figured desperate times called for desperate measures, according to Army officials who spoke at the ceremony.
Before long, the tire of his newly commandeered bicycle went flat. Kellerman walked with it to a nearby town where he found a bicycle shop. In another twist of fate, the shop turned out to be the headquarters for the French resistance.
Kellerman didn't speak French, and as he struggled to communicate with the shop owner, several French fighters came out from the back of the store, guns pointed right at him. They took his bike and marched Kellerman over to the local schoolhouse where a resident who spoke English interrogated him. Once they were convinced that he was an American soldier and not a German spy, the French resistance fighters hid him in the Fréteval Forest with nearly 200 soldiers of other nationalities.
After American soldiers liberated the forest in August 1944, Kellerman was sent back into the fight. On April 11, 1945, Kellerman was shot in the hand and leg during combat with German soldiers. He was taken to a field hospital in Czechoslovakia where the wound in his leg became infected. Then Kellerman was transferred to a hospital in Bayreuth, Germany, and remained there until the war ended on May 8.
Kellerman's awards were never processed at the time due to an administrative oversight, according to the Army, but after years of lobbying from family and supporters of the World War II veteran, that mistake was rectified Tuesday.
In 2018, Kellerman returned to Normandy, where he was named a chevalier of the French Legion of Honor, France's highest order of merit.
Read Next: