Five days into the Battle of Iwo Jima, Hershel "Woody" Williams was the only Marine left standing in his six-man demolition team; the others had all been killed or grievously wounded. But Williams' unit still faced a seemingly endless maze of buried mines and Japanese pillboxes spewing machine-gun fire.
With only four riflemen covering him, Williams grimly rushed forward with his flamethrower, beginning the valiant charge for which he would receive the nation's highest military honor.
Williams, who was the last living World War II Medal of Honor recipient, died early Wednesday, June 29, in his home state of West Virginia, leaving behind a legacy of bravery, heroism, and love of country.
"Woody exemplified a life of dedicated service, both on and off the battlefield," the National Medal of Honor Museum wrote Wednesday in a statement.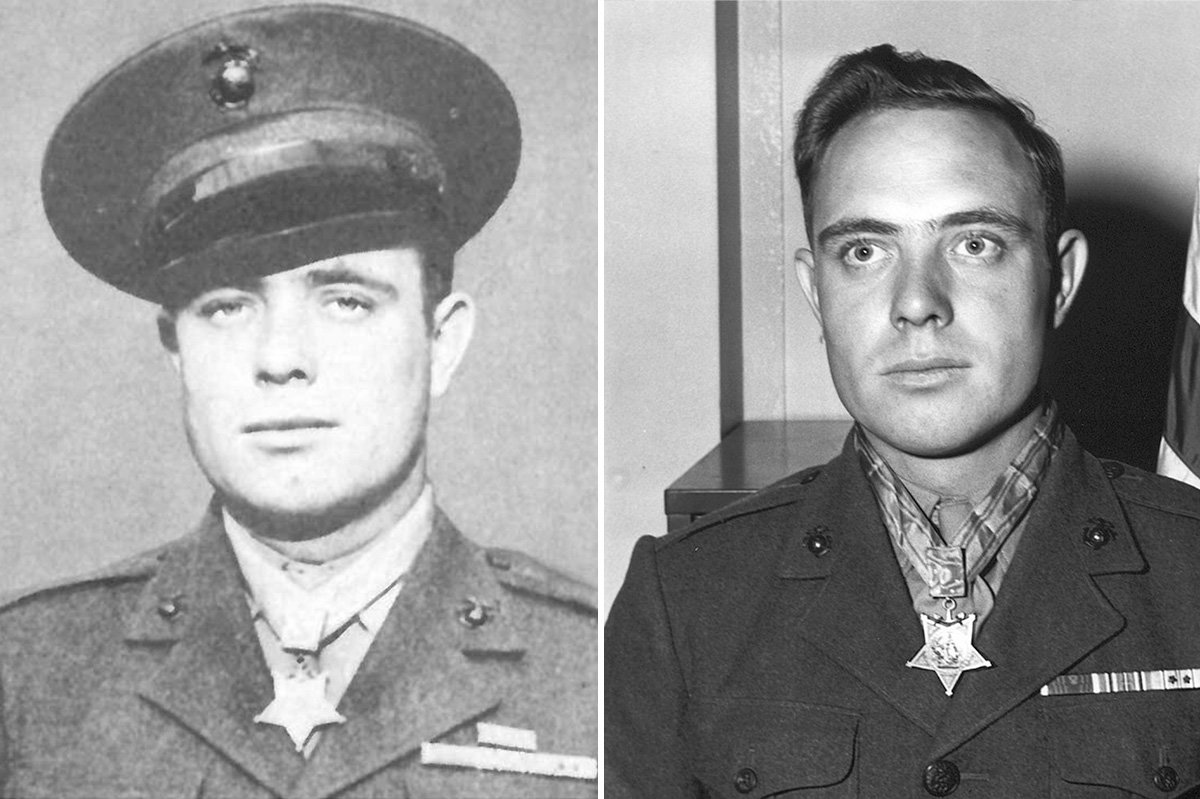 Born on Oct. 2, 1923, on a dairy farm in Quiet Dell, West Virginia, Williams often described himself as a country boy with humble beginnings. He grew up during the Great Depression as the youngest of 11 children, six of whom never made it to adulthood, according to a biography from the National Medal of Honor Museum. Williams worked numerous odd jobs growing up, including as a taxi driver who was often tasked with delivering telegrams to soldiers' family members, informing them of the loss of their loved ones.
When Williams' family heard about the attack on Pearl Harbor, two of his brothers immediately joined the US Army. But Williams said he "didn't want to be caught dead […] wearing that brown ugly Army uniform," so he signed up for the Marine Corps instead.
The Corps initially rejected Williams because he was only 5 feet, 6 inches tall. It took two more years before the service reduced its height requirement and Williams was accepted into the branch he so admired.
Williams joined the "Hollywood Marines," training in San Diego, California, before shipping off to Guadalcanal in the South Pacific, where he trained as a demolition man and flamethrower operator. He briefly saw combat in July of 1944 during the battle to retake Guam. But the battle that would forever change the course of Williams' life came the following year, when he was assigned to the 21st Marines, 3rd Marine Division.
The reserve unit was sent ashore two days after the Battle of Iwo Jima had begun, and the unit entered a chaotic and brutal scene. The terrain was difficult to navigate, and American forces were already suffering heavy casualties.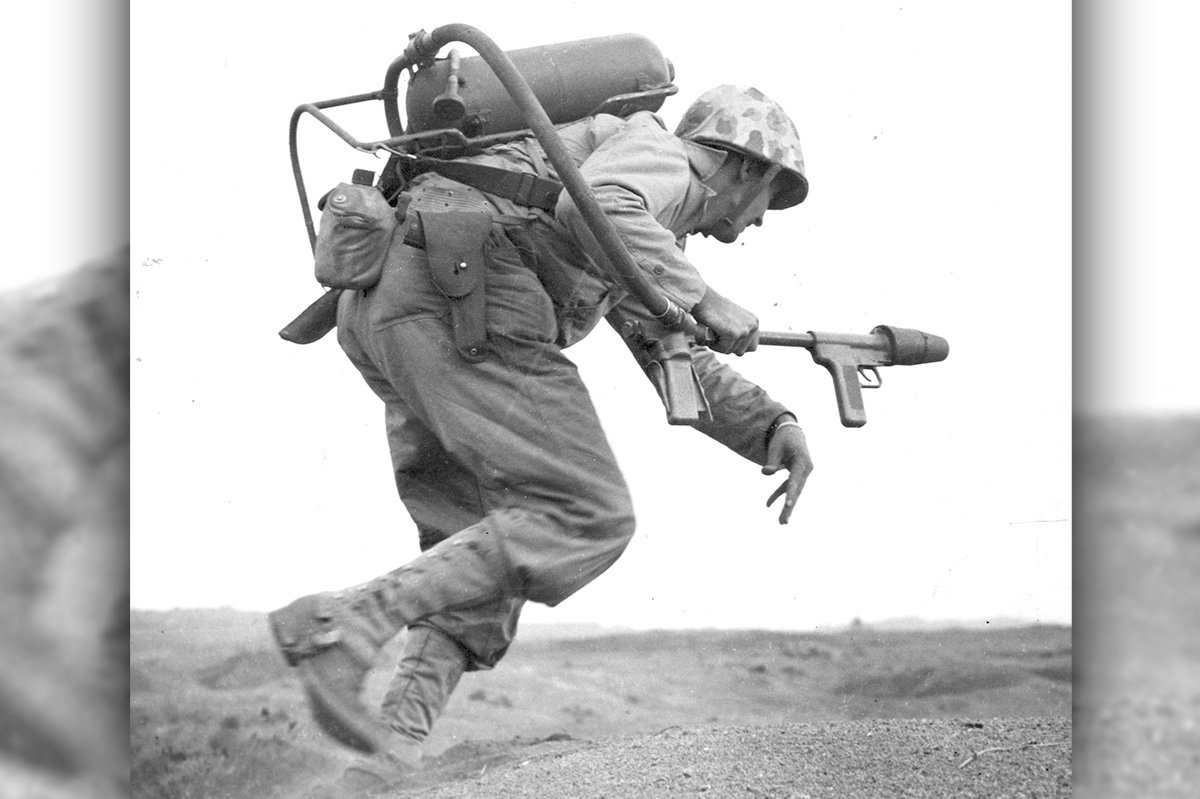 On Feb. 23, 1945, five days into the fight, Williams was the only Marine from his demolition team remaining on the battlefield. US tanks couldn't get past the buried mines and black volcanic sand to take out the reinforced concrete pillboxes unleashing devastating machine-gun fire on American troops, so Williams' company commander asked whether he could use his flamethrower to wipe out some of the pillboxes.
"I'll try," Williams replied. Then he picked up his flamethrower and charged forward.
Over the next four hours, Williams managed to take out seven Japanese pillboxes using six different flamethrowers, all the while dodging small-arms fire.
During one charge, Williams jumped onto a pillbox and inserted the nozzle of the flamethrower through an air vent, incinerating everyone inside and stopping the gun.
In another instance, he ran at bayonet-wielding riflemen and blasted them with a burst of flame.
"His unyielding determination and extraordinary heroism in the face of ruthless enemy resistance were directly instrumental in neutralizing one of the most fanatically defended Japanese strongpoints encountered by his regiment and aided vitally in enabling his company to reach its objective," his Medal of Honor citation reads.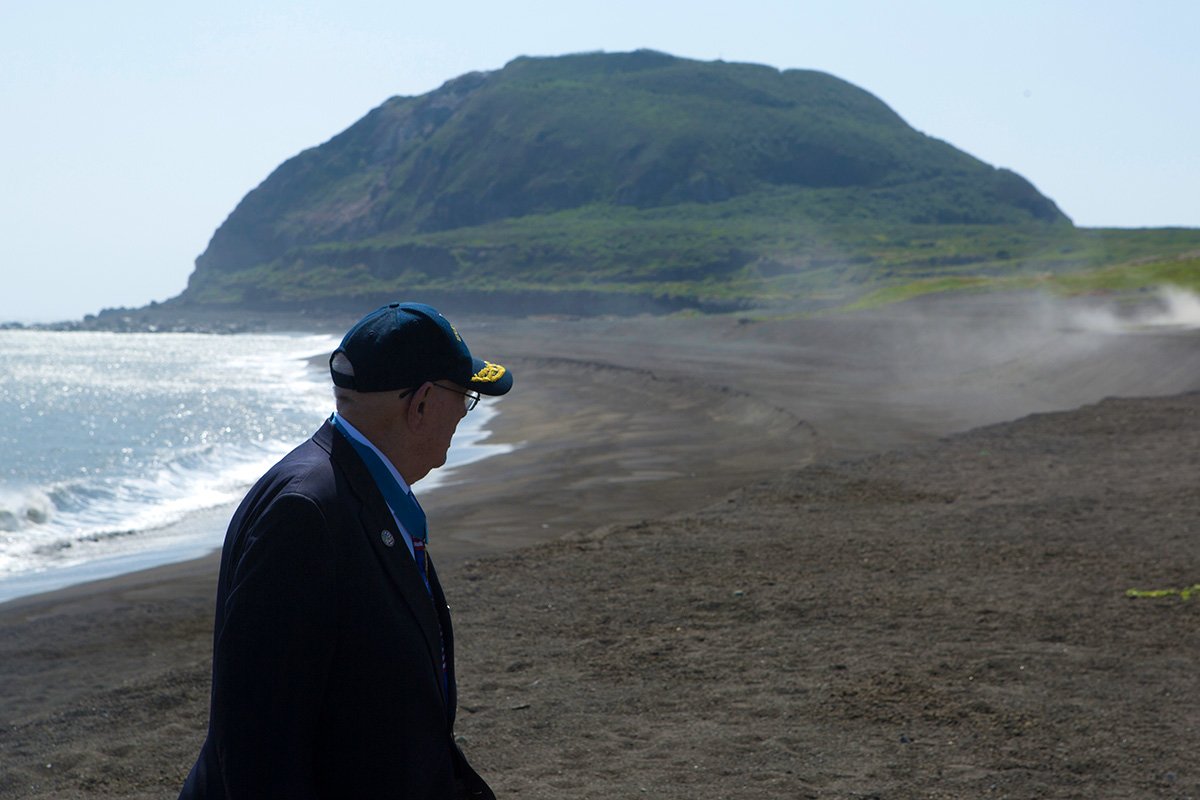 President Harry S. Truman presented Williams with the Medal of Honor on Oct. 5, 1945. Less than two weeks later, he married his wife, Ruby. They had two daughters and were married for more than 60 years until Ruby died in 2007.
Williams spent two decades in the Marine Corps and Marine Corps Reserve, advancing to the rank of chief warrant officer before retiring. He worked as a veterans service representative with the Department of Veterans Affairs for 33 years. He also served as the commandant of the Veterans Nursing Home in Barboursville, West Virginia, and as the chaplain for the Congressional Medal of Honor Society.
Inspired by his early experience delivering telegrams to soldiers' family members, Williams founded the Woody Williams Foundation to support Gold Star Families. The nonprofit has established more than 100 monuments across the country so far, with more than 70 additional monuments underway, according to the Woody Williams Foundation.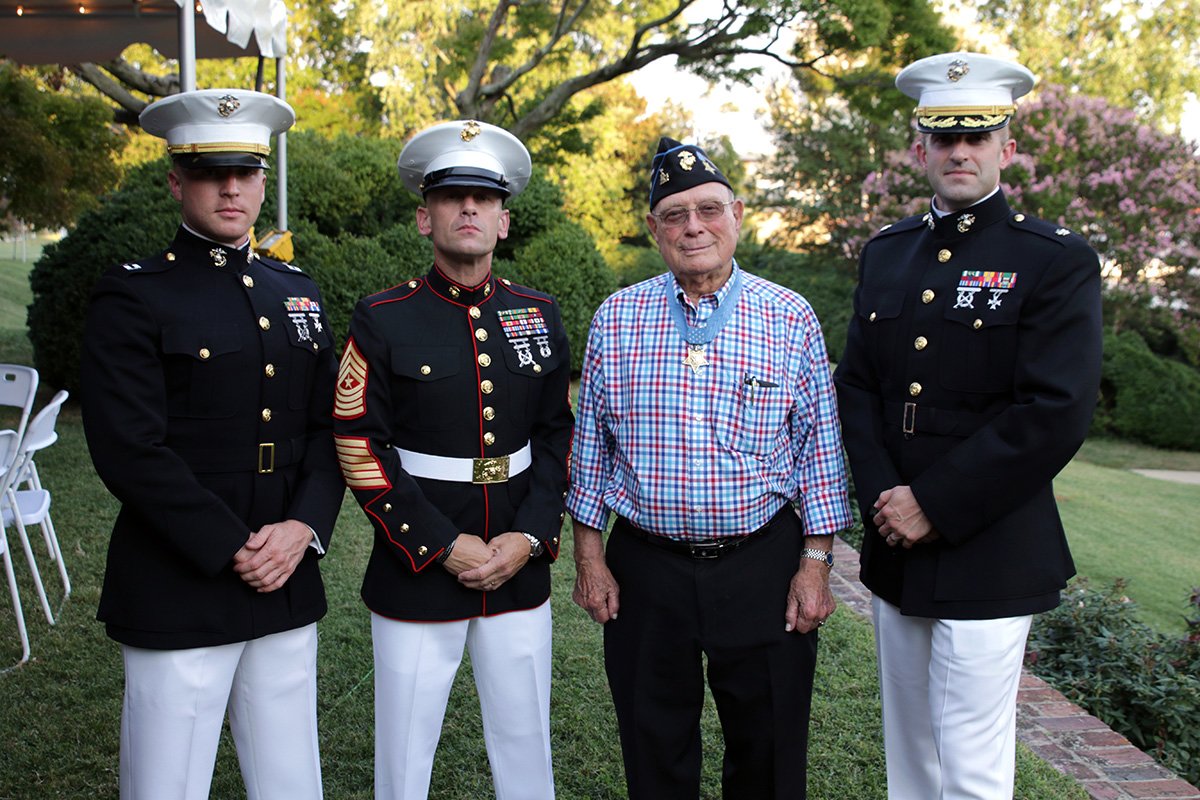 "Service is within all of us," Williams once said. "Every time we do something to help another person, we get a residual of that that makes us feel good, makes us feel proud that we could do something for someone else. And, there's no feeling like it."
Williams died at 3:15 a.m. on Wednesday surrounded by his family at the VA Medical Center named in his honor in Huntington, West Virginia, according to a release from the Woody Williams Foundation.
There are only 63 recipients of the Medal of Honor still alive today, according to the National Medal of Honor Museum.
Read Next: