Betty White, a World War II volunteer and trailblazing TV talent who starred in a string of Hollywood hits spanning seven decades, died in Los Angeles on New Year's Eve, 17 days shy of her 100th birthday.
"We are saddened by the passing of Betty White," read an official statement released Friday afternoon by the US Army. "Not only was she an amazing actress, she also served during WWII as a member of the American Women's Voluntary Services. A true legend on and off the screen."
Founded on the eve of war in 1940, the American Women's Voluntary Services placed more than 325,000 women in key industries by 1945, freeing others to enter the armed forces. Volunteers served in a wide variety of occupations, including cryptographers, fire watchers, crop pickers, auto mechanics, switchboard operators, and textile workers.
Shortly after the Japanese attack on Pearl Harbor, the 20-year-old White donned her AWVS uniform as a delivery driver, running PX supplies to troops bivouacking in the Hollywood Hills.
"It was a strange time and out of balance with everything, which I'm sure the young people are going through now," she told Cleveland Magazine in 2010, nine years into a global war that pitted US forces against Islamist insurgents. "We'll never learn. We'll never learn."
After World War II, she tried to gain a toehold in the film industry but was rebuffed by studio executives who doubted she possessed the glamorous face and figure to be a starlet.
White instead returned to radio, where she'd worked as a child actress, before making her jump to TV in 1949, co-hosting the live Los Angeles show Hollywood on Television.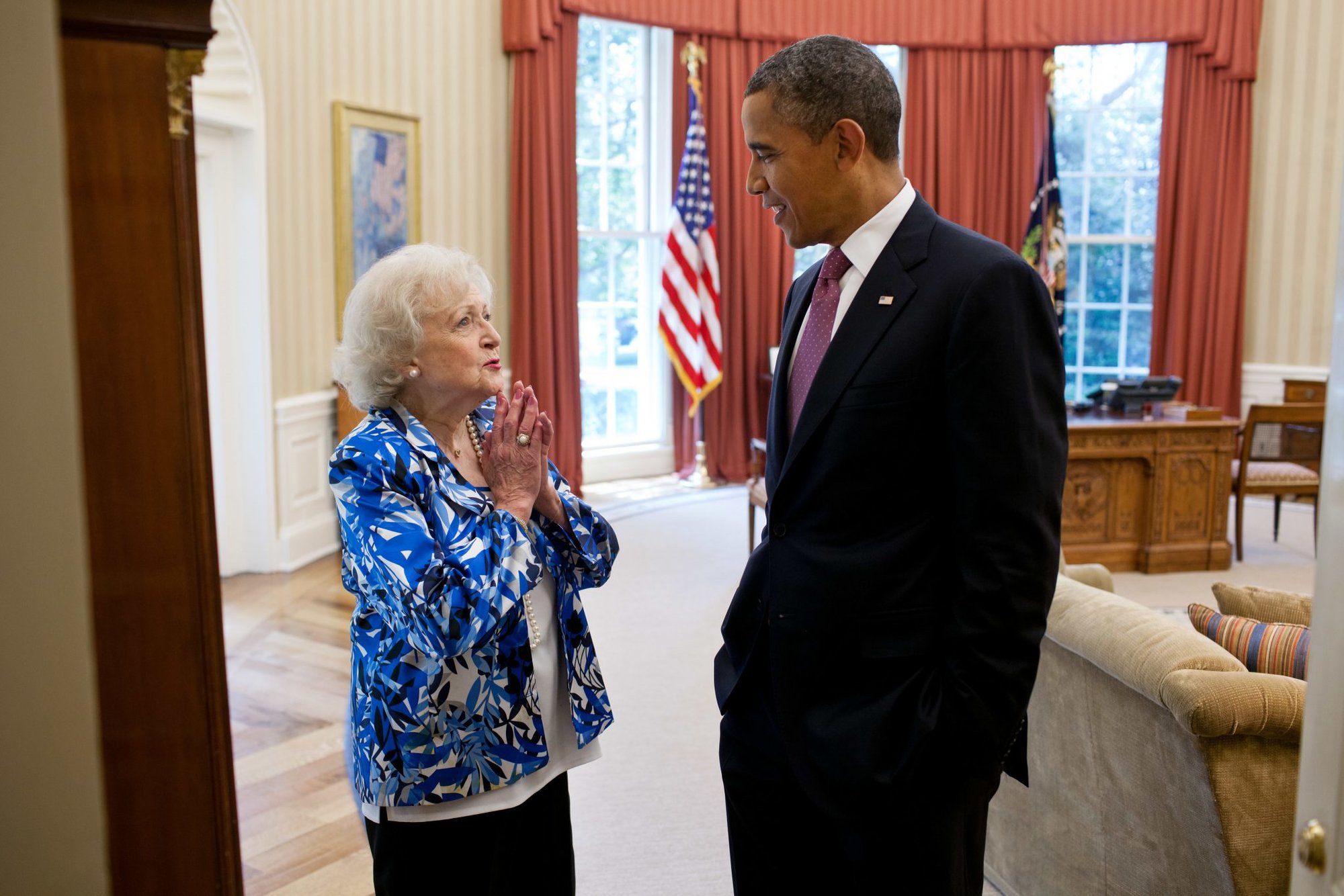 The new medium of television catapulted her to stardom, first with her turn on the nationally syndicated Life With Elizabeth series. It granted her full creative control over the production.
She was 28 and had moved back home to live with her parents following a pair of failed marriages.
By 1954 she was hosting and producing her own self-titled show on NBC, but she became more famous playing iconic character roles on sitcoms.
She portrayed the devious Sue Ann Nivens on The Mary Tyler Moore Show from 1973 to 1977 on CBS and later embodied the sweetly innocent Rose Nylund on The Golden Girls for NBC from 1985 to 1992.
In the 1960s, she cemented an enduring presence as a celebrity on a string of game and talk shows, including the hit Password. The show's host, Allen Ludden, became her third and final husband. After a bout with stomach cancer, he died in 1981 at the age of 63.
Her Hollywood Walk of Fame star is at 6747 Hollywood Blvd. in Hollywood, next to her late husband's star.
According to the Emmy Awards, White received five primetime Emmys, one daytime Emmy, a Lifetime Achievement Emmy, and a regional Emmy; plus five American Comedy Awards, three Screen Actors Guild awards, and a Grammy.
She was inducted into the Television Academy Hall of Fame in 1995.
Read Next: Coffee or Die Magazine's Top Stories of 2021