Time and weather have soothed the scorched hills around Yarnell, Arizona, as new growth veils reminders of a past inferno. The plants rising from the ash show that life carries on after calamity in new and different ways. So it goes for the family and friends of the 19 men who died fighting the Yarnell Hill Fire seven years ago today. Life continues, but it's not the same. Seven years is a long time and much has changed, but for those close to the Granite Mountain 19, that day still feels like yesterday.
From the ridge, the box canyon where the Granite Mountain Hotshots made their last stand looks like a massive amphitheater. On the flat ground at the bottom, a circle of stone-filled gabion baskets marks the fatality site. Under the bright sky, Boulder Springs Ranch appears closer than it is. Yarnell lays a little farther out, and beyond that the horizon unfolds as a warm gust offers a reminder that nature is not easily tamed.
Lessons from Yarnell continue to echo throughout the wildland firefighting community. Right now, as wildland fire season picks up, fires burn in eight states where 43 large fires have consumed 679,347 acres so far this year according to the National Interagency Fire Center.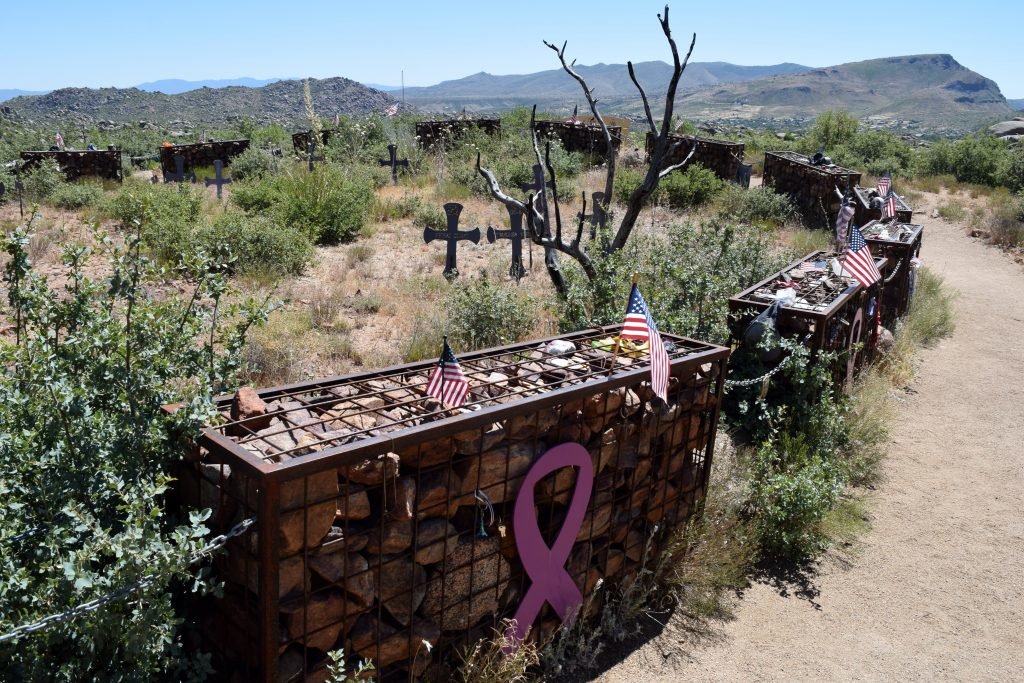 North end
Wildland firefighting is a complex business pitting humans against nature with no way to fully know or control all the variables. Topography, weather, and fuel loads create an unpredictable adversary for firefighters who are also navigating human factors, communication, equipment, and logistics. All of these elements converged in the loss of the Granite Mountain crew.
Dry lightning sparked the Yarnell Hill Fire on a ridge in the Weaver Mountains west of Yarnell on June 28, 2013, and by June 30, the fire was 300 to 500 acres and growing. The area hadn't burned in 47 years, so thick brush combined with extreme drought, high temperatures, and low humidity combined to strengthen the blaze.
Conrad Jackson, Prescott Fire paramedic engineer, taught fire science at Prescott High School before joining the department full time. Several of the Granite Mountain crew — including Brendan McDonough, Travis Turbyfill, and Andrew Ashcraft — were his students or members of the Fire Explorer post that he still leads, and he tells his story with the precision and sincerity of a caring mentor.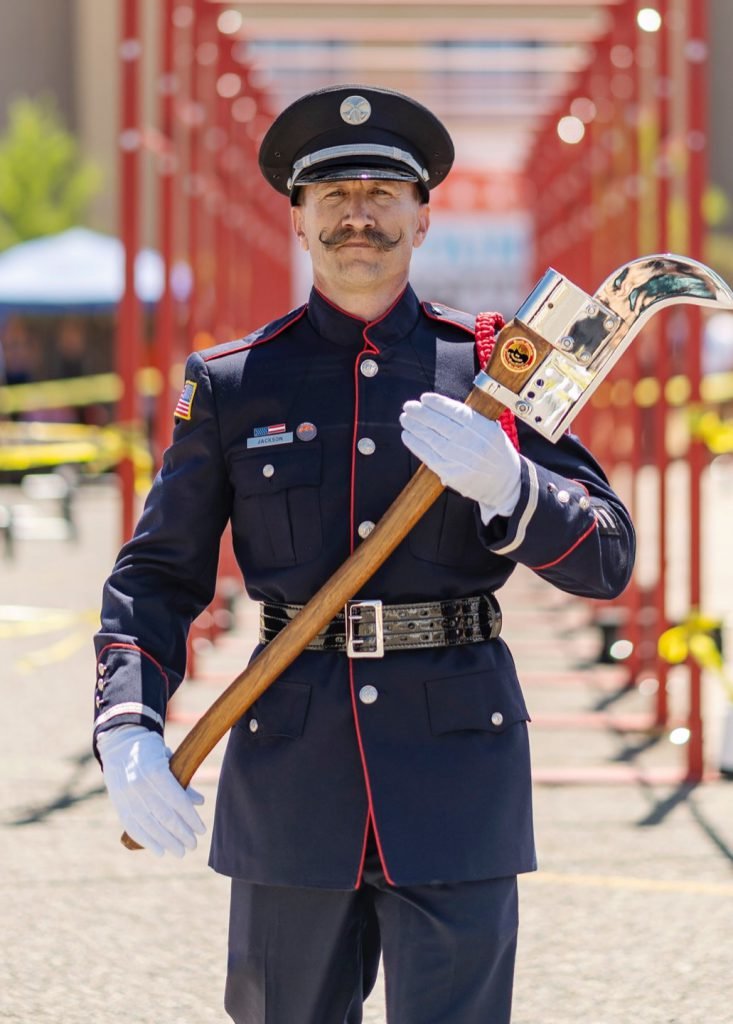 That morning, Jackson and Prescott firefighter Mark Matthews rolled to their structure protection assignment on the north end of the fire. They spent much of their day setting up sprinkler systems and a water tender, and by early afternoon they noticed cumulus clouds forming to the north.
That thunderhead created a massive inflow that pulled the fire to the north toward their division, and "it's getting rodeo, way Western," Jackson said. "We've got it jumping over every road, and eventually we abandon all of our structure protection equipment and pull out, and our whole strike team backs off even more north."
The fire ripped north, threatening Peeples Valley. "You're listening to the radio traffic on our side of the fire, and it's guys saying, 'Hey, everybody fall back,' and it's really just this kind of asses-and-elbows thing where you can just feel this is bad," Jackson said.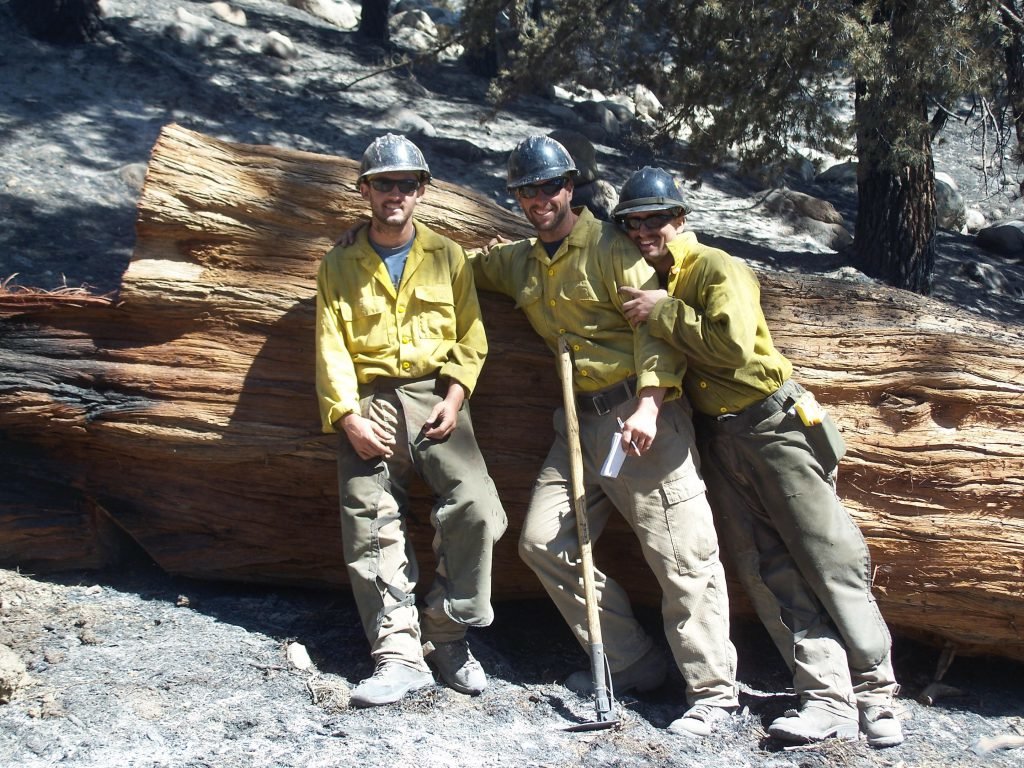 He captured video footage thinking he was looking at a town about to burn when suddenly, around 3 PM, the thunderhead collapses and creates outflow winds that quickly change the fire's direction.
"It's now turned 180 degrees and is hauling south right back at Yarnell," he said.
South end
As with many catastrophes, there are things we know and things we'll never know. The Arizona State Forestry Division acknowledges this in the Yarnell Hill Serious Accident Investigation Report that outlines the events.
After a 7 AM briefing, the Granite Mountain Hotshots hiked 45 minutes along a two-track road west of Yarnell and began reinforcing a fire line and back burning. Around noon, the Blue Ridge Hotshot leadership met with Granite Mountain leadership, and they agreed to post a Granite Mountain member as a lookout.
Brendan McDonough, the lookout, had a good view of his crew from an old road grader. After the crew ate lunch at a rock face, they continued work on the line. At 3:50 PM, the aircrew notified them that "the fire is heading quickly toward Yarnell and could reach the town in one to two hours."
About this time, the Blue Ridge superintendent picked up McDonough, and Granite Mountain Captain Jesse Steed radioed: "I've got eyes on you and the fire, and it's making a good push."
At this point, the Granite Mountain crew was in the "black," an area that had already burned, and their leadership was discussing options.
Nobody knows for sure about the crew's decisions or actions between 4:04 PM and 4:37 PM because there is no verified communications. But at some point during this period they depart the saddle to travel across an unburned area, likely in an effort to reach the Boulder Springs Ranch, a designated safety zone.
At 4:39 PM, a radio call: "Breaking in on Arizona 16, Granite Mountain Hotshots, we are in front of the flaming front."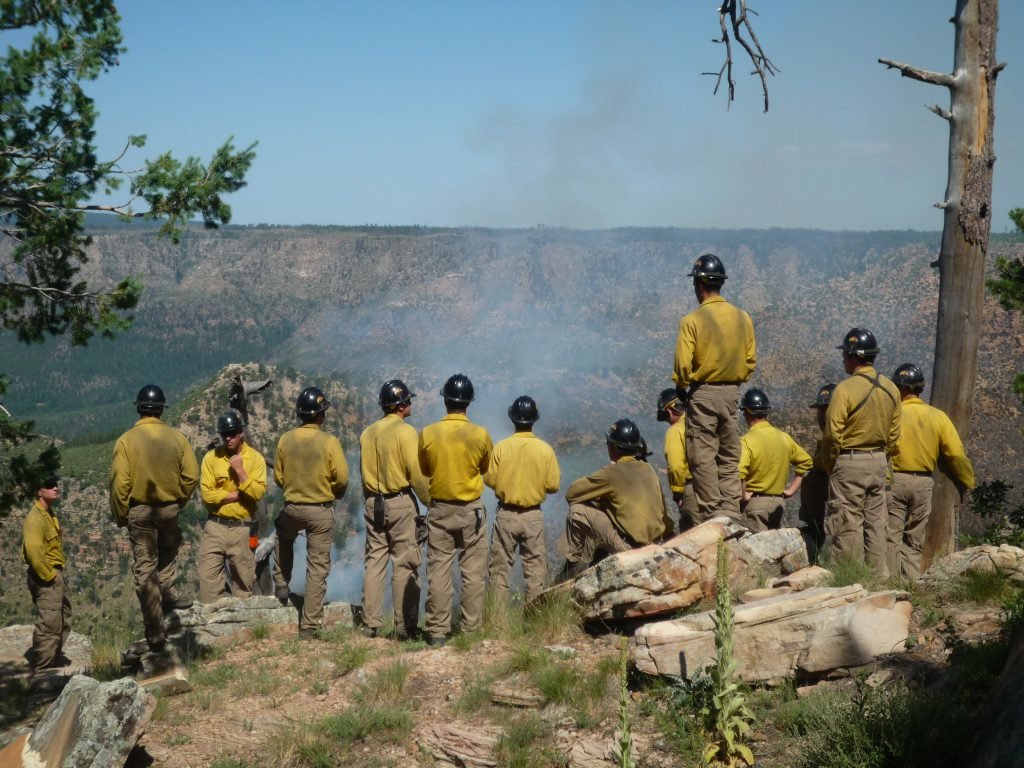 Then, shortly after: "Yeah, I'm here with the Granite Mountain Hotshots, our escape route has been cut off. We are preparing a deployment site, and we are burning out around ourselves in the brush, and I'll give you a call when we are under the sh— the shelters."
The last radio traffic from the Hotshots came at 4:42 PM.
The fire, traveling 10 to 12 mph, overtook the crew 600 yards from Boulder Springs Ranch. The speed of the fire "eliminated any opportunity for the crew to reach the safety zone or return to the canyon rim." They had less than two minutes to prepare the site and deploy their fire shelters before flames with temperatures in excess of 2,000 degrees Fahrenheit reached them. The report does not place blame and notes, "the Granite Mountain IHC did not perceive excessive risk in repositioning to Boulder Springs Ranch."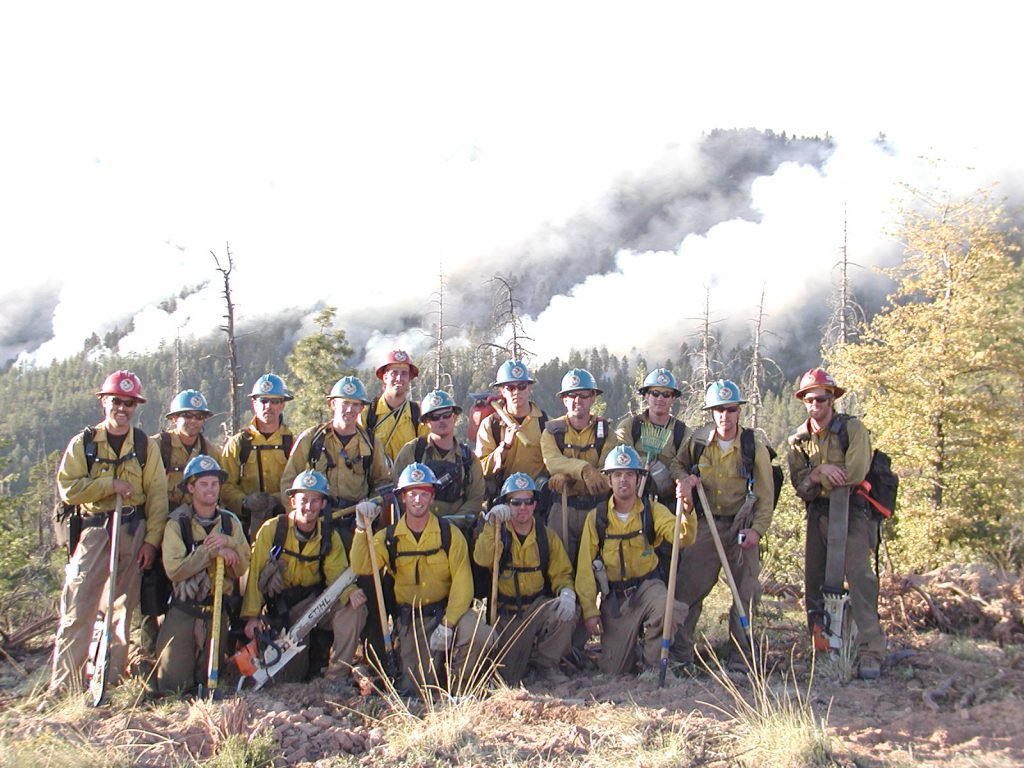 North end
By 5 PM, Jackson awaited reassignment when he got his first hint that something was wrong via texts from friends asking what he's hearing about the fire and the crew.
"I'm listening to my side of the fire," he said. "But when these guys are saying, 'It sounds like something happened on your fire,' you kind of open up your spectrum, and so I started listening to the frequencies on the south end of the fire."
But radio communications were spotty, and there were conflicting snippets of traffic. He was trying to stay positive when he heard, "Granite Mountain IC," short for Granite Mountain incident command.
"I've been doing this for a long time, so when you hear not 'Yarnell Hill IC,' but a new IC, you know you have an incident within an incident and something bad happened," he said. But the fog and friction of the response kept the gravity of the situation murky until they headed back to base camp.
The aftermath
At base camp, "it was creepy because no one would make eye contact with us," Jackson said. Then he saw a pickup pull up with Brendan McDonough, one of his former Explorers, and felt a brief sense of relief.
"McDonough sees me, and we plow into each other, and he's bawling and I'm bawling because that's the reality where you're like crap — it happened, and all the rumors are true," he said. "I remember saying to McDonough, 'I thought I lost all my boys,' so it was really, really hard."
Jackson and Matthews stayed up all night at the incident command post and drove to the fire's south end and the staging area at Boulder Springs Ranch early the next morning. Along the way they passed through Yarnell and witnessed the town's devastation.
"There was still stuff on fire," he said. "It was this warzone-looking destruction."
At the ranch, Jackson and Matthews joined other department members and drove up a newly bulldozed road to the site.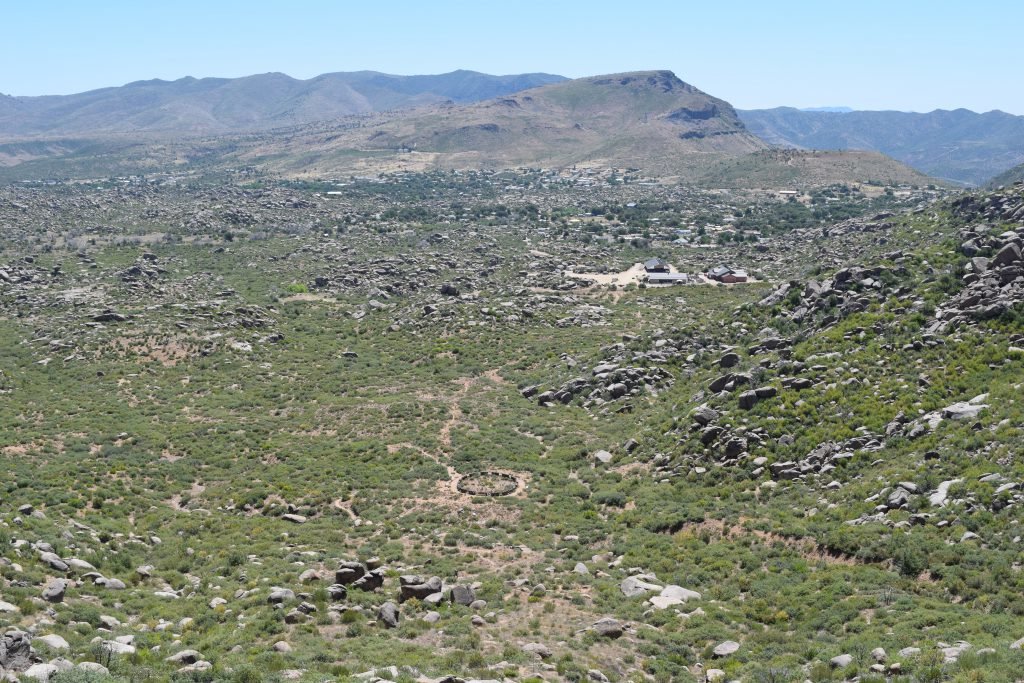 "It was eerie because everything is scorched, everything's black, even the big granite boulders are covered with this char, but the plow has cut through that black so there's this reddish stripe going right up to where the guys died," Jackson said.
They had the solemn duty of performing the dignified transfer of the Hotshots from the site. One of the detail members had been at Ground Zero in New York City when they moved firefighters from the pile, and that was the basis for how the group proceeded.
They draped the fallen with American flags, and "we had cordons on either side, and call to arms, and order arms as each one of them got loaded," Jackson said. From there, a procession of fire vehicles escorted the crew to the Maricopa County Medical Examiner's office in Phoenix.
"I wasn't mentally prepared for what happened next," Jackson said. The situation was barely 12 hours old and nobody publicized the route, but "we hit Wickenburg and the streets are lined with people."
And it was like that all the way to Phoenix.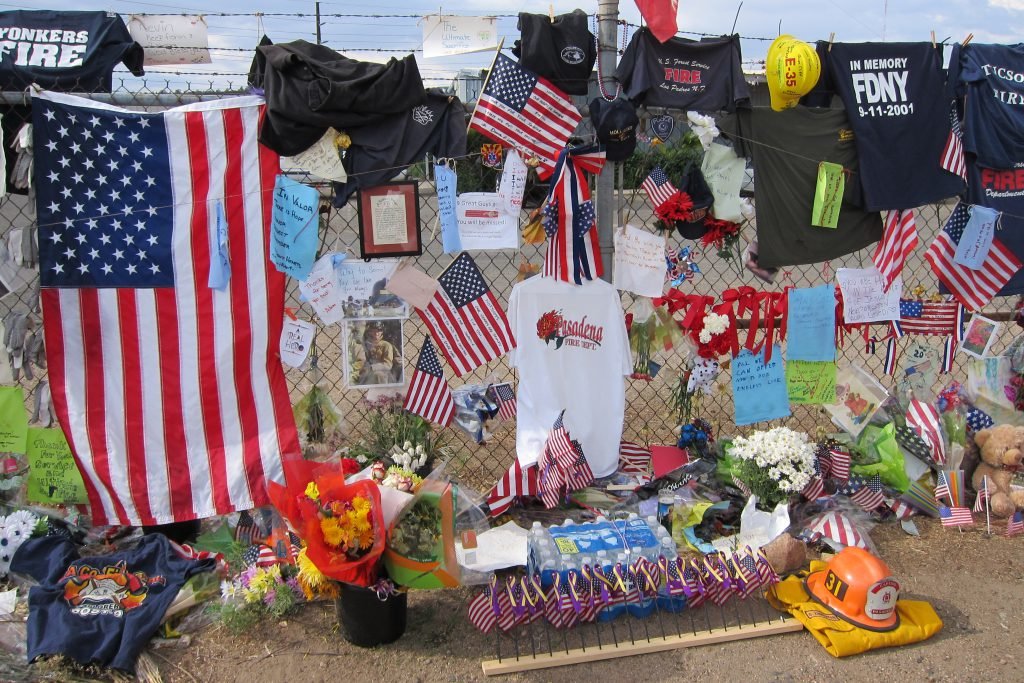 Thousands of miles away, Pat McCarty's day went from the best to the worst in an instant. The Prescott Captain and former Granite Mountain Hotshot had barely landed in the Caribbean with his wife on their honeymoon when he got word of the loss. They immediately returned to Arizona — with help from the governor's office — because the department needed McCarty and his brother, Dan, another former Granite Mountain Hotshot, to help with the recovery.
They went straight to the site and collected debris leftover from the investigation.
"So, we're picking up tools, chainsaws, anything you can imagine," McCarty said. "It was really bizarre because when we got there, it was like a moonscape man, and there's nothing left."
Even boulders had spalled from the heat.
"It was truly mind boggling how much fuel was actually in that area," he said. "So we're just trying to figure out what the heck happened."
Later, McCarty and his brother helped escort their lost friends back to Prescott.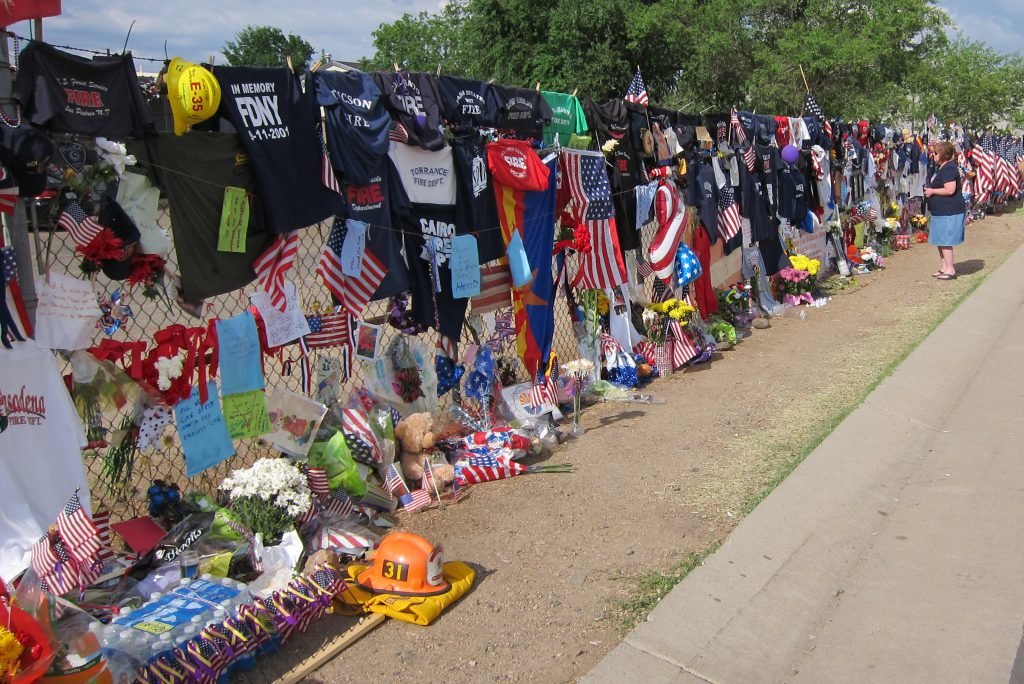 "I drove one of the crew buggies and my brother drove one of the crew buggies to usher the bodies home," he said. "It was the most honorable thing I've ever witnessed in my life because there was not a stretch of road from Phoenix to Prescott that didn't have people lined up or pulled over on the side of the roads to pay their respects."
From there, it's a blur of memorials and funerals, interviews and conversations, tears and hugs.
"To be honest with you, man — it was chaos for three months," McCarty said.
The accident claimed a quarter of the Prescott Fire Department, "so none of the guys were functioning very well," Jackson said. "For an entire month the other agencies in the state of Arizona — and I mean all the way from down in Nogales and Sierra Vista — were sending engines up to Prescott and having them work the shifts. It was amazing on so many levels."
Prescott and the surrounding communities came together to provide ceaseless support to the families and firefighting community in the aftermath.
"I am strongly committed to my community," said Jackson. "The outpouring of support demonstrated to me just how much my community is committed to me as well."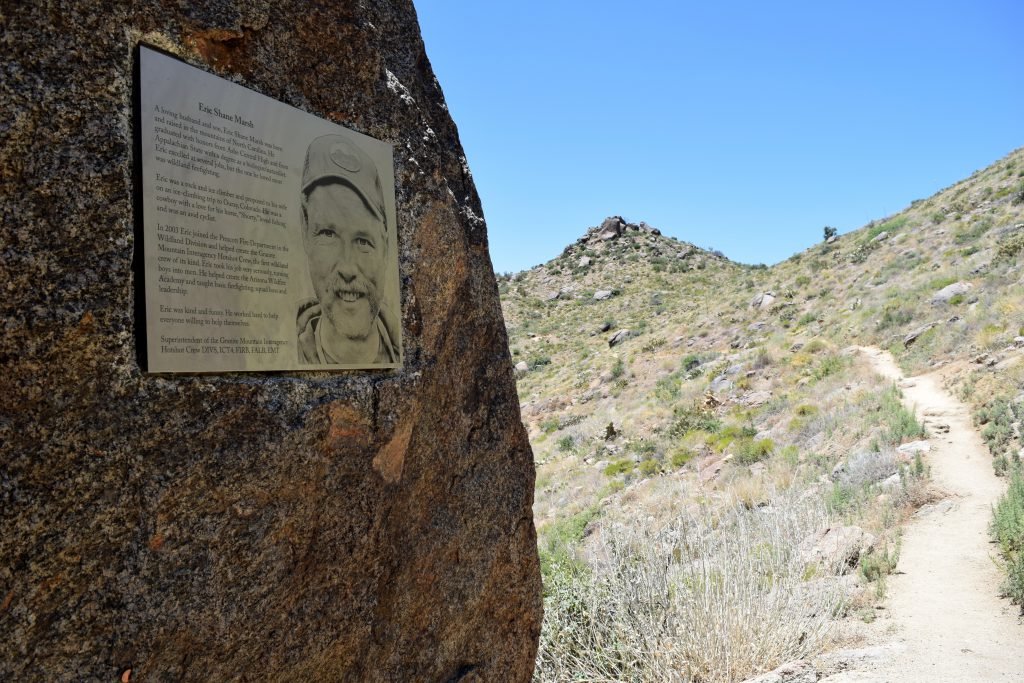 The Hotshots' Station No. 7 immediately became a shrine.
"The whole chain link fence all the way around the facility got covered," said Jackson, and when they eventually took the stuff down, there were 1,100 shirts, 900 American flags, 500 stuffed animals, and 851 prayers and cards.
After the crisis phase, the healing process proved difficult and messy. Lawsuits and litigation followed on several fronts.
Due largely to liability concerns, the city of Prescott chose to not create another Hotshot crew. The city's insurance "basically said if you try to reactivate that Hotshot crew and bring it up from the ashes, we will cut your insurance," said Jackson.
"When people say, 'Oh, it was a bad spot,' I think to myself — well, you've never been on a Hotshot crew because if you've been on a Hotshot crew, you've walked through areas that are just like this a hundred times, and it wasn't that bad of a spot," said McCarty. "I can see why those guys would have gone there to try to get to the ranch house, if that's what they were doing, to try to make a difference."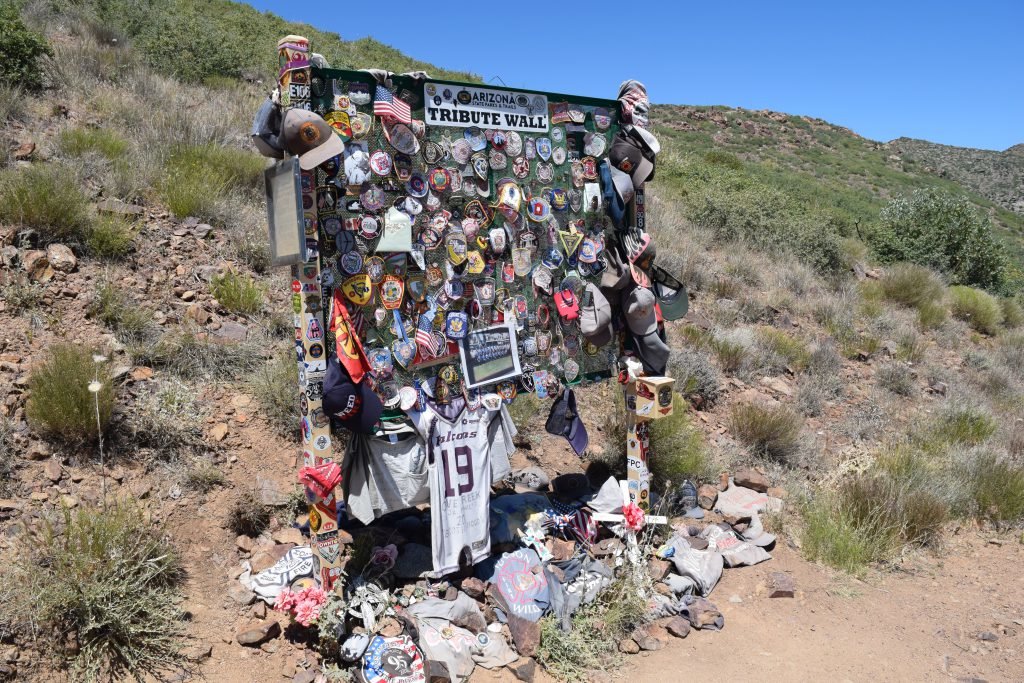 Despite the investigation, there will never be a full understanding of the loss.
"As time went on, we start to figure stuff out, but more importantly, we know that it doesn't really matter what happened at this point — it is what it is, and it sucks," said McCarty. "It's just really strange because no matter how many times I went down there, it doesn't make sense."
The legacy
Like wildland firefighting, the Granite Mountain Hotshots legacy proves complicated. For the 43,000 people in the mountain town of Prescott, the tragedy looms large. You don't have to look hard to see Granite 19 stickers, signs, T-shirts, and other reminders.
The tributes demonstrate how these men were a part of this place and were defined by more than their demise. People often refer to them in collective terms, like "Granite Mountain" or "the Hotshots," or, for those closer, "my brothers," "the boys," or "the guys." The crew was united in life and death, and with mass loss like this, sometimes the individual stories get missed in the shadow of the larger one.
"I want them to be remembered as awesome fathers, brothers, sons, and husbands," said McCarty. "The thing that's hard now is their kiddos who didn't get enough time with dad."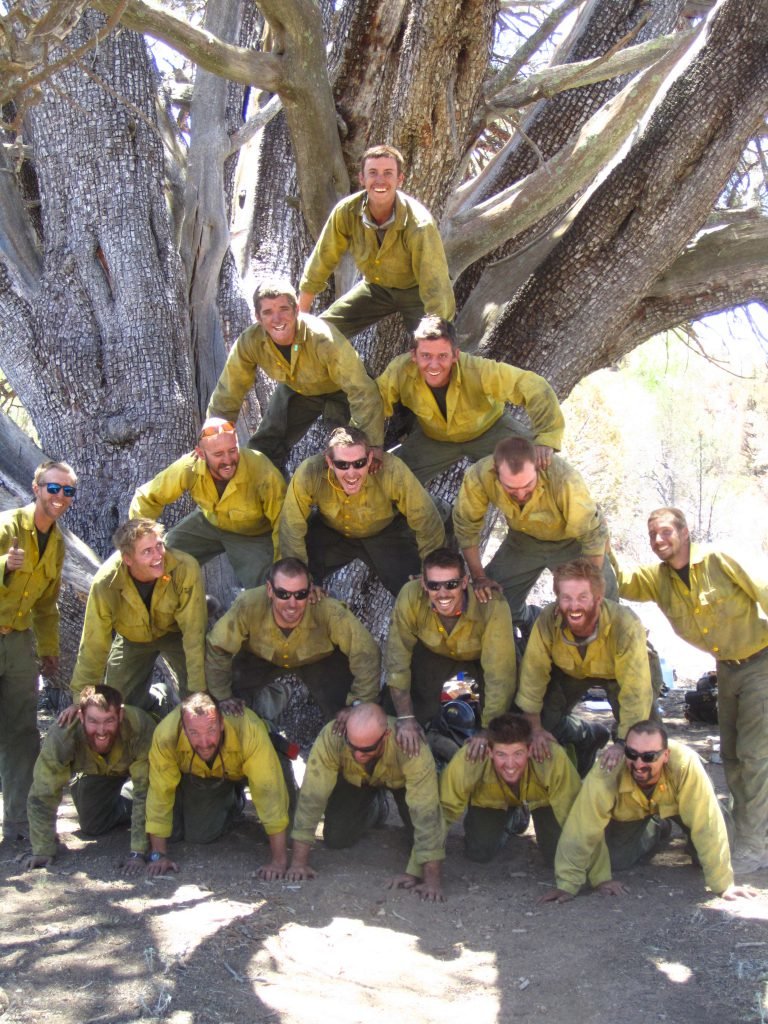 There are many stories to tell about each of the lost.
"When you go through something like that it changes everything about a person, and I will always remember Eric as being the most brilliant, funniest, and most handsome human I had ever known at that time," said Amanda Marsh, widow of Eric Marsh, the crew's superintendent. "He was just an incredible man who tried really hard, and he loved the Granite Mountain Hotshots like they were his family."
By serving as a technical advisor for the film, "Only the Brave," McCarty helped the world catch a glimpse of the Hotshots. He said he's happy with the movie overall, "but for me, I would just tell a 20-hour story about each guy because there's enough for every guy to have his own movie."
For the Prescott Fire Department, "it's a fine line," Jackson said. "It really is a struggle for us to find that position where we continue to honor and respect their memory without it feeling like we're ripping off the Band-Aid every time."
He said they've worked hard to depict the Granite Mountain Hotshots as a part of the department's history, but not their whole history. Just as the Hotshots are more than that horrible event, so too is the department and city.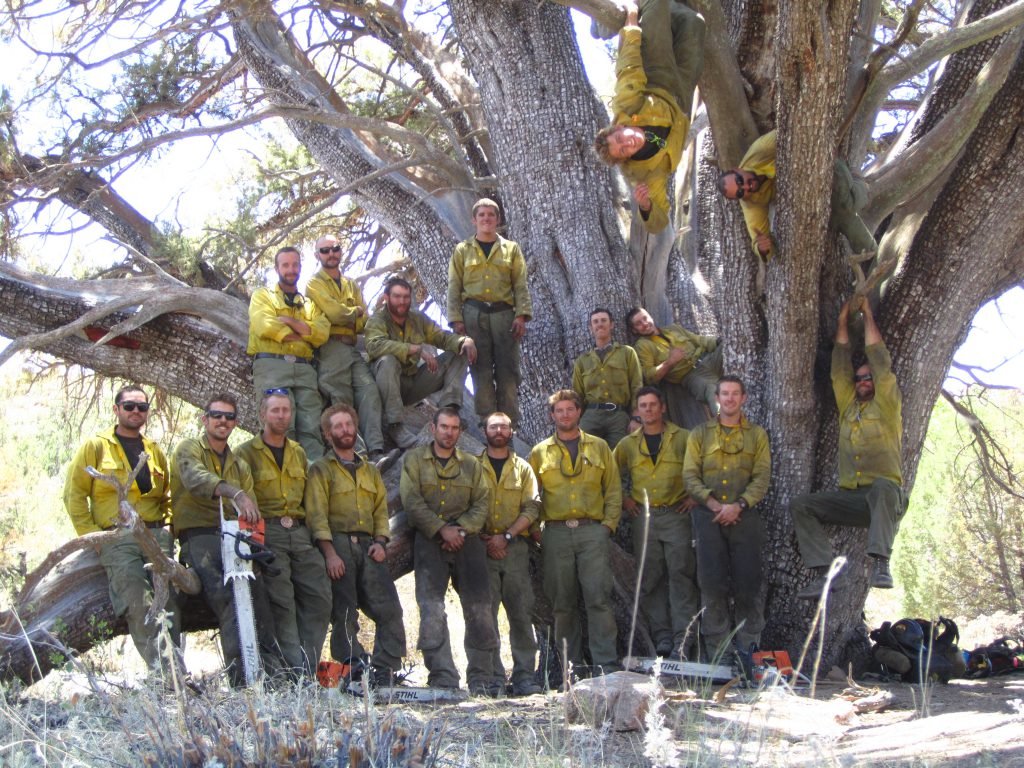 "There's an amount of healing, and everybody's on a different track for where they are in the process," he said. "I'm somewhere in the middle here. I have a bad day every once in a while, obviously. Time will help with that I'm sure, but it's been seven years and it still feels really fresh."
Jackson said the five-year marks are "big deals" and ceremonial acknowledgment will likely be higher on those anniversaries. For the years in between, there'll always be services, the Yavapai County Courthouse bell ringing, and honor guard ceremonies at the Arizona Pioneer Home cemetery where 10 of the 19 are buried and plaques honor each crewmember.
In 2016, the Granite Mountain Hotshots Memorial State Park opened. The 7-mile trail gains more than 1,200 feet of elevation and features plaques honoring each Hotshot every 600 yards.
After the City of Prescott sold the crew's Station No. 7 to a local business in 2017, stakeholders and community members formed the nonprofit Granite Mountain Interagency Hotshot Crew Learning and Tribute Center. In 2018, the center opened in the Prescott Gateway Mall, and volunteers honor the crew by telling their story, displaying and housing artifacts, and educating visitors about wildland fire, firefighting, and prevention.
"Being able to have that opportunity and work with those guys and learn from Eric [Marsh] is something I'm eternally grateful for. I got hired in 2005, and my entire career was formed by the foundation that I got from Eric."
There's also much to learn from the Granite Mountain 19 beyond the events of June 30, 2013.
Marsh said she wants people to see the crew as more than just pictures in magazines or newsprint. "It's really important for me that the boys are not forgotten, but that they're remembered for all the amazing things they were and all the amazing things they left," she said.
She's embodied the crew's selflessness by founding and overseeing the Eric Marsh Foundation that supports wildland firefighters and their families in the event of line of duty death or trauma.
The Granite Mountain Hotshots program "was so successful and useful within our community and within my agency to have these really capable firefighters that knew what hard work means," Jackson said. "The work ethic of the individuals that came off of that crew was phenomenal, so I'm saddened that we don't have that anymore."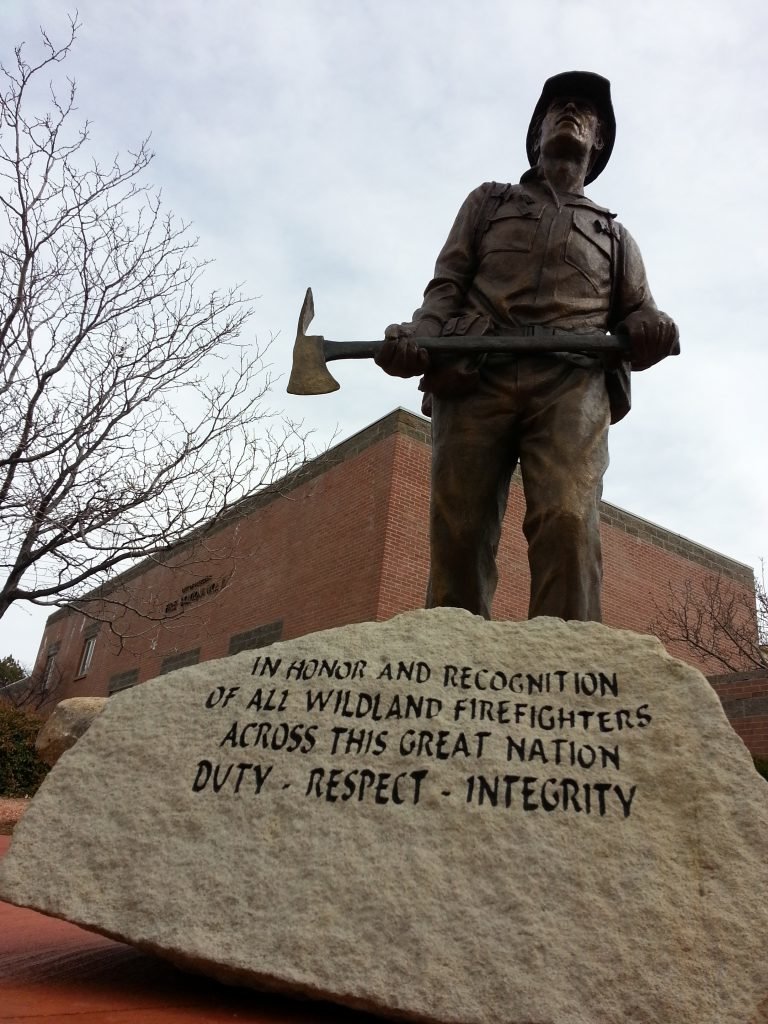 McCarty, who joined the crew thanks to the influence of his childhood friend, Clayton Whitted, said the legacy of the Hotshots is taking care of and investing in people.
"Being able to have that opportunity and work with those guys and learn from Eric is something I'm eternally grateful for," McCarty said. "I got hired in 2005, and my entire career was formed by the foundation that I got from Eric. And now as a company officer, my No. 1 goal is to get my guys to classes and training they need to meet their personal goals."
The Yarnell Hill Fire remains part of an ongoing discussion on wildland firefighting safety. Larger and more numerous wildfires attributable to climate change and increasing wildland-urban interfaces pose serious threats to communities and firefighters. Experts call for continued evaluation of enhanced accountability, GPS tracking devices, fire shelter improvements, budgets, and other issues.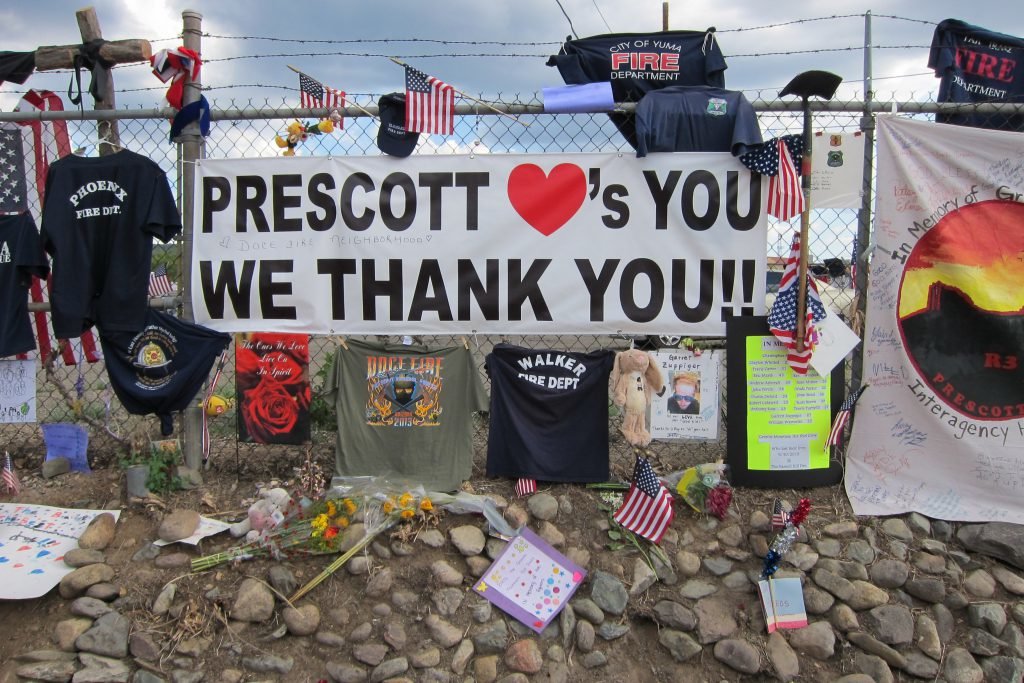 The anniversary
Today, McCarty and Jackson are at work keeping Prescott residents safe while remembering their lost brothers.
"It is obviously a rough day," Jackson said. "It would be a lot nicer if I got to be off, but I am going to be on an engine, so it just makes for a weird day. There's a lot of introspection going on, and sometimes people get a little tense."
The COVID-19 pandemic has made it tougher on families, especially on the anniversary, since they're restricted from coming to the stations to visit due to virus precautions.
McCarty has worked the last three anniversaries. "I feel like that's what the guys would do, you know — they'd be on a fire somewhere," he said. "They'd be at work, so I'll be at work."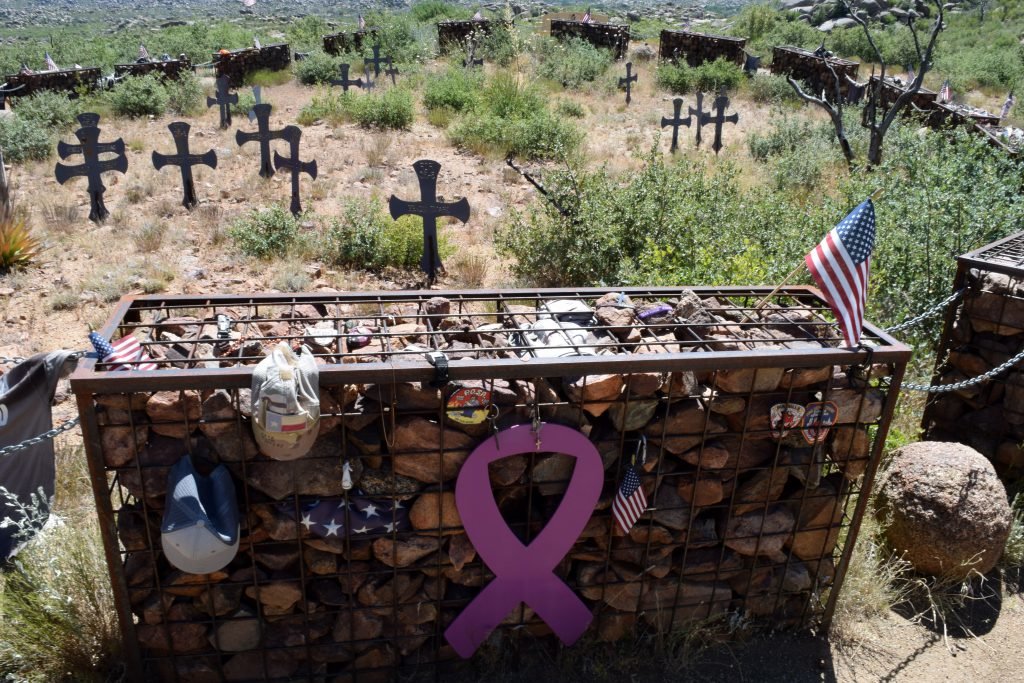 McCarty will spend the day training a new firefighter at Station 74 on Smoke Tree Lane. "We'll be going over everything to ensure that he knows what I need him to know," he said. "I'm going to put him through every physical test that we can to see where he's at, so I know what I need to help him get better at."
Annual memorial events will be different this year due to the pandemic. The Yarnell Hill Recovery Group will host a virtual remembrance event. In Prescott, the Yavapai County courthouse bell will ring 19 times beginning at 4:42 PM with no public comments planned, and the Learning and Tribute Center will place a wreath.
People will also pay their respects at the Pioneer Home Cemetery.
"I'll show up real early and be gone before there's a bunch of people there," McCarty said.
"I'll probably go visit Eric's grave and see the boys, and I will be on horseback," said Marsh. "I usually try to spend the day doing something I love."
"They should still be with us," she continued. "It's hard to believe it's been seven years. It feels like it just happened yesterday, but then there's been so much life between now and then."