The project started with a conversation over beers about a difficult topic: suicide.
It was 2011, and Zach Iscol was catching up with his former commanding officer, retired U.S. Marine Colonel Willard "Willie" Buhl, when the conversation turned toward the suicide rate among Marines who served with them in 3rd Battalion, 1st Marine Regiment, in Iraq in 2004.
"We had probably lost maybe 12 or 14 Marines to suicide at that point, and it was just like, 'We need to do something about this,'" said the former Marine captain and entrepreneur during an interview with Coffee or Die.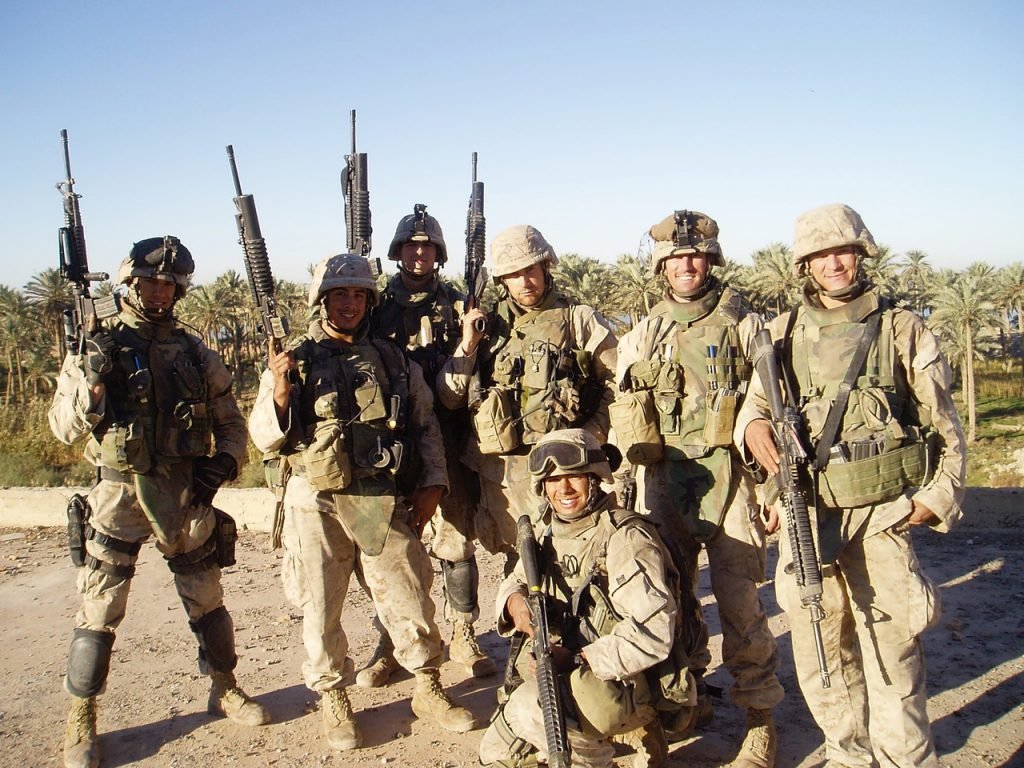 The conversation inspired Iscol to co-found the Headstrong Project, a national nonprofit that provides confidential, cost-free mental health treatment for military veterans and their families. Iscol sought support from his alma mater, Cornell University, and helped forge a partnership with Cornell Medical Center in New York City. He said that Headstrong therapists now treat close to 1,000 veterans a week.
Since leaving the military in 2007, Iscol has made it his life's mission to serve veterans.
"Zach Iscol is one of my heroes in life, both in and out of combat," said Buhl, who was Iscol's commander during the bloody second Battle of Fallujah. "What he has done with his life and for others after he came home from war is really extraordinary."
Iscol is CEO and co-founder of the popular military and veteran-focused news site Task & Purpose and its sister company Hirepurpose, which helps transitioning service members, veterans, and military spouses find employment. Those companies and MilSpouse Festivals, an event-based network for military spouses, comprise the Grid North Group for which Iscol is also CEO and founder.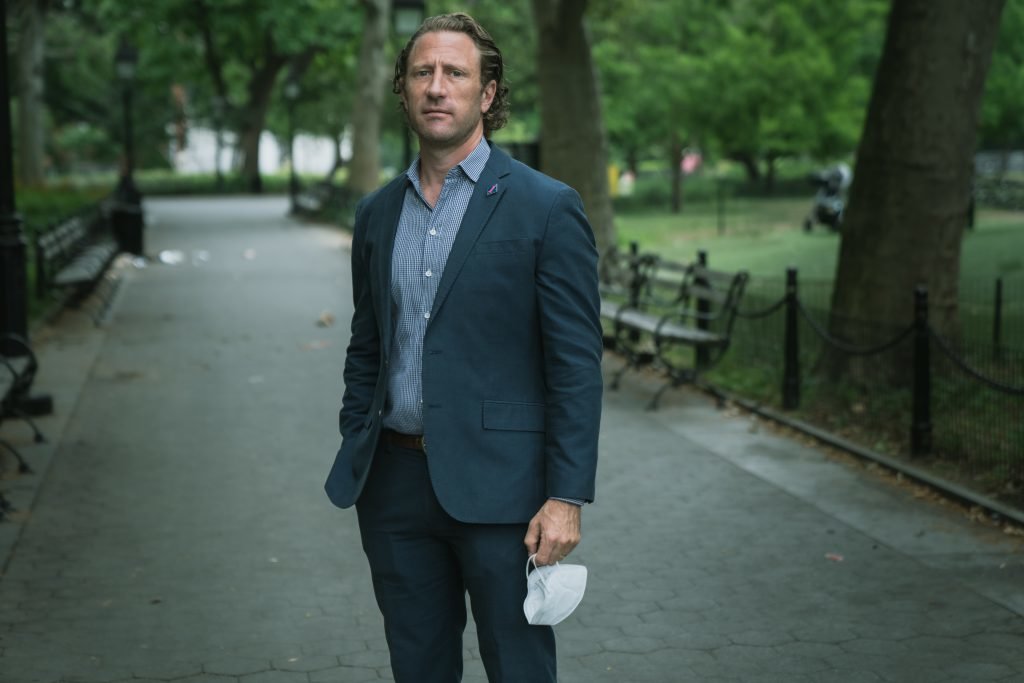 Hirepurpose CEO and co-founder Katie Dexter said Iscol's vision to start a company to help veterans find new careers after the military has made a huge impact on the veteran community and the way companies hire veteran talent.
"One of my biggest takeaways watching Zach lead our company is that humility is a great trait to have as a leader," Dexter said. "He never pretends he knows everything, and his recognition of success always goes to the team."
After leaving the Marines, Iscol wrote, produced, and directed the 2010 feature-length documentary "The Western Front," a film about his experiences in Iraq. He said he made the documentary so others can learn from the Marines' experiences in Iraq.
"I was very lucky to have my share of great Marine Corps leaders," Iscol said. "These are all folks whose leadership style is, 'You take care of your Marines, and they take care of the mission.' The mark they left on me is that your responsibility to take care of your people doesn't end when you leave the service."
Iscol said that Buhl and several other Marines he served with in Iraq are some of the leaders he most reveres. His first sergeant in Fallujah was Bradley Kasal, whose heroics in Fallujah earned him a Navy Cross and made him a legend in the Marine Corps.
"He literally was taking bullets and hand grenades to take care of his Marines," Iscol said.
Headstrong Project clinical director Gerard Ilaria said that Iscol has remained consistently involved in Headstrong, raising awareness and money while leading and innovating.
"I am grateful to him for giving me the opportunity to scale a national mental health program with 235 therapists in 27 markets treating thousands of patients," Ilaria said.
Iscol attributes much of his success to the example his father set for him.
"My dad is sort of a completely self-made guy," he said. "He grew up in Queens, New York. His father worked for the Department of Sanitation. His dad died when my dad was 14 years old, and my dad — literally the very next day — went to work, providing for his family."
"One of my biggest takeaways watching Zach lead our company is that humility is a great trait to have as a leader."
As an early innovator in the telecommunications industry, Iscol's father became a highly successful entrepreneur, and Iscol wanted to follow the same path.
"My dad's advice about entrepreneurship was that I should do what I know and kind of use that as a competitive advantage," Iscol said.
His last job in the Marines was to help build the Marine Corps Special Operations Command (MARSOC), reviving a tradition of excellence in irregular warfare first established by the Marine Corps Raiders of World War II. As the Global War on Terror was expanding the need for special operations forces, the Pentagon pushed the Marine Corps to establish its own special operations component — a move the Corps had resisted for decades. After the Marine Corps Forces Special Operations Command was officially established in 2006, Iscol was assigned as the first officer in charge of the unit's recruiting, screening, assessment, and selection process.
"At the time, the Corps' manpower system wasn't really set up to support a unit that screens and selects people," Iscol said. "I met with Army leaders at Fort Bragg who were involved in Special Forces recruiting to learn from their operations. We had to work to change the Marine Corps manpower system and how we assigned people to different units."
Hirepurpose was born from Iscol's decision to use this experience to help companies hire and select veterans for jobs.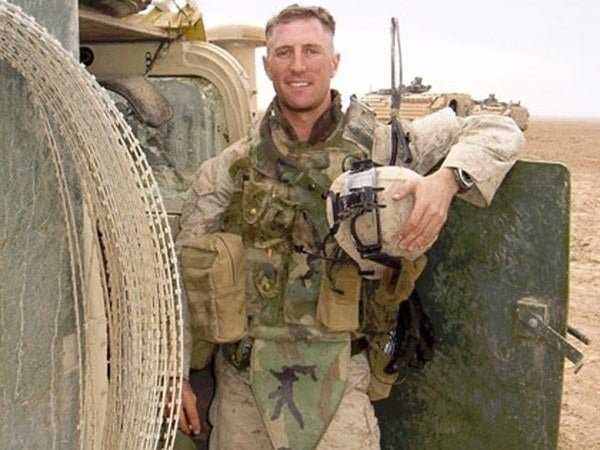 "One of Zach's sticking points, and still something that our team echoes every day, is that hiring veterans is not charity work," Dexter said. "Hiring veterans is the smartest thing a company can do."
Buhl said that Iscol has a talent for identifying people's strengths and building effective teams.
"Zach's a visionary person," Buhl said. "He connects people in an amazing way. He's able to communicate ideas and make them easy to understand and grasp, and he uses that ability to build teams and get people to do really positive things."
Iscol was a first lieutenant when he requested to transfer to Buhl's command because the battalion was deploying to Iraq.
"We were impressed from day one," Buhl said. "It was immediately apparent that Zach was somebody different — special beyond his grade as a first lieutenant."
Iscol was assigned as executive officer of Weapons Company, 3/1. In Iraq, he was given the duty of organizing and developing a training center for Iraqi National Guard soldiers and helping to lead the Iraqis.
"The opportunity to help save lives is pretty meaningful, especially when you carry with you some of the stuff you had to do in war."
"Zach got the Iraqi soldiers up to a high level of proficiency," Buhl said.
By November, when 3/1 was given the mission of helping clear the western half of Fallujah, Iscol's Iraqi rifle company was the lead element in an assault to seize the train station north of the city.
"We really wanted to build up the Iraqi soldiers' confidence, so we knocked the shit out of that train station — tanks, artillery, mortars. It was definitely a successful operation. We didn't get a lot of resistance," Iscol said with a smile.
Over the next nine days of sustained combat, Iscol's Iraqi troops supported Marine rifle companies as they cleared the city.
"There were other similar units across Iraq, but none advised and led like ours, and I attribute a great deal of that to Zach's hands-on personal touch," Buhl said.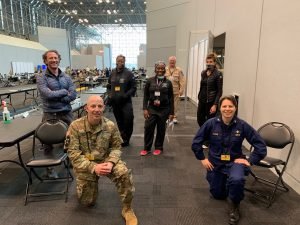 In late March, as the COVID-19 pandemic began to overwhelm New York City's health care system, Iscol watched New York Gov. Andrew Cuomo speak at the Jacob K. Javits Convention Center in Manhattan, where New York National Guard soldiers were constructing a 1,000-bed field hospital — an effort Cuomo called "a rescue mission."
"This is something that was affecting our city — my city," Iscol said, "so I went to Javits as a volunteer. I spent the first couple of days just trying to meet everybody there — federal, state, and city agencies — so I could understand two things: What problems do they have, and what problems do they solve? Because if you know what problems somebody has, and you know what problems somebody else solves, you're able to find solutions."
Eventually, the state director of emergency management asked Iscol to become the deputy director of the Javits Medical Center, and he joined more than a dozen federal, state, and city agencies as they turned a low-acuity medical shelter into one of the city's largest COVID-19 hospitals.
"For all of us, it was a race against time to help health care workers on the front lines and the patients in their care," Iscol wrote in an essay about his experience at the Javits Center.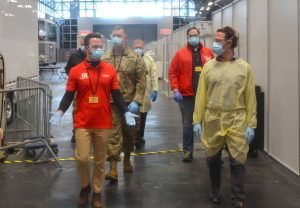 In the end, Iscol helped build one of the only successful auxiliary COVID-19 hospitals in the country. He said Javits became New York City's 56th hospital, and it treated almost 1,100 people.
"The opportunity to help save lives is pretty meaningful, especially when you carry with you some of the stuff you had to do in war," he said.
The commitment and camaraderie of the military and medical personnel and veterans at Javits was inspiring, Iscol said. When one of the Command Sergeants Major for the National Guard found out one of the patients who died was a veteran, he organized a ramp ceremony for the deceased.
"There was probably a couple hundred of us lined up outside the loading docks for this ramp ceremony," Iscol recalled. "Most of us are combat veterans who have lost friends overseas, so this was a pretty emotional moment. I was standing next to a colonel who was audibly crying, and I was definitely choked up as the chaplain, sergeant major, doctors and nurses escorted the body out of Javits. It was an incredible moment of solidarity. It was certainly a moment I'll never forget being a part of."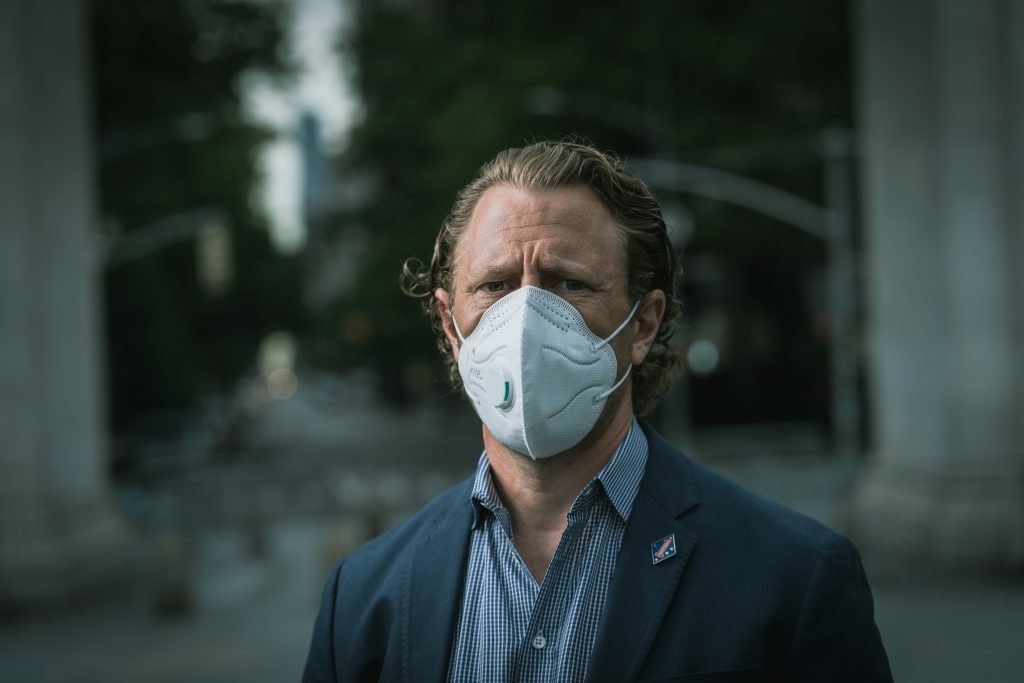 Iscol said there were also plenty of moments of levity and healthy interservice rivalry at Javits. At the center of the building, the American flag was displayed along with each of the military service flags, and "somebody thought it would be funny to keep moving the Marine Corps flag in front of the Army flag."
Eventually, a National Guard Command Sergeant Major pulled footage from security cameras and confronted Iscol about it.
"I'm not going to say who it was," Iscol said with a mischievous grin.
From bloody combat to the frontlines of the COVID-19 pandemic, Iscol is driven by his belief in service before self.
"I thought long ago that we had a future senator in our battalion," Buhl said. "The many things he's done and continues to do are amazing, but the best part of it all is who he is as a person and a leader. Zach knows people; he loves his people. And the sky is going to be the limit for him for whatever he wants to do."