When the U.S. military entered World War II, American businesses geared their entrepreneurial efforts toward supporting the war effort as a means of survival. This meant the majority of raw materials were used to produce weapons, ammunition, armor, aircraft, and other necessary equipment. Zippo Manufacturing Company had a decade of experience selling their flip-open lighters to the consumer market, but during the war they exclusively produced Zippo lighters for American service members.
The classic Zippo design garnered respect among the millions of Americans serving overseas. These steel-cased lighters had a black crackle finish and no customization, engravings, or art work on them but were durable and could function no matter what elements troops found themselves in. An ad in 1942 wrote, "Zippo Windproof LIGHTERS have acted as rescue beacons for men in open boats, as a guide through dense dark jungles and as a means for lighting fires for food and warmth."
Ernie Pyle, a famous war correspondent and newspaperman, developed a special relationship with George Blaisdell and personally received a shipment of 50 Zippos prior to the D-Day invasion. "And another 100 will be sent to Ernie every month for the duration," Blaisdell added.
Pyle famously penned a letter to Blaisdell on Oct. 29, 1944: "If I tried to tell you how much these Zippos are coveted at the front and the gratitude and delight with which the boys receive them, you would probably accuse me of exaggeration," he wrote. "There is truly nothing the average soldier would rather have."
Following Pyle's tragic death in the Pacific in 1945, Blaisdell immediately sent 600 Zippo lighters engraved with "In memory of Ernie Pyle" to the captain of the USS Cabot to hand out to the crew who counted Pyle as one of their own.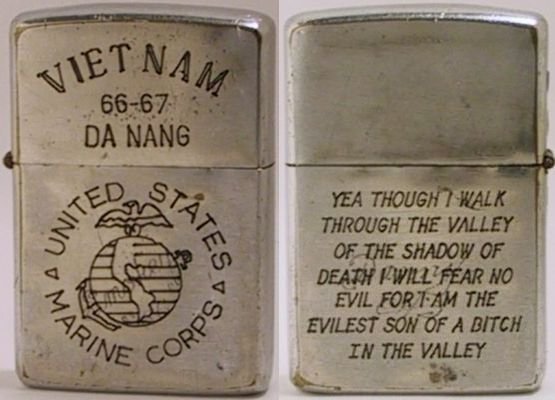 Post-World War II, the increasingly popular Zippo lighters became available to the general public once again. The connection between Zippo and the U.S. military didn't stop there, and during the Vietnam War Zippo emerged as the most popular item carried in the pockets of American service members. Unlike the cigarette lighters from previous wars, these Zippos were personal mementos specifically customized with unit logos, maps of Vietnam, and both humorous and crude slogans.
"You had people who were discontent people who wanted to express heartfelt emotions," said Bradford Edwards, a Vietnam-era Zippo collector and artist. "And here was a small canvas that may be the last thing some of these guys had to say."
One soldier's Zippo had the logo for the United States Army Air Defense Center in Fort Bliss, Texas, on the front, while the lid reads, "When I die bury me face down so the whole world can kiss my ass." On the back, the case reads, "5th Special Forces Group – 1st Special Forces Viet Nam 69-70" with an engraving of a U.S. Army Special Forces green beret. The lid reads, "Nha-Trang Viet Nam."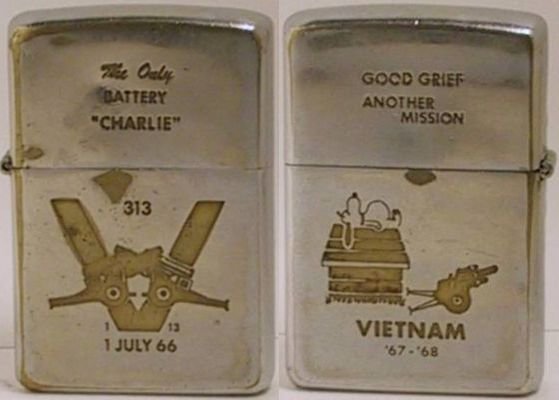 During the Vietnam War, Zippos were sold at the PX or by locals operating the street side black markets. Their popularity in wartime culture surged with "Zippo Tracks" being adopted as a nickname for flame throwing tanks, and "Zippo Raids" used to describe the actions of soldiers burning down hooches or villages.
Although Zippo remained a treasured collector's item, during the 1980s a surge of fake lighters saturated the market. Zippo continues to produce military-themed lighters to commemorate their storied legacy, although the artwork is more general. The Zippo/Case Museum in Bradford, Pennsylvania, is home to Zippo and Case Knives flagship stores, where collectors and tourists alike can take a deeper dive into the history of Zippo and their involvement with American service members.