This would be a really badass fighting position," said an American soldier admiring the architecture of a heavily bombed palace in Mosul, Iraq, that once belonged to the late Iraqi dictator Saddam Hussein.
"It was a fighting position," someone interjected.
"Proved to be faulty," observed another soldier. "Didn't work out for them."
The Nineveh Operations Command — better known as the NOC — is an Iraqi military facility on what was once the palace grounds overlooking the bank of the Tigris River. American commanders used the palace after the 2003 invasion, then handed it over to the Iraqi Army before ISIS militants seized it. During the fight to retake Mosul from ISIS, American bombs caved the palace in, but the façade remained largely intact even after the strikes.
The American soldiers are members of the 24th Infantry Regiment (sometimes known Deuce Four), 1st Battalion's Barbarian Company. They occupy a walled compound inside the NOC, a base-within-a-base that's home to a relatively small force of U.S. troops for Iraq's second largest city — and the former seat of power for ISIS in the country.
But the status of America's mission in Mosul, and in Iraq as a whole, is now in question.
Last year, tensions escalated between American forces and Iranian-backed elements of the Iraqi Popular Mobilization Forces (PMF) as the latter launched rocket attacks on Iraqi bases that host Coalition troops. After a Dec. 27, 2019, rocket attack on an American compound in an Iraqi base in Kirkuk killed Iraqi-born American citizen and Arab linguist Nawres Waleed Hamid and wounded several American and Iraqi troops, U.S. forces launched a series of air strikes against the Shia Militia Kataib Hezbollah, which also functions as the 45th Brigade of the PMF.
Kataib Hezbollah stormed the U.S. embassy in retaliation, damaging the facility but causing no casualties. On January 3, an American drone killed Iranian Gen. Qassem Soleimani and Kataib Hezbollah leader Abu Mahdi al-Muhandis at Baghdad international airport. Iran then struck targets at Al-Asad airbase and in Erbil with ballistic missiles, damaging military facilities and causing at least 11 American service members to need medical attention for concussion-related injuries in the days after the attack.
The Iraqi Parliament has called the American strikes a violation of Iraqi sovereignty and has drafted a non-binding resolution to request American troops leave — though the resolution was passed almost exclusively by Shia lawmakers; Sunni or Kurdish blocs sat out the session. All the while protesters in the streets continue to demand democratic reforms and an end to corruption in Iraq even as they clash with Iranian-backed militias.
The Coalition temporarily froze operations against ISIS, as well as its training of Iraqi security forces to hunker down and focus all efforts on self-defense, but announced on January 15 that commanders intend to resume joint operations with the Iraqi military as soon as possible.
Iraqi Caretaker Prime Minister Adel Abdul-Mahdi, who technically resigned last year at the demand of protesters, has asked the Americans to present a timeline for a troop withdrawal, though there's debate about whether the Prime Minister's office has the authority to make that request in the absence of the election of an actual Prime Minister.
But as regional powers come to grips and process the consequences of recent events, American troops remain. Coffee or Die embedded with the U.S. military in November 2019 as tensions escalated and received a firsthand look at what it was like on the ground while political maneuverings from far above continuously impacted their day to day lives — and the nature of their mission. What follows is a first-hand look at life for U.S. troops before the Soleimani strike.
On Nov. 11, 2019, American troops were grilling burgers and hotdogs to serve in the Dining Facility (DFAC) tent for Veteran's Day. Just outside the concrete T-walls of the American compound, several soldiers played a game of football. A handful of Iraqi troops went about their duties at nearby guard posts as others walked by, some casually watching the game. An Iraqi Air Force helicopter flew in, kicking up dust before it dropped off several more Iraqi troops.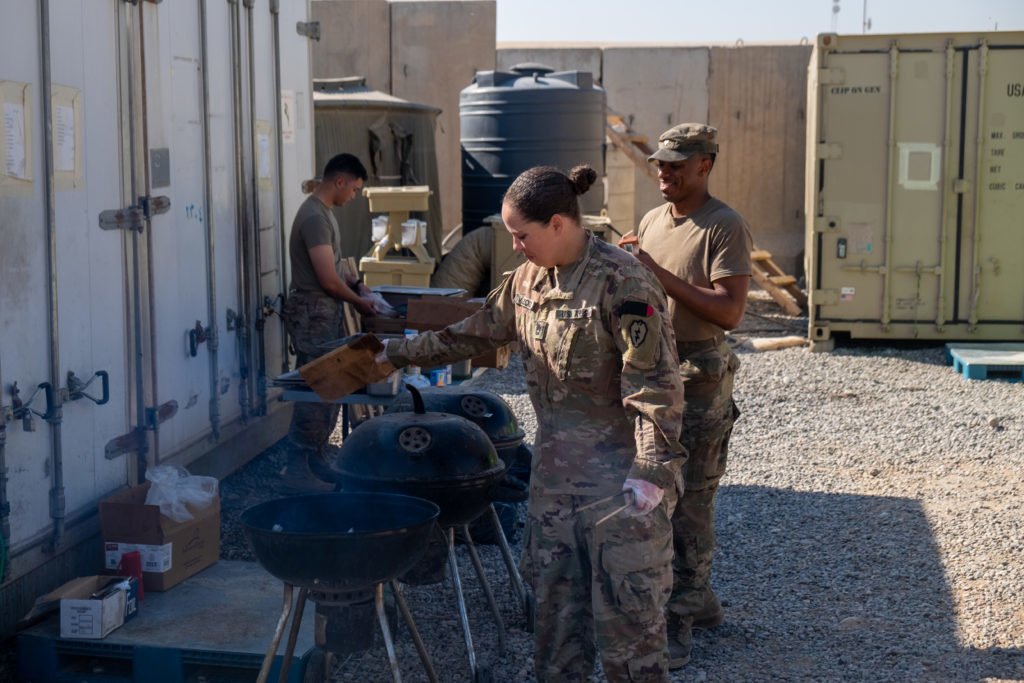 The Americans maintain a cordial if sometimes complicated relationship with their Iraqi counterparts, regularly crossing the wall. The American camp neighbors a U.N. compound on the grounds of the NOC, which the soldiers help provide security for indirectly.
The infantry also provides support for Coalition special operations troops that operate in Nineveh Province. Troops from U.S. Marine Special Operations Command (MARSOC) and Canadian special operations forces — designated CANSOF by American troops — have regularly conducted missions going after ISIS targets.
"The other night we actually had to go outside the wire," said Specialist Christian "Roma" Romaguerra. "MARSOC flipped their vehicle." He said the soldiers went out at 0200 looking for the Marines, only to learn that the MARSOC operators had tried to move the vehicle themselves to another location, leading to an ordeal that didn't end until U.S. troops returned around 0700. "We're pretty much the only people with the capability to recover a vehicle," Roma said.
A work party of local Iraqi civilians were doing some base maintenance near the camp's motor pool. American troops watched over them as they worked. When asked if they were behaving, Roma smirked and responded, "Oh, always."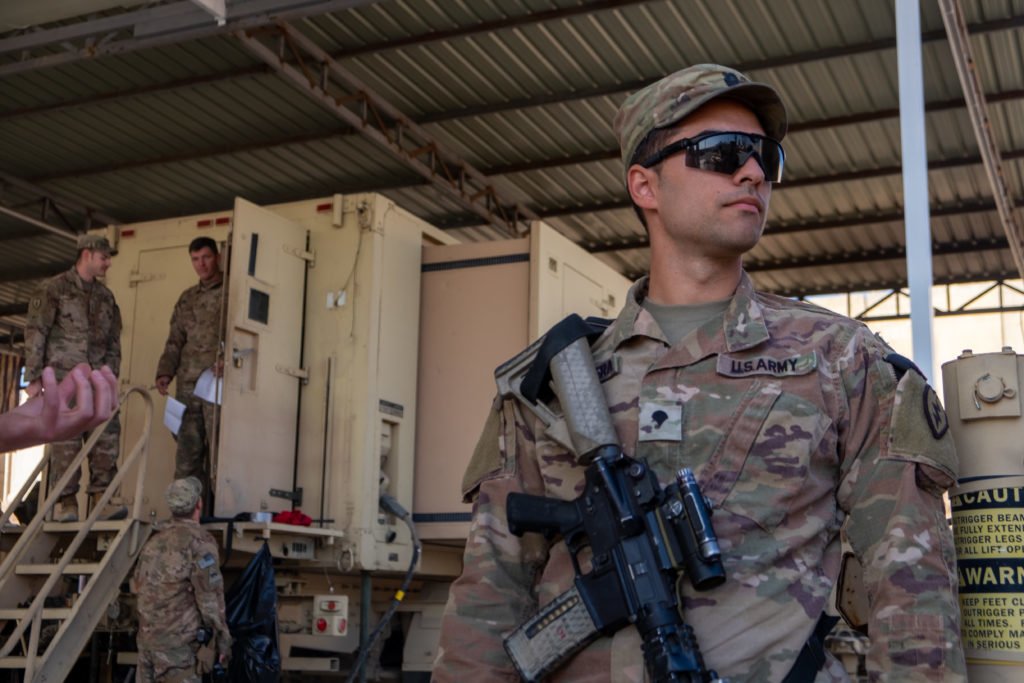 After U.S. forces toppled Hussein in the early days of Operation Iraqi Freedom (OIF), international contractors flooded into the country seeking lucrative U.S. government contracts on everything from building bases, security details, reconstruction, to waste management. Workers came from as far away as Bangladesh to work in dining facilities and drive trucks. During Operation Inherent Resolve, military planners made a deliberate choice to utilize local Iraqi companies and labor as much as possible.
The hope is that using local Iraqis would put money directly into the economy and keep the mission more grounded. But the use of local civilians — who could potentially be used as spies by enemy forces — requires an extra level of scrutiny by U.S. troops. "They're actually a really cool group of individuals, they usually kind of joke it up with us," said SPC James Montgomery. "They're funny guys; they're good people."
Though few of the Iraqi laborers speak much English, usually the soldiers and the contractors can get by on body language — but not always. "It's kind of frustrating when they need something," said Montgomery. "One day [one of them] wanted a donut, but I thought he wanted an apple. So I brought him an apple and he took out his teeth and I was like, 'Oh, you can't eat an apple. My bad.'"
The English the Iraqi workers do know has been largely picked up over time interacting with young American soldiers. "They know Rip It — they definitely know Rip It," said Montgomery, referencing the infamous energy drink that's become an unofficial battle fuel for American troops in the post-9/11 era. Many Iraqis who work with Americans have come to adopt it as their own. It's a two way street though, as many Americans have embraced the locally produced Wild Tiger energy drink as well.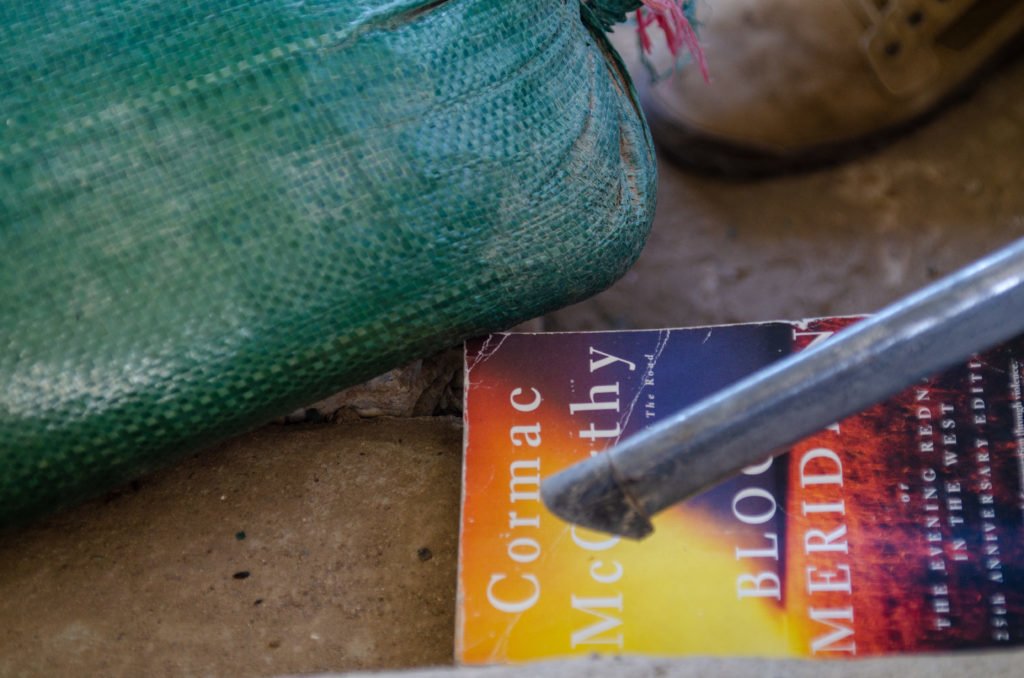 The Iraqi Army troops at the NOC have a barbershop that some of the Americans use frequently and a small convenience store with a pool table that doubles as a hangout spot. Several of the Americans regularly visit the store to stock up on cigarettes and Wild Tigers, and occasionally shoot pool with the Iraqi soldiers. "It's a lot of fun," said Roma. Roma grew up in South Florida in a family of Venezuelan immigrants, so learning about other cultures and mixing with others comes naturally to him.
Sometimes the Iraqi troops make local food for the Americans or order food from a local restaurant in town, offering a break from the usual fare served at the DFAC. "I always heard about it before we came out here, but seeing it is different," said SPC Angel Rivera. "They're very respectful people."
However, the night before, a mortar round landed in the NOC, likely launched by an element of the PMF. This came just after the Iranian-backed PMF faction Kataib Hezbollah hit Q-West air base with rockets on Nov. 8, 2019. In response, the Americans called in a pair of F-15s to fly low and buzz the PMF's nearby headquarters in a show of force. It was meant to demonstrate American power short of actually firing on the Iraqi militiamen, who were technically America's partners in the ongoing fight against ISIS.
"Something's triggering all of this," said Staff Sergeant Paul Oehlertz, the U.S. Air Force Joint Terminal Attack Controller (JTAC) that called in the jets. Oehlertz is a towering St. Louis native who previously served in the Marines in Haditha during OIF before joining the Air Force. "There's so much unknown, so many things have changed since we got here — this Syria thing, Turkey moving in, guys are pulling out now. We don't even know what sort of effects this is going to have yet. We're just on standby, watching."
The situation in Nineveh Province and across Iraq was volatile as tensions were building. In June, Iraq's prime minister signed an executive order that officially brought PMF militias into the Iraqi security forces. Over the summer, Iranian-backed PMF elements were increasingly making public threats of violence against American troops, particularly after a series of mysterious strikes against PMF positions in July that American officials later told reporters were the work of Israeli drones. Some PMF factions surrounding Mosul also clashed with each other and the Iraqi Army in a brief series of skirmishes.
ISIS began taking advantage of tensions between various armed factions in Iraq and Syria to regroup. On Aug. 10, 2019, MARSOC Marine Gunnery Sergeant Scott Koppenhafer was killed while assisting Iraqi troops on a mission against ISIS militants in the province. When Turkish troops invaded Northeast Syria, several ISIS prisoners held by the Syrian Democratic Forces escaped, and the group has pledged to launch an ambitious insurgency across its former territories.
When conventional American troops leave the wire in Mosul, it's generally to escort senior American officials to meet with Iraqi leaders — military and police commanders, the mayor's office, or other players around town. While the brass talks business, the grunts wait outside and provide security. But they're almost always given food and tea by their hosts, regularly doing guard duty in shifts while their Iraqi hosts introduce them to local foods and traditions.
"Every single time they'll feed us, every time," said Roma. "They keep loading up the plate, and I'm like, 'There's no way I'll fucking finish this.'"
On one mission, Barbarian Company's 1st Platoon visited Mosul University. The university was decimated under ISIS's rule — the militants burned much of the library and destroyed several historical artifacts from the archaeology department. The soldiers didn't know what to expect or how they would be received. Iraqi students approached them to practice their English, talk about each other's lives, and take selfies. Lieutenant Colonel Jace Neuenschwander, the soldiers' battalion commander, said that the Mosul he sees today is a different world from the one he'd seen during OIF.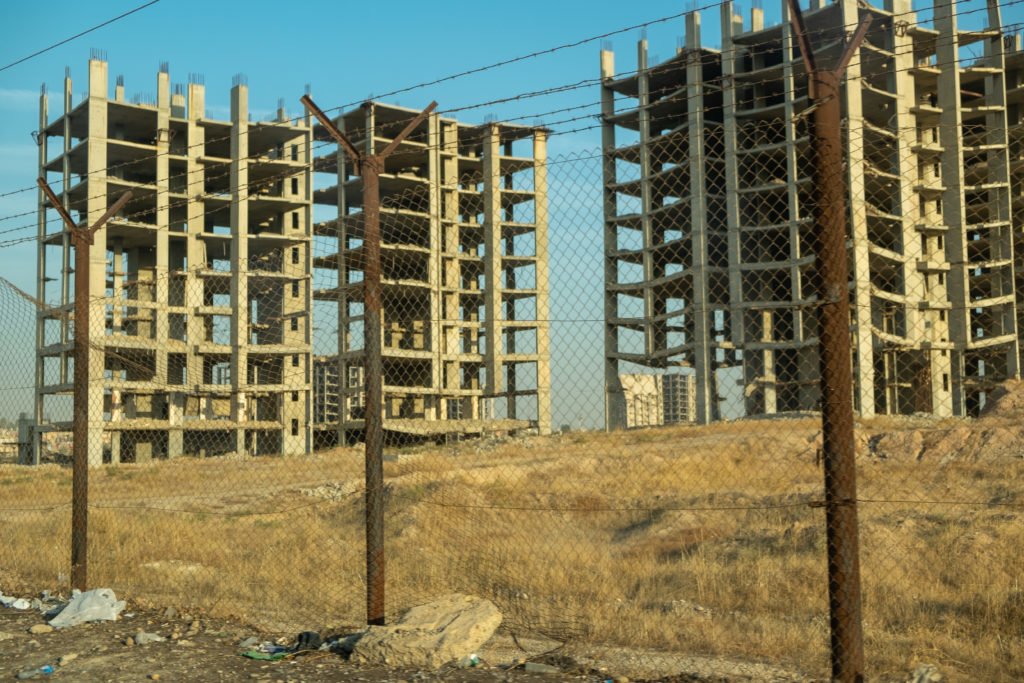 "For a lot of people here, it's their first time deployed," Oehlertz said. "[But] things can kick off at a moment's notice […] we gotta keep these guys on their toes […]. It's calmer now, but it's just like in Afghanistan. For two months I did nothing, and then it went to every day I was dropping [ordnance]."
That evening, several soldiers gathered up for a briefing on a mission for the following day. Sergeant First Class Ruben Sepulveda and Staff Sergeant Doug Price led the briefing. Price, an athletic soldier with a daring deployment moustache, gave the troops a quick update on an operation that they had previously supported CANSOF with, then moved on to the task at hand. Sepulveda, a Puerto Rican infantryman with intense eyes but a friendly disposition, told the troops who would be in which vehicle.
They would be driving Neuenschwander and a few other officers to a meeting with the mayor. A detachment of Iraqi SWAT would lead the way — American troops aren't allowed to conduct operations or meet with anyone outside the wire without an Iraqi escort and the approval of the Iraqi officials. On occasion, missions will get cancelled without explanation. "Sometimes they think it's political, even if it's not," said Sergeant Major Mark Newlin.
It's an unspoken reality that Iranian agents with influence in the Iraqi government occasionally pull strings to interfere with, alter, or outright veto American operations. In particular, Iran has tried to pressure Iraqi officials to limit American contact with Sunni politicians and tribal leaders.
Newlin is a Georgian with a pronounced Southern accent and quirky mannerisms, which has led some of the soldiers to secretly nickname him "Cotton" after the character from the cartoon "King of the Hill." After any joke, however, his soldiers are quick to add that Newlin received a Silver Star for his actions during a fierce battle in Anbar province in 2006. He was credited with saving several American troops, though he speaks little of his own exploits.
Newlin wasn't originally slated to go on the mission but decided at the last minute to tag along. He likes the mayor. "When you're in the Mayor's office, make sure to get some of his hand sanitizer," he said. "It makes your hands smell real interesting."
"Sergeant Major, I feel like I just learned a lot about you just now," remarked a bemused staff officer.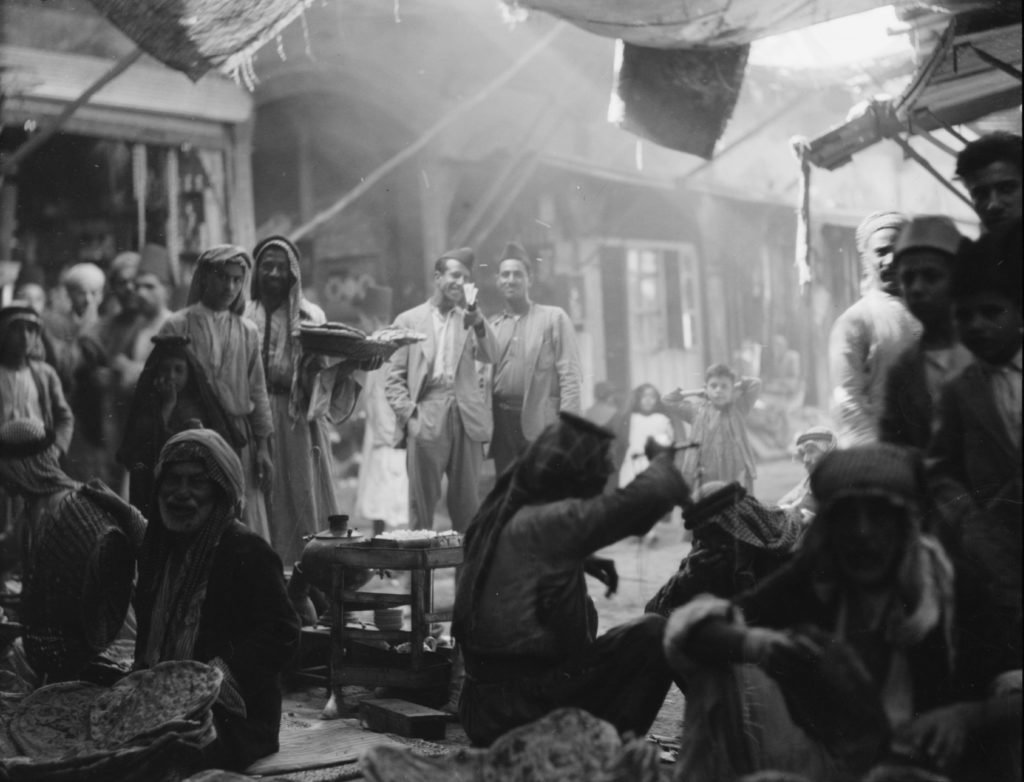 Mosul is Iraq's second largest city. In English, its name roughly translates to "the linking point" or the "Junction City" — a fitting name for Iraq's most diverse population center. Historically, it's been home to a broad mix of Arabs, Kurds, Assyrians, Shabaks, Turkmen, Yazidis, and other groups. It was also home to ancient mosques, churches, and other cultural sites dating back thousands of years.
Though Americans often think of Iraq as a deeply conservative country, in June 1920 Mosul's Al Mawsil newspaper published a scathing critique of America's prohibition policies, calling broad liquor ban in the United States "uncivilized" and asserting that "consumption of spirits has been common for humanity since the dawn of history." This complex clash of cultures, traditions, and values has always defined Mosul, and Moslawis are fiercely proud of their city and its history.
Deuce Four has its own history with Mosul. During its 2004 to 2005 deployment to the city, the unit attained a degree of fame from a series of online dispatches by Green Beret-turned-blogger Michael Yon. He embedded with troops as they fought a bloody urban battle against insurgents, and Yon's work became an online sensation.
During the deployment, the soldiers called themselves "The Punishers" and became known for spray-painting The Punisher's skull logo at locations where'd they successfully captured or killed insurgents. During one raid, then-Lt. Col. Erik Kurilla picked up a ringing phone off the body of a dead insurgent and answered, telling the person at the other end of the line that he'd killed his friend and was coming for him next.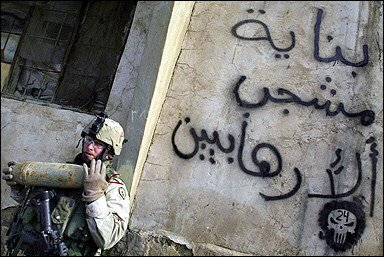 However, while Deuce Four cultivated an image of toughness to strike fear into the hearts of the insurgents, they also waged an aggressive "Hearts and Minds" campaign to win over local Moslawis. On one fateful patrol, a car bomb detonated as a group of local Iraqis came out to wave to U.S. troops. The blast seriously wounded several of the children, including a young girl named Farah. The soldiers tried to evacuate the child back to base to attempt to give her emergency medical treatment and let her family ride with them in their Stryker, but Farah ultimately succumbed to her wounds.
Yon snapped a photo of then-Major Mark Bieger cradling Farah in a bloodstained blanket; he also took photos of other soldiers comforting and providing medical assistance to other Iraqi civilians. After Yon posted the photos to his blog, they quickly became a worldwide sensation, leaving a particularly deep impression on many of the Iraqis who saw them. American troops saw an increase in tips being received from Mosul residents on where to find insurgent bomb makers.
It was a grueling deployment, and Deuce Four took several casualties of its own. Kurilla himself was wounded in a fierce fight that Yon documented (during that fight, Yon also controversially grabbed a gun from a frightened soldier and entered the fray). At one point, Bruce Willis — who visited troops in Mosul on a USO tour — expressed interest in developing a movie about the deployment, potentially starring himself, but talk of the project gradually disappeared.
After Deuce Four returned stateside, Mosul continued to be a brutal battleground between U.S. troops and insurgents through much of OIF. The ongoing fighting in Mosul has taken a bloody toll on the people of the city. Many of Mosul's Christians and other minority groups began to flee as insurgents increasingly targeted them for violence and intimidation, leading to what many observers called a modern day Exodus.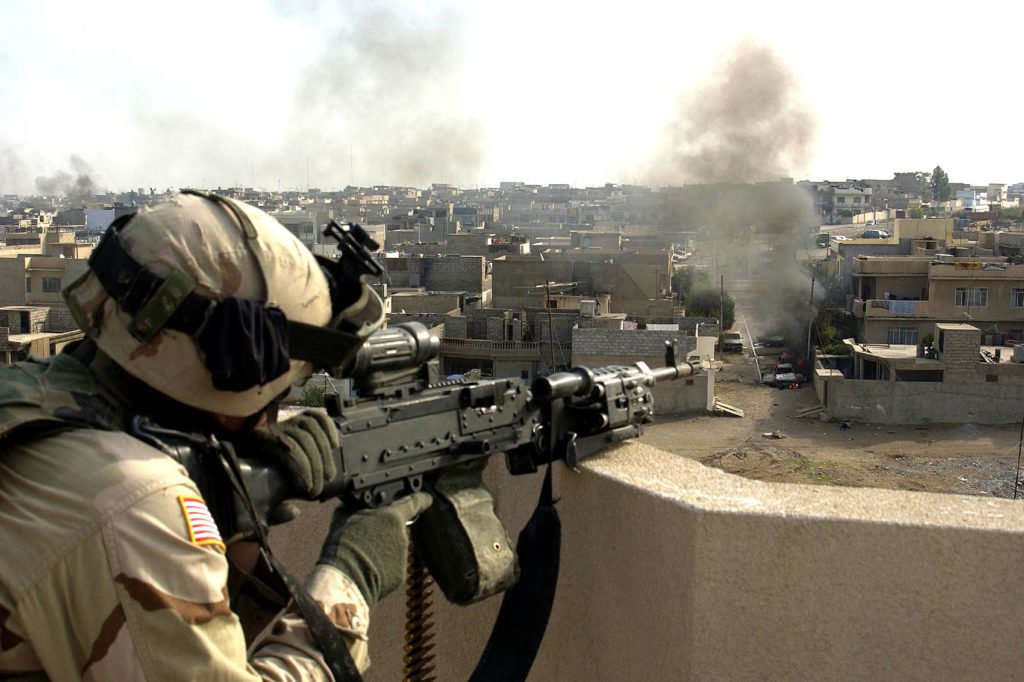 However, the seeming success of America's Surge Campaign in 2007 combined with Sunni Tribal Anbar Awakening led to a significant reduction in violence across Iraq. As marketplaces and businesses reopened, some members of Mosul's Assyrian Christian community returned at the urging of Muslim friends and neighbors.
But after American troops left Iraq, the government of then-Prime Minister Nouri Al-Maliki sacked several popular Iraqi generals and replaced them with more politically connected ones — several with ties to Iran. The government also put reconciliation efforts between Shias and Sunnis on the back burner. When Moslawis took to the streets to protest Baghdad's policies, the federal government cracked down swiftly.
As ISIS fighters entered Iraq from Syria and swept across Anbar Province, Maliki's government ignored requests from Sunni Tribal fighters for support — leaving them to fend for themselves. After a series of costly fights, many Sunni fighters retreated while others, feeling betrayed and abandoned by Baghdad, defected to ISIS. Maliki's government largely ignored the problem until ISIS attacked Mosul in June 2014.
When the battle started, Iraqi Army commanders in Mosul abandoned their troops in the field, leading to chaos and confusion as Iraqi troops called for orders and tried to figure out what was happening. The militants massacred the city's disorganized and confused Iraqi Army defenders. Then they turned their attention to the people of Nineveh Province, launching a genocidal campaign against Yazidis, Christians, Shabaks, and any Sunnis who stood against them or refused to embrace their interpretation of Islam.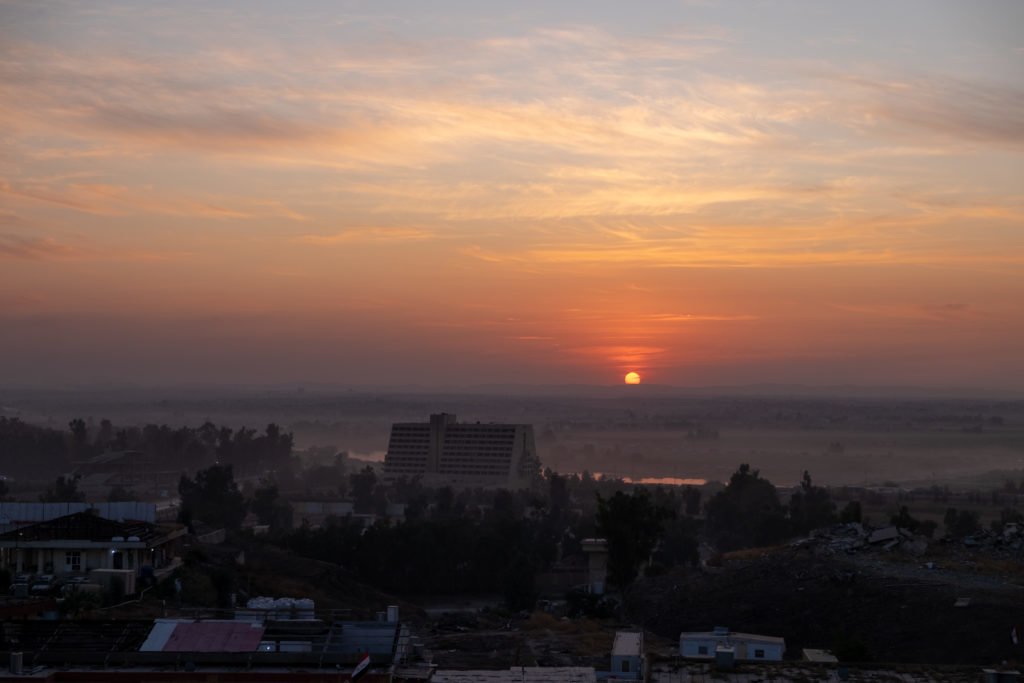 Moslawis resisted in various ways, some subtle, some less so. Some local Arabs and Kurds helped smuggle Yazidi women who'd been forced into sexual slavery out of the city and into areas controlled by Kurdish Peshmerga forces. A handful of Moslawis started resistance cells, engaging in a clandestine campaign of bombings, assassinations, and sabotage against ISIS.
Iraqi citizen journalists, notably Iraqi historian Omar Mohammed (blogged anonymously at the Mosul Eye during the battle), used social media tools to show the world the horrors of ISIS occupation and the suffering that continued fighting brought upon Mosul's people. "There are people stuck at the eastern neighborhoods of Mosul, short on water and power, surrounded with car bombs, under fire and rockets, stuck between Life and Death," he wrote in 2016. "ISIL is trapping the houses around us with bombs. We live on ticking bombs around us! If airstrikes and gunfire don't kill us, those car bombs will soon do the job!"
The campaign to eject ISIS from the city was protracted and savage. Bombs and artillery smashed neighborhoods even as ISIS scorched-earth tactics added insult to injury. Moslawis were caught in the middle as jihadists, Coalition forces, Iraqi troops from the south, and Iranian-backed militias all turned their home into a shooting gallery.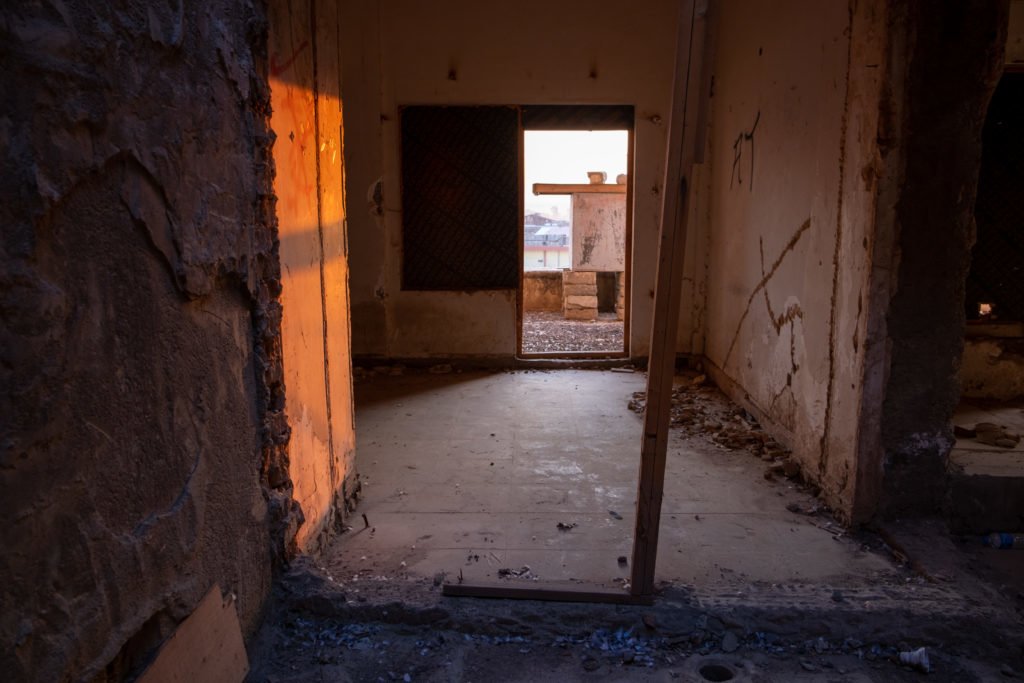 Today, Mosul is liberated. But for Moslawis, liberation came at the cost of obliterated homes, destroyed history, and countless dead family and friends. Liberation also has not meant peace. ISIS cells continue to haunt Mosul and the Nineveh Plains, while rogue militiamen regularly rob and harass the locals. Even so, Moslawis have put a major focus on trying to rebuild their city, their communities, and their lives.
Today, many women in Mosul have abandoned the veil ISIS had imposed on them. Moslawis are enjoying cigarettes that ISIS had banned. Beer and liquor have made their way back, too. Some Christians have even made their way back, determined to make Mosul their home once more. But it's a long road ahead for Mosul.
Amid this turmoil, American soldiers have a front row seat to history as they watch Moslawis try to rebuild—and redefine—their home.
In the morning as troops got ready for their mission, a young soldier kitted up in "full battle rattle" stopped into the DFAC tent for a quick breakfast: a can of Rip It and a cup Cinnamon Toast Crunch.
Outside, Price supervised soldiers as they inspected the vehicles they'd be riding out in. They used armored Toyota SUVs, simple white vehicles that had been locally acquired, armored by an Iraqi company, and even had Iraqi license plates. Using the SUVs allows the troops to move through the city with much more ease and with a lower profile than using large up-armored MRAPs.
Price had previously deployed to Iraq with the U.S. Army's 82nd Airborne. When he arrived in Mosul, an Iraqi special forces commando working with CANSOF stopped him to talk — he'd recognized Price from his last deployment when the Iraqi was still a member of the regular army. The Iraqi had gone on to fight in Mosul.
"The guys thought this mission would be sexier," Price said, noting that some of the younger soldiers had heard stories of Mosul and expected to be getting into more gunfights. The reality was that it mostly entailed keeping tabs on reconstruction efforts and meet and greets. Price said that doesn't bother him a bit — he'd rather be going out on friendly missions than hunkering down at a base fighting off waves of insurgents.
"Everyone wants that mission until they actually have it. It's good to get out and interact with locals and see the country," he said, adding that it benefits young soldiers because "the guys get to see how we actually operate today."
Even with the mission scheduled to begin in a few hours, the Iraqis hadn't given final approval. "The biggest adjustment is asking for permission," said Sepulveda, but he added that it ultimately showed that the Iraqis are running things.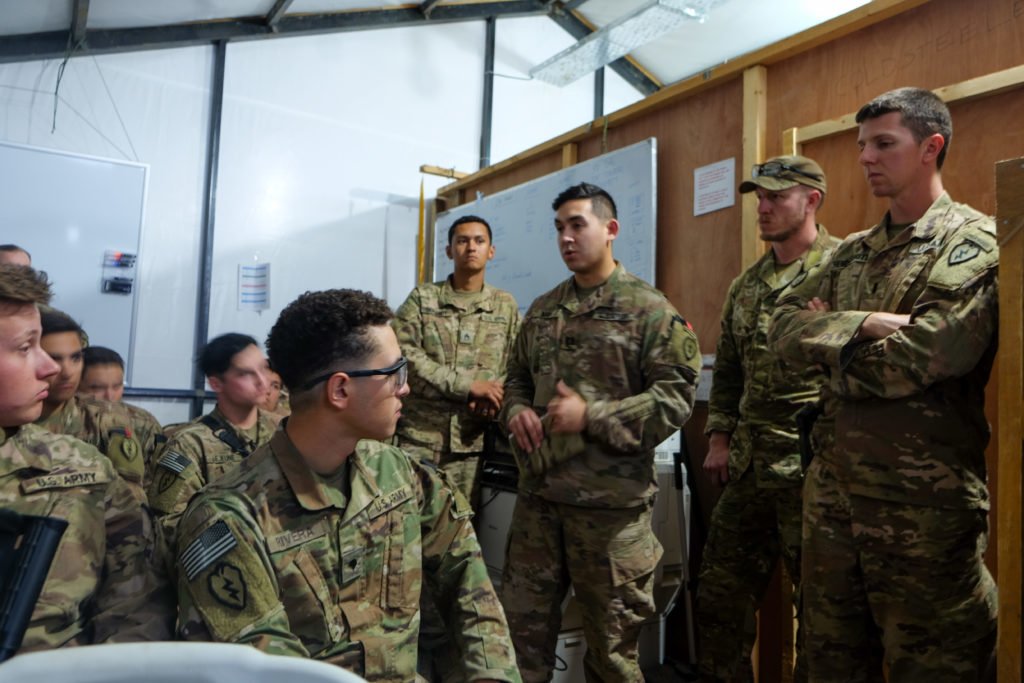 Sepulveda said that as he's been going on missions in the city, he's been impressed with the rate of reconstruction and struck by how clean the streets are compared to previous deployments. He said that it's possible that the hands-off approach of OIR compared to OIF has allowed Iraqis to have a sense of dignity without feeling that Americans are micromanaging them. "It's what we should have done before," he said.
He said that the idea of driving through Mosul in SUVs like they were doing would have been unthinkable when he was last in the country, adding that the most excitement he's had this deployment was when Iraqi troops did explosives training without telling anyone. But as a veteran of several combat tours, Sepulveda admits to a slight unease. "It's quiet. It's freaking me out," he said. "I keep waiting for something to happen."
The soldiers traded jokes as they waited, insults and arguments about chick flicks. "'A Walk To Remember'? That shit is heartfelt and beautiful. If you watch that movie and you don't feel anything, you are dead inside. You're damn right I cried."
Eventually the permission is finalized and the troops loaded up their convoy. Iraqi American linguists joined in on the mission. Rivas drove the lead vehicle of the convoy, riding with a linguist named "Roosh" who had worked with Western media companies as a journalist in Iraq before immigrating to America. The Americans linked up with their escorts — Iraqi SWAT.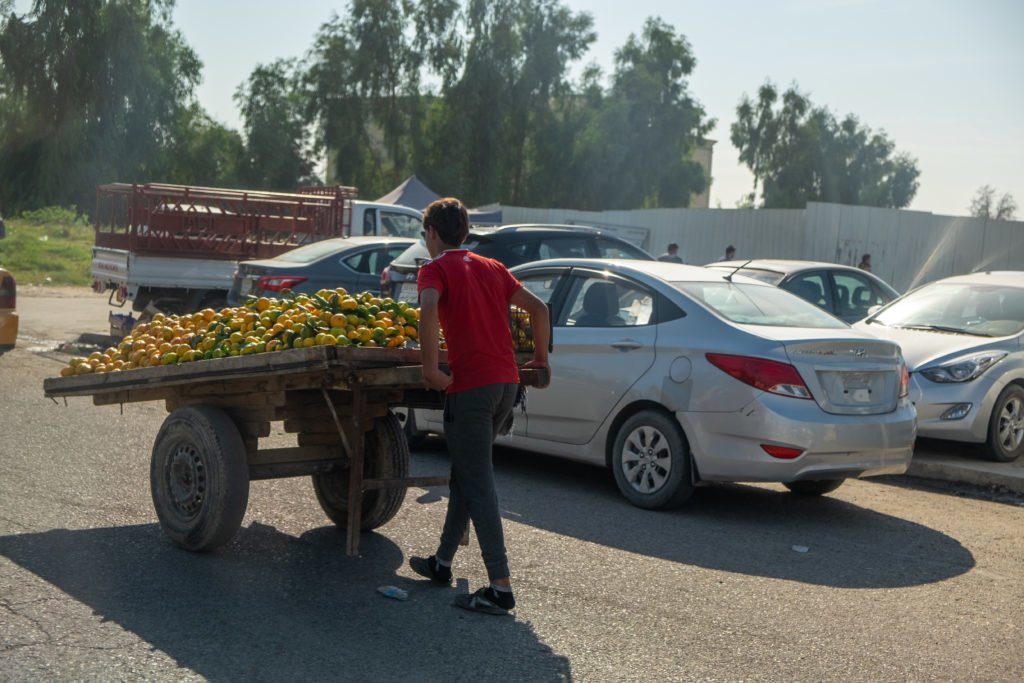 Roosh explained that Mosul's Mayor Zuhair Mouhsin al-Araji is a Sunni politician and "hardcore Moslawi" with longstanding ties to Americans, a deep hatred of ISIS, and a very public distrust of Iranian influence. Pointing at the armed police trucks in the lead, he noted that many of the SWAT members are local Moslawis who lost family to ISIS and joined up to get payback.
They began driving through the city. East Mosul was alive, and the streets were crowded with cars. Roosh pointed to "The Woods," a large park full of trails and cafes that people frequent night and day. With ISIS gone, the city's social life is gradually resurrecting. Occasional wreckage and collapsed buildings offer a reminder of the fierce fighting that engulfed the city just a short few years ago, but Moslawis have since painted murals on several walls throughout the city, rebuilt city blocks, and storefronts bustle with activity.
The Iraqi police directed traffic, trying to move through as quickly as possible. Though the SUVs are considerably less showy and cumbersome than MRAPs, Moslawi commuters absolutely notice the American troops driving through their town. Their reactions are mixed. Some give the foreigners a disinterested glance, others give friendly waves and smiles, and others mean mug the Americans.
As the trucks pulled up to the mayor's office, soldiers got out and started taking up security positions. Staff from the mayor's office greet Neuenschwander and the other leaders that would be in the meeting and whisked them upstairs to Araji's office. Inside, the mayor was on the phone. Tea and coffee appeared almost immediately, in accordance with Iraqi hospitality.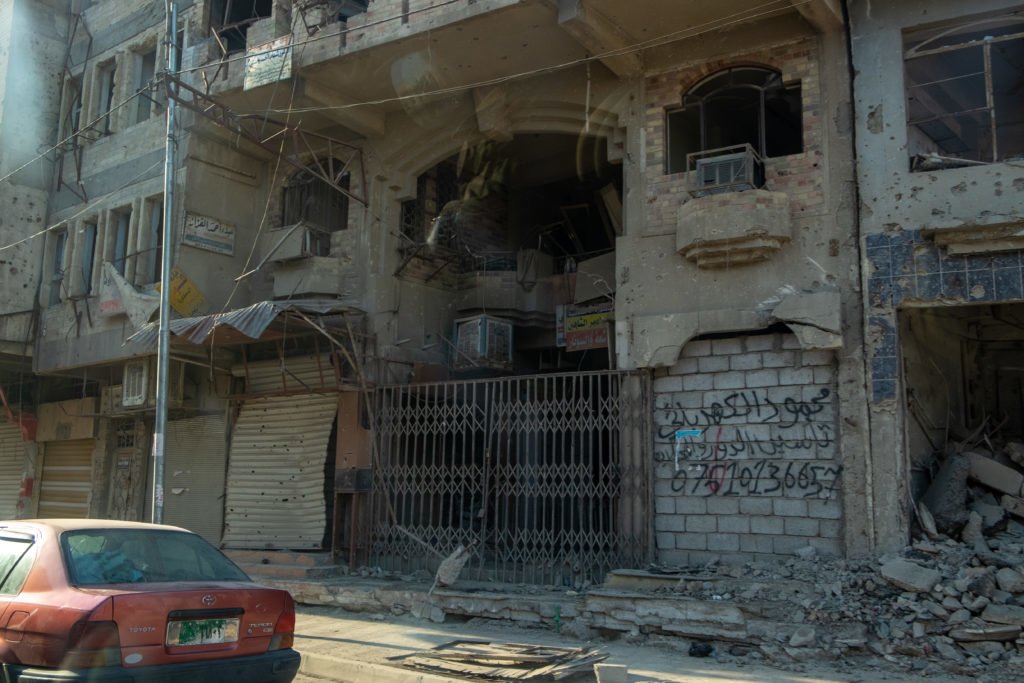 Araji got off the phone and apologized to Neuenschwander, telling him he'd been in meetings all day. They exchanged pleasantries about the weather and Araji talked about recent trips to Turkey and Egypt where he spoke with U.N. officials about the reconstruction of Mosul. In West Mosul's Old City, it has been a particularly complex process. "Some people don't understand how Old Mosul is built," Araji said. "It's very old, it's a city built over a city. There are some areas that have been completely destroyed, but there's no machinery that can go in to remove the rubble because of the narrow alleys."
Araji told Neuenschwander that he'd like to give him a tour of some of the newly reconstructed sites in the city. "Perhaps on a day when you don't have seven meetings," Neuenschwander replied. "I hate being in my office, any excuse to leave, I'll take it," Araji told the American commander.
Araji asked Neuenschwander if he and his soldiers ever go out at night, then said he'd like to invite the soldiers to come out and have a nighttime barbecue and make kebabs in the courtyard. "It's very nice at night this time of year," he said. "You won't sweat yourself cooking the kebabs." He also told Neuenschwander he'd like to stop by the NOC for Thanksgiving to bring fresh turkey from the Nineveh countryside.
Then Araji said that he'd "heard a lot of air force activity" and asked Neuenschwander about the jets that had flown low over his city. Neuenschwander told him that it was a show of force to put the PMF under control. "We got some indicators that there was some extracurricular activities along there," Neuenschwander said. "It was just a reminder for them."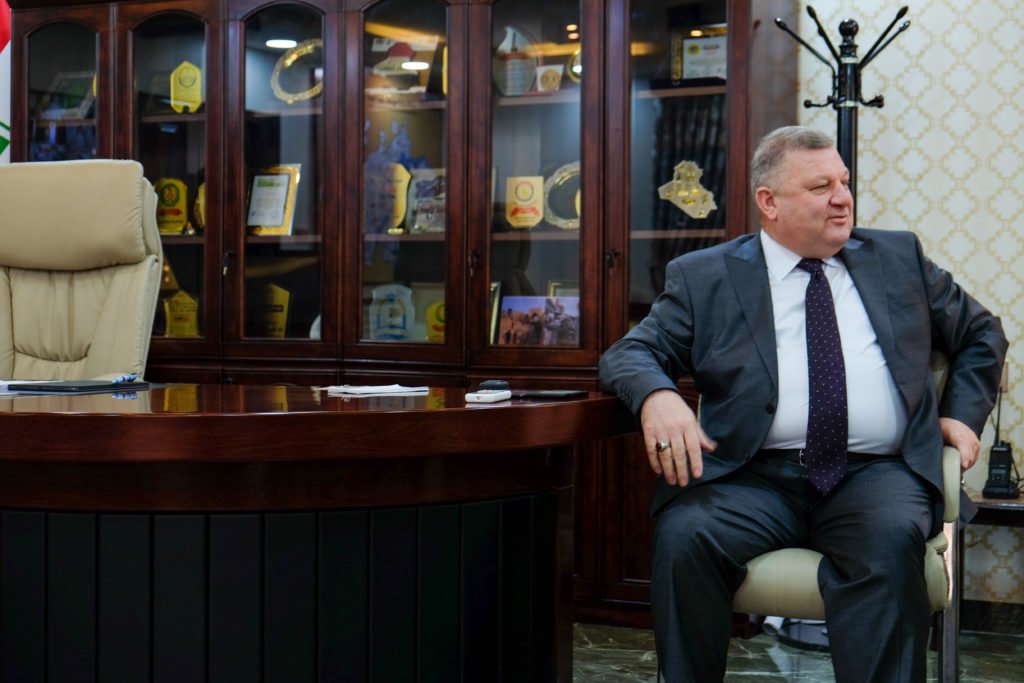 Araji said he'd been getting complaints about mysterious militia activity, of men in the city threatening residents and engaging in extortion. While he said that he'd called officials in Baghdad and managed to get some of it to stop, it continued to be an ongoing problem. Araji believes solving Mosul's woes is the key to understanding the challenges Iraq faces as a whole. "The problem started here," he said. "It will end here."
Araji has a long history of publicly voicing support for Coalition forces, particularly the Americans. "Some people may be upset by what I say, but I believe it is the truth. I always view — and a lot of us believe — that the United States presence is a safety valve for what's happening here," he said. "That presence is needed." Araji added that he's biased as American forces saved his life more than once and helped keep him safe in Mosul even before ISIS. "I feel an obligation to the Americans on my end, if I am being honest," he said.
Araji then halts the meeting for a lunch break, leading Neuenschwander and his party to a room where an enormous meal waits. Over lunch, he discussed his concerns about the rising death toll due to the protests in Iraqi cities to the south. He also told a story about how he visited Chicago and became friends with Rahm Emmanuel, saying the two continue to correspond. After lunch, the meeting resumed.
Outside the office, the mayor's staff began bringing soldiers in for food and tea while others continued guarding the building in shifts. U.S. troops and Iraqi SWAT stood watch outside. At the perimeter, Barbarian Company's commander, Captain Joshua May, peered out into the streets. An excavator moved rubble out of a bombed-out building in the distance. The vehicle sat at a precarious angle. "Is that thing going to fucking flip?" Rivera asked as he and Roma looked over at it.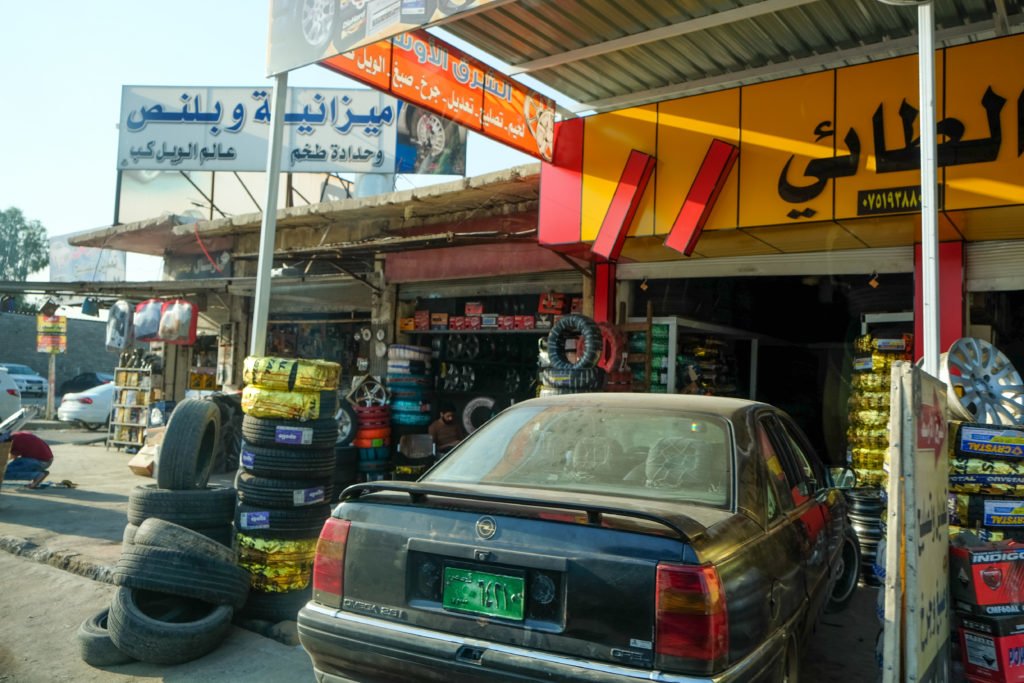 It was a calm day, but not every day in Nineveh is so relaxed. During the summer, the PMF's 30th Brigade (Liwa Al-Shabak) and 50th Brigade (Kata'ib Babiliyun) got into a series of skirmishes with each other west of Mosul, and tensions escalated into confrontations with both local people and the Iraqi Army. The 30th is made up of Shia Muslim Shabaks, while the 50th Brigade has a Chaldean Christian commander and is supposed to provide security for historically Christian areas in Nineveh. There are other PMF units in the area with significant Sunni membership, including the 90th, 92nd and 201st Brigades.
The overlapping networks of checkpoints and armed men regularly led to tensions and conflict. When the Iraqi federal government, which officially took control of the PMF in June, tried to relieve the 30th Brigade of several duties around the village of Bazwaya, several militiamen mutinied. In response, Baghdad sent Iraqi Army and police forces to bring the situation under control.
Though the Americans have tried to stay out of those tensions, they admit they've occasionally seen it up-close in the form of tense interactions with the PMF at checkpoints surrounding the city. "They sometimes flip us off when we're moving through checkpoints," May says. "It's a weird relationship, but they're not the enemy."
As the soldiers stood guard, a group of Iraqi SWAT police approached May, Roma, and Rivera. They gave Roma and Rivera SWAT patches, putting them on their shoulder where their unit patch would usually be. The soldiers give the Iraqis their "Tropic Thunder" patches.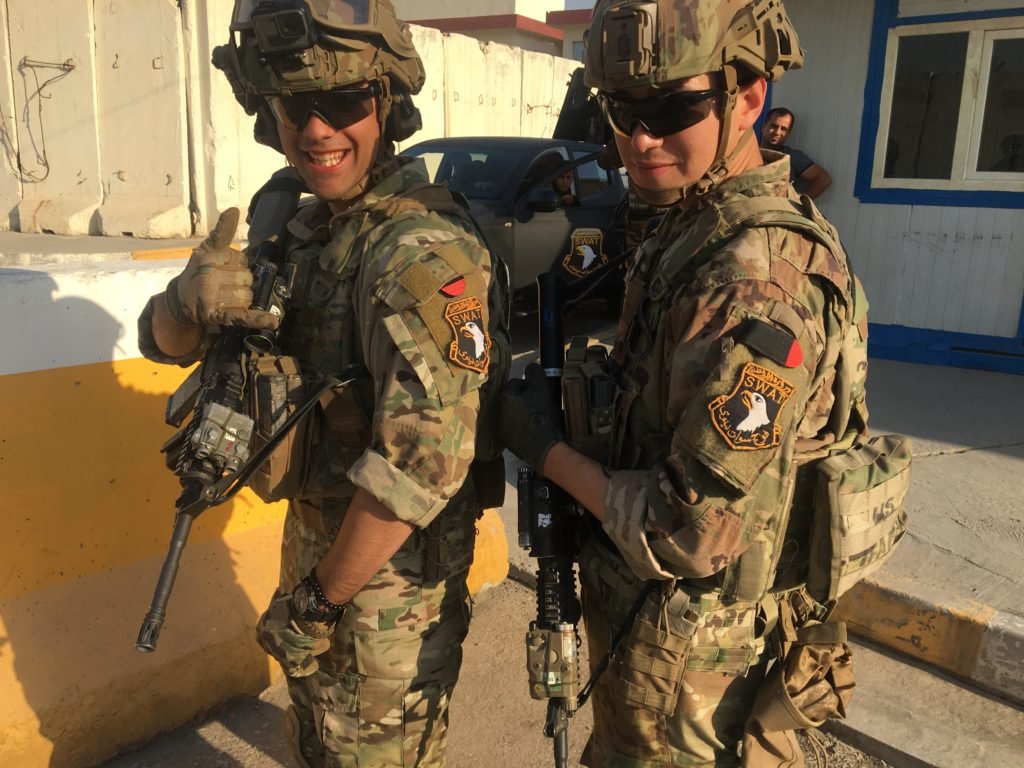 "That's super cool," said Roma.
"Are we even allowed to wear these?" Rivera asked.
"I'm keeping mine on for the rest of the mission," said Roma. They continued joking around with the Iraqis in their broken English.
Not long after, Neuenschwander left the mayor's office and everyone returned to their vehicles. On the way back to the NOC, the convoy crossed the bridge into West Mosul. The difference is stark on the other side of the Tigris — the Old City was the site of the heaviest fighting between ISIS and Iraqi forces and received the brunt of the Coalition's air and artillery bombardment.
Many buildings are warped or caved in, jagged bomb blasted stones and rubble cut menacing silhouettes in the sky. Since the end of the battle, Iraqi relief has dug through the rubble and unearthed unexploded bombs and bodies with regularity. They find a mix of mass graves left by ISIS, civilians that were trapped in the city and killed by Coalition shelling, and potential victims of reprisals and extrajudicial killings by Iranian-backed forces. Counting the dead may take generations.
Still, venders selling fruit and fish lined several stretches of road and children played in the street. War has yet to destroy Mosul's spirit.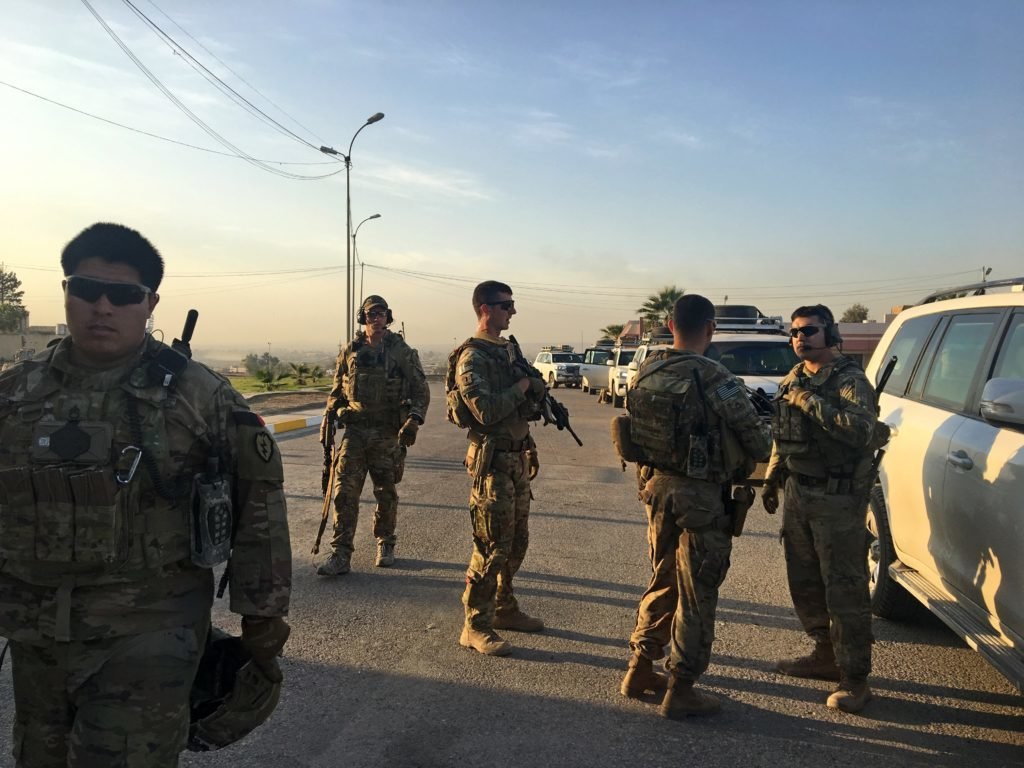 As the sun made its way down to the horizon, the Iraqi SWAT escorts picked up the pace, rushing the Americans back to base so that they too could have an evening off. On the way back to the NOC, the Americans passed the Mosul Grand Mosque.
Once called The Saddam Mosque in honor of Saddam Hussein — under whose reign its construction began — the mosque was to be the largest in Iraq. War has constantly interrupted the massive project, leaving the large structure in many ways a bitter symbol. In February, the Nineveh Governate announced that construction had resumed with a $50 million grant from the UAE — though some Moslawis have complained they'd rather see that money used to help restore West Mosul than a relic of Hussein's rule.
Roosh pointed to it and said that the mosque's ultimate future was to be converted into a massive multi-room night club, with festive lights shooting into the sky.
"Wait, like for real?" asked Rivera.
"Yeah because I'm going to buy that shit," the interpreter replied deadpan. Rivera laughed.
"I'm going to keep the same name, too," Roosh continued. "Grand Mosque Club. It'll be confusing, but awesome."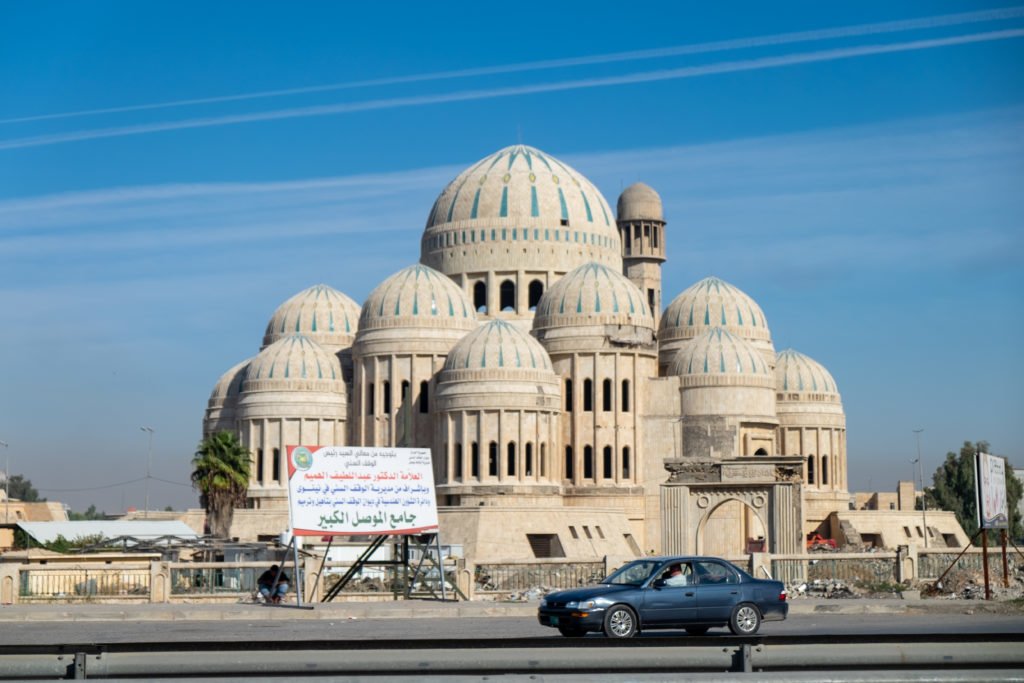 As the soldiers pulled back into the NOC, Rivera's truck hit a speed bump to the sound of a loud boom. He stopped the vehicle, and the soldiers inside got out to make sure nothing fell off but soon realized the rest of the convoy vehicles were on high alert. It was an explosion.
The Iraqis were detonating ordnance again. It was nothing to worry about — this time.
As the sun set, the call to prayer echoed throughout the city. At the U.N. Compound, aid officials finished up their day. "All of that runs without our direct involvement," Neuenschwander says, noting that the U.N. doesn't talk to the Coalition unless it's a specific question about security. Aid officials try to remain as neutral as possible, but the fact that the U.N. keeps its headquarters at the NOC rather than in the city is telling.
In the event of a full-on attack on the NOC, the U.N. would depend on Iraqi troops for outer security, and the Americans would serve as their last line of defense. Neuenschwander says it's uncertain what the U.N. would do without their protection: "If we leave pre-maturely, that goes with us."
A group of American troops maintained watch from the roof of an old palace that serves as the highest point on the NOC. Sandbags, netting, and machine guns occupy positions in all directions. Word is that Hussein had built the palace for his sister. Unlike his own nearby palace, this one remains mostly intact and functional even after a coalition bomb destroyed part of the roof during the fight against ISIS.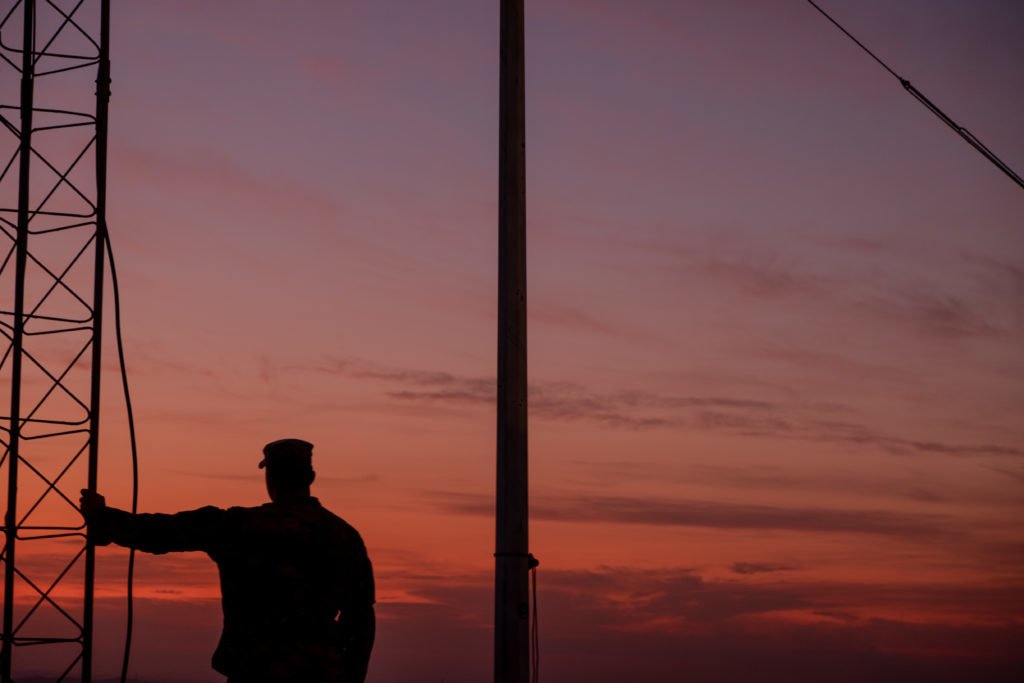 The inside walls are pockmarked with shrapnel. Some soldiers say that the building is haunted — they've heard stories of gruesome executions that ISIS carried out there. The palace grounds are also rumored to be the scene of killings by Hussein's notoriously violent sons, Uday and Qusay, during the reign of the Baathists. Some soldiers say they've heard strange sounds at night in the hallways, while others say parts of the building just feel wrong.
From the roof, the soldiers could see the whole city. SPC Josh Coleman, a young cavalry scout from South Carolina, looked out at the Tigris. As the orange glow of the sunset faded, Mosul's city lights began to flicker on. "It's definitely not the worst view," he said.
Coleman plans to leave the Army after returning from this deployment. He's glad he joined the Army, and he's glad he got the chance to deploy, but he's definitely ready for a change of pace. He grew up around boats on the Carolina coast and hopes to use his GI bill benefits to study oceanography.
Coleman hopes the rest of the deployment stays relatively uneventful. "Eighteen-year-old me wanted action," he said of the kind of soldier he was when he first enlisted. "But I like my legs."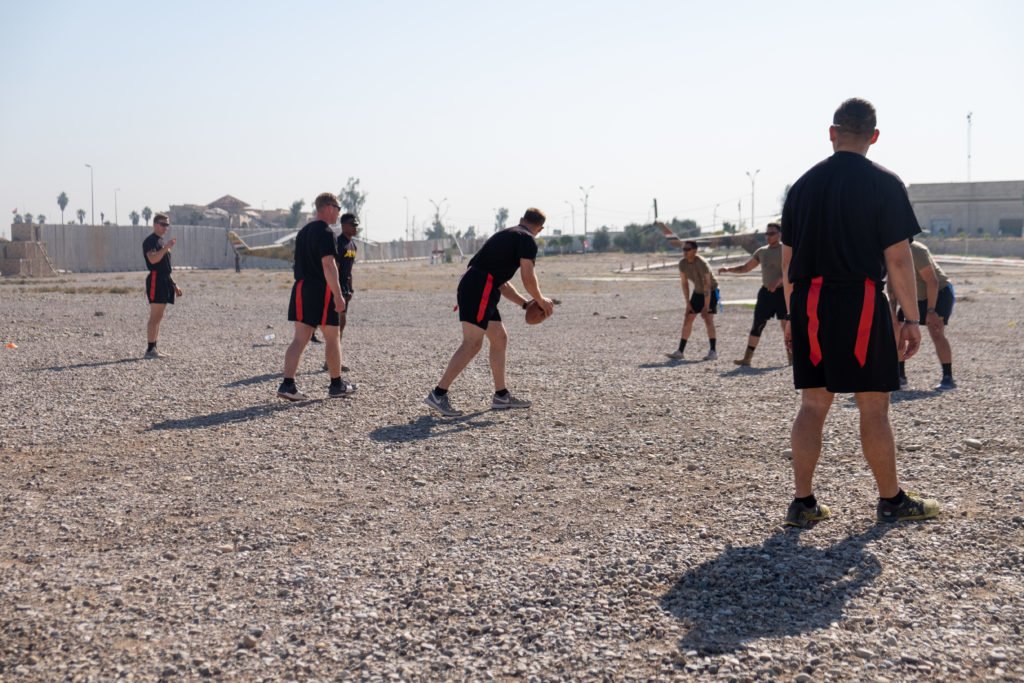 For Sergeant First Class Josh Nearhoof, this is his fifth deployment, including a stint in Mosul in 2007. "It gives me some closure," he said, adding that many of his friends were angry when they left the military. They held on to bitter memories and emotions of their time in Iraq. "I felt it, too," he said. "Why are we here? Why are we getting shot at? First we were told it was WMDs and that turned out to be nothing. Then it was oil, then it wasn't oil, then it was freedom — you know, what the hell?"
For him and many other soldiers he served with, it was frustrating not only to endure the relentless fighting and loss of their friends, but to watch the Iraqi people suffer and lose their own friends, families, and homes — and as soldiers they often felt powerless to do anything about it.
"Every time I deployed, things were worse and worse and worse," Nearhoof said.
He said that having the opportunity to visit the university and see busy marketplaces and Iraqis rebuilding homes and neighborhoods has been healing for him. "It's hard for the new guys to understand what it means to see that," he explained. "Now when I look at it, there's hope that maybe things can actually get better. That maybe all that hurt, all that death, all that sacrifice wasn't for nothing."
During the spiraling tensions after American forces killed Soleimani, several false reports emerged of rocket attacks against the NOC. Even before American forces began strikes against Iranian-linked militias, American commanders had begun scaling back troop movements outside of bases in places like Mosul to avoid possible confrontations with PMF factions amid escalating tensions.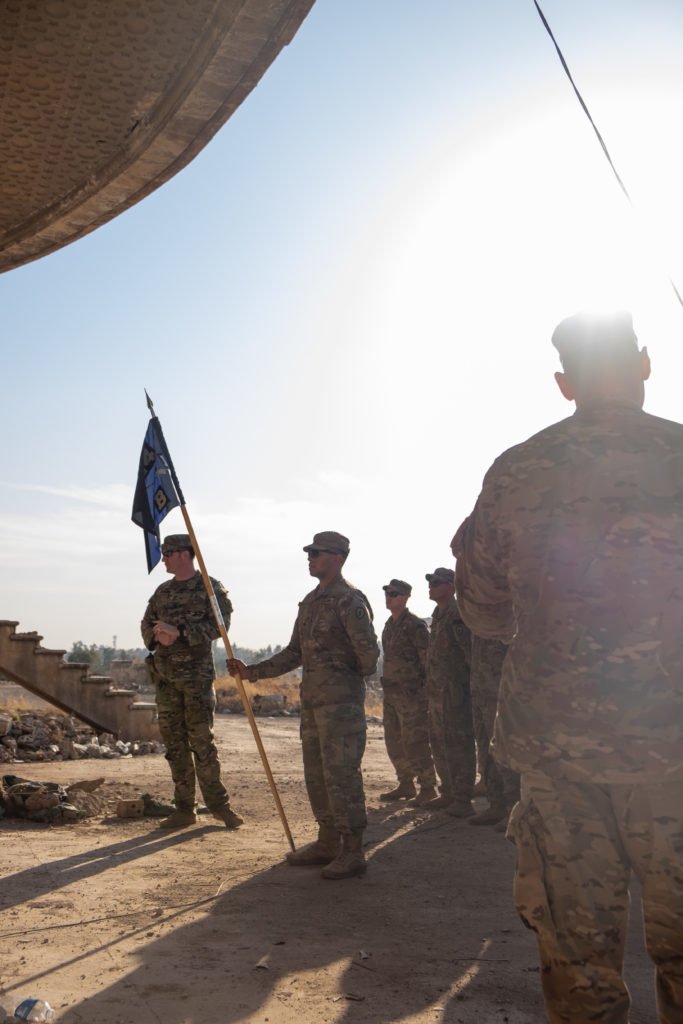 As America and Iran stand off against each other, Iraq's protest movement continues. The protesters broadly oppose Iranian influence over their country, as well as the Iranian-backed militias that have killed hundreds of Iraqi protesters and wounded thousands. In several Iraqi cities, news of Soleimani's death was met with celebration. But elation soon gave way to uncertainty and fear.
Many of the protesters worry about America and Iran turning their country into a battleground where most of those killed would be Iraqis. A significant portion of the protesters would like to see an end to both the Iranian and American military presence in their country, but some protesters see American troops as a safeguard against Iran taking full control — at least for now.
In Mosul, though protests haven't been as loud, many residents of the city have shown their solidarity with protesters to the south in other ways. Students have worn black to honor slain protesters. Some Moslawis fear that their overt participation would allow the militias to brand the movement as pro-ISIS or pro-Baathist — and many others are invested in continuing the delicate work of rebuilding the city and don't want to disrupt those efforts.
"Our hearts are with the protesters in Baghdad, but we can't join them right now," Aliya Muzaham, a local activist, told Al-Monitor.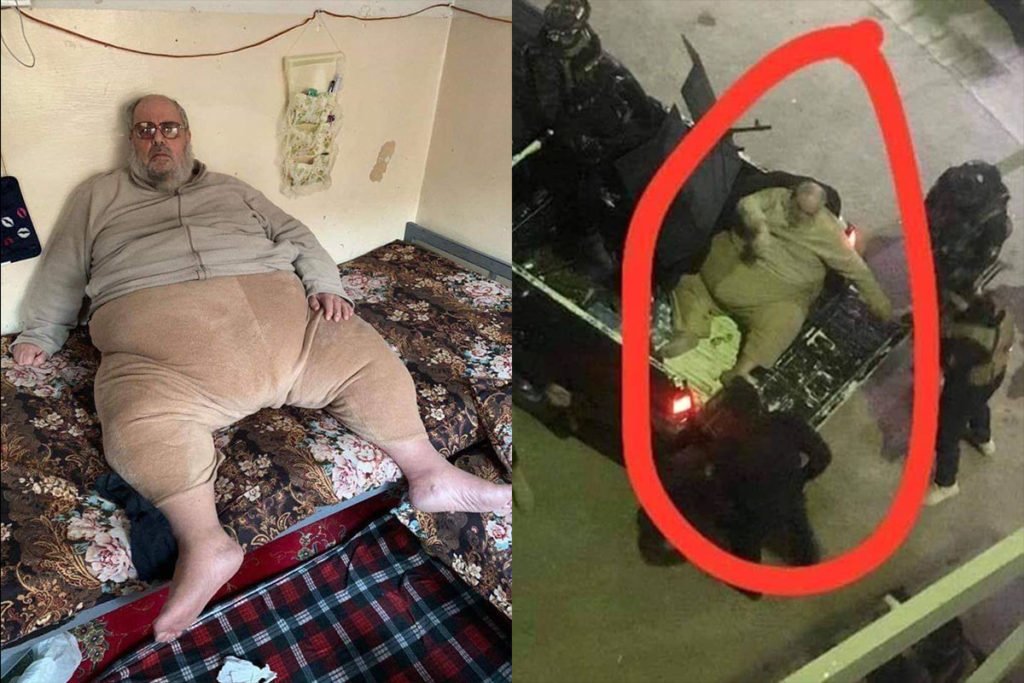 Even amid the turmoil and uncertainty, Iraqi troops and police continue hunting ISIS. On January 16 in Mosul, Iraqi SWAT commandos arrested Shifaa Al-Nima, who was once the ISIS mufti of the city and has been living in hiding since the end of the battle. Nima is a heavy-set man, and pictures emerged on Iraqi social media circles showing that the commandos had to load him in the back of a pickup truck when they apprehended him.
There have been several jokes about how this is the Iraqi commandos' "biggest" catch yet, and he's been branded ISIS's Jabba the Hutt. But even as Iraqis and others take some amusement at his undignified capture, Nima's legacy in Mosul is less amusing.
During ISIS's reign, he was a major driving force in planning the destruction of cultural sites and artifacts. Reports say he personally ordered the destruction of the tomb of the prophet Jonah in July 2014. He also ordered the deaths of scholars, intellectuals, and religious leaders that refused to support the militants' vision.
Thousands of Iraqis, Americans, and others have lost their lives in Mosul. Today, the legacy of America's long involvement in the city is far from certain — as is Mosul's future.