A barrage of rockets struck an Iraqi air base in the city of Erbil on Monday, killing a civilian contractor working for the US-led coalition combating ISIS. An American service member and several American civilian contractors were also injured in the attack, the Operation Inherent Resolve coalition announced.
Late Monday, militants fired a barrage of some 14 107 mm rockets toward the coalition military base located on a ramp at Erbil International Airport. Three of the rockets struck the section of the airfield housing US and coalition partner forces. The civilian contractor who died in the attack was not American, US Army Col. Wayne Marotto, a spokesman for the Operation Inherent Resolve coalition, said in a social media post.
Some nine people were injured, including a US service member and four other American contractors. Two rockets landed in a residential area near the airport, the Kurdish news agency Rudaw reported. Erbil's Chinese consulate reportedly sustained damage, as well.
"We are outraged by today's rocket attack in the Iraqi Kurdistan Region," US Secretary of State Antony Blinken said in a statement. "We express our condolences to the loved ones of the civilian contractor killed in this attack, and to the innocent Iraqi people and their families who are suffering these ruthless acts of violence."
A Shiite militant group calling itself Saraya Awliya al-Dam — "Guardians of Blood Brigade" in Arabic — claimed responsibility for the attack, The Associated Press reported. The group said it was opposed to the "American occupation" in Iraq.
"The American occupation will not be safe from our strikes in any inch of the homeland, even in Kurdistan, where we promise we will carry out other qualitative operations," Saraya Awliya al-Dam said in a statement, according to the SITE Intelligence Group.
Iran-backed, Shiite militias operate with relative impunity across Iraq. In the northern Iraqi Kurdistan region, Iran's proxy militias have a long history of attacking the compounds of anti-Tehran, Kurdish Iranian groups. Iran has also leveraged its network of proxy militias to harass US forces as they draw down within Iraq. However, experts say Saraya Awliya al-Dam is a relatively new militia without clear ties to Tehran.
"It's a new group so there is nothing well-established about them," Veryan Khan, president and CEO of the Terrorism Research & Analysis Consortium, told Coffee or Die Magazine.
Iran-backed militants are also responsible for no fewer than 15 attacks against American and US-led coalition personnel since Jan. 3, 2020, the day a US drone strike killed Qassem Soleimani, commander since 1998 of Iran's Quds Force. Iran's January 2000 retaliatory ballistic missile strikes targeted US forces stationed at al-Asad and Erbil bases in Iraq, inflicting traumatic brain injuries on some 110 US service members.
Iran reportedly denied responsibility for Monday's rocket attack.
"It should be noted that the Iranian Foreign Minister rejected Iran's links with [Saraya Awliya al-Dam], but we know that Shia groups in Iraq are in general associated with Iran," Khan said. "Quite cryptically in their claim they justified the attacks by stating it was 'to avenge for our martyr leaders' which is obviously hinting without directly referencing the assassination of Iranian general Qassem Soleimani."
Erbil, the capital of Iraqi Kurdistan, has typically not seen the kind of violence as other parts of Iraq since the 2003 US invasion. Initial reports suggest the rockets were launched from the south, in the direction of Kirkuk, Al-Jazeera reported.
"The targeting of Erbil that claimed victims represents a dangerous escalation and a criminal terrorist act against national efforts to protect the security of the country and the safety of its citizens," Iraqi President Barham Salih tweeted. "We have no choice but to firmly strengthen our efforts to root out the forces of terror and their attempts to plunge the country into chaos."
The Kurdistan region's Peshmerga Ministry issued a statement condemning the attack against coalition forces.
"Now, more than ever, we need unity and with the high morale of Peshmerga forces, we will defeat the terrorists, and we will not allow the lives of our people to be endangered in any way," the ministry said in the release.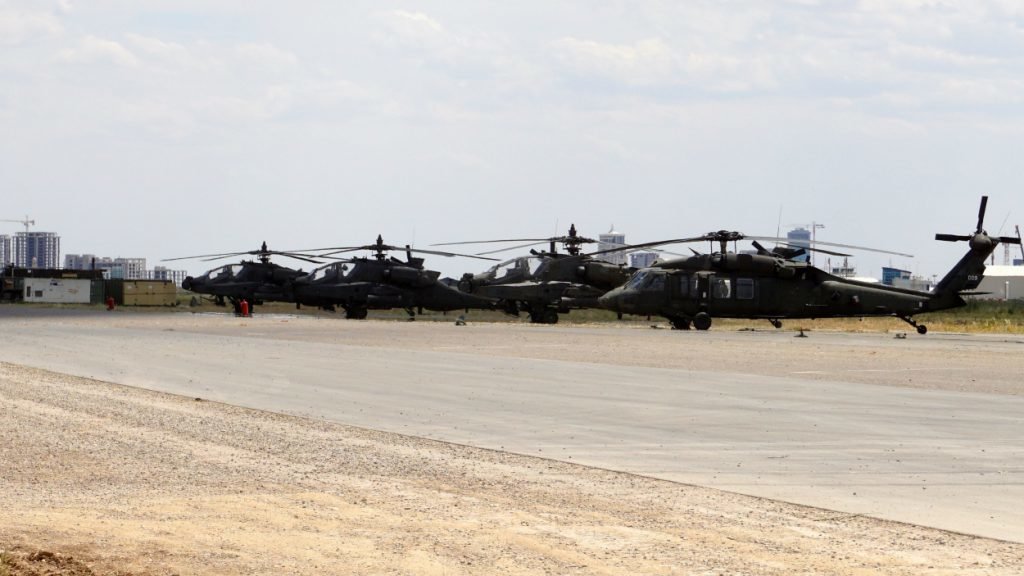 Since Soleimani's killing, a number of new Shiite militant groups have emerged in Iraq. According to regional news reports, most of these groups claim their independence from Iran. Yet, some terrorism experts say that the groups' statements closely mirror the verbiage of official, state-sanctioned propaganda coming out of Tehran.
As a result, many experts say that Iran is cultivating a bench of proxy forces that it can use to execute attacks against US forces while maintaining plausible deniability. Relying on proxy forces to conduct attacks against adversaries is textbook gray zone warfare — a doctrine Iran has embraced.
In January the Pentagon announced that the number of US military personnel in Iraq had reduced to 2,500, according to a drawdown timetable set by former President Donald Trump. The US declared victory over ISIS in March 2019. Nevertheless, the terrorist group still operates from redoubts across the region, ensconced within the remote mountains and deserts of Iraq and Syria.
Operation Inherent Resolve still regularly supports Iraqi troops with airstrikes and airborne intelligence, surveillance, and reconnaissance as they continue to prosecute raids on ISIS holdouts. That enduring effort requires a continued, if significantly scaled-down, war effort — including the intermittent use of American air power to bomb ISIS strongholds.