For as long as America has been America, we've been addicted to coffee. That might sound like an exaggeration, but after we hauled large quantities of tea overboard during the Boston Tea Party, sipping coffee as your morning beverage soon became something of a patriotic honor. But how did a crop not native to the US become such a big deal?
America has something to thank the Caribbean for in this regard. Coffee was imported from the West Indian Islands, and the source of most American coffee can be traced back from precisely one tree in Martinique. Legend has it this tree was stolen from France when naval officer Gabriel Mathieu de Clieu saw King Louis XIV's garden flaunting several coffee plants.
The year was 1728, and de Clieu was stationed in the French Caribbean at the time, where he saw the potential in cultivating coffee plants in the warm climate. After requesting a seedling and being denied by his majesty, de Clieu seized an opportunity to snatch one from the garden, which he then stashed on his ship. The journey back to the West Indies was easy. De Clieu fought Tunisian pirates, endured a tropical storm, and used limited water rations to ensure the plant's survival, but the journey proved worthy. The tree was planted in Martinique's rich soil in 1729, and by 1777, the island boasted close to 20 million coffee trees.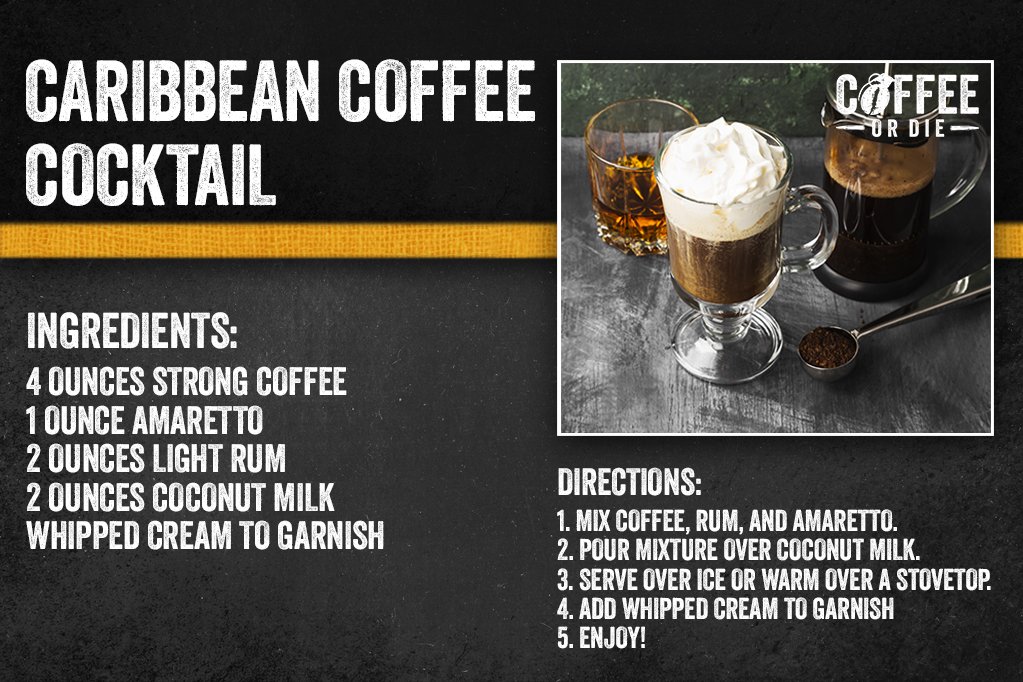 When we think about the Caribbean, it's easy to ignore their coffee. We usually imagine sandy beaches and lush isles baking under a beaming sun. Coffee doesn't seem like something that would be at the center of their culture, but given the tropical climates and mountainous topography, it's an ideal crop and an even better beverage.
Coffee was a fantastic way to start the day for most farmers who got up before sunrise to work on cocoa or sugar fields. It was traditionally made in a hollow steel pot with equal parts course grounds and water. After being brought to a boil, coffee was ladled into steel mugs. My grandmother, who comes from a long line of farmers in Trinidad, describes it as "dark as oil and strong as hell."
A Caribbean Coffee Cocktail is a fun way to enjoy and celebrate the crop during the humid summer months. Most of the beans grown in the Caribbean are Arabica, which is known for its nutty complexities. This cocktail includes a shot of amaretto to round out the beans' natural flavors as well as a hefty dose of rum to utilize the Caribbean's No. 1 export.