It's no secret that coffee and dairy go hand in hand. In America alone, 79% of coffee drinkers prefer their daily cups with add-ins. Other countries, such as Vietnam, use products such as yogurt in a unique way to enjoy coffee.
But what about coffee and cheese? While the combination may seem about as polarizing as pineapple and pizza, it's not only a tried-and-true method but is also one of the most traditional methods of drinking coffee in one of the world's unrecognized coffee capitals: Sweden.
With around 18 pounds of coffee consumed annually per capita, Sweden ranks as the sixth-highest nation in coffee consumption, just behind the Netherlands. While their twice-daily practice of fika — a short break created for citizens to slow down and share coffee and pastries with colleagues — helped bolster coffee's popularity, the Scandinavian nation's history with the beverage is a long and tumultuous one.
After coffee was introduced to the masses in the 1680s for medicinal uses, coffee eventually found a place in cafes across Sweden's southern and central cities as the hot beverage of choice of the wealthy — that is, until coffee was outlawed in 1756 in the first of five coffee bans. King Gustav III, who hated coffee, commissioned what is now comedically called "Sweden's first clinical study" to prove that coffee was detrimental to one's health.
The study used identical twins condemned to death: One would drink an absurd amount of coffee daily, the other an absurd amount of tea. While both brothers outlived their supervising physicians and King Gustav, the coffee drinker ultimately survived the longest. The whole study was laughable, at best.
When it was lawfully in fashion, coffee's popularity quickly spread to northern Sweden, where the practice of enjoying the hot beverage with cheese originated. Given the name kaffeost, the concoction first appeared on record in the late 1700s with the Saami.
The Saami people are indigenous to Northern Europe and come from an Arctic region known as Sápmi, which includes parts of northern Sweden, Norway, Finland, and the Kola Peninsula of Russia. They are traditionally nomads and herdsmen, and two of their favorite things are reindeer and coffee. Kaffeost is the perfect harmony of both.
This unique beverage is made from a rich, dark brew of coffee and juustoleipä, otherwise known as "Finnish squeaky cheese." For the Saami, this meant a spongy cheese made from reindeer milk, though that's not often the case in today's preparation of kaffeost.
Coffee made its way up to Sápmi in the mid-1700s by way of the coffeehouses of Stockholm. Preparation was originally the domain of men, as was the cooking of meat. Coffee was usually served to accompany reindeer broth, but producing the coffee wasn't an easy task. Green coffee beans would arrive from various ports in need of preparation.
As the Saami prefer their cups of coffee to be very strong, Saami men would dedicate hours of their time to slowly roasting the beans in pans over high heat with constant stirring until the beans turned almost black. Keeping up with demand was an ongoing struggle since the Saami have a voracious appetite for coffee, often drinking three or four cups per person per sitting.
The coffee was prepared by soaking freshly ground beans in cold water and then bringing it all to a heavy boil before leaving it to steep next to the fire. Grinding the beans by hand and brewing them unfiltered resulted in very murky coffee, so to clarify the brew before it was drunk, the Saami would put a dried pike skin straight into the pot.
The slime from the fish skin would attach itself to the free-floating coffee grounds and make them sink to the bottom of the kettle. There's no need to use a fish skin when making your own kaffeost at home, but using your favorite dark roast with an immersion-brewing method, such as a French press or cezve (Turkish coffeepot), could lend the experience an extra touch of authenticity.
The other component of kaffeost is, of course, the cheese. The dish requires juustoleipä. Juustoleipä translates literally to "bread cheese" and is a semisoft cheese. As the name suggests, the texture is porous and astoundingly breadlike. Besides its unique mouthfeel, its most distinctive feature is its brown char marks, which result from grilling or flambéing the cheese and which add additional caramelization to the coffee.
For the Saami, this cheese is traditionally made from reindeer milk that was dried out to be kept for over a year, making it perfect for Arctic nomads seeking to maintain their food stores throughout the long, dark winter.
Since the Saami rarely had access to wheat for traditional bread-making, they used juustoleipä in many of the same ways you might use your favorite sourdough loaf. A favorite preparation is to serve it like toast with honey, syrup, or cloudberry jam, but it can even be sliced into plate-shaped disks to work as a classic medieval trencher, like a flat bread bowl. When it's not being used in kaffeost, it's still often used as typical fika fair, along with sweet buns, chocolate balls, and open-faced sandwiches.
For those yearning for a moderately authentic kaffeost experience, juustoleipä is not that complicated to make. An intrepid coffee lover can make it at home using whole milk, cream, and rennet. Once heated and left to rest, the mixture should form curds that can be strained out with cheesecloth, pressed, and then baked into your own homemade bread cheese.
The whole operation can be performed in an afternoon, with plenty of downtime for coffee breaks. Luckily for those of us who don't fancy ourselves cheesemongers, the Great Lakes states have an abundance of residents descended from Scandinavians, and the good people of Carr Valley Cheese in Wisconsin make their very own spin on classic bread cheese that you can have delivered right to your home. They have several flavors, some made from cow's milk and some from goat's milk, but for kaffeost purposes, you should be using the plain flavor so as to not alter the taste of the coffee.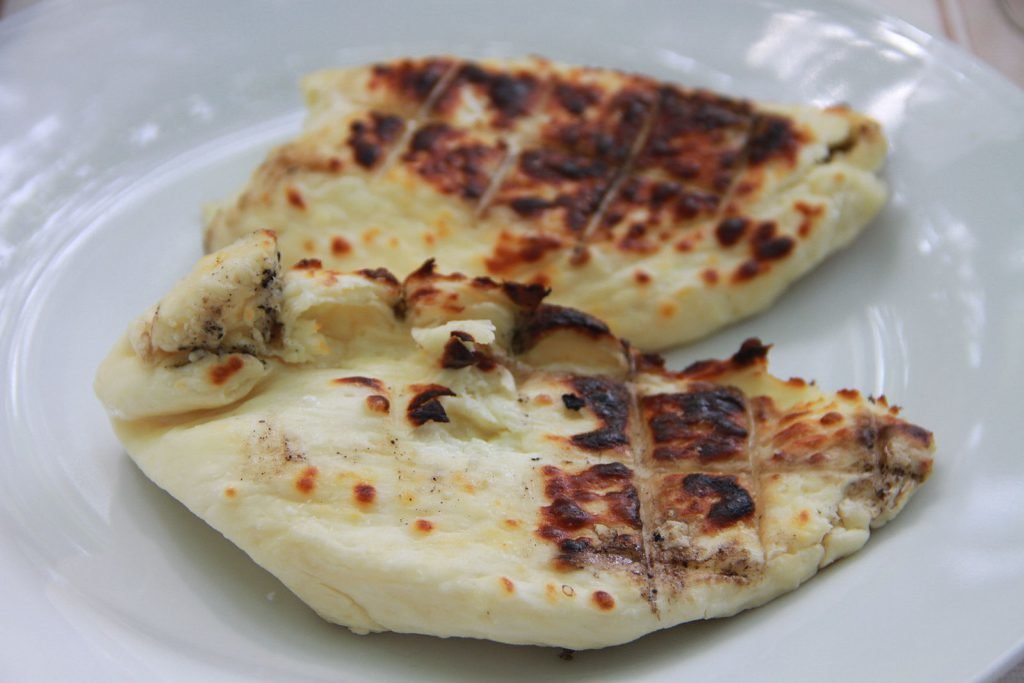 Additionally, many compare the taste of juustoleipä to Canadian cheese curds, brie, and most notably, halloumi. It's mild, with barely any tang or sourness. For those seeking more accessible options, any of these are acceptable.
To make your kaffeost, you'll want to cut the cheese into squares similar in size to sugar cubes. Place a few of them at the bottom of the cup and pour the coffee over them slowly, making sure they are fully covered.
Depending on the cheese, they may float to the top or sink to the bottom. Either way, the coffee should be seeping into every pore, giving the cheese an amazing taste and a warm, bouncy texture. After you've had a few sips, use your spoon to fish out one of the pieces of cheese and give it a bite. It should make a satisfying "squeak" as you bite into it. Your juustoleipä should taste like a piece of tiramisu, if not like a coffee-infused cheesecake.
There are many minor variations people use to make this cup. Some people like to add a little salt, while others will add spices such as nutmeg. Traditionally, the Saami don't add sugar, but if you prefer your coffee a little sweeter, you can always add a little honey, a traditional ingredient that they would have had on hand. You can even use queso blanco with milk and sugar, a similar preparation customary in Panama.
However you chose to enjoy your coffee, feel free to borrow from the Swedish, whether that means adding cheese to your next cup or just slowing down and enjoying some fika time of your own.
Read Next: Future-Proofing Coffee With the Long-Lost 'Coffee Stenophylla'