"You want taxi, my friend?"
I immediately sensed a subtle but deliberate sense of urgency in the driver's thick Costa Rican accent. I'd just made my way through customs and was exiting Juan Santamaria International Airport in San Jose, the capital of Costa Rica. I gave the driver a polite nod, said "no," and then continued toward the official "red taxicab" staging area.
When it came to international travel, this wasn't my first rodeo. And although the threats endemic to the areas I intended to explore in Costa Rica were pretty vanilla, I'm always on guard when traveling abroad.
As I approached the taxi lineup, I immediately noticed that the nicer, cleaner cars were located closer to the front entrance of the building. The vehicles looked progressively more shady as I made my way down the line.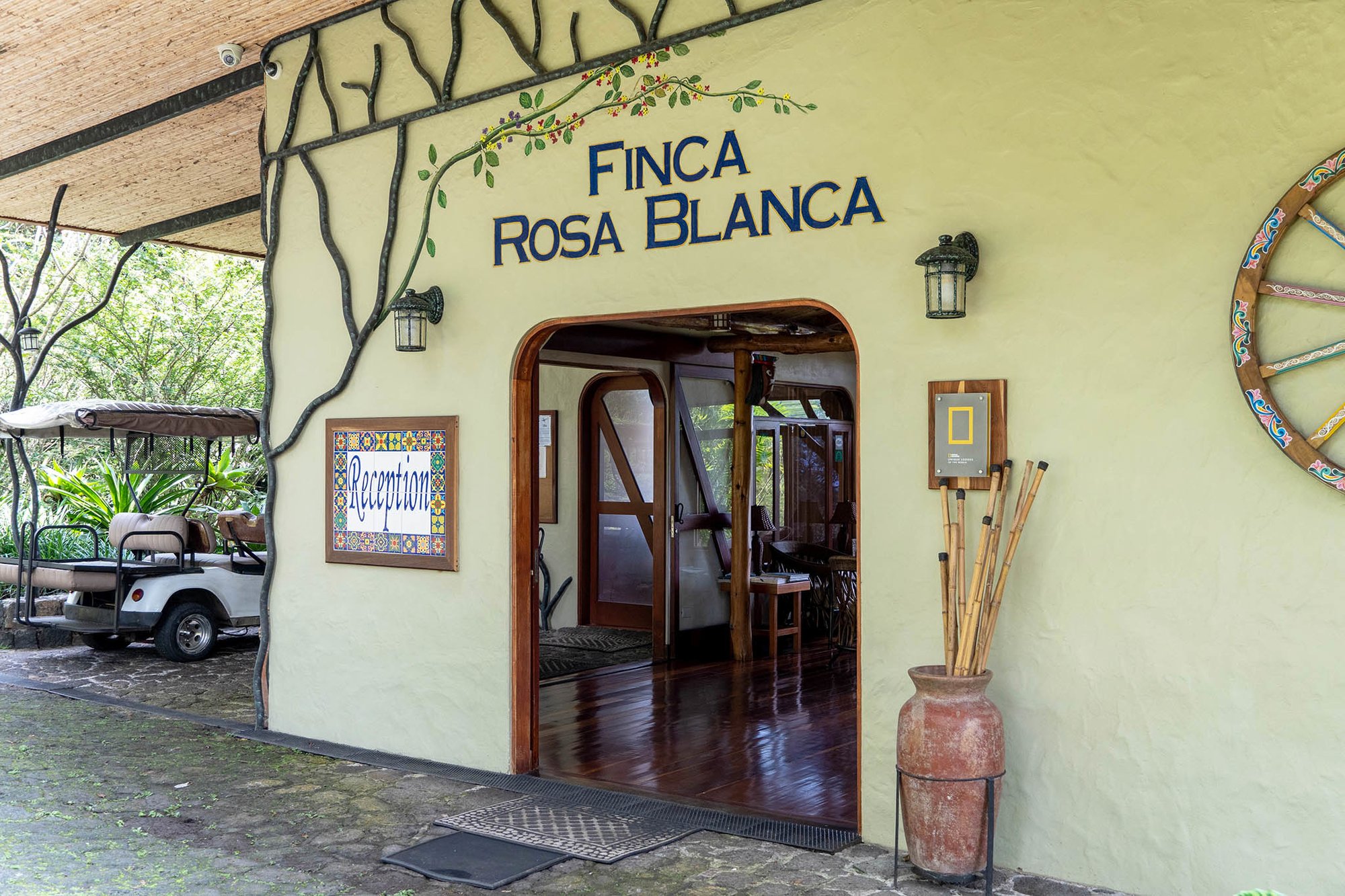 Having conducted a bit of online intelligence before my trip, I already knew which taxicabs were "official" and which might've been hunting for an easy American mark. After a quick scan, I found a taxi that looked legit. I confidently approached the driver (as if I had visited this region many times before) and explained where I was headed.
My taxi driver's name was Henry, and he spoke sufficient English for us to hit it off. Henry drove an old, red, tricked-out Toyota Corolla, which I promptly assessed was in adequate condition for the first leg of my adventure. Henry stored one of my bags in the back seat, and we set out for the first coffee plantation on my list.
On this multiday Costa Rican coffee trip, my initial destination was Finca Rosa Blanca Coffee Farm and Inn. Located near the Santa Barbara de Heredia province of Costa Rica, this upscale location would be my home base for the first two nights of my journey.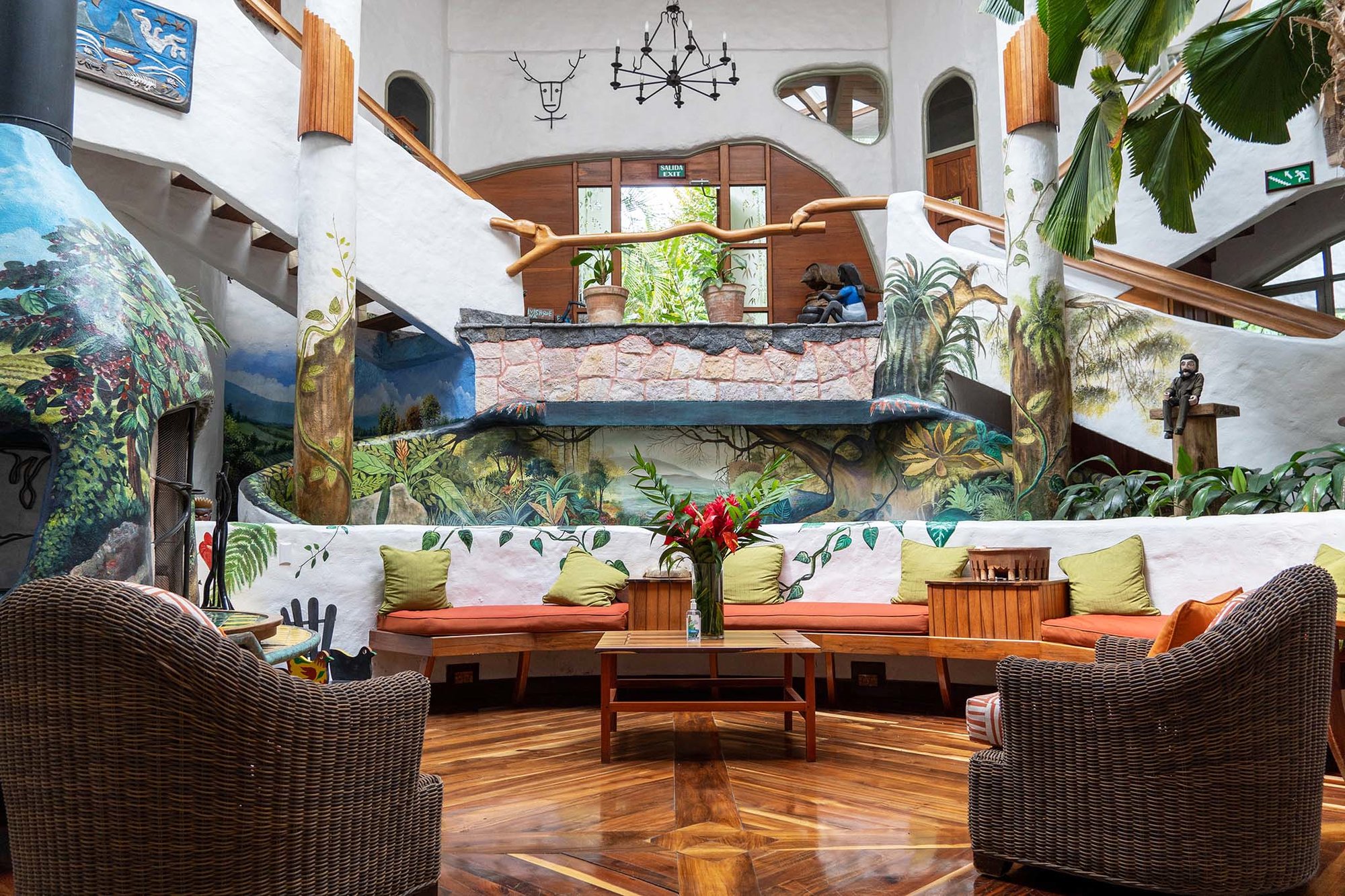 During my pre-trip research, I estimated that the drive from the airport to the hotel would take about 30 minutes. But it was immediately apparent that Henry was not your average taxi driver.
He handled the tight two-lane roadways like a semiprofessional Formula Drift driver, often blowing right past posted stop signs and halted traffic. He went so fast that I just assumed the clutch on his workhorse Corolla was on its last legs.
Henry spoke enough English for us to make small talk. He told me that business was "not good," even though Costa Rica's tourist travel restrictions had remained lifted since November 2020.
With Costa Rica's population numbering some 5 million people, the country's economy is heavily reliant on tourism. To help boost the economy, the country's president, Carlos Quesada, signed a law that allowed so-called digital nomads — foreigners who can work remotely — to stay in the country for up to two years. To qualify, individuals must earn at least $3,000 annually, and families must make at least $5,000. Participants in the program are able to open Costa Rican bank accounts, and American participants can use their US driver's licenses in country.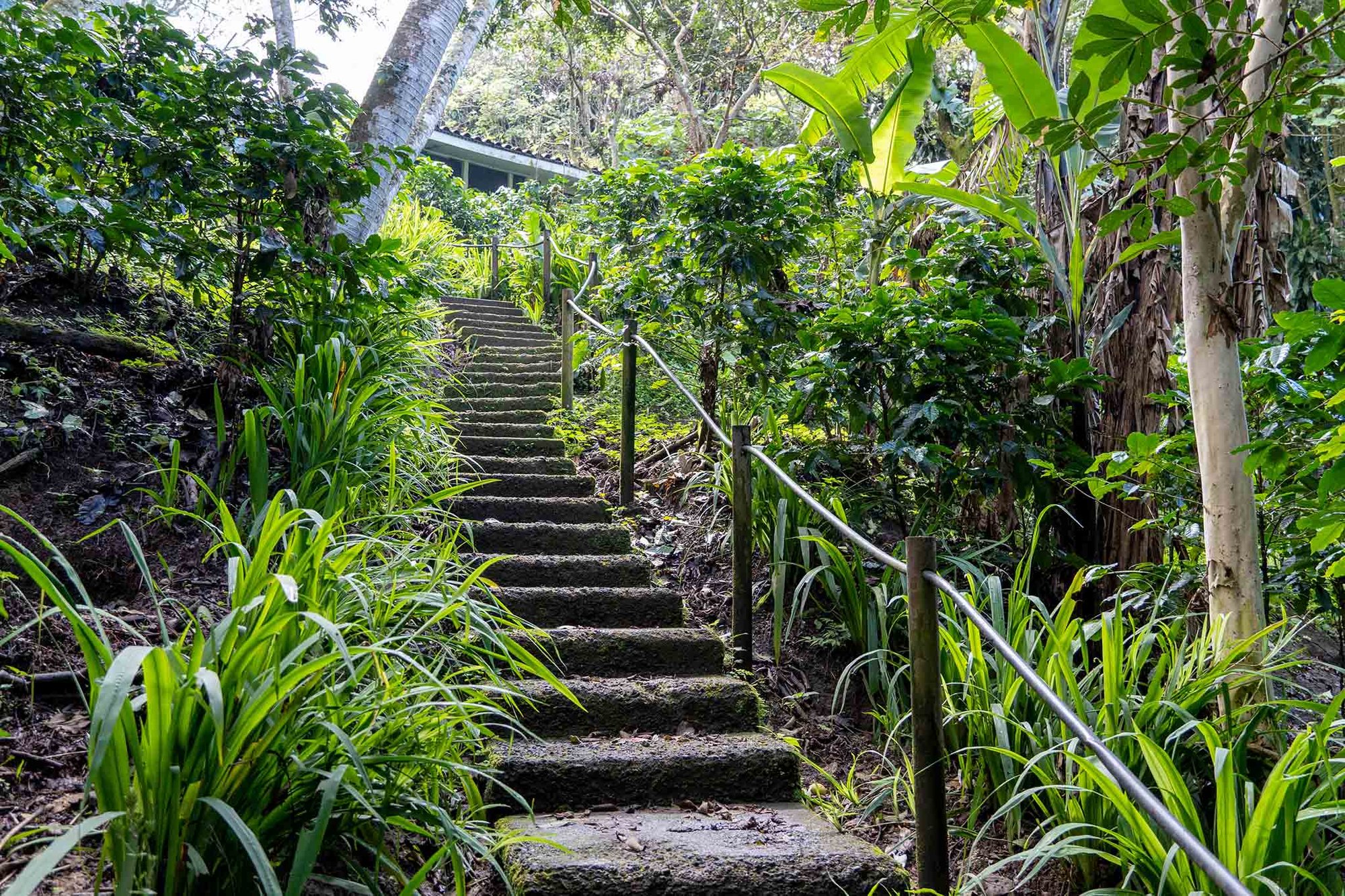 We arrived at Finca Rosa at approximately 7 p.m.
After giving Henry a handsome tip, I asked whether he'd be able to retrieve me after I checked out. He happily agreed, and we set up a rendezvous time.
The front entrance was gated off from the street, and I needed to be buzzed in. I had arrived in Costa Rica during the rainy season, which is not the peak tourist season. At first glance, it appeared that I was the only tourist checking in to the inn that night.
Now, I have no problem staying in Spartan accommodations during my coffee adventures. Even so, I certainly wasn't roughing it at Finca Rosa — just the opposite, really.
The farm and inn featured 14 stylish villas, suites, and studios. I chose this farm because it allowed me to stay on-site and thereby gain a true understanding of how Costa Rican coffee farms are adjusting to attract tourists in the new normal of post-pandemic life.
This 30-acre farm was built around a muddy former motocross field. For three generations, the Jampol family's primary mission at the Finca Rosa plantation has been the promotion of ecotourism — a brand of travel directed toward exotic and often at-risk natural environments, with the intent to support conservation efforts and observe wildlife.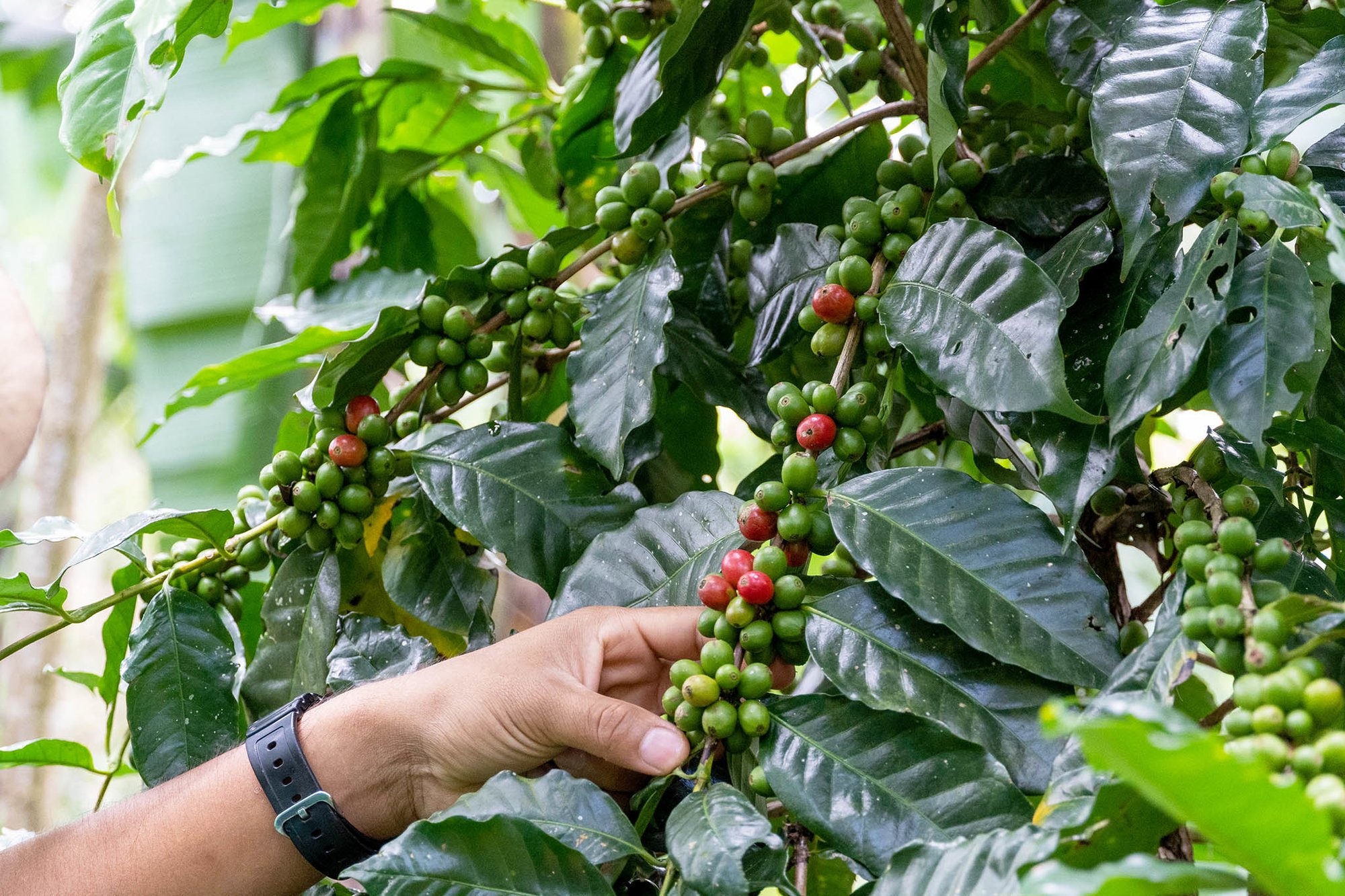 Because of my late check-in time, my host recommended that I visit the farm-to-table restaurant called El Tigre Vestido. The restaurant featured a dynamic menu of seasonal fare, all of which was sourced from the Finca Rosa farm.
With my belly full, it was time to check in to my room and sleep off some of the jet lag from the 10-hour, pandemic-delayed journey from California.
The next morning, after enjoying a "tipico" Costa Rican breakfast at the restaurant — and, more importantly, two cups of freshly brewed house coffee — I was greeted in the main lobby of the inn by my coffee guide, Ulises. He informed me I would be the only guest on that day's organic-coffee tour. Ulises had worked on this particular farm for almost eight years and was one of the location's resident naturalists and coffee experts.
As a coffee enthusiast, I was, of course, stoked to have a private tour of the farm.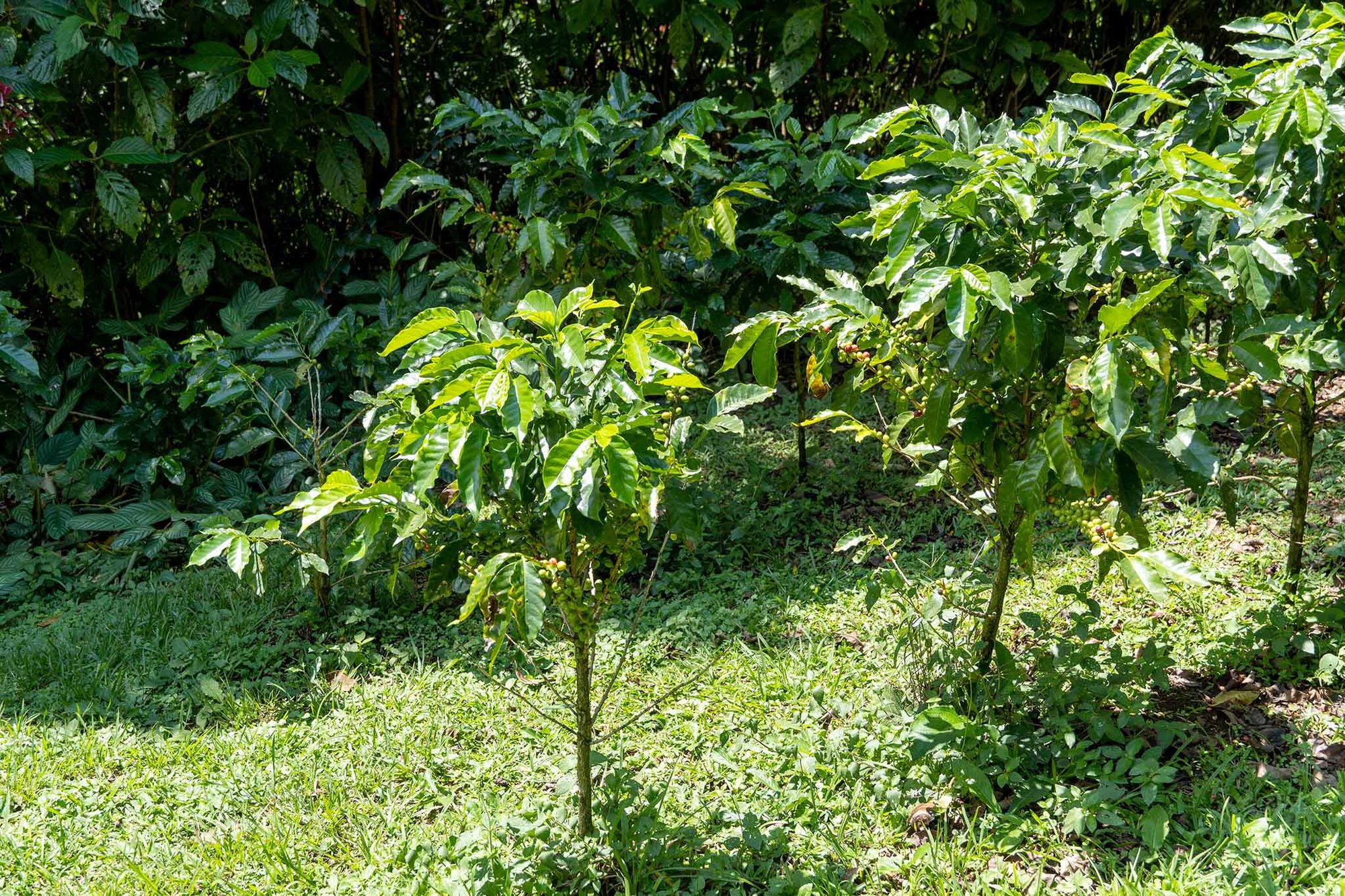 The farm offered two daily tours. I chose the morning option to avoid the rainy season's typical afternoon showers. Thus, when breakfast was over, Ulises grabbed his walking stick, and we proceeded toward the fields.
Once we set foot on the actual coffee plantation, I immediately understood that this eco-resort was way more than your average "tourist trap."
We hiked through the tree-shaded coffee fields, taking brief breaks every few hundred yards to stop and observe the extraordinary forest and its abundance of wildlife. More than 125 species of birds have been identified on this Costa Rican coffee farm. Along the trail, we passed freshwater streams and even a tiny waterfall.
"Because this farm is located at a higher elevation, we are just waiting for the harvest season to begin," Ulises said. "Even though you will see ripe red cherries on this tour, we will not start our harvest here at this farm for about another month and a half."
The primary picking season for this farm is from November to January, with 100% of the cherries being hand-picked, Ulises added.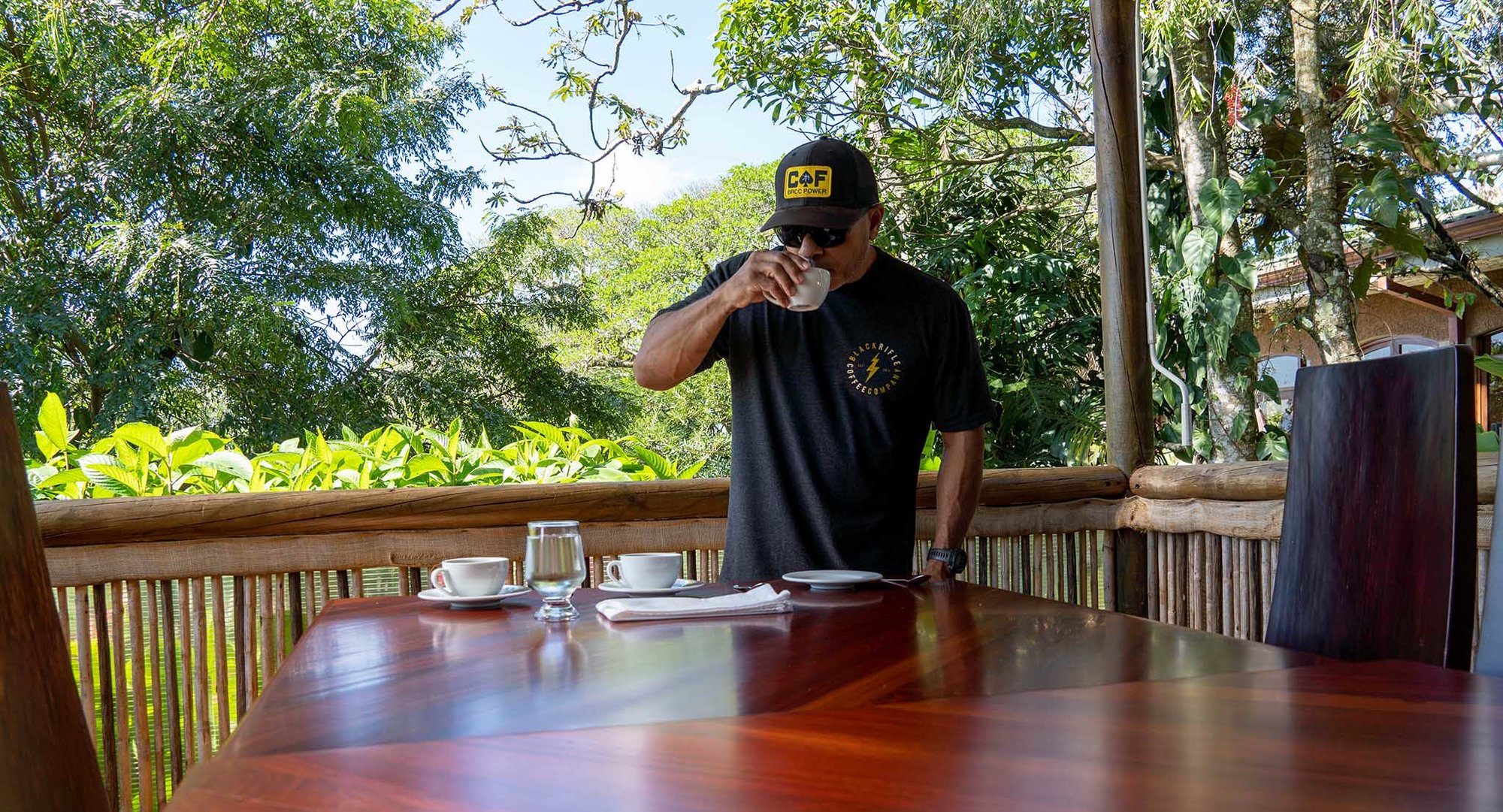 The organic coffee farm at Finca Rosa is environmentally friendly, and the crops are grown using only sustainable methods. Ulises had a wealth of knowledge and walked me through how the organic coffee was grown, harvested, processed, and roasted.
The vast mountains that cover Costa Rica offer a high-altitude environment complete with year-round warm weather — ideal coffee-growing conditions. Costa Rica grows varieties of the Arabica bean, including the varieties Caturra and Obata, with some appearances of Catuai, Catimor, and even Geisha.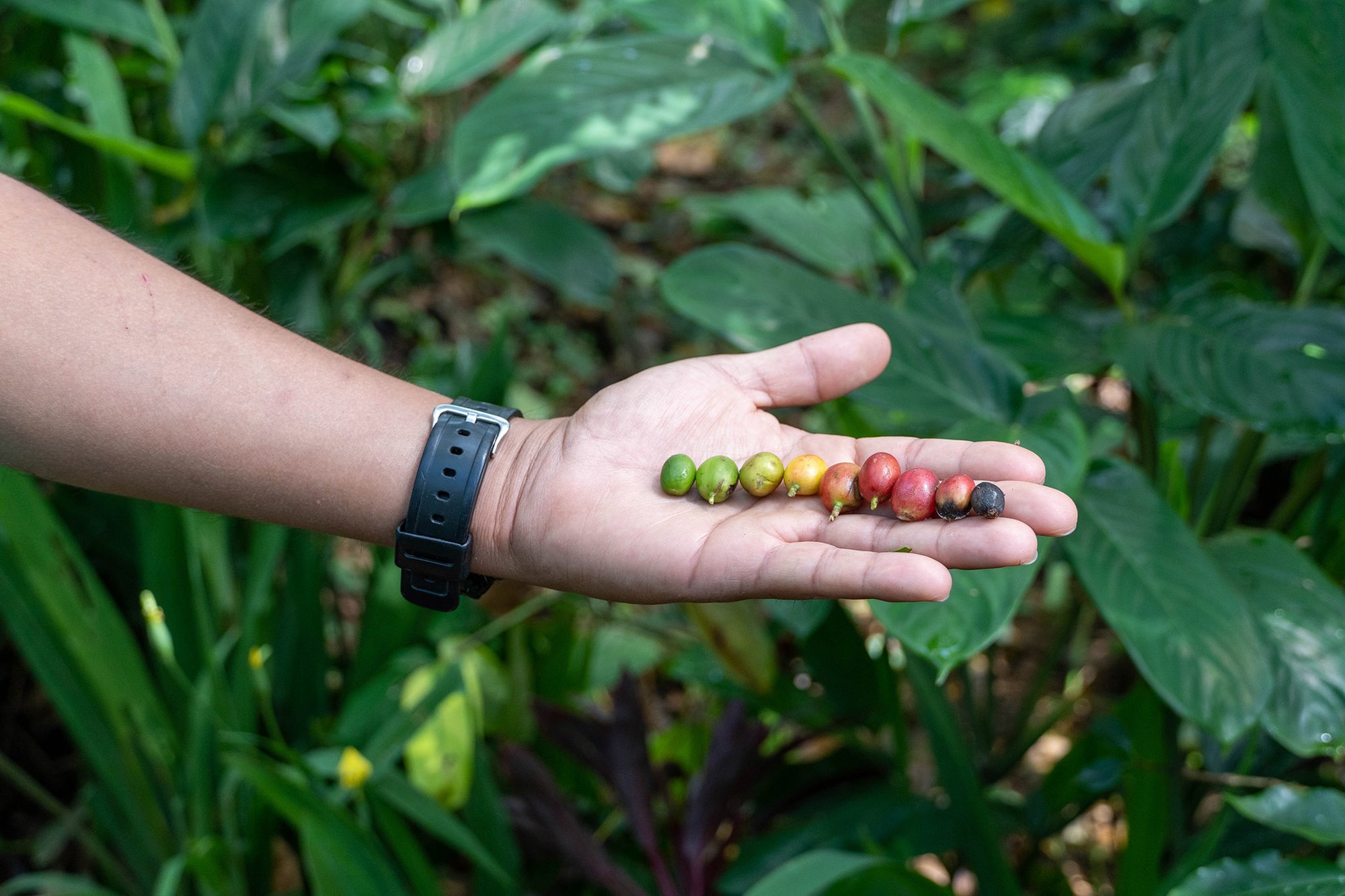 This tour was way more than a scripted, static display. I was able to pick and taste the ripe coffee cherries at will. Ultimately, I departed the standard path and advanced through rows of coffee trees, observing that no two trees were exactly alike.
My guide went out of his way to show me how to identify the elusive peaberry coffee cherry, a natural mutation of the coffee bean and something I had never seen in person before. Only about 5% of the world's coffee cherries are found with only one bean inside. This single bean, called the peaberry, tends to be smaller and denser than normal beans.
The tour also allowed me to explore the many sustainable crops on the farm, including banana, orange, mango, water apple, guava, and lime trees.
During the tour, I asked Ulises how climate change had affected Costa Rica's coffee region and whether diseases such as coffee leaf rust have hurt production. According to my guide, 100% organic farms are being severely impacted by these environmental factors. As proof, he led me to an area of the farm where disease had taken root.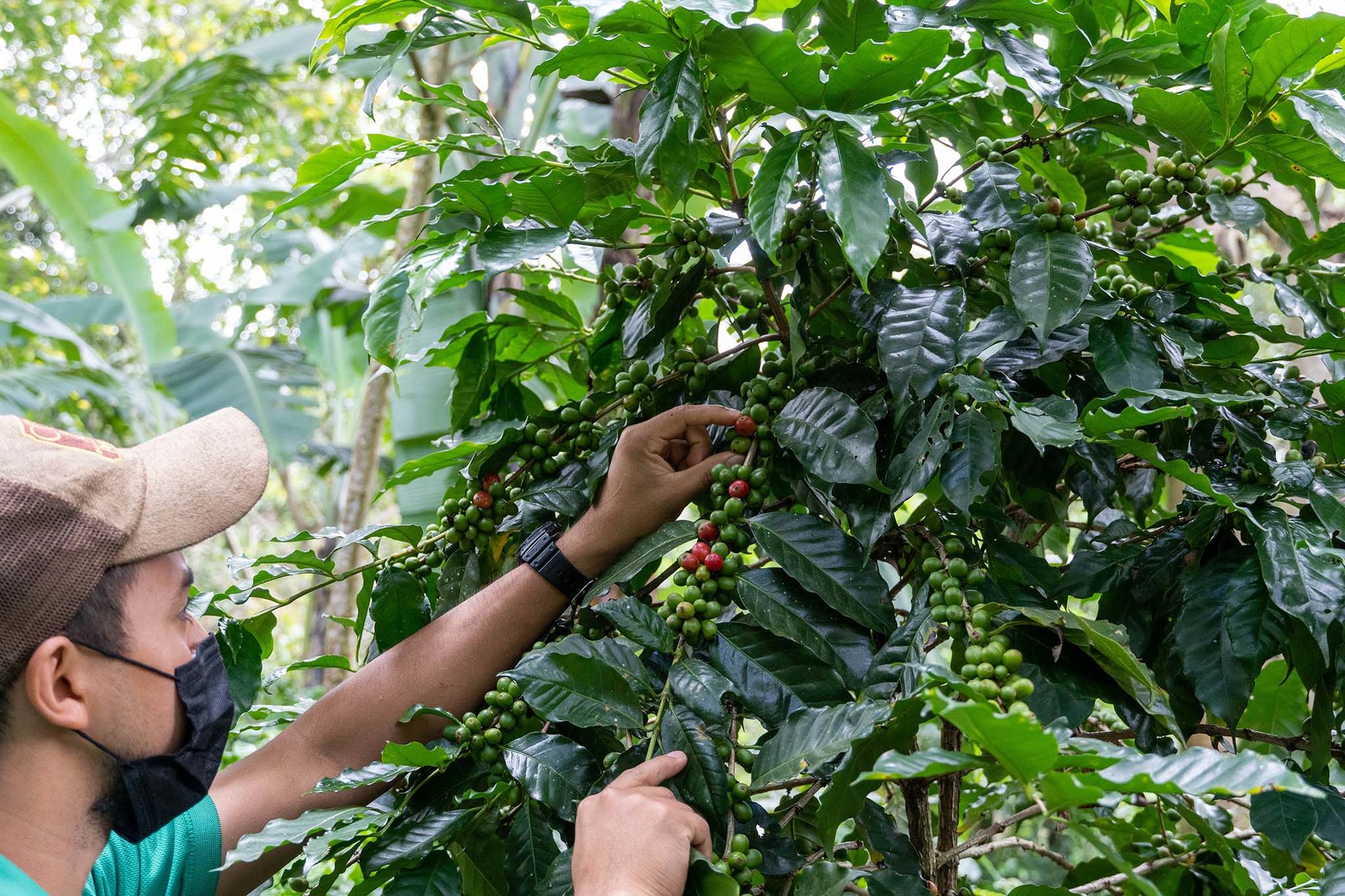 "Because this is a shade-grown organic coffee farm, we are always trying to find the ideal balance of cover and sunlight after each harvest to ensure the best possible outcome," Ulises explained. "The rainy season was particularly hard on coffee farmers this year, and the country has even experienced tornados, something uncommon to Costa Rica."
Our next stop was the farm's processing mill. My guide walked me through the entire coffee-cherry washing process and explained how each bean is separated from the fruit, including all the steps it takes to remove the outer skin, mucilage, and parchment.
The coffee on this farm is naturally sun-dried on suspended hammocks called parihuelas. The farm also owns its own roaster, which means that every processing step, from seed to cup, takes place on the farm.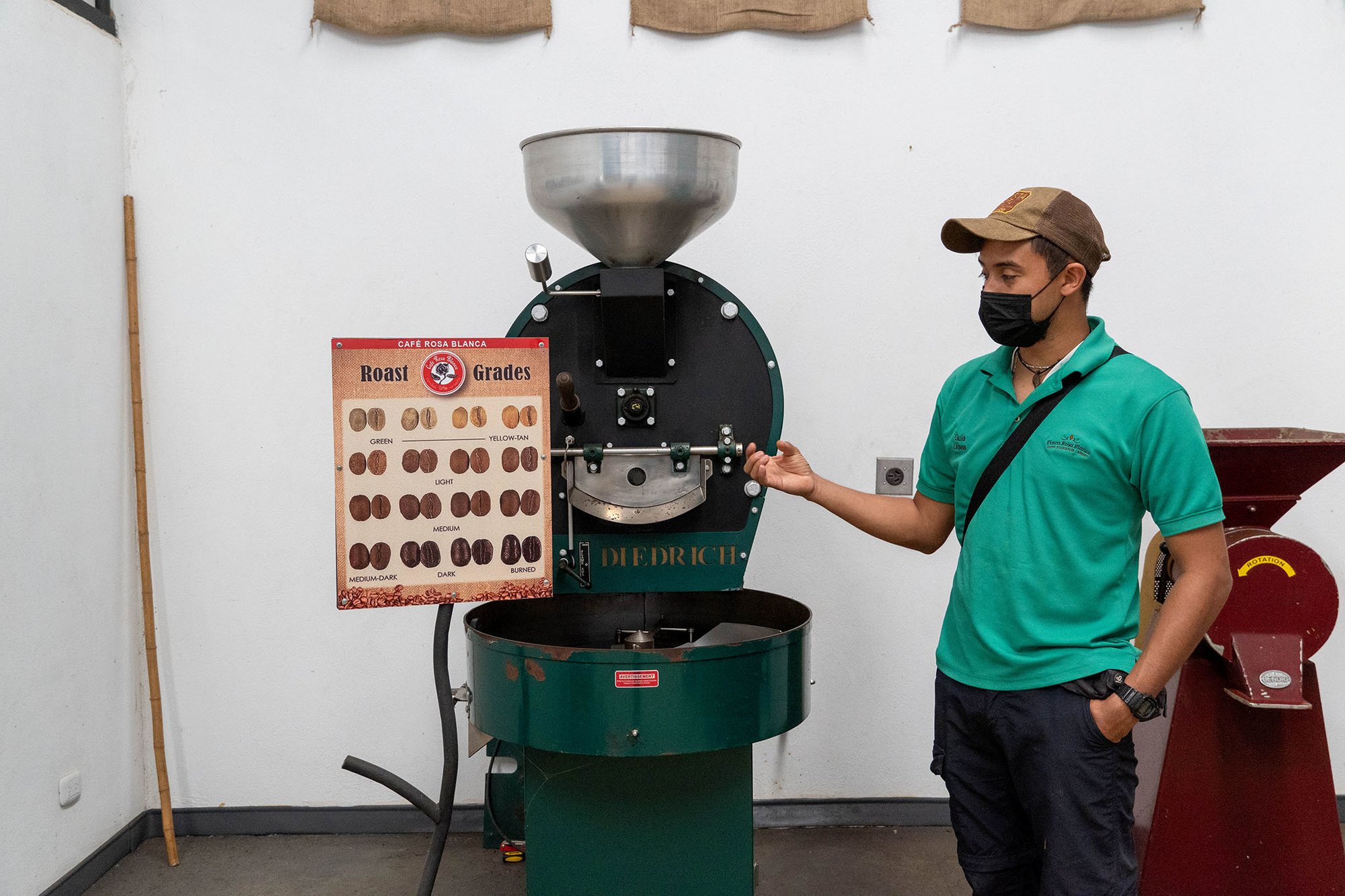 Workers on the farm are paid by how many "cajuelas" of coffee cherries they pick per day. A cajuela, which is a metal box that holds approximately 12 kilograms of coffee cherries, is the standard unit of measurement for coffee harvests on every Costa Rican coffee farm. The average worker makes about $3 to $4 per box.
The Costa Rican government regulates the minimum payment each worker can receive for each cajuela, but the maximum price per box depends on the farm.
Once my tour was complete, Ulises set up a coffee-cupping session back at the restaurant to sample some of the farm's most popular roasts. We sat out on the picturesque outdoor deck and enjoyed the views of volcanoes looming above the coffee fields while we tasted the various offerings. The moment was bucket list worthy, indeed.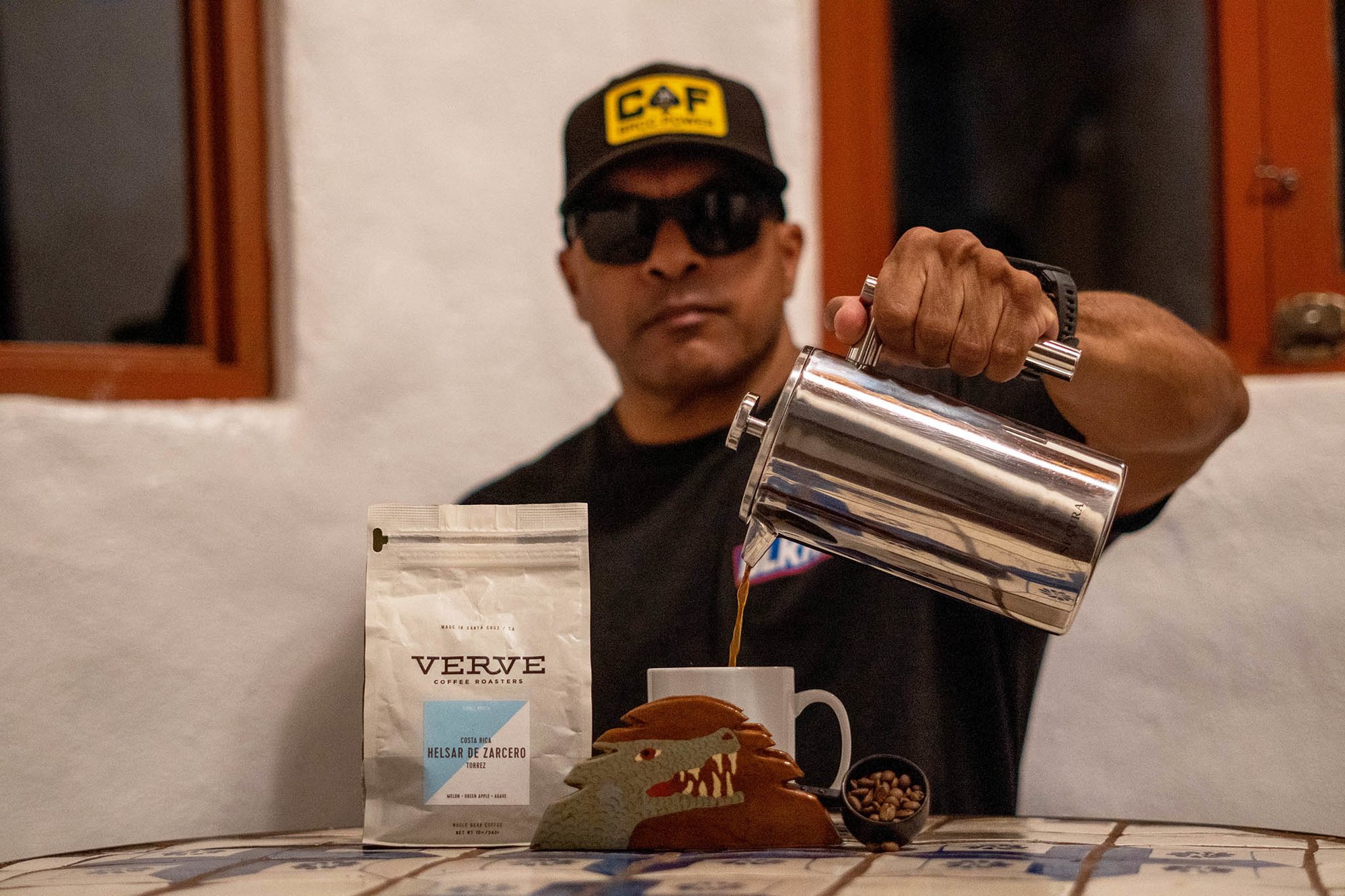 Shortly thereafter, the clouds opened up, heralding a rainstorm that lasted for the remainder of the afternoon and into early evening.
During the downtime, I brewed a Costa Rican coffee that I had previously purchased from one of my American coffee subscriptions. Now, I had the chance to enjoy the coffee at its source — and during a tropical downpour, to boot. It was pretty fucking cool.
The next day, I packed my bags and embarked on the next leg of my Costa Rican journey: a venture into the capital city of San Jose. Right on time, and true to his word, Henry arrived, and we were on our way.
Read Next: Study: A Cup of Coffee a Day May Keep COVID-19 at Bay