With quarantines and stay-at-home mandates sweeping the nation, our ability to caffeinate properly has been limited to our homes. While the issue of a pandemic is hard to swallow, coffee-lovers across the globe are making the most out of their time at home. One trend coming out of this situation is dalgona coffee, which has shown up all over social media in South Korea.
South Korea was hit with its first case of COVID-19 in early February. Since then, the country has taken precautions to flatten the curve of the virus, including social distancing and the inevitable self-quarantine. Dalgona coffee is a result of the latter.
With 17,000 cafes in Seoul alone, South Korea is one of Asia's leading coffee-consumers. The country's late introduction to coffee made it a popular commodity among the elite, and most cafes reflect this origin. Cafes in South Korea are often collaborative efforts that include themed elements and art-based experiences. They provide more than just coffee, including Western-style baked goods and a place of social salvation. For most South Koreans, cafes epitomize all the things they may not have access to in their homes — including coffee.
"We pay more attention to herbal teas and other methods of cooking. Sure, some of us have coffee-makers and ovens," Min Lee Jung, a 20-year-old university student in Seoul, told Coffee or Die. "Most of us don't. Cafes are built into the city culture here."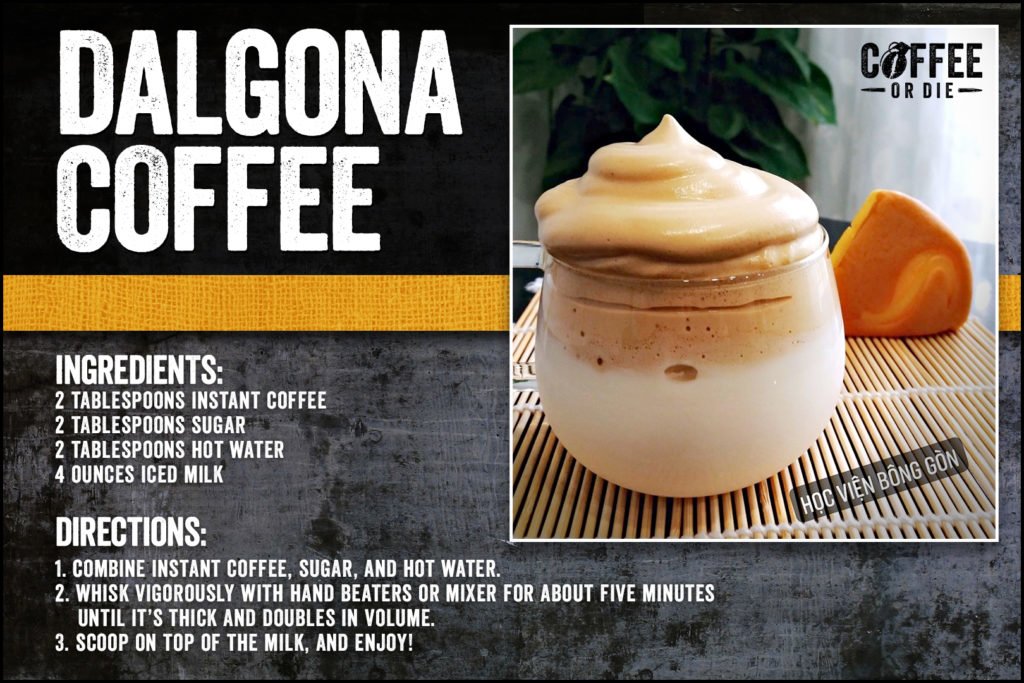 So city-dwellers are forced to be creative in order to get their caffeine kick in the age of social distancing and quarantine. Dalgona, or #달고나커피, is named for old-fashioned Korean sugar candy. Dalgona features a coffee-flavored mousse confection served over iced milk for a creamy, sweet flavor profile. Posts of the frothy beverage have taken Instagram and TikTok by storm since the country began its quarantine protocol. Besides being photogenic, the beverage requires just a handful of pantry-ready ingredients and is incredibly easy to make.
Dalgona is a form of whipped coffee, which is a popular drink across Asia. Similar to a traditional Greek frappe, this coffee uses instant coffee as its base, but rather than mixing it with milk, the instant coffee crystals are combined with sugar and hot water, then blended until it reaches a thick, frothy texture. The coffee froth is then placed over milk and enjoyed. If you're feeling cooped-up during this difficult period of social distancing — or if you're just feeling adventurous — try out this quick dalgona coffee recipe!