World War II was the golden age of American submarine warfare. By war's end, seven submarine commanders and one enlisted crew member had received the Medal of Honor. The US submarine fleet, often referred to as the "Silent Service" for its secretive undersea missions, operated independently and in wolf packs while patrolling contested sea lanes in the Pacific.
During war patrols beyond the range of American airpower, US submarines exacted a heavy toll on Japanese naval forces, sinking four fleet carriers, four escort carriers, one battleship, four heavy cruisers, nine light cruisers, 38 destroyers, and 23 submarines.
Although Rear Adm. Roy Davenport was never awarded the Medal of Honor, he was the first and only US Navy sailor to be awarded five Navy Cross medals, an honor Davenport shares with US Marine Corps legend Chesty Puller. Even though the submarine commander is one of the most decorated sailors from World War II, the heroic exploits that made him so remain largely unknown.
First Navy Cross: Caroline Islands
Before he assumed command of the USS Haddock, Davenport had four submarine war patrols under his belt, having served as an executive officer on the USS Silversides under the command of Lt. Cmdr. Creed Burlingame. As the Haddock's lieutenant commander, Davenport was awarded his first Navy Cross for conducting numerous hazardous missions into enemy-infested waters off the Caroline Islands between June 30 and Aug. 10, 1943.
During a patrol near Palau, an island country that connects the western chain of the Caroline Islands with Micronesia, Davenport torpedoed and sank the 5,533-ton Saipan Maru, a Japanese transport ship. On July 26, 1943, Davenport fired a total of 15 Mark XIV torpedoes at ranges between 2,000 and 4,000 yards in four separate attacks.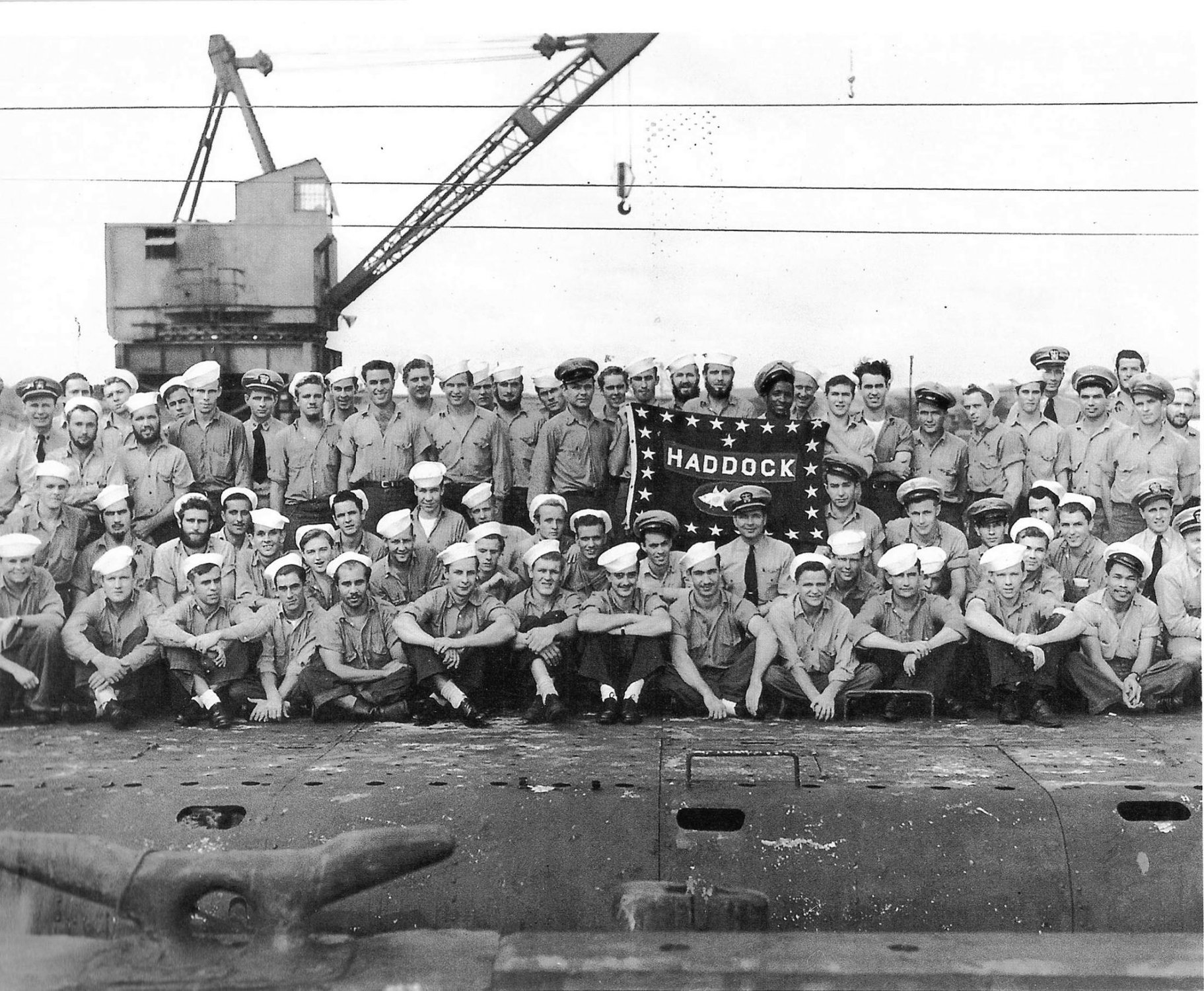 Davenport "pressed home his attacks with cool and courageous determination and despite intense and persistent hostile opposition, succeeded in sinking over 10,500 tons of enemy shipping and damaging over 35,500 tons," his citation states.
Second Navy Cross: Caroline Islands
Davenport was awarded his second Navy Cross while serving as the commanding officer on the sixth war patrol of the USS Haddock between Sept. 2 and Sept. 28, 1943. Over the course of the 27-day war patrol, Davenport engaged with four different Japanese ships. On Sept. 15, he fired four torpedoes, claiming two hits and a fire aboard the target vessel. When the enemy ship attempted to ram Davenport's submarine, Davenport released two more torpedoes "down the throat."
Five days later, Davenport came into contact with the Tonan Maru II, a 19,000-ton tanker. He fired six torpedoes from 3,700 yards; half of the volley impacted its target. Between Sept. 21 and Sept. 23, the Haddock engaged two more ships, missing the first with two torpedoes from 3,000 yards. However, the US submarine later claimed three confirmed hits on the second ship after releasing at least eight torpedoes.
"He conducted daring attacks during this patrol which resulted in sinking over 39,000 tons of enemy shipping and damaging over 4,000 tons," Davenport's citation reads. "By skillful maneuvering, he successfully evaded enemy counter-attacks and brought his submarine through with no damage."
Third Navy Cross: Caroline Islands
Davenport was awarded his third Navy Cross while serving as commanding officer of the USS Haddock on its seventh war patrol from Oct. 20 to Nov. 15, 1943. The Haddock patrolled off the coast of the Truk Islands (now called Chuuk Islands), a cluster of 16 volcanic islands, which form part of the eastern Caroline Islands. From Nov. 1 to Nov. 2, Davenport attacked a freighter and a troopship with five torpedoes. The freighter was destroyed, while the troopship survived after catching fire.
"He skillfully conducted a surface torpedo attack against an enemy destroyer search group," Davenport's citation reads. "One destroyer was sunk and he thereafter conducted a successful surface retirement during the ensuing confusion. During the patrol, he also delivered highly successful attacks against two heavily escorted enemy convoys which resulted in sinking over 32,000 tons of enemy shipping."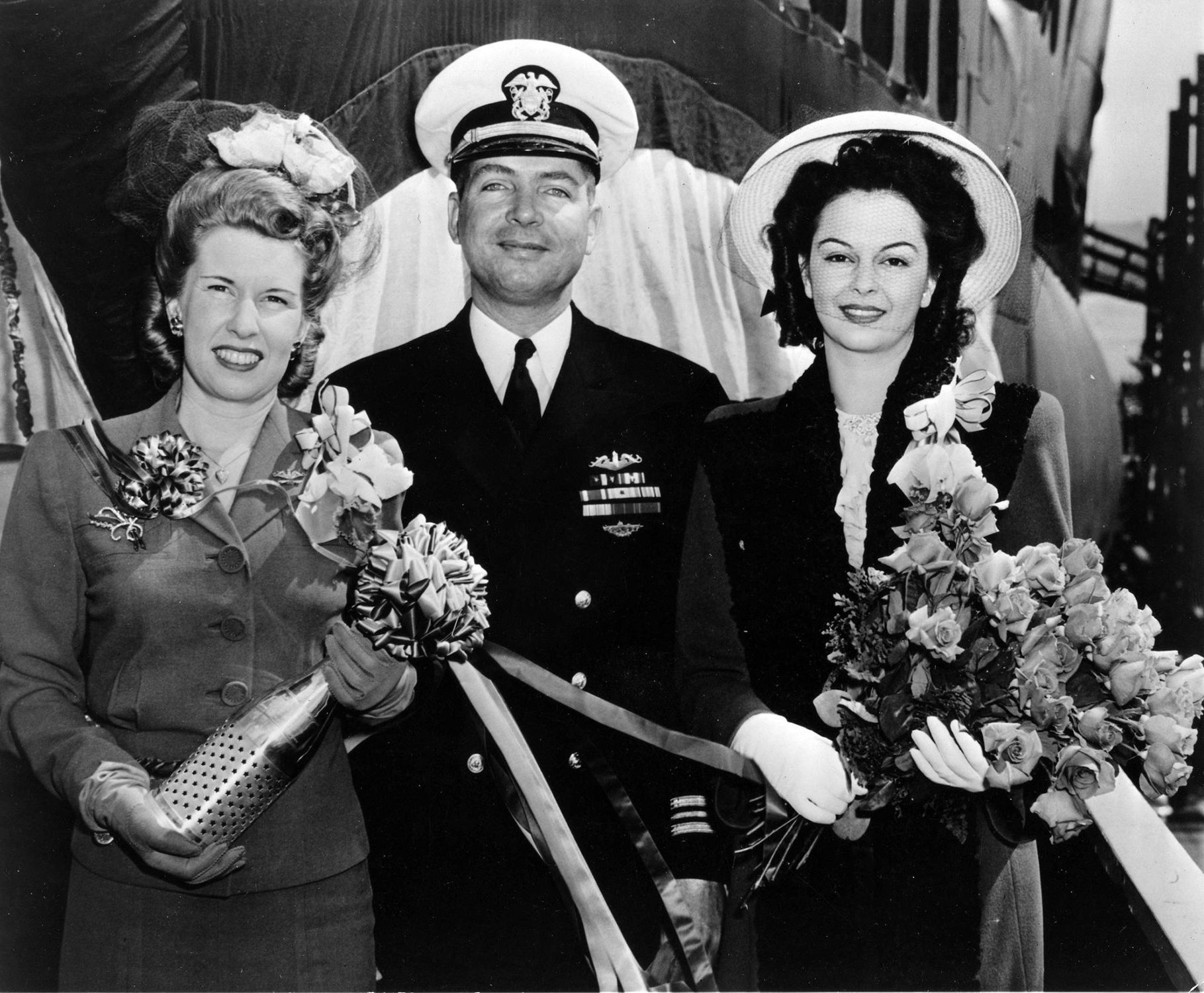 Fourth Navy Cross: Honshu, Japan
After returning from the Caroline Islands, Davenport requested a transfer and became the first skipper of the USS Trepang, a brand-new, Balao-class submarine. Davenport led the first war patrol of the USS Trepang into enemy-controlled waters south of Honshu, Japan. On his first engagement, he fired six torpedoes at two large tankers, a freighter, and an escort. The engagement sunk the Takunan Maru, a 750-ton freighter.
"By excellent judgment, outstanding skill and aggressiveness, he closed and launched intelligently planned and smartly executed torpedo attacks," Davenport's fourth Navy Cross citation reads. "His skillful evasive tactics enabled his ship to escape enemy countermeasures and return to port safely."
Between Sept. 13 and Oct. 23, 1944, Davenport was credited with sinking three ships and inflicting damage to a Yamashiro-class battleship. According to the Military Hall of Honor: "Davenport weathered a typhoon and, on 10-11 October, picked up a convoy of two tankers and one escort. Firing four stern tubes, he claimed three hits but no sinkings were confirmed in Japanese records. The next night, he fired four torpedoes at a Japanese landing craft, believing all missed. Postwar, he was credited with the 1,000-ton Transport No. 5."
Fifth Navy Cross: Luzon Strait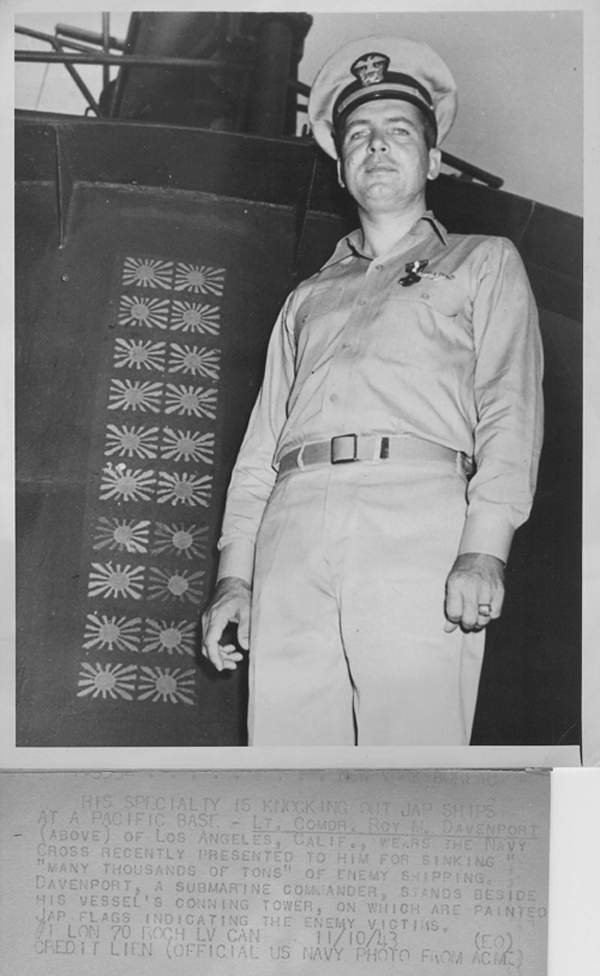 On Nov. 16, 1944, the USS Trepang departed for its second war patrol from Majuro, a chain of the Marshall Islands in the western Pacific Ocean. On his 10th war patrol, Davenport braved the hazardous waters of the Luzon Strait, which is located between Taiwan and the Philippines' Luzon Islands.
During the 34-day patrol, Davenport led a wolf pack comprising three American submarines called "Roy's Rangers." The US submarines fired 22 torpedoes and destroyed four enemy ships, totaling 35,000 tons. However, the postwar Joint Army-Navy Assessment Committee — the US interservice agency that determined Japanese naval and merchant marine shipping losses during the war — reduced the tally from four to three ships sunk, for a revised total of 13,000 tons.
According to his fifth Navy Cross citation, "Daringly penetrating a strong hostile escort screen to deliver a series of night surface attacks, Commander Davenport launched his torpedoes into an escorted convoy, holding to his targets grimly in the face of heavy countermeasures and sinking an important amount of Japanese tonnage.
"During this excellently planned and brilliantly executed engagement, the TREPANG effectively coordinated her efforts with other submarines and, as a result of the combined firepower of these gallant ships, contributed to the destruction of the entire convoy within a period of three hours."