In the pitch dark, I looked out across the Jalalabad flight line. It was 11 years later, I wasn't in the Army anymore, and Afghanistan was once again "the other war" next to the fight against ISIS in Syria and Iraq. I sat next to a Green Beret who wasn't even in high school during my 2007 deployment to this same base, and a Ranger-turned-public affairs officer who was among the first Americans to set foot in this country in October 2001. I was back, not as a soldier, but as a journalist.
We were waiting on our ride out to a remote combat outpost in the Mohmand Valley on the Afghanistan-Pakistan border. The Special Forces dive team that resided there named it COP Blackfish. I called them the Valley Boys.
They were the big story I needed to launch the publication you're holding in your hands right now. Back in the spring of 2018, Coffee or Die Magazine was only a concept, a leap of faith for Black Rifle Coffee Company … a bet I placed with Evan Hafer that felt like a win-it-or-lose-it-all proposition. I figured embedding with one of the last teams of Americans fighting in Afghanistan would tip the gamble in my favor. And it was a story the American public genuinely needed to hear.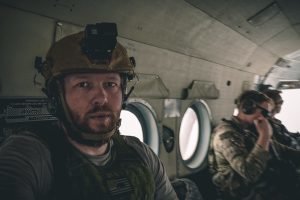 The UH-60 Black Hawk lurched upward, then nose-down forward heading due east. The jagged ridges looked down at us as we weaved through the treacherous valleys that led up to the Spin Ghar Mountains. My senses were heightened, and I was alert in a way that I hadn't been in years. It was refreshing. I missed this, I thought.
The crew chief held up a single finger: one minute out. I felt my adrenaline climbing.
"It's pretty safe until it isn't," the public affairs officer had warned me. By "safe," he meant they did a good job of sending mortars into the surrounding ridgelines 24 hours a day to keep the bad guys from getting too close.
The blacked-out helicopter touched down in a muddy field. We jumped off and headed toward a man with a chem light about 50 yards away as the helicopter quickly departed, my feet sinking deep with every step. The night sky was dotted with stars, the air crisp as it hit my throat, the valley quiet sans the now-distant noise of helicopter rotors. With a full moon out, the soldiers' night vision provided less advantage over the enemy than usual.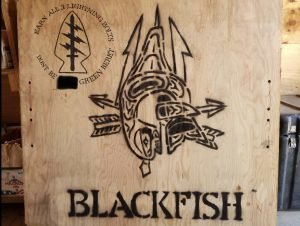 COP Blackfish was a stone's throw from where a MOAB, the largest conventional bomb in the US arsenal and commonly referred to as the mother of all bombs, was dropped in 2017 to help clear the Afghan arm of ISIS, ISIS-Khorasan, heavily dug in in that area. Now it was "mostly peaceful," as the kids say these days. We made our way into the small compound where the Special Forces team and a platoon of conventional infantrymen attached to bolster their security called home. I ducked through a plywood door and into the light.
About half of the team was preparing frozen pizzas. They knew I was a journalist but also a former Army Ranger who had served in Afghanistan, so our meeting was basic: We sniffed each other's butts, so to speak, and played the name game. What years were you in? What unit? Did you know so and so? It's an informal formality used to not only break the ice but also vet the person you are talking to — especially prevalent in special operations circles where everyone is only one degree of separation from each other.
But I wasn't just another guy from the community; I was a journalist. I was there to do a job, and that required earning their trust and respect. It took time, but I never felt unwelcome. I am grateful for that to this day.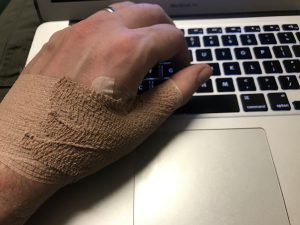 Living conditions at Blackfish were Spartan. You literally had to shit in a bag. A few weeks prior to my visit, their whole compound had been flooded by torrential downpours. There was work to be done improving the small COP daily, patrols into the surrounding hillsides to ensure no enemy forces were getting close, and bombs to be dropped on the ridgelines for the same purpose. An MRE for lunch, something frozen for dinner. At night to wind down, the guys projected a movie onto a white sheet tacked to a plywood wall.
I was there to tell the story of life in one of the last places US forces were still fighting. The team dynamic and how they lived gave me a lot to work with. I observed all day, taking notes as needed and writing after everyone turned in for the night. Actual combat was the missing piece of the story.
On May 22, we woke before dawn and kitted up — helmets and plate carriers for all, rifles for the soldiers, and camera for me. The mission was to drive to the neighboring Bagh Dara Valley, link up with Afghan commandos and local militiamen, and then poke the hornet's nest. Officially it was what they called a "5 W's" mission: who, what, when, where, why — a recon of sorts. The valley had a heavy ISIS-Khorasan presence, and the team sergeant had told me to expect a gunfight.
"It'll probably get a lil' spicy," he'd said, downplaying the looming danger in a way that I saw as quintessential Special Forces.
The details of how that mission unfolded are in my original article and the video we published on the Coffee or Die YouTube channel.
Looking back now, I remember the brass from the AH-64 Apache attack helicopters dropping all around us, the Afghan militiamen mourning their dead, the interpreter who looked like he was taking a nap in the middle of a firefight. But most of all, I remember the professionalism of those Special Forces soldiers. For some of them, it was their first gunfight, but you would have never known it. Their team sergeant, on the other hand, had probably lost count of how many firefights he'd been in by that point in his career, and it showed.
I mostly tried to stay low and out of the way while capturing on my camera as much as I could of what was unfolding in front of me. Constantly switching from shooting still photos to video was challenging. It was, to put it mildly, a dynamic situation, but I think I pulled it off.
More importantly, the Valley Boys accomplished their mission. They returned to that valley a few more times after I left, each time getting into a fight. One of them was wounded in one of those fights. But by the end of the Valley Boys' deployment, ISIS-K was cleared from the Bagh Dara, and the people who lived there were free from their oppressive rule. The Green Berets lived up to their motto: to free the oppressed.
I walked off that ridge with my head in the clouds. I went into the fray alongside America's best for the first time in nearly a decade and came back with a helluva story that helped provide a successful launch to Coffee or Die Magazine. I felt pressure to do their story justice and make sure Americans back home knew we still had soldiers going into harm's way — that the war wasn't over.
That was three years ago. I returned from that embed and immediately went to Normandy, France, to cover the 74th anniversary of the D-Day invasion. To say it was strange to be in combat one day and drinking beer in Sainte-Mère-Église the next is an understatement. But that was just the beginning of this Coffee or Die life. It was the beginning of something great.
The US is now in the process of leaving Afghanistan. COP Blackfish has long since been shut down. But in my mind, it still exists. That dusty outpost and the rugged men who inhabited it will always be there, if only in the stories I brought home for them.
Read Next: The Valley Boys: How a Lone Special Forces Team Is Fighting ISIS in the Remote Mountains of Afghanistan
---
This article first appeared in the Summer 2021 edition of Coffee or Die's print magazine as "Embedding With the Valley Boys."