The life of a military technical advisor can be fun. Being on a production location with a set of skills that no one else there possesses is a great responsibility often overlooked in the wonderful world of Hollywood. The role in each individual project can vary widely depending on how collaborative the producers and directors want to be. It's often their first time working with a military tech advisor — or with one that actually has the experience to know what right looks like and the tools of communication to back up their input.
Craig "Chili" Palmer is one of those people who has the background to advise on just about anything in the world of war. He's also the living embodiment of an operator. He joined the military straight out of high school to become a U.S. Army Ranger. He completed one station unit training at Fort Benning, Georgia, and was assigned to 1st Ranger Battalion on Dec. 12, 1989. One week and one day after reporting, he made a combat jump into Panama as part of Operation Just Cause.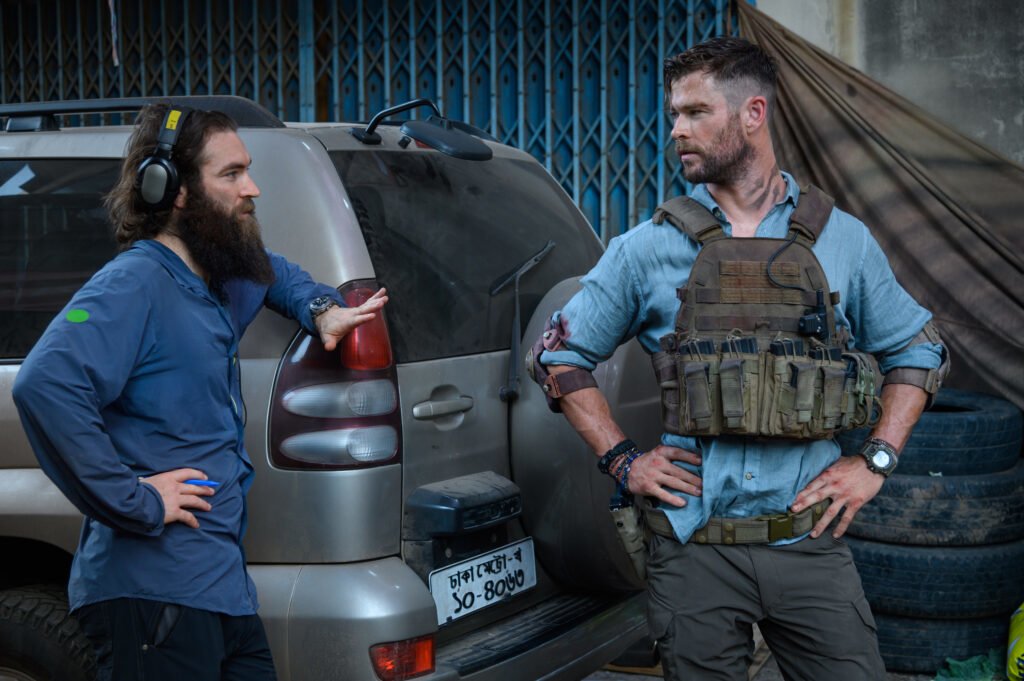 Palmer served six more years in the 75th — in 1st Battalion and the Ranger Reconnaissance Detachment — until he went to work as a Military Free Fall Instructor for two years. For the next 17 years, he served as an operator in a special missions unit and deployed to combat 13 more times.
Since retiring from active duty in 2014 as a sergeant major, he has worked as a firearms and tactics instructor as well as in research and development for military technologies to equip present-day special operations forces with the most up-to-date tools. Palmer has also been the military tech advisor on two major motion pictures: "How It Ends" (2018) and 2020's Netflix original "Extraction."
It was Palmer's vast network that led him to the film industry. He was introduced to several producers at SHOT Show — the Shooting, Hunting, Outdoor Trade Show — where people from every corner of the world with a hand in the tactical industry meet annually in Las Vegas. One meeting fostered into a friendship with a major Hollywood producer, who then brought him in to advise on wardrobe and several of the action sequences for "How It Ends" starring Forest Whitaker. A few years later, that same friend contacted him about "Extraction."
On "Extraction," Palmer was able to play a larger role as the technical advisor due to timing and subject matter. This consisted of spending time on calls with the director, Sam Hargrave, during pre-production detailing what experiences the protagonist of the story may have had in the course of his career that made him think and act the way he does. This gave Hargrave a better idea of how to shoot Chris Hemsworth throughout production because Palmer helped him understand the mindset of a retired operator.
During principal photography, which is the meat of a production, Palmer was tasked with ensuring accuracy across the board. From weapons handling to the equipment worn by the bad guys, he had a hand in everything. Working with the different departments, he told Coffee or Die during a recent interview, really made him use some of the skills he acquired as a senior level operator.
"In combat, coordinations with adjacent units and battlespace owners was a huge part of successful missions," Palmer said. "Knowing your audience and how to best communicate with them to make them see you're both looking at the same big picture is huge. And it was the same on set to get my points across to each individual department head."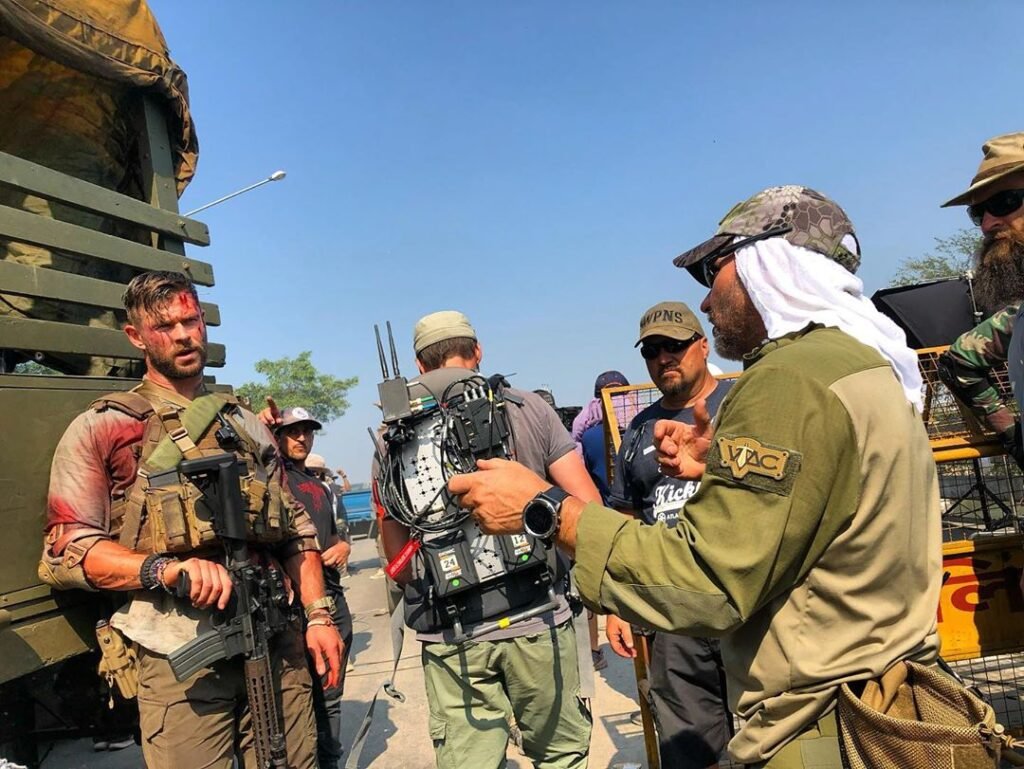 In addition to being flexible and dealing with last-minute changes to a plan, the Army also instilled in Palmer an understanding of "hurry up and wait," which is just as prevalent on a Hollywood set. Shooting a major action sequence, in particular, is a complex situation. Palmer was particularly impressed by the planning and preparations the stunt coordinators and performers put into a sequence.
Starting with action "beats" — like a script but for action — the stunt department takes a director's vision and puts it to practice doing what is called a "pre-vis." A pre-vis is basically a filmed rehearsal that is shot, tweaked, and reshot dozens of times in order to make the scene look as realistic as possible by utilizing all angles to hide the movie magic while highlighting the special effects and action. This was especially challenging in "Extraction" due to the major action sequences being shot as a "oner," or one continuous shot. Once the director was happy with the pre-vis, then came time to shoot it. With oners, setup for a particular scene may take hours, while the shot is only a few seconds.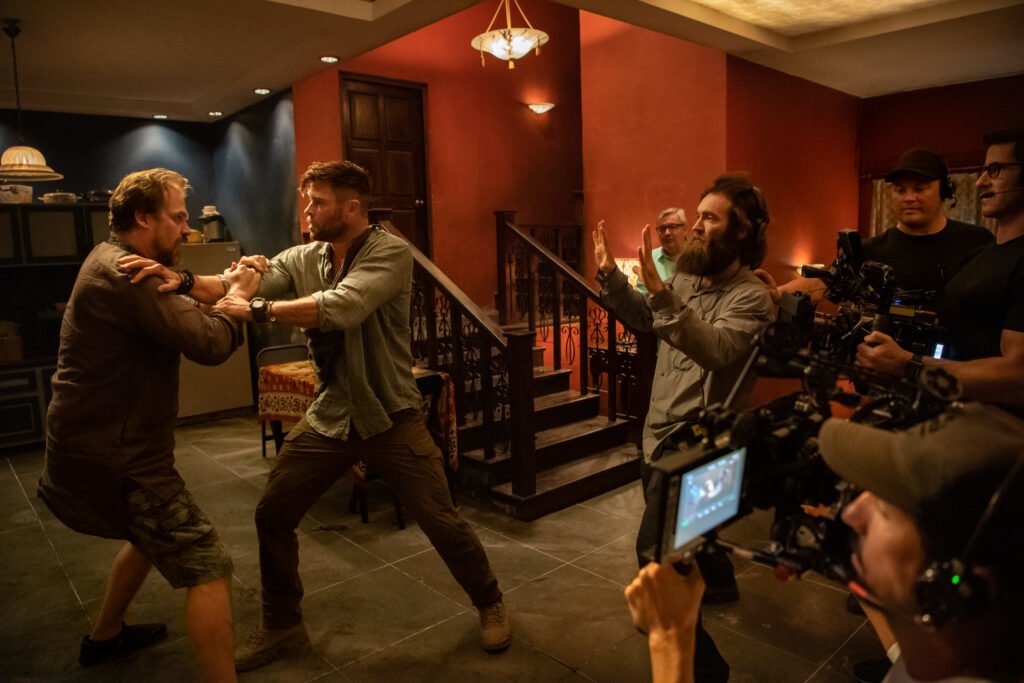 But Palmer's work didn't stop during these down times for setup. Between takes he was constantly drilling the cast and stunt performers on what he considered his No. 1 priority in making the movie authentic: weapons handling. With the help of some other members of the crew, including Army Special Forces veteran Sean Sweeney, he was able to maximize training, to include one solid 10-hour day with Chris Hemsworth.
Even though Palmer has more than 30 years of experience training gunfighters, he said he still had to utilize some new strategies. Making actors understand how to act like shooters versus how to be shooters was one of them, as well as the compressed timelines allotted to complete tasks. But in the end, he said, all of those challenges were easily overcome with the teamwork and planning that reminded him of his time in service.
At the end of it, Palmer said he is proud of the product he helped create. And he should be. It wasn't flashy, over the top, or dramatic — it was just guys executing the basics like experts doing the job. And it was a blast to watch.