Over the summer, a new Rapid Airfield Damage Recovery team arrived at al Udeid Air Base in Qatar — a longtime hub for American air power in the Middle East, which lies within striking range of missiles from Iran.
After implementing a revamped training program, which focuses on the expeditious repair of bomb crater damage to runways, this specialized group of more than 100 airmen from the 379th Expeditionary Civil Engineer Squadron has "dramatically increased its ability to repair a damaged airfield," the Air Force said in a release.
"Multiple large craters are incorporated into the training, creating a 24-hour operations simulation," the Air Force said.
In one recent exercise, the expeditionary engineers repaired 10 concrete craters and cleared hundreds of pieces of simulated unexploded ordnance — both during the day and at night. After completing an initial assessment of the simulated bomb damage, the Rapid Airfield Damage Recovery team had only two minutes to calculate the "Minimum Airfield Operating Surface," and then come up with a plan to repair the damage in the most efficient manner so that airfield operations could resume as soon as possible.
"Each phase of our rapid airfield damage repair training, both currently used and planned for in the future, will determine the success of our team's response to an attack," the Air Force said in a release. "Our Airmen are uniquely positioned to ensure operations continue within the [US Central Command] area of responsibility with minimum delay."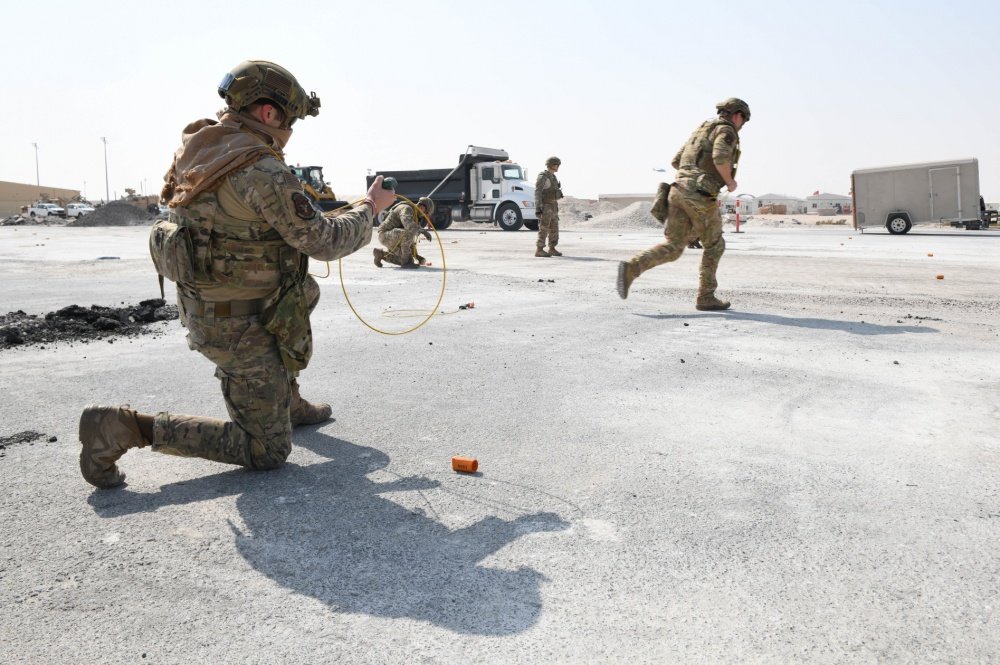 CENTCOM is the US combatant command charged with carrying out operations in the Middle East and Southwest Asia. Top among CENTCOM's stated command priorities is "deterring Iran."
Rapid airfield repair operations have always been a staple of the Air Force's expeditionary mission. Yet, this year's emphasis on repairing bomb crater damage at al Udeid highlights how Iran's January ballistic missile barrage against US forces stationed at al-Asad and Erbil bases in Iraq altered the force protection priorities of American forces within Tehran's striking range.
That attack also marked a turning point in the Air Force's philosophy on where it forward deploys its fleet of strategic bombers. Notably, the Air Force has ended its long-term bomber deployments to al Udeid. Once safely quarantined from the counterinsurgency combat its warplanes were supporting, the base is now within the umbrella of the Iran missile threat.
"It didn't take al-Asad for me to see that you don't want to park your strategic assets in the ballistic missile engagement zone, we've thought like that for a long time," Air Force Gen. Tim Ray, commander of Air Force Global Strike Command, said in April, regarding the change.
Home to about 11,000 US military personnel, al Udeid is the largest US military installation in the Middle East. The facility was a longtime hub for US bombers and fighters in the post-9/11 era, providing a stable of quick-reaction, close-air support assets for US troops operating in Iraq, Afghanistan, and Syria. In 2016, the base expanded its runway to accommodate a first-ever deployment of B-52 bombers.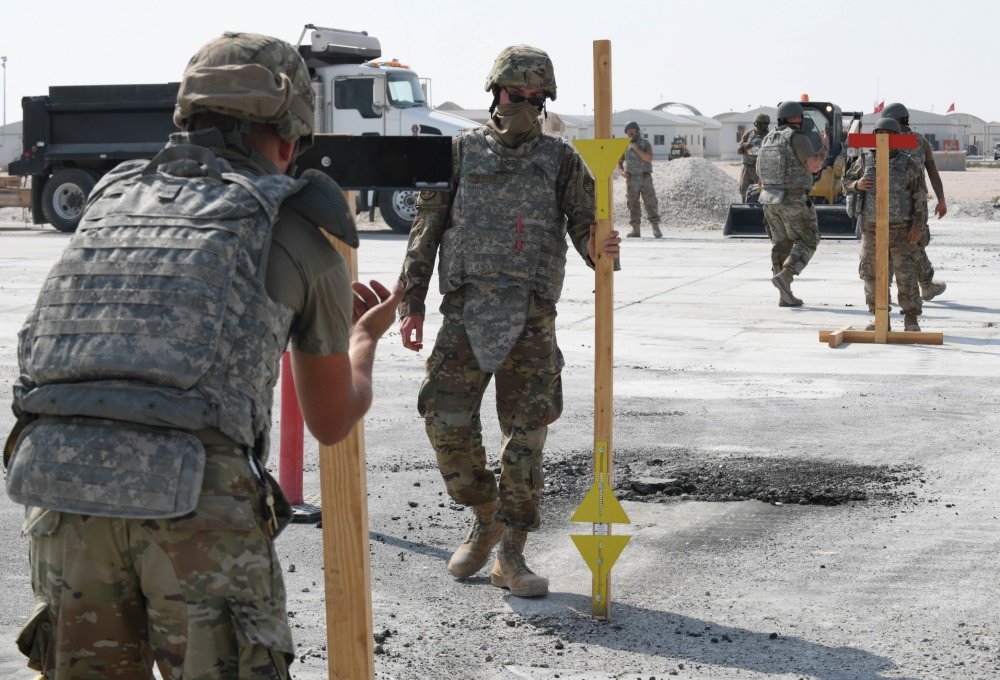 The US withdrew from the 2015 nuclear deal, known as the Joint Comprehensive Plan of Action, or JCPOA, in May 2018. The Trump administration said the Obama-era agreement with Iran didn't do enough to curb its ballistic missile program or its destabilizing behavior across the Middle East.
Renewed American sanctions have targeted the Islamic Republic's financial and industrial sectors. Consequently, Iran's economy has gone into a tailspin and unemployment has soared. Nevertheless, the mullahs have not abandoned their program to enrich uranium — nor have they ceased their financing of terrorist outfits across the Middle East.
In an effort to deter Iran from military overreach, the US has stepped up arms sales to allies, including Saudi Arabia and the United Arab Emirates. Moreover, in 2019 the Trump administration designated Iran's Islamic Revolutionary Guard Corps as a foreign terrorist organization. Iran, in turn, declared US Central Command a terrorist group.
Since 2018, Iranian forces have also maintained a steady pace of "gray zone" acts of aggression against US forces in the Middle East. US officials said Iran used magnetic mines to attack four tankers in the Gulf of Oman in May 2019. Tehran denied the allegations. A month later, Iranian forces shot down a US RQ-4A Global Hawk unmanned aerial vehicle with a surface-to-air missile. Trump authorized retaliatory airstrikes but reportedly called them off with only 10 minutes to spare. Ultimately, the US opted for a retaliatory cyberattack.
Both US and Iranian officials have said they don't want a war. Yet the two sides have gone to the brink of conflict several times in recent years. Notably, a US airstrike in Iraq on Jan. 3 killed Qassem Soleimani, commander since 1998 of Iran's Quds Force, which conducts military and spying operations outside the nation's borders.
Soleimani, who was 62 when he died, also held the rank of major general in leading Iran's Islamic Revolutionary Guard Corps. Iran's subsequent, retaliatory ballistic missile barrage on US forces in Iraq left some 110 American service members with traumatic brain injuries.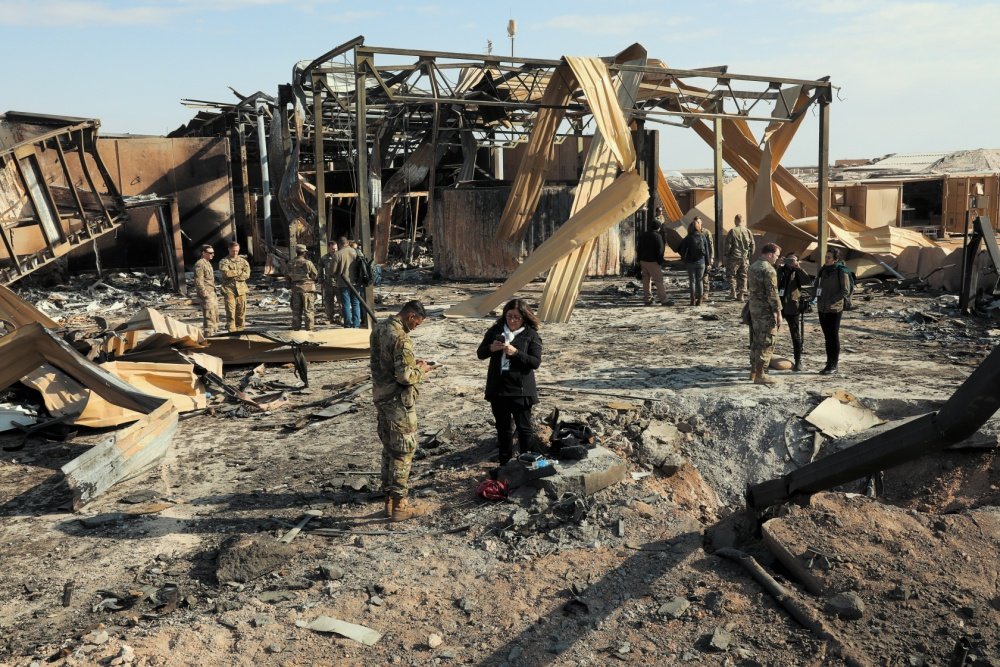 Iran is now vowing revenge, once again, after the assassination of its top nuclear scientist on Friday. Although no country has yet claimed responsibility, Tehran has blamed Israel for killing Mohsen Fakhrizadeh, the founder of Iran's nuclear program. According to multiple news reports, some US officials say that Israel is likely behind the killing.
"Iran, as stated before as our definite policy, will independently give a matching response to those who ordered and committed this with maximum pain for those who did this," said Saeed Khatibzadeh, an Iranian Foreign Ministry spokesperson, regarding Fakhrizadeh's assassination.
On Nov. 25, the USS Nimitz aircraft carrier reentered the Persian Gulf region, conducting flight operations in the Arabian Sea after a series of training exercises in the Indian Ocean. The Department of Defense said the Nimitz's presence in the region — within striking range of Iran — was unrelated to increased tensions with Tehran over the Nov. 27 assassination. Rather, the Nimitz reentered the Persian Gulf region to protect US military personnel during the coming drawdown of troop numbers in Iraq, the Pentagon said in a statement.
"During the change in force posture, the [Department of Defense] felt it was prudent to have additional defensive capabilities in the region to meet any contingency. Therefore the USS Nimitz has been redeployed to the CENTCOM AOR," the Pentagon said in a statement, adding: "This action ensures we have sufficient capability available to respond to any threat and to deter any adversary from acting against our troops during the force reduction."
According to carrier deployment data from USNI News, the US carrier presence in the Middle East increased by about 20% in 2020 compared with last year. More strikingly, this year's carrier activity in the region marks a nearly 240% increase compared with 2018, the year the US withdrew from the nuclear deal with Tehran.
"In 2019, then-National Security Advisor John Bolton and head of U.S. Central Command Gen. Kenneth McKenzie ratcheted up carriers in the Middle East to push back against Iranian aggression," USNI News reported.
The increased carrier presence in the Middle East has paralleled the pullback of the permanent US bomber presence at al Udeid. US bombers covering Southwest Asia now conduct short-term deployments in the region or fly out of Diego Garcia in the Indian Ocean. The remote island base — another staple of the post-9/11 air wars — is sufficiently distant from Iran to ensure its safety from missile strikes.
Over the past few years, the Air Force has steadily dialed up the pace of bomber task force missions: Details of bombers, typically launched from American soil, fly transcontinental missions to conduct simulated combat strikes in geographical regions ranging from the Middle East to the South China Sea.
Due to security concerns, US Central Command declined to comment on the possibility of any upcoming US Air Force bomber deployments or bomber task force missions to the Middle East as part of an effort to deter Iran from prosecuting destabilizing acts of aggression.
However, military officials say the steady pace of bomber task force missions over the past years has likely sent a clear, deterrent message, underscoring that America's strategic bombers are ready at a moment's notice to retaliate should Iran decide to strike US forces.
"Bomber Task Force missions help maintain global stability and security while enabling units to become familiar with operations in different regions," Army Maj. John Rigsbee, a US Central Command spokesman, told Coffee or Die Magazine.
"Our forces are on watch 24 hours a day, seven days a week," Rigsbee added. "Our bombers routinely demonstrate our commitment to our allies and partners through the global employment of our forces as these missions demonstrate and strengthen our shared commitment to deter aggression and promote global security and stability."