Earlier this month, U.S. Customs and Border Protection dispatched an elite tactical unit to help quell civil unrest in Portland, Oregon.
The move has come under fire from some quarters amid allegations that the agency's Border Patrol Tactical Unit, or BORTAC, isn't appropriately trained in crowd and riot control, and that its deployment to Portland is an overreach by the federal government. Some also accuse the unit's personnel of using heavy-handed tactics and not appropriately disclosing their identities.
Portland Mayor Ted Wheeler called the federal deployment an "unconstitutional occupation." Wheeler was tear-gassed by federal agents while in a crowd outside the Mark O. Hatfield federal courthouse in Portland on Wednesday.
BORTAC personnel deployed to Portland as part of a unified effort by the Department of Homeland Security's Federal Protective Service to protect federal buildings in the city, which has endured 54 days of destructive and sometimes violent unrest.
According to DHS reports, rioters have attacked federal agents with projectiles, "mortar style fireworks," and lasers. The department labels the Portland rioters as "violent anarchists" who intend to "set fire to the federal courthouse and actively tried to breach the entrance of the courthouse."
"We absolutely support the right to peacefully protest. But the moment you put a weapon in your hand, an incendiary device, a brick, a laser, etc. to intentionally harm a federal officer, you have transitioned from a protestor to a criminal," acting Customs and Border Protection Commissioner Mark Morgan tweeted on Friday.
BORTAC is roughly equivalent in its skill set to a SWAT team, experts say. Founded in 1984, the unit's stated mission is "to respond to terrorist threats of all types anywhere in the world in order to protect our nation's homeland."
Despite the media furor, BORTAC's Portland deployment is not outside the unit's normal operational portfolio, officials say.
BORTAC dispatched to Los Angeles in 1992 to respond to riots that erupted in the wake of the acquittal of Rodney King's assailants. In 2015, a BORTAC team responded to an escape at the Clinton Correctional Facility in New York. According to news reports, the unit's personnel inserted by helicopter and shot and killed an escaped prisoner.
BORTAC teams have also conducted counterterrorism operations across the U.S. and have augmented security at high-profile events such as the 2002 Salt Lake City Winter Olympic Games. More recently, the Trump administration has authorized the tactical unit's deployment to so-called "sanctuary cities" to enforce federal immigration laws.
BORTAC has also conducted sensitive missions in at least 23 countries, including in Iraq and Afghanistan to support Operation Iraqi Freedom and Operation Enduring Freedom.
"BORTAC is unique in that it provides a global response capability," Customs and Border Protection said in a fact sheet posted to its website.
The U.S. National Guard was activated and sent to cities across the country in late May and June after protests over the death of George Floyd sparked a national wave of violent unrest, including vandalism, looting, and attacks on police.
The 1878 Posse Comitatus Act restricts the use of federal troops in domestic law enforcement. In extreme cases, however, the rarely used Insurrection Act of 1807 allows a president to deploy active duty personnel on American soil. U.S. Customs and Border Protection, however, is a federal law enforcement agency, not a military branch. Therefore, it's within legal bounds for the agency's personnel to assist in domestic law enforcement.
Other federal agencies, including the U.S. Marshals Service and U.S. Immigration and Customs Enforcement, have also sent personnel to support DHS's joint federal law enforcement operation in Portland.
"It's unbelievable that the local mayor [in Portland] actually said that the mere presence of federal law enforcement is what's inciting the violence. That's outrageous. That's absurd and it's idiotic," Morgan, the acting U.S. Customs and Border Protection commissioner, said during a July 21 interview with Time Magazine. "The violent activity was happening well before we deployed additional resources there."
The agency is also reportedly sending personnel to Seattle this weekend to augment a Federal Protective Service effort to defend federal buildings in that city in advance of planned protests.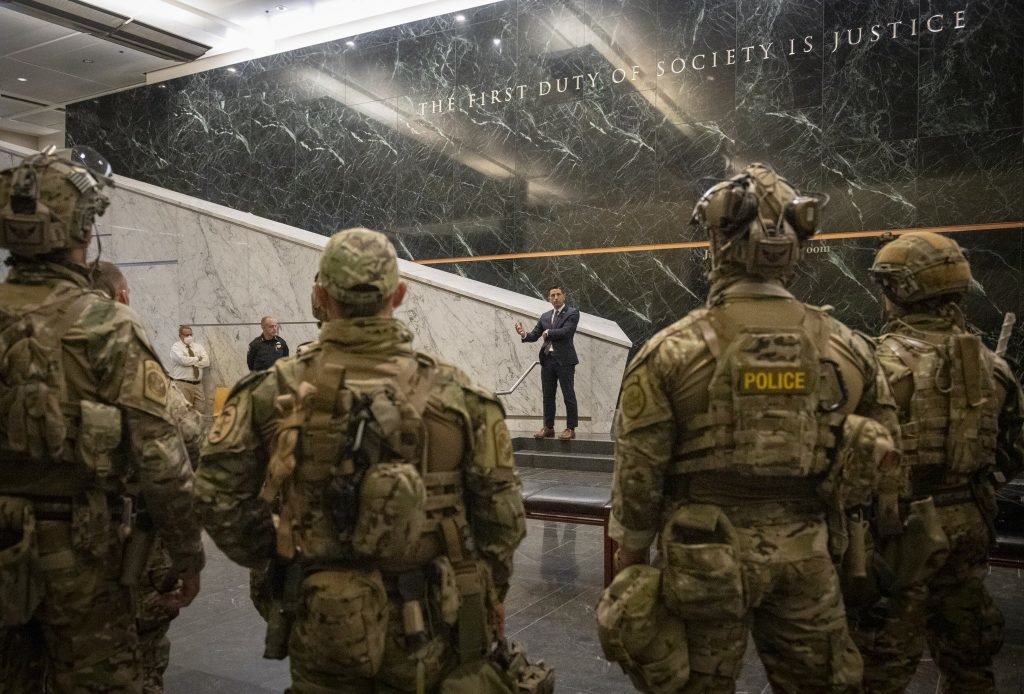 In 2007, U.S. Customs and Border Protection folded BORTAC, along with a specialized search and rescue outfit known as BORSTAR, into a unified Special Operations Group.
The move provided the Department of Homeland Security with "specially-trained and equipped teams capable of rapid response to emergent and uncommon law enforcement situations requiring special tactics and techniques, search and rescue, and medical response capabilities," Customs and Border Protection reported.
"[Special Operations Group] deploys to domestic and international intelligence-driven and anti-terrorism efforts as well as to disaster and humanitarian special operations," the agency said.
Due to their counterterrorism work and international deployments, BORTAC personnel are more vulnerable to off-duty reprisals than other law enforcement officers. Therefore, due to personal safety concerns, BORTAC agents don't typically wear name tags. In Portland they've worn military-style, green camouflage uniforms and body armor. However, they are required to wear insignia identifying their affiliation with U.S. Customs and Border Protection, agency officials say.
In a July 21 tweet, Morgan said BORTAC team members must wear identification patches.
Similar to military special operations training, BORTAC trainees undergo an intense physical training crucible that tests their physical fitness and grit. Those who pass this first phase then move on to more specialized training in small unit tactics, operational planning, advanced weapon skills, defensive tactics, and airmobile operations.
"Candidates must demonstrate the ability to function in a team environment under stress and sleep deprivation conditions," according to an agency fact sheet.
BORTAC agents are also trained to respond to prison riots. A skill set, some experts say, which is transferable to the ongoing civil unrest in Portland or in any other American city.
"These agents and officers are among the most highly trained agents and officers that we have within [Customs and Border Protection], and that includes training in riot control," Morgan said during a press conference this week.