Student Naval Aviator Lieutenant junior grade Madeline Swegle has made history as the U.S. Navy's first black female tactical jet pilot. She will receive her Wings of Gold at a ceremony on July 31 at Naval Air Station Kingsville, Texas, according to a press release.
"Swegle, a Virginia native, completed her final undergraduate TACAIR training flight in a T-45C Goshawk jet trainer aircraft and was 'soft winged' at NAS Kingsville, July 7," wrote Lieutenant Michelle Tucker, Public Affairs Officer for Chief of Naval Air Training, in an email to Coffee or Die. "Her success is a stunning personal accomplishment but also represents a great milestone for Naval Aviation."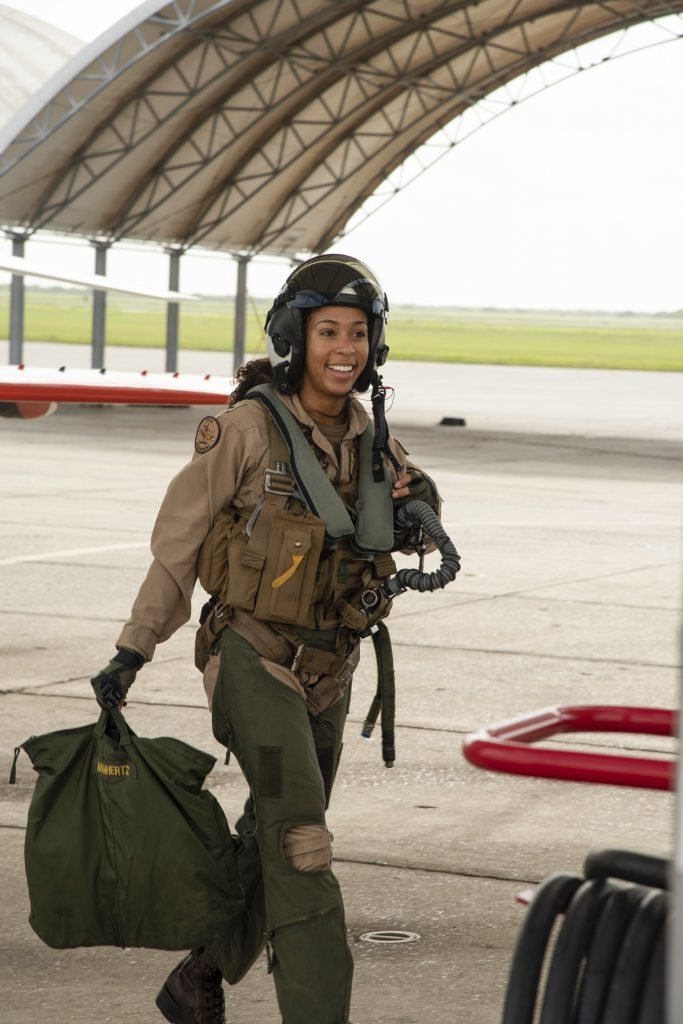 In the same release, Commander, Naval Air Forces Vice Admiral DeWolfe "Bullet" Miller III said, "Lt. j.g. Swegle has proven to be a courageous trailblazer. She has joined a select group of people who earned Wings of Gold and answered the call to defend our nation from the air. The diversity of that group—with differences in background, skill and thought—makes us a stronger fighting force."
The Chief of Naval Air Training tweeted the news as well, saluting her with "BZ," or "Bravo Zulu," a naval term for "well done."
Rear Admiral Paula Dunn, the U.S. Navy's vice chief of information, also celebrated Swegle's achievement on Twitter, telling her to "Go forth and kick butt."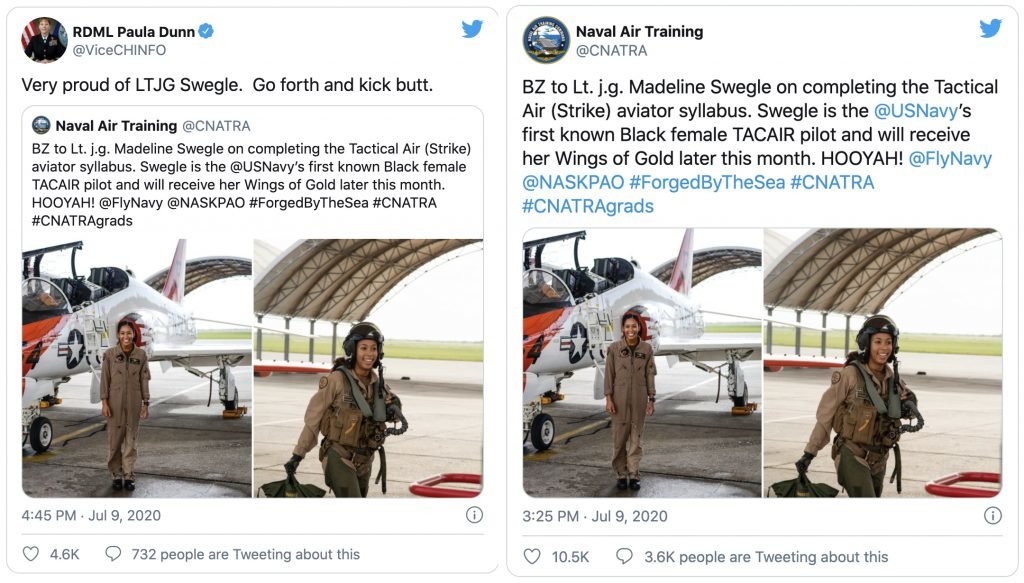 The first Black female naval aviator, Brenda E. Robinson, earned her Wings of Gold in 1980. According to the Navy press release, there are currently 15 Black female naval aviators serving in the U.S. Navy — four pilots and 11 naval flight officers — and 10 Black female student naval aviators in flight training.
Swegle's groundbreaking accomplishment comes on the heels of a June 30 announcement from the Navy that they created a special task force "to address the issues of racism, sexism and other destructive biases and their impact on naval readiness." The press statement states that Task Force One Navy "will seek to promptly address the full spectrum of systemic racism, advocate for the needs of underserved communities, work to dismantle barriers and equalize professional development frameworks and opportunities within the Navy."