The world of podcasts is a wide and varied one. Offerings have nearly doubled over the last two years — and with more than 900,000 podcasts to choose from, there's sure to be one to match the tastes and interests of the more than 50 percent of Americans who listen. As of last month, there's one more to add to your subscription library. Free Range American is a podcast with a mission "to inspire the American dream through hard work and adventure."
The new podcast created by Black Rifle Coffee Company features a trio of co-hosts — Evan Hafer, Mat Best, and Jarred Taylor. This executive team from BRCC aims to put out a new episode every Friday, featuring either a new guest or just the three long-time friends talking amongst themselves.
"We want to pull in guests who are doing something of their own accord which ultimately highlights the traits that make America great, in the sense of optimizing their freedom," said Logan Stark, BRCC's Editor-in-Chief. "There's a lot of ways to go about life, but those who truly live free and at the same time live passionately, a lot of times get there because they've busted their ass to get to that point. We don't feel like that is really being highlighted from a national perspective, and that's what we really want to draw attention to."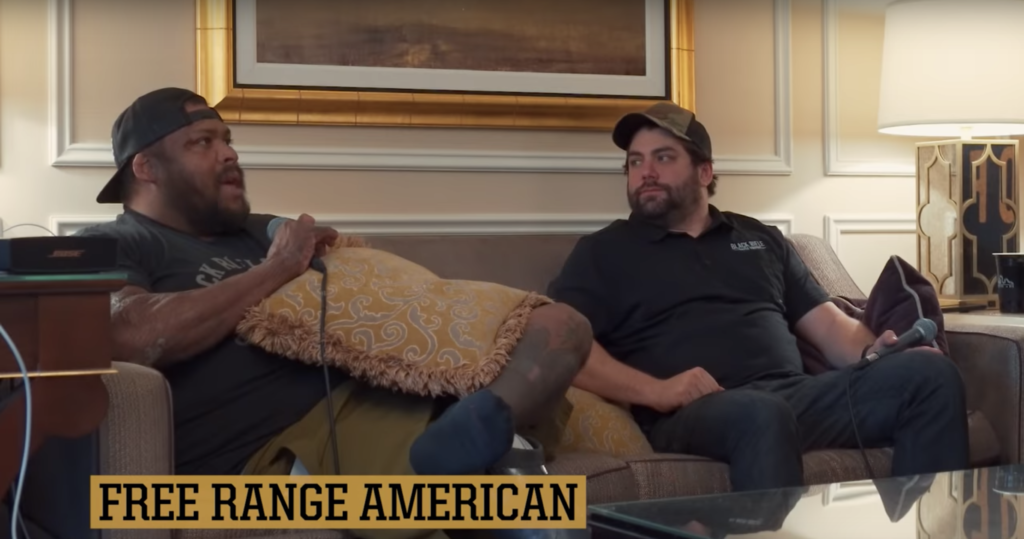 Jarred "JT" Taylor has taken the reigns as the series' executive producer. "We're always traveling around the United States meeting these crazy-cool, amazing people," Taylor said, "whether it's Noah Gragson, the NASCAR driver, to Johnny Morris, the owner of Bass Pro. We wanted an outlet that could get them to share some of their stories."
Seeing Taylor and Best together on a podcast again will be nostalgic for fans of Drinkin' Bros, where the two were original co-hosts. In the episode with Onnit CEO Aubrey Marcus, Best, BRCC's Executive Vice President, said, "We're excited to bring some really good content to the podcast world like we used to."
"The evolution of the other podcasts that the crew was involved with, from Launch Code and Drinkin' Bros — one was very formal, one was very informal," Stark said. "And Free Range American is that middle ground."
Taylor is looking forward to working on the podcast with Best and Hafer. "Getting everybody back is extremely not only fun but also healthy for us," Taylor said, "because when we're together we come up with a lot of ideas. Us getting back into the swing of things, meeting up once a week and bantering back and forth, is definitely helping with the overall content for Black Rifle." That content umbrella will also include a new Free Range American blog, which is on pace to launch this summer and follow a similar theme as the podcast.
Stark also sees the development of the Free Range American brand as a hedge against future YouTube, Twitter, or Facebook crackdowns on pro-Second Amendment companies. He wants to put BRCC in a defensive posture when it comes to any future change in policy.
All three hosts will not necessarily be on every episode. Hafer's upcoming interview with U.S. House Representative Dan Crenshaw will be an example of a more intimate conversation setting. And some episodes won't have any guests besides the hosts.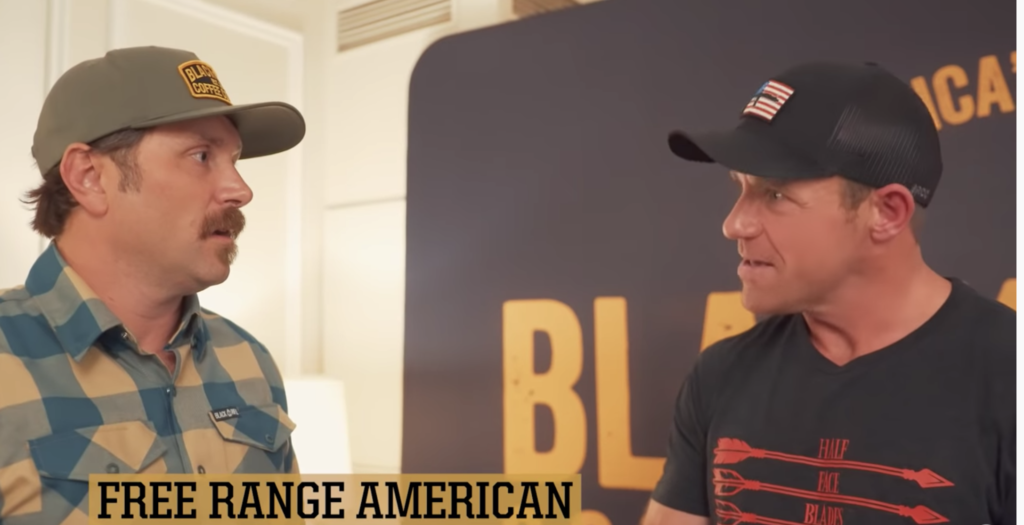 "From the onset of this it was like, 'We're always going to have a guest that embodies the mission statement of what that thing is,'" said Stark. "From just a calendar perspective, a scheduling perspective, a current events perspective, that's not always going to be able to happen."
But Stark doesn't see that as a negative: "I think we all believe that we embody what we're promoting here. We already are individuals who are pursuing these things. I think it's fun to not have to have a guest on and just let the crew talk about what's going on."
Stark thinks the format of the podcast falls in line with historically omnipresent styles of narrative bonding. "From a culture perspective, how amazing is that?" Stark said. "Something that men used to do around a fire hundreds of years ago, or in a saloon, or in a command center, would just do it to do it because it was entertaining for them — we're doing that thing, but we also now have a platform in which we can cast that out to the world because it's something that people want to hear."
The podcast will attempt to fall in line with Black Rifle's three pillars of content: entertainment, inspiration, and information. "It's really hard to put all those things into one singular piece of content," Stark said. "But the Free Range podcast really has the opportunity to do all of those things in hour-long segments, which I think is really unique and will ultimately garner this podcast and this brand a bunch of attention."
One upcoming episode features former U.S. Navy SEAL Jack Carr. Carr is a bestselling author whose newest book, "Savage Son," which is the third book in his Terminal List series, will be released on April 14. The book is about a former SEAL infiltrating the Russian mafia. On Free Range American, the hosts talk to Carr about topics as varied as coronavirus readiness to bear hunting in Russia.
Other recent episodes include an epic discussion with former Navy SEAL Eddie Gallagher about his experience being charged with war crimes, as well as conversations with John Kavanagh, trainer of UFC champion Conor McGregor, and former Army National Guard member Alek Scarlatos, who is running for Congress in Oregon.
Taylor was most excited about talking to off-road racing champion BJ Baldwin, whom he had never had the chance to interview before. The group discussed modded trucks, sponsorship deals, and bar fights.
BRCC customers and fans will likely be excited for this new unique opportunity to hear from the varied guests. "These dinners and hangouts and stuff that we do, we hear these amazing stories, and it's almost selfish that we're the only ones that get to take part in them," Taylor said. "We wanted to create something so we could share this friends list."
Black Rifle Coffee is a company focused on the military, veteran, and first responder communities, and Free Range American won't veer from that audience.
"It's a way to draw in others that are of the same tribe as us," said Stark. "I think a big fallback for us is leadership by example and that's what we want to highlight. We want to provide the audience with the method and means to both gain knowledge and also become inspired. And then if they can also be entertained at the same time, you really couldn't ask for anything more than that."
---
Editor's note: It's no secret that Coffee or Die is part of Black Rifle Coffee Company. Every once in a while we feature BRCC products or personalities — now is one of those times. Hey, this stuff is cool!