With the rise of Instagram foodies, we've also seen the rise — and fall — of "black foods" such as black waffles, black ice cream, and black pasta. It's a simple way to garner attention for those seeking monotone social media feeds. While the movement is ridiculous at best, there is a specific time of year when black foods are acceptable — and almost expected. This Halloween, we offer the Gothic Latte — which is basically a fancier black latte.
Black lattes are nothing new. This trendy drink has been masquerading as a health food since the early 2010s. The coloring agent of choice in a black latte is activated charcoal, which should come as no surprise. In all the Instagram-friendly foods listed above, charcoal is a key ingredient since it often acts as a detoxification agent, drawing bacteria out of the body. We now know that heaps of charcoal isn't great for us, but a small amount in a holiday-specific latte isn't going to kill anyone.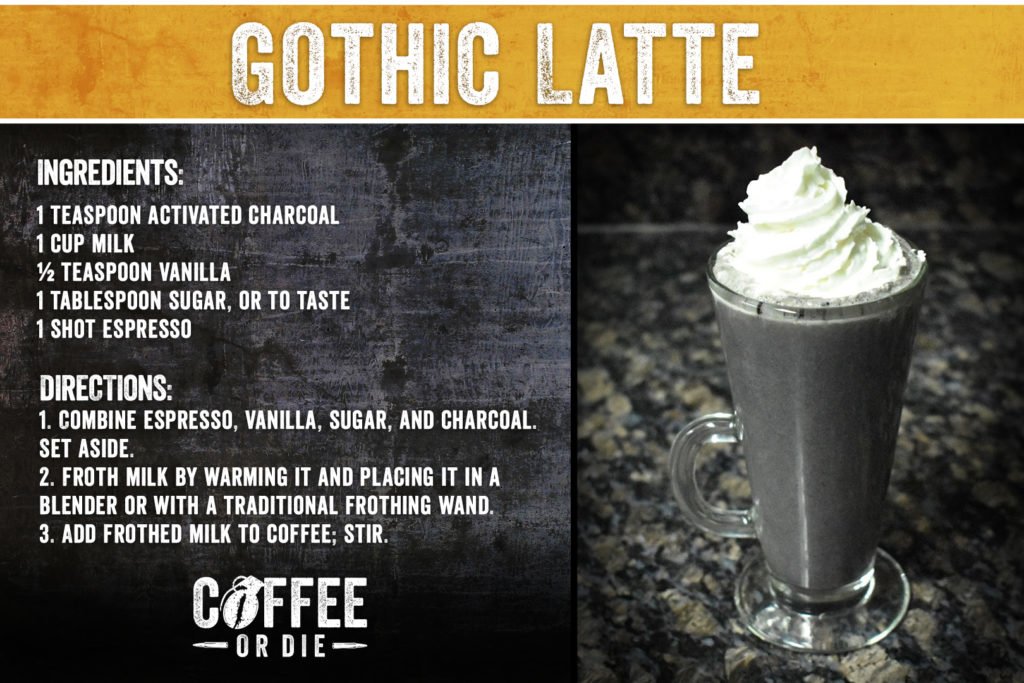 You can get an ounce of food-grade activated charcoal on Amazon for just under $7. If you're hesitant to invest in something you'll only use once, a quick Google search provides plenty of uses for the remainder. It's important to note that this isn't the same charcoal we use for grilling or drawing. Food-grade activated charcoal has been imbued with added oxygen, which makes the molecule more porous and easier to mix into liquids and batters, but also pretty good at absorbing nutrients. We'll be using it here in earnest.
While typical black latte recipes call for almond milk or maple syrup, we're less interested in the health component than the aesthetics. Whatever type of milk or sweetener you have on hand will work just fine. For this Gothic Latte, we're using activated charcoal, whole milk, brown sugar, and espresso. The acidity and moisture in brown sugar lends a richer taste to lattes in general, and when combined with the charcoal, it strikes a perfect balance. We suggest serving this in a clear mug to take full advantage of the color.