Iran's military announced on Wednesday that its military drones had "traced" the USS Nimitz aircraft carrier and its cruiser and destroyer escorts as they passed through the Strait of Hormuz into the Persian Gulf on Friday.
"In this tracing operation, Nimitz aircraft carrier along with escorting warships […] of the terrorist US Army were identified and traced before entering the Strait of Hormuz and the Persian Gulf," Rear Adm. Alireza Tangsiri, commander of Iran's Islamic Revolutionary Guards Corps Navy, said during a Wednesday press conference, the Iranian Fars News Agency reported.
On Friday, the USS Nimitz, which had been in the North Arabian Sea for months, entered the Persian Gulf along with the guided-missile cruisers USS Princeton and USS Philippine Sea, as well as the guided-missile destroyer USS Sterett.
A Twitter post by the Fars News Agency claimed Iranian drones "monitored" and "chased" the US Navy vessels as they traveled through the Strait of Hormuz. Iran's Tasnim News Agency, which experts say has ties to Tehran's Islamic Revolutionary Guards Corps, also published photos, allegedly taken by an Iranian drone, of the USS Nimitz in the Strait of Hormuz.
The Iranian photos bear date stamps of Sept. 18 and purportedly show the USS Nimitz with F/A-18 fighters and other aircraft on its flight deck.
Tangsiri reportedly announced the drone surveillance flights during a Wednesday ceremony to announce the delivery of 188 new drones and helicopters to the Islamic Revolutionary Guards Corps Navy.
Tehran claimed that its Karrar drones have previously monitored US military aircraft in the Persian Gulf region. Presumably, based on Tangsiri's Wednesday comments, Karrar drones were used to monitor the Nimitz Carrier Strike Group on Sept. 18.
"Monitoring and tracking all maritime movements in the Gulf, the Strait of Hormuz and the Sea of ​​Oman will be made possible by these drones that will greatly increase our capabilities in this area," Tangsiri said Wednesday, Iranian agencies reported.
The Karrar is a jet-powered drone designed for long-range reconnaissance and attack missions.
Derived from a target drone, the Karrar was unveiled in 2010 and has a range of about 600 miles and a maximum speed of roughly 560 miles per hour. While Iran touts the Karrar as a "homemade" drone, military experts say it's essentially a copy of a South African design — the Skua target drone.
The Karrar can carry up to four weapons on external pylons, according to GlobalSecurity.org.
The US Navy's Bahrain-based 5th Fleet, which oversees Navy operations in the Middle East, did not immediately reply to a request for comment regarding the alleged Iranian drone flights. However, according to other news reports, no vessels in the Nimitz Carrier Strike Group changed course or altered operations due to Iranian activity.
The USS Nimitz began flight operations over Iraq and Syria on Friday.
On Sunday, Secretary of State Mike Pompeo announced the US was unilaterally reinstating UN sanctions against Tehran for its nuclear program, setting off a war of words with Tehran.
"We encourage Tehran to cease its malign activities throughout the region and to act like a normal country," US Secretary of Defense Mark Esper said Monday. "But we are also prepared to respond to Iranian aggression."
A US airstrike in Iraq on Jan. 3 killed Qassem Soleimani, commander since 1998 of Iran's Quds Force, which conducts military and spying operations outside the nation's borders. Soleimani, who was 62 when he died, also held the rank of major general in Iran's Islamic Revolutionary Guard Corps.
Iran's Supreme Leader Ayatollah Ali Khamenei immediately vowed revenge for Soleimani's death, reportedly saying: "A harsh retaliation is waiting for the criminals whose filthy hands spilled his blood."
Iran's January ballistic missile strikes on US forces stationed at al Asad and Erbil bases in Iraq, in which some 110 US service members suffered traumatic brain injuries, spurred Air Force Global Strike Command to curtail long-term bomber deployments to al Udeid Air Base in Qatar.
Iran reportedly tested a new generation of short- and long-range anti-ship cruise missiles in June. And on July 28, American personnel at al Udeid and al Dhafra Air Base in the United Arab Emirates took shelter following what was later determined to be Iran's firing of missiles at the mock-up of a US aircraft carrier positioned in the Strait of Hormuz.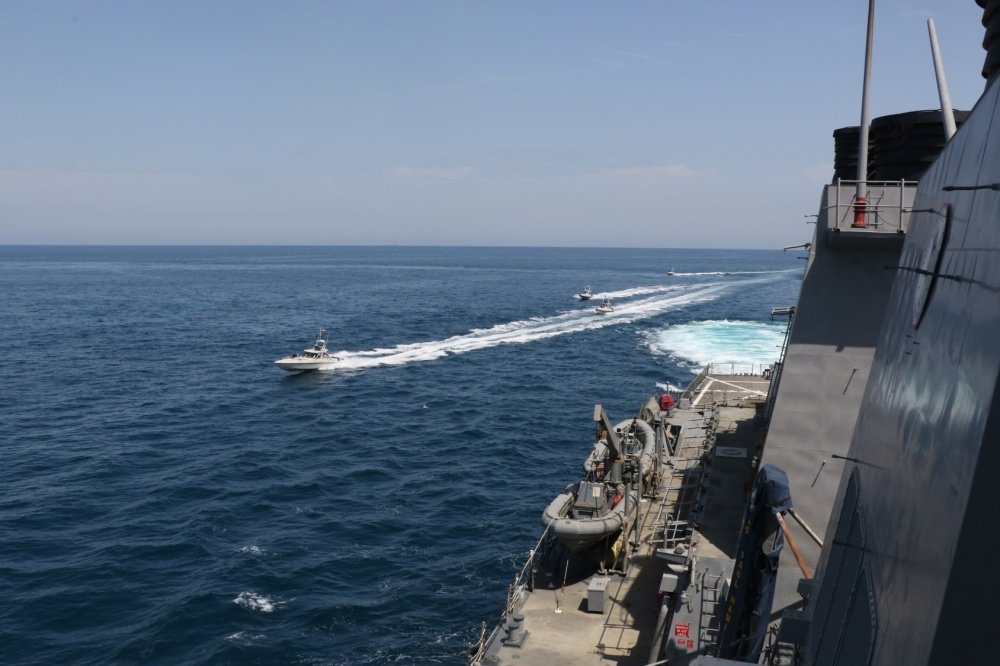 Iran's Islamic Revolutionary Guard Corps regularly operates patrol boats, which have harassed US Navy vessels in the past. On April 15, 11 Iranian speedboats swarmed US naval vessels in the North Arabian Gulf, spurring a Twitter warning from President Donald Trump.
"I have instructed the United States Navy to shoot down and destroy any and all Iranian gunboats if they harass our ships at sea," Trump tweeted.
While US military forces in the Persian Gulf region are not currently on a heightened level of alert, they are prepared to deal with aggression from Iran, Esper said Monday.
"Our commanders have the authorities and resources they need to protect their troops and to prepare for any contingencies and we continue to stand shoulder-to-shoulder with our allies and partners to counter Iran's destabilizing behavior," Esper said, referring to the Iranian threat to US military forces deployed to the Middle East.