An Iranian missile launch on Tuesday prompted personnel at two key US military bases in the Middle East to briefly take shelter, underscoring the increased missile threat against US forces around the world, which has spurred the US Air Force to rethink the way it deploys its strategic bomber force.
American personnel at al Udeid Air Base in Qatar and Al Dhafra Air Base in the United Arab Emirates took shelter on Monday following what was later determined to be Iran's firing of missiles at the mock-up of a US aircraft carrier positioned in the Strait of Hormuz. The launch was initially seen by US forces as "a potential threat," US Central Command spokeswoman Maj. Beth Riordan said in a release.
The alert lasted only a few minutes before the all-clear was given and personnel were able to resume work, Riordan said, adding that US Central Command "condemns these irresponsible missile launches in the vicinity of a congested maritime shipping lane."
The false alarm comes amid rising missile threats against US bases worldwide from America's contemporary adversaries of Iran, China, and Russia. Iran's January ballistic missile strikes on US forces stationed at al-Asad and Erbil bases in Iraq, in which some 110 US service members suffered traumatic brain injuries, was a turning point in the Air Force's philosophy on where it forward deploys its fleet of strategic bombers — comprising B-1B Lancers and B-52 Stratofortresses.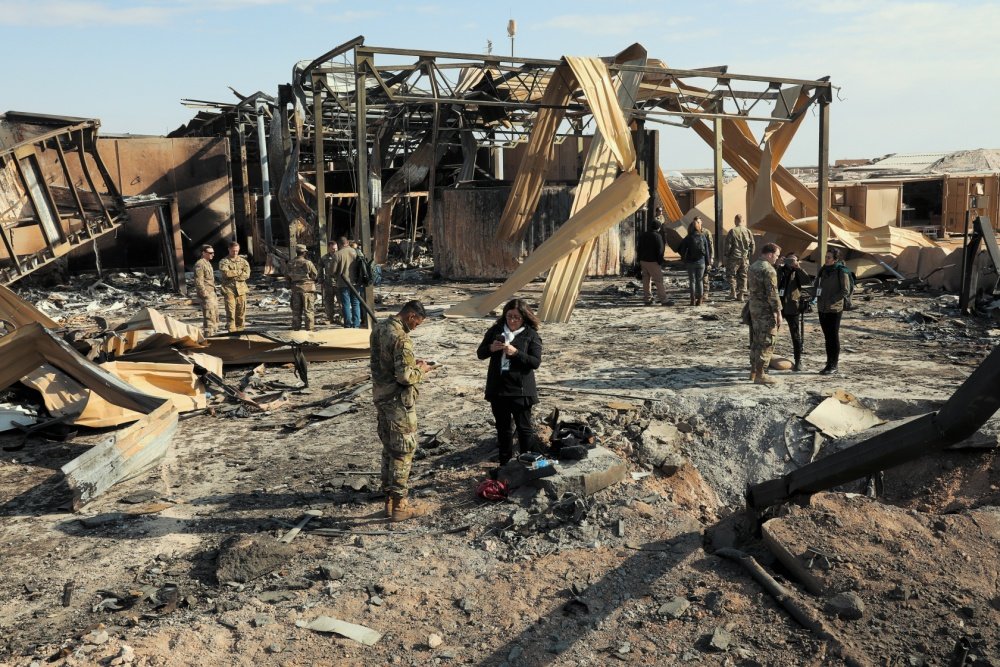 In April Air Force Global Strike Command announced that it was ending long-term bomber deployments to al Udeid, as well as at Andersen Air Base on the island of Guam in the Pacific. The decision ended a 16-year-old "Continuous Bomber Presence" on Guam. Similarly, al Udeid had long been a hub for US bombers in the post-9/11 era, providing a stable of close-air support assets for US troops operating in Iraq, Afghanistan, and Syria. In 2016, the base expanded its runway to accommodate a first-ever deployment of B-52 bombers.
In short, the missile threat against US forces is on the rise globally. And a missile-born, Pearl Harbor-type sneak attack could potentially knock out American bombers sitting on the tarmac in a place such as Qatar or Guam.
"It didn't take al-Asad for me to see that you don't want to park your strategic assets in the ballistic missile engagement zone, we've thought like that for a long time," said Air Force Gen. Tim Ray, commander of Air Force Global Strike Command, during an April virtual event.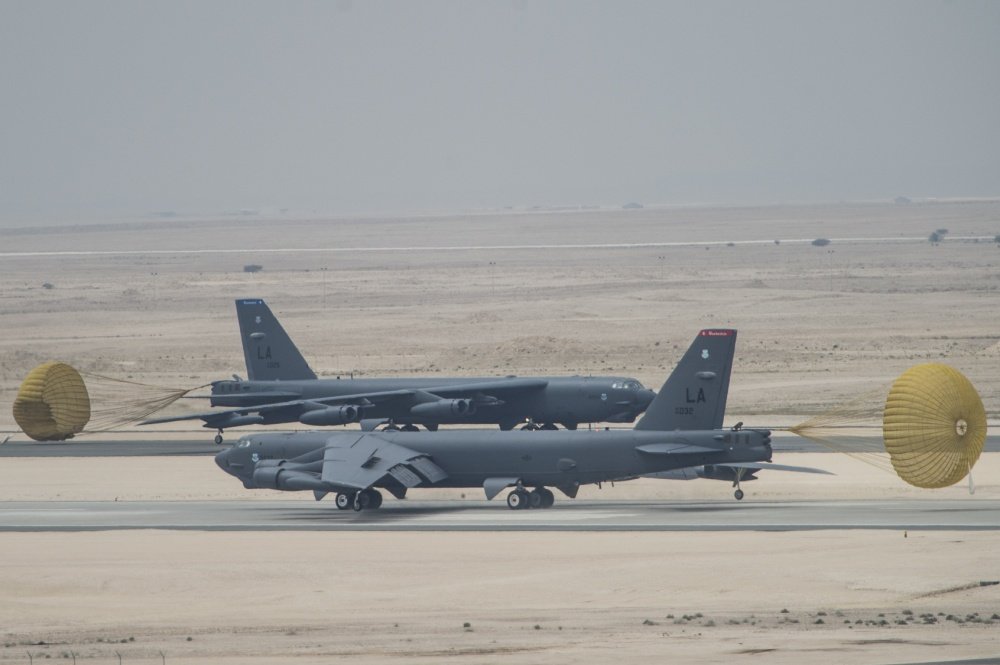 The end of established bomber presences in the Middle East and the Pacific heralded a simultaneous uptick in so-called Bomber Task Force missions, comprising transcontinental "out and back" flights to demonstrate the unparalleled capacity of US bombers to launch from American soil, refuel en route, and drop bombs practically anywhere on earth.
"[Bomber Task Force] missions are routine demonstrations of the credibility of our forces to address a diverse and uncertain security environment, and particularly [Air Force Global Strike Command's] ability to deliver lethal, long-range strike options across the globe anytime, anywhere," Ray, commander of Air Force Global Strike Command, said in a June release.
Tehran's missile capabilities were no secret to the Air Force. Yet, January's attack underscored Iran's willingness to test America's red line, as well as the fact that, when its back was against the wall, Iran's fallback plan was to launch its missiles.
US bombers covering Southwest Asia now conduct short-term deployments in the region or fly out of Diego Garcia in the Indian Ocean. The remote island base — another staple of the post-9/11 air wars — is sufficiently distant from Iran to ensure its safety from missile strikes. Although transit time from takeoff to arriving over targets in Afghanistan, Iraq, or Syria has increased, the move isn't expected to affect combat operations, Ray said in April.
"When the operational reality enters the equation, you can easily step back and still cover the targets," Ray said.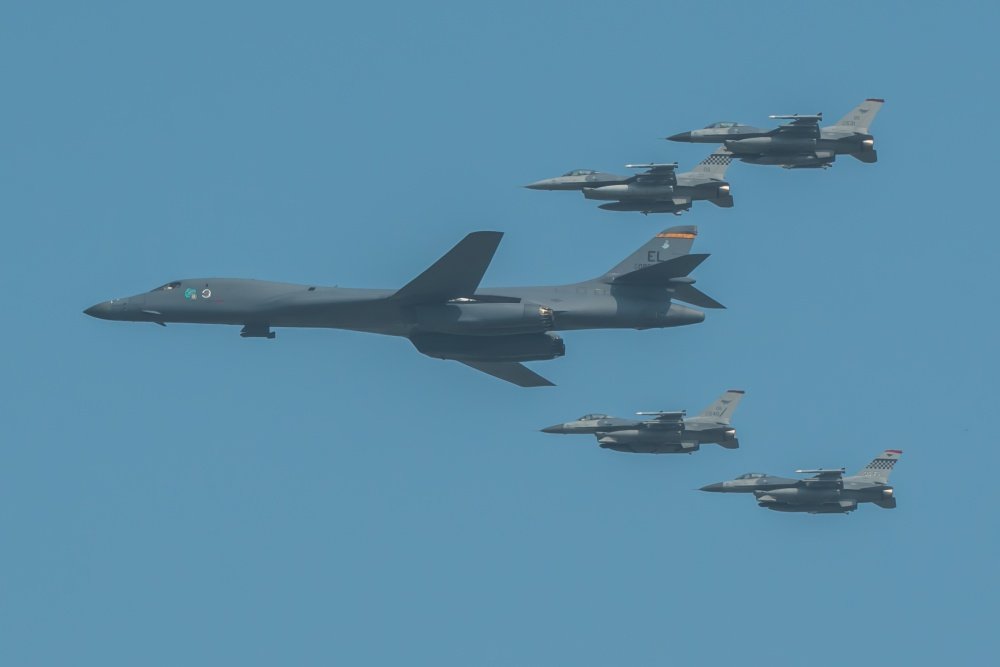 While the Air Force still routinely conducts airstrikes against militants in Iraq, Syria, and Afghanistan, the post-9/11 counterinsurgency campaigns are a shadow what they were in years past, requiring a less constant air support capability. Moreover, in this new era of so-called strategic competition, US forces are pivoting their focus away from counterinsurgency operations and toward conventional military threats from adversaries such as Iran, China, and Russia.
In the Middle East, American bases like al Udeid that were once safely quarantined from the effects of counterinsurgency combat are now squarely within striking range of Iran's missiles. The same goes for US military forces in the Pacific region. As China continues to militarize remote atolls in the South China Sea, the Chinese missile threat umbrella now covers American bases such as Guam's Andersen Air Base.
China is currently developing an arsenal of new missiles of varying ranges, US officials say. Russia, too, is developing a broad range of new missiles, raising the threat level for US forces in Europe — as well as the US homeland. Russia also has missiles forward deployed in its Baltic exclave of Kaliningrad, as well as in Crimea, a peninsular territory Moscow invaded and seized from Ukraine in 2014.
Consequently, Air Force Global Strike Command rotates bombers across its network of bases in the Middle East and the Pacific. So, too, in Europe the US Air Force does not maintain long-range, strategic bombers on a permanently deployed basis.
Unlike other combat assets, strategic bombers are unique in that they can be effectively called upon to conduct global strikes even while based on US soil. During the Covid-19 pandemic, in particular, Air Force Global Strike Command bombers have maintained a steady drumbeat of Bomber Task Force missions, often launching from US soil, including in Alaska, to conduct missions in the Pacific, European, and Arctic theaters.