It was a drizzly night at the end of March when members of the U.S. Army's 1st Battalion, 24th Infantry Regiment (1-24) arrived in Erbil, the capital of Iraq's Semi-Autonomous Kurdish region. They had driven from Mosul, where they'd maintained a small compound on the grounds of one of the palaces of late Iraqi dictator Saddam Hussein. They were there to provide support for U.S. Marine Raiders and Canadian Special Operations Forces tasked with hunting ISIS cells.
Throughout March, Western troops left compounds at several Iraqi bases for a long-planned repositioning of forces to larger bases across Iraq, with several other positions slated for departure. However, there hadn't been any immediate plans to pull coalition troops from Mosul — Iraq's second largest city and once the main stronghold of ISIS militants in the country. But on March 19, the worsening spread of COVID-19 prompted coalition officials to announce a 60-day pause in training with Iraqi troops as well as a massive redeployment of forces.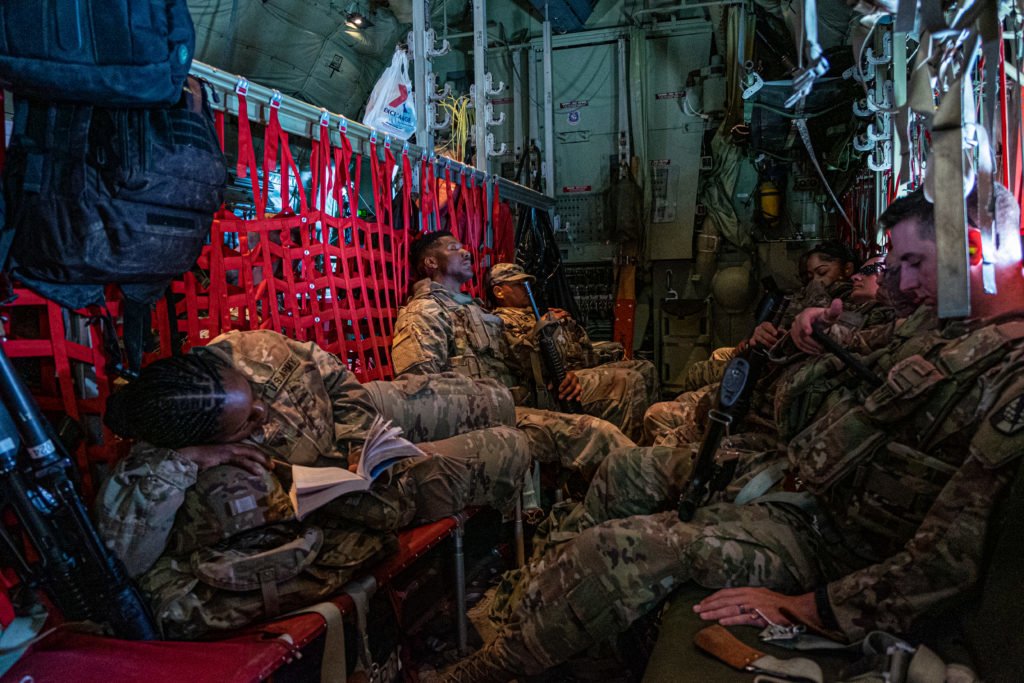 Soldiers with 1-24 got word to prepare to leave Mosul, so they began rapidly tearing down their position and pulled out all their forces, making several trips hauling out supplies. When they arrived on their last trip, the soldiers were wet, tired, and some were visibly frustrated.
"This definitely wasn't the plan," mused an Army captain as the soldiers unloaded equipment from their vehicles. "We'd pictured this all going very differently."
The soldiers had to navigate the roads as the situation on the ground was becoming increasingly chaotic. March was the deadliest month for coalition forces in years — four American troops and one British soldier died and several were wounded in a series of violent incidents involving both ISIS militants and Iranian-backed militias. Meanwhile the spread of COVID-19 has led to lockdowns as Iraqi troops and militias set up checkpoints across roadways.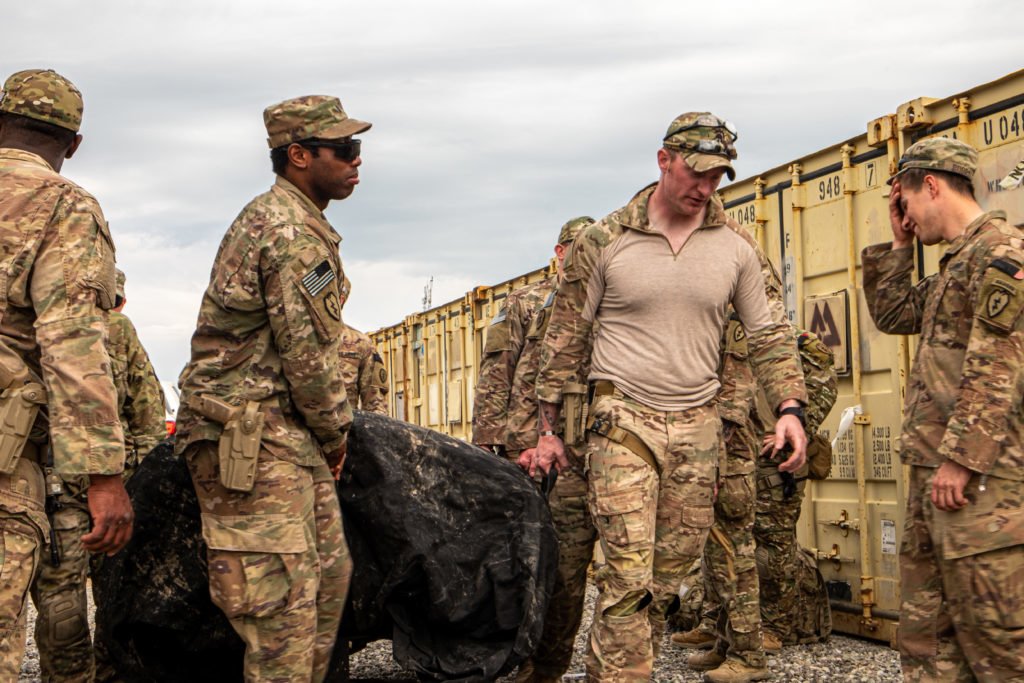 1-24 is part of the Alaska-based 1st Stryker Brigade Combat Team of the 25th Infantry Division. When the brigade got orders to deploy, it looked like a fairly straightforward deployment. When they arrived in August, ISIS had lost all of its physical territory. Iraqi troops, Kurdish Syrian Fighters, and Western Special Operations Forces were hunting down the remnants of the Caliphate. But the brigade has experienced a series of unexpected curveballs.
In October, Turkey invaded Northeast Syria after U.S. President Donald Trump issued a sudden order to U.S. troops to withdraw, and Iraq erupted in revolution as protesters took to the street demanding widespread reforms. Throughout the fall and winter, Iranian-backed militias periodically shot American troops with rockets, and the new year rang in with America and Iran at the brink of war after a U.S. strike killed Iranian General Qassem Soleimani. Iran later retaliated with ballistic missiles.
The global pandemic unexpectedly upended a war that was already becoming increasingly complex. Iraqi troops and police have been reassigned from chasing terrorists to enforcing lockdowns, while coalition troops are now largely confined to their bases. ISIS has been regrouping and launching a series of ambitious attacks as the various players in the region have increasingly turned on each other. Each faction is currently reassessing their strategies, goals, and alliances — and whether the fight is even still in their interest.
On March 11, rockets struck Camp Taji, killing three coalition troops and wounding 14 others. In response, American warplanes struck positions associated with Kataib Hezbollah, an Iranian-backed militia that officially operates as part of the Iraqi government as the 45th Brigade of the Popular Mobilization Forces.
The PMF is a loose alliance of militias formed in 2014 to fight against ISIS after a decree by Iraq's Ayatollah Sistani, a senior Shia religious cleric. The PMF is Shia dominated, and many of the most powerful factions have close ties to the Iranian Revolutionary Guard Corps, but Sunni, Christian, and mixed units also exist. Kataib Hezbollah began striking American positions last year in retaliation for Israeli drone strikes that killed several of the group's fighters over the summer of 2019 and has continued to harass coalition troops with sporadic attacks and threats.
American officials said several members of Iran's IRGC died in the U.S. airstrikes after the Taji attacks, however the Iraqi government claimed that no PMF members died and that the U.S. strikes killed only active duty Iraqi Army soldiers, police, and some local civilians. After the American retaliatory strikes, a group calling itself the "League of Revolutionaries" took credit for the Taji strikes.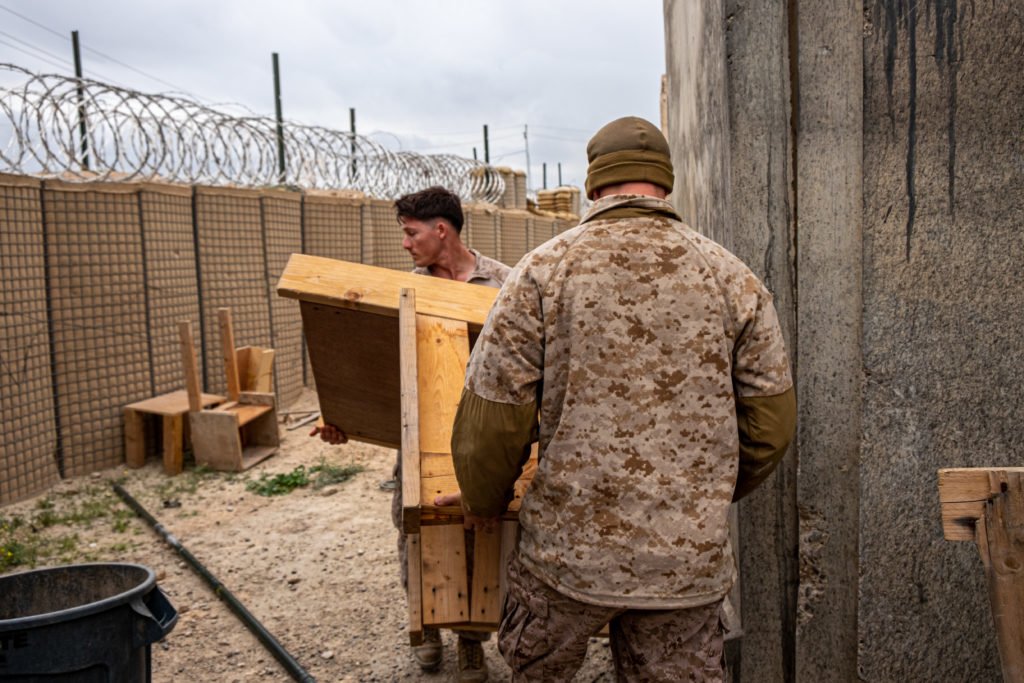 In a press release, the supposedly new group stated that "the assassinations of our martyred commanders ignited a fire within our chests." The reference to "martyred commanders" appeared to be an obvious reference to the American killing of Soleimani and Kataib Hezbollah commander Abu Mahdi al-Muhandis in response to militia rocket attacks and a riot at the U.S. embassy. The killing of Soleimani brought the United States and Iran to the brink of war.
That confrontation led to a pause in the coalition's advising and anti-ISIS operations by the coalition as Western troops spent most of January focused on defending themselves from Iranian attacks, but gradually resumed some operations despite continued harassment from Kataib Hezbollah and other Iran-aligned factions. Coalition sources told Coffee or Die that the League of Revolutionaries appeared to be composed of members from IRGC-backed groups like Kataib Hezbollah and merely represented a continuation of Iran's proxy wars in Iraq.
Just days before 1-24 left Mosul, American patriot missile systems arrived in Iraq to defend large installations. Several coalition sources told Coffee or Die that the American forces had intelligence indicating that Iranian forces planned to launch ballistic missile attacks against American positions similar to the January strike against Al Asad Airbase — in that the attack killed no one but inflicted nearly 100 traumatic brain injuries on U.S. troops. The arrival of the patriot missiles provided an umbrella of safety as American forces regrouped and commanders began to reassess operations.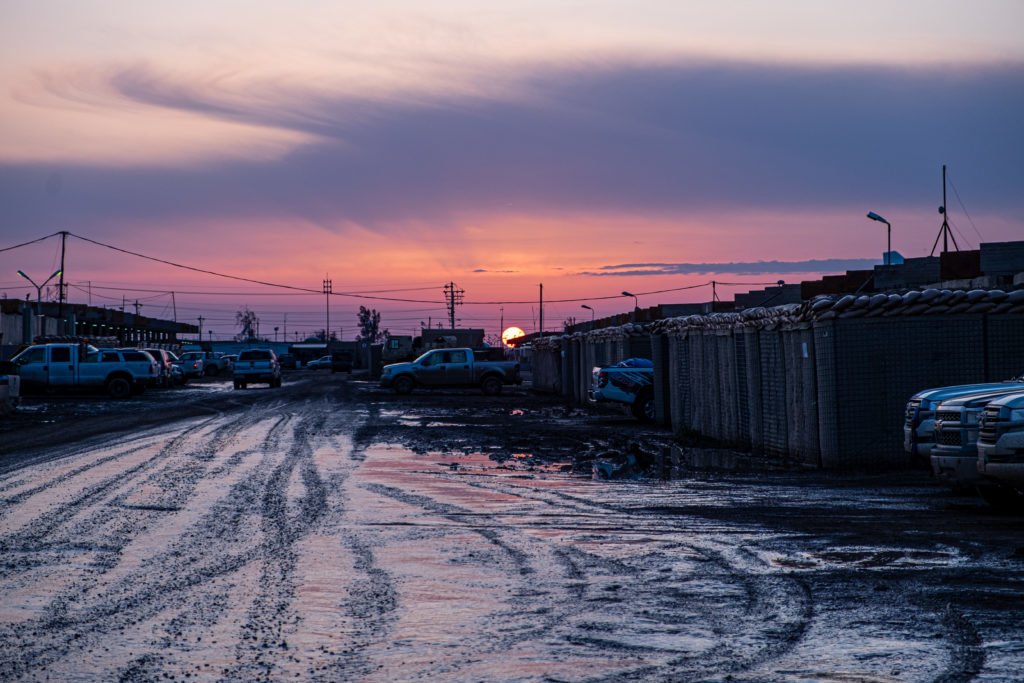 The sudden, fast-paced withdrawal from Mosul meant that 1-24 had to improvise. They soon found themselves packed into crowded tents and figuring out what to do with all the extra manpower and equipment in relatively small spaces. Simultaneously, base administrators were becoming more strict about social distancing. The dining facilities at the coalition camp in Erbil began enforcing takeout only and social distancing policies to mitigate COVID-19 risks. However, soldiers ultimately ended up eating in crowded tents with fellow soldiers, usually making their way back on a crowded shuttle that ferried troops and contractors to different corners of the base. Distancing is almost impossible in a deployment setting.
After watching a warrant officer berate soldiers for not practicing social distancing only to immediately huddle with several contractors and officers in close proximity to discuss how to make enlisted troops comply with their policies, several soldiers were blunt in describing their attitude.
"That was un-fucking-believable," one staff sergeant from 1-24 said of watching the interaction. "If you want us to take this seriously, you need to take it just as seriously. Not just use it as another excuse to make soldiers miserable."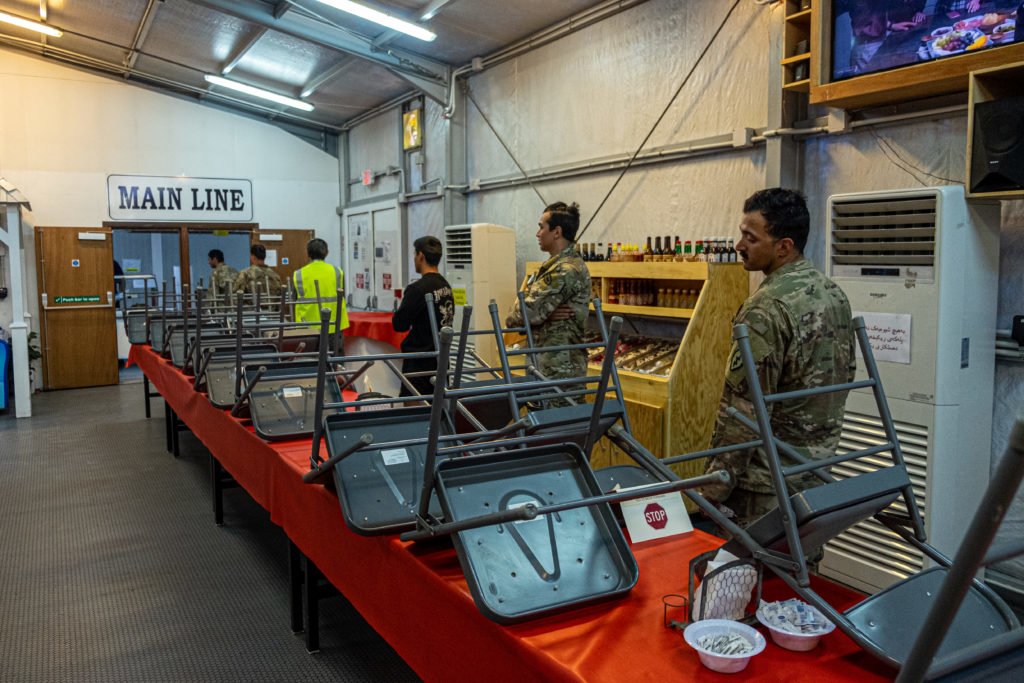 Not long after, soldiers learned that gyms and workout facilities would be heavily restricted. "Look at us," one soldier motioned around the crowded tent he was sharing with other soldiers and a contracted Arabic linguist in bunk beds. "There is not distancing here." Soldiers were becoming increasingly frustrated with the contradictory messaging about the virus both in Iraq and from what they were hearing back home.
When U.S. troops came in from Mosul, Erbil was on a complete lockdown outside the walls of the base — Kurdish Peshmerga and Asayish patrolled the streets and manned checkpoints looking for anyone violating lockdown orders. U.S. troops halted movements in the city, putting a stop to all meetings with the Peshmerga as part of the new pause. By late April, the Kurdish Regional Government had begun gradually easing restrictions as people returned to the roads and some businesses reopened, but the situation remains uncertain.
1-24 had been set to return to the U.S. in June, but after weeks of speculation soldiers learned that their deployment had been extended — likely through the rest of the summer. Plans to see family and friends, previously scheduled vacations, and hopes of getting ruinously drunk upon returning home had been wildly upended by the pandemic.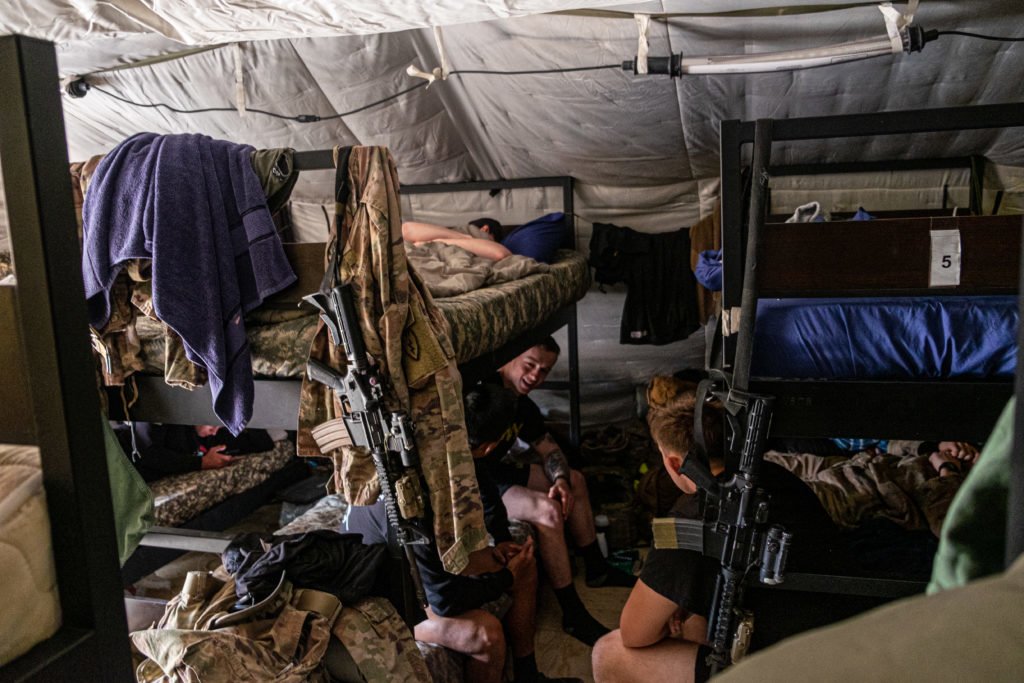 Even as U.S. troops packed up to leave their compounds for larger bases or reposition in Kuwait, the Pentagon issued American commanders a directive to craft plans to "destroy" Kataib Hezbollah. And on April 10, the State Department announced that it would offer $10 million for information on Mohammed Kawthrani, a Lebanese Hezbollah commander active in Iraq who's intimately involved in IRGC networks.
An offensive campaign against Kataib Hezbollah would put Americans in an active fighting conflict with the 45th Brigade of the PMF — fighting a unit that's technically part of the government that's hosting American forces in the country. Several Iraqi officials expressed frustration with both Iran and America, urging restraint between the two sides and making clear that they don't want their country to be a battleground in a war between the U.S. military and the IRGC.
That's a reality many Coalition commanders on the ground are keenly aware of. The New York Times obtained a memo written by U.S. Army Lieutenant General Pat White, the coalition's top officer, that outlined his misgivings. White argued that such a campaign would require additional troops at a time when Western forces were trying to reposition troops, and that such a campaign risked sparking a war with Iran.
"The Iranians are basically creating new splinter groups for us to target," one officer told Coffee or Die, asserting his opinion that attacks like the Taji strike are meant to bait U.S. forces into a costly fight with Iranian-backed militias. However, some of the splintering could also be a natural consequence of recent events.
The PMF has always been heavily factionalized. After American forces killed Soleimani and Muhandis, there was no clear successor to the reigns of Kataib Hezbollah. A leadership crisis emerged more broadly in the PMF, leading to even more feuds and infighting between (and sometimes within) various factions.
Mustafa al-Kadhimi, a former intelligence chief, officially became Iraq's new prime minister on Wednesday after parliament voted to approve his appointment and most of his cabinet. Kadhimi is the third man appointed this year; Iraq's parliament has struggled to form a new government as protesters continue to demand an end to corruption, unemployment, and foreign meddling in Iraqi affairs. Kataib Hezbollah and several other Iranian-backed groups vocally opposed his appointment and claimed that he had a hand in helping carry out the American killings of Soleimani and Muhandis.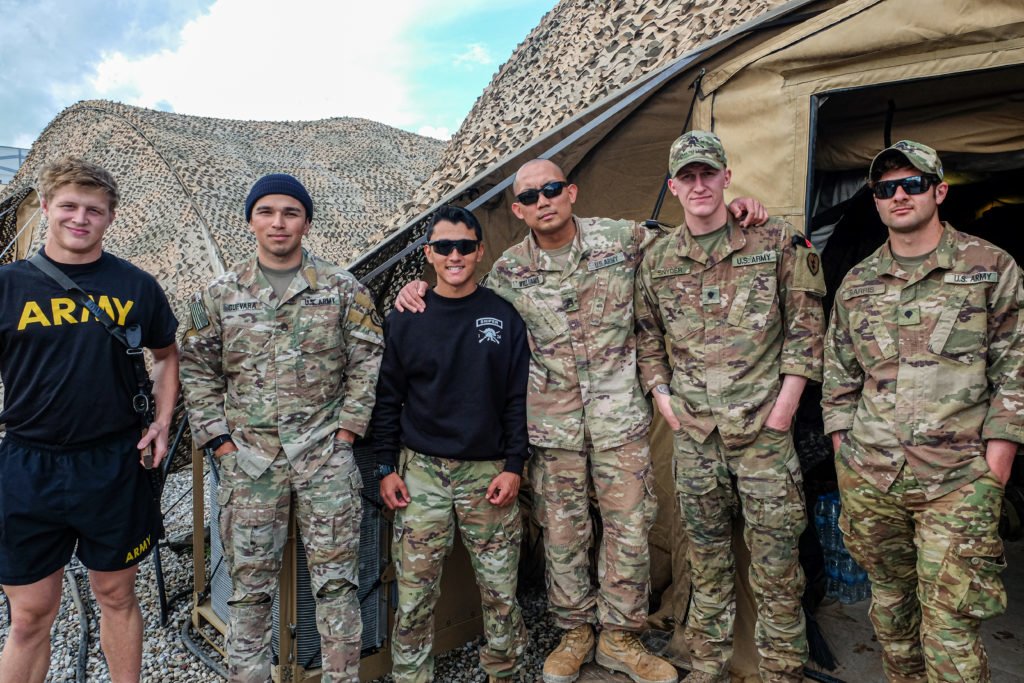 Though Kadhimi's role is uncertain, there have indeed been reports that members of Iraq's intelligence community helped the Americans orchestrate the killing of Soleimani and Muhandis and that the two men had made several enemies among Iraq's security forces. Throughout much of the war against ISIS, some Iraqis joked that Soleimani was the prime minister of Iraq in reference to Iran's deep influence within Iraq's government.
Not long after protests began in Iraq in October, Soleimani flew into Baghdad from Iran and took a helicopter into the Green Zone. There he chaired a meeting of top Iraqi security officials while sitting in the prime minister's chair and made it clear that he expected a brutal crackdown on Iraqi citizens. Masked gunmen subsequently killed, wounded, and kidnapped hundreds of protesters.
When Muhandis made public statements condemning the protests and pledged that the PMF would intervene to put down the movement, a group of Iraqi fighters posted a video response online. "We will say no, Muhandis … we are familiar with winning, not standing against our own people," a fighter said in the video. The fighters also warned Muhandis against taking orders from "devils."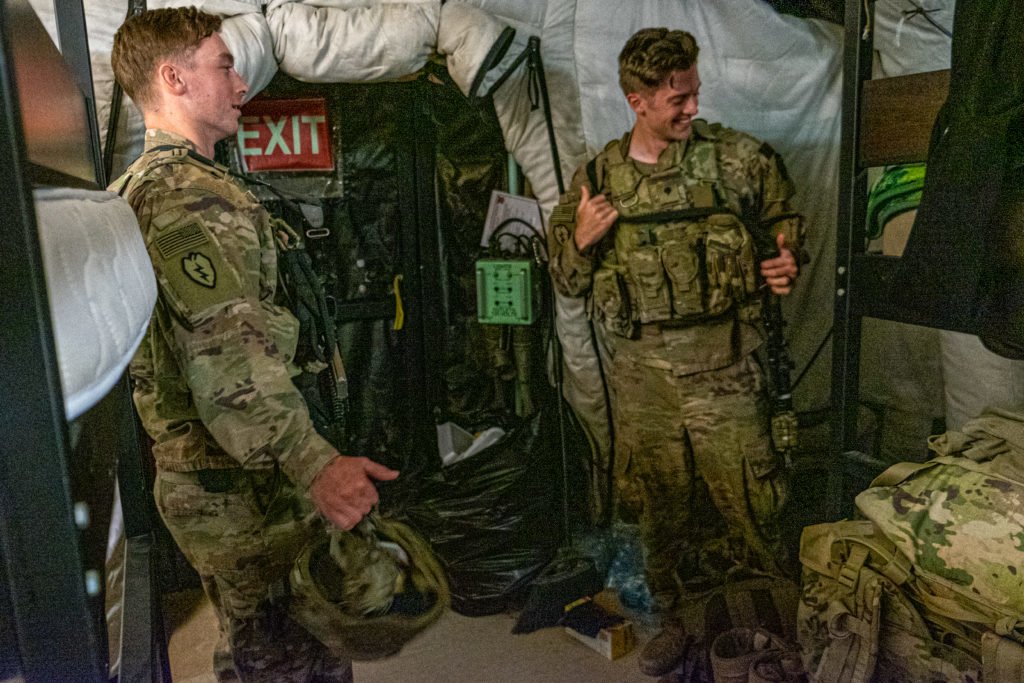 Some Iraqi security officials were becoming increasingly resentful of Soleimani and other Iranian commanders, as well as their militia allies. When Soleimani's successor, Gen. Esmail Ghani, recently went to Baghdad to rally Iran's traditional network of support, he found a chilly reception. Iraqi leaders were fed up with IRGC meddling, and Ghani was unable to unify Shia factions. Last month, Shia PMF factions loyal to Sistani began breaking away from the militia alliance to put themselves under the direct control of the Iraqi military, exposing deep rifts within the force.
"Their mission was to fight ISIS and defend their families and their lands. They must not be employed politically or militarily in the ongoing conflict between America and Iran," one Iraqi official told The Middle East Eye. "But the Iranians insist on continuing to use the PMFs as a tool to pressure the Americans inside Iraq to obtain some gains in their negotiations related to their nuclear programme and to ease the sanctions imposed on them."
Clashes have resumed in Iraq's southern cities as protesters, who had mostly stayed inside in light of the pandemic and Ramadan, returned to the streets. Over the weekend, under orders from the new government, Iraqi security forces arrested several militiamen suspected of firing on protesters. Kadhimi also ordered the release of large numbers of Iraqis arrested for protesting and reassigned Lieutenant General Abdul Wahab al-Saadi, a war hero who was previously reassigned due to Iranian pressure, as head of Iraq's counterterrorism forces.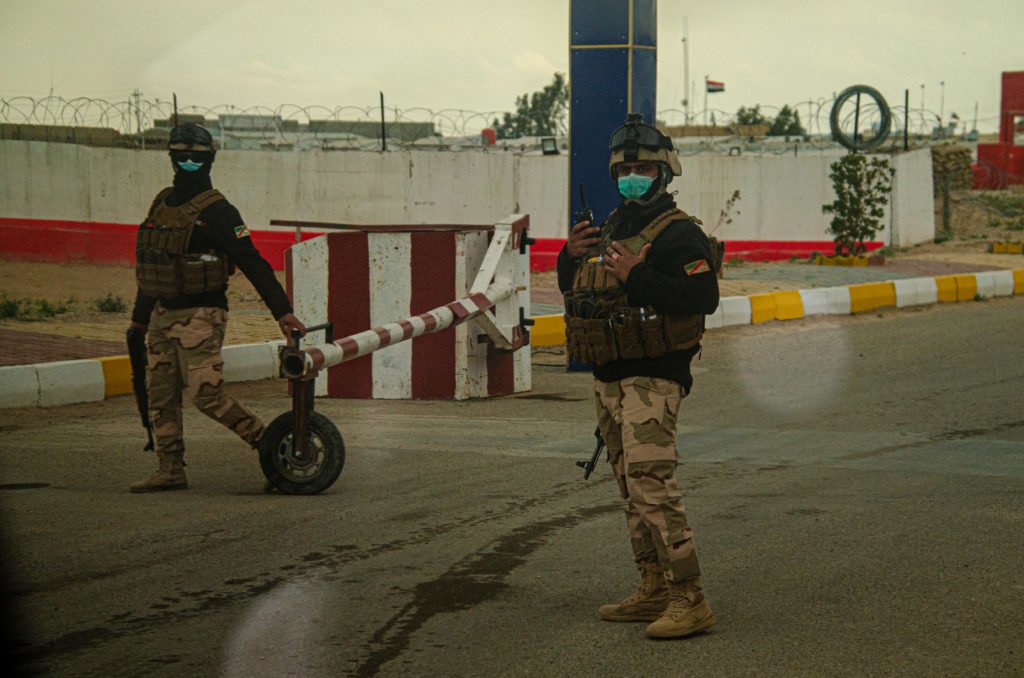 The pandemic prompted Iraqi authorities to close travel across the Iranian border, though cross-border trade continues — the two economies are intimately linked. Iran has been one of the countries hardest hit by the virus, and the Iranian government's handling of the crisis has drawn the ire of both Iranians and Iraqis as the disease spreads.
To make matters more complicated, the collapsing oil market threatens to take the economy with it and throw the region into further chaos. Oil exports are the backbone of Iraq's economy, but by June the Iraqi government may not be able to pay the salaries of civil servants who keep the few remaining parts of the government afloat.
Across the border in Syria, the situation is no less complicated. The Turkish invasion of Northeast Syria, where the Kurdish-led Syrian Democratic Forces (SDF) ousted ISIS with U.S. backing, has had long-lasting ripple effects. The invasion displaced thousands of people who lived in towns and cities near the border. Since the invasion, ISIS militants have been ramping up attacks and staging revolts in prisons and camps.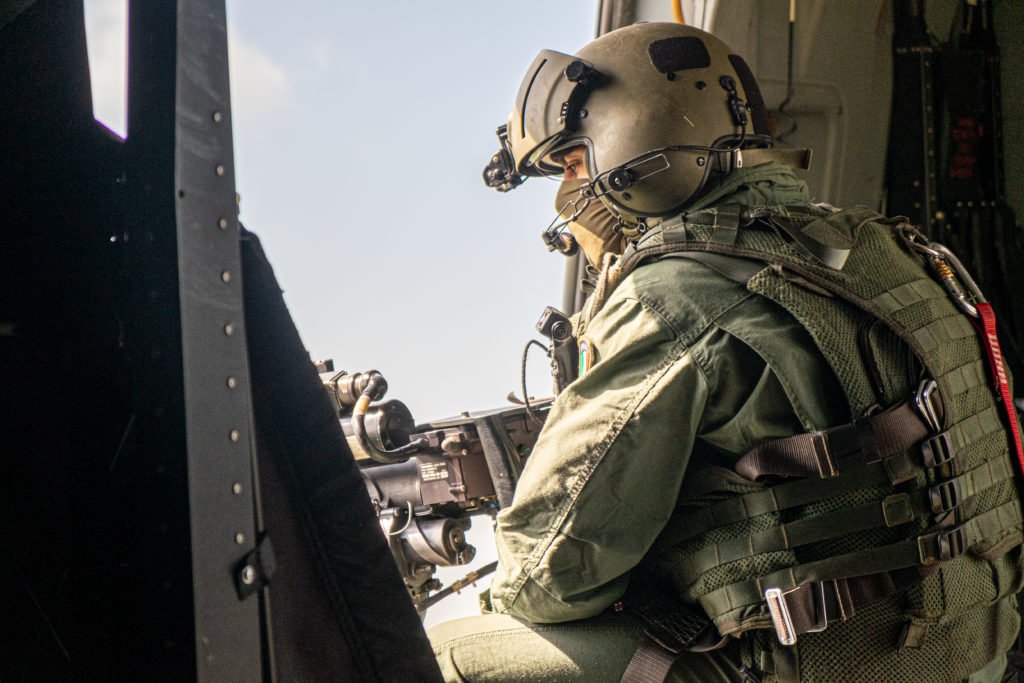 American troops continue operations in Northeast Syria guarding oil fields, conducting patrols, and tracking ISIS cells. Many people in the region are skeptical of American forces after their sudden withdrawal and equally abrupt return to defend oil fields as Trump reiterated: "we're keeping the oil."
The coalition recently helped facilitate the delivery of medical supplies to areas controlled by the SDF to help local doctors contend with the pandemic, but resources are sparse. During the winter, Russia and China used their veto in the U.N. Security Council to prevent moving U.N. aid through Iraqi border crossings to reach Northeast Syria. The regime of Syrian dictator Bashar al-Assad sent troops ostensibly to help the SDF fight Turkish-backed militias, but has also demanded that the SDF disband and join the Syrian army and cede all autonomy while essentially cutting off aid to the region.
Turkey has also periodically cut off water to the region after taking control of a key water processing facility during the invasion. Recently, several aid groups called for the U.N. to begin using Iraqi border crossings to deliver aid in light of the pandemic, but the World Health Organization removed references to the plea in the final draft of a memo it submitted to the security council.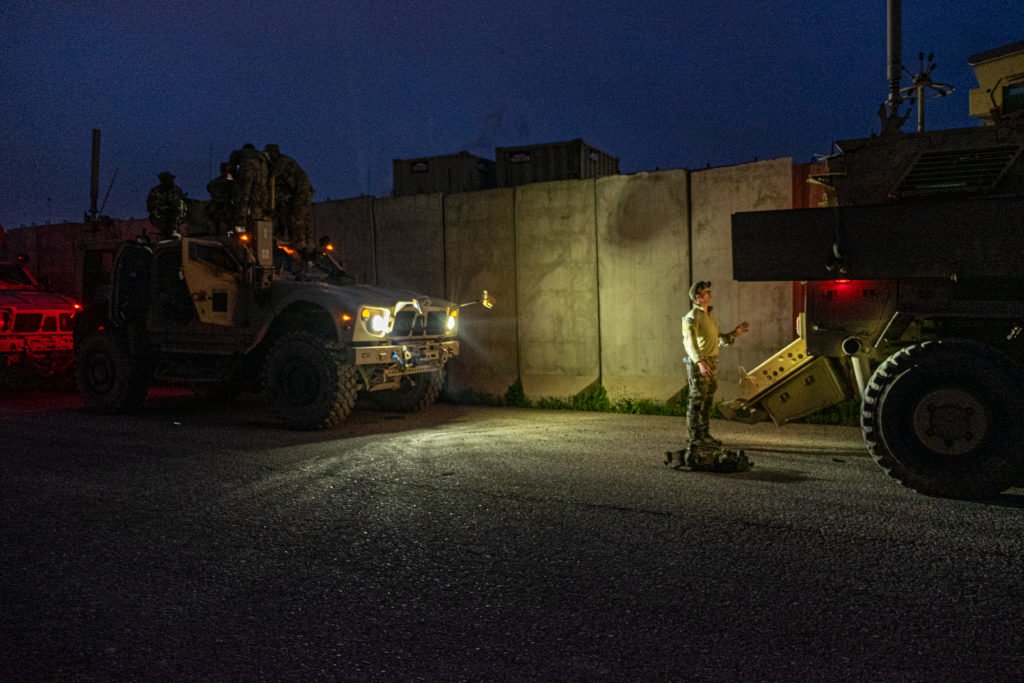 To make matters more complicated, the SDF brought in an influx of displaced Syrians from Idlib in northeast Syria during the winter after SDF commander Gen. Mazloum Abdi invited them to seek safety there as they fled fighting. Regime forces, Russian troops, and Iranian forces pounded the province with airstrikes and artillery as they moved into territory held by Turkish-backed militants — putting millions of Syrians into the crossfire.
The situation in Idlib has become more complicated after the Turkish and Syrian army came to the brink of war during bloody clashes in early March. The Kremlin stepped in to deescalate tensions, and lately Russian and Turkish forces have cooperated more closely holding joint patrols. Many Syrian activists see Russia and Turkey's increasing partnership as evidence of what they've long argued: that the Turkish government's statements in support of their revolution had always been hollow.
Hayat Tahrir al-Sham (HTS), a former al Qaeda affiliate that has dominated Idlib with Turkish support, opened trade with the regime and cracked down violently on Idlibis — many of whom remain firmly against the regime since the revolution began — who opposed the reopening. In towns along Syria's northern border, Turkish-backed militias have frequently fought each other, engaging in bloody skirmishes on an almost daily basis, and many run extortion rackets taking goods and money from local Syrians.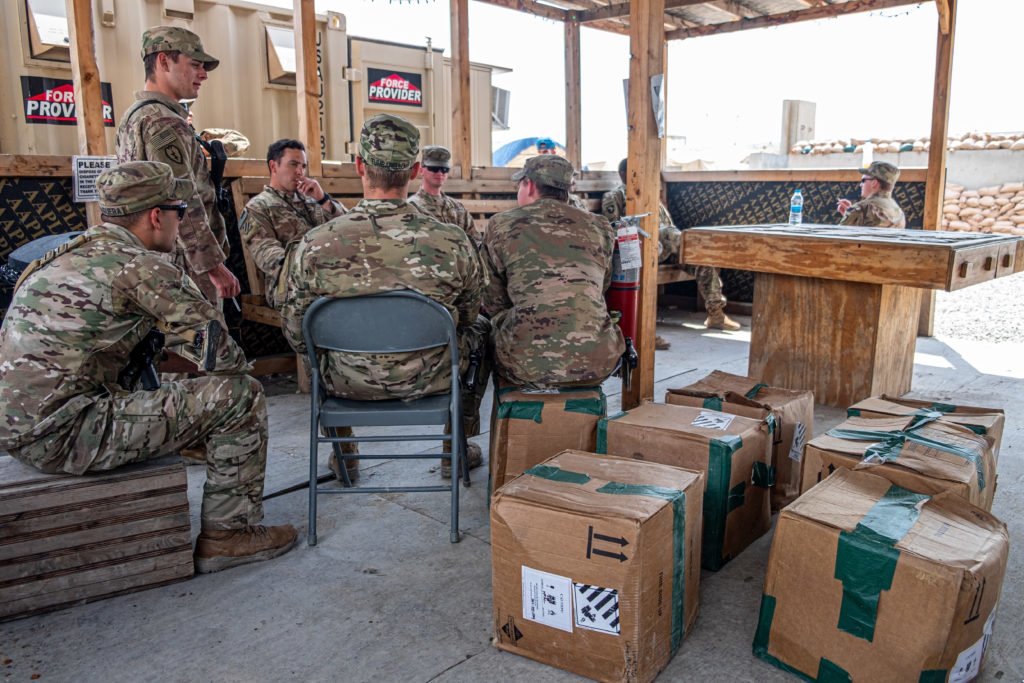 Meanwhile, Iran and Russia, ostensibly allies and the main supporters of the Assad regime, have begun competing with each other for influence across Syria. Russian leaders seem to be losing patience with Assad's refusal to give concessions to other factions, prolonging the conflict. "The Kremlin needs to get rid of the Syrian headache," retired Russian diplomat Alexander Shumilin told Bloomberg News. "The problem is with one person — Assad — and his entourage."
Several countries contributing forces to the Anti-ISIS Coalition have redeployed significant numbers of troops in light of the pandemic and reduced operations, but they haven't stopped. During the month of April, military air crews from Iraq, the United States, the United Kingdom, Australia, Canada, France, and Germany flew missions targeting ISIS. The targets included a massive cave complex between Peshmerga and Iraqi lines in the Qarachogh mountains, where two U.S. Marine Corps Raiders died in a drawn-out firefight against insurgents on March 8.
ISIS itself has continued to ramp up operations despite setbacks. The militants kicked off May with a series of attacks around the country, including a coordinated attack near Samarra in Saladin Province that killed at least 10 PMF militiamen. Sunni tribal fighters in Saladin have taken up arms to help PMF fighters hunt ISIS militants. The militants have also begun a campaign of arson against farms, repeating last summer's scorched-earth campaign that destroyed huge quantities of crops and disrupted the annual harvest in both Iraq and Syria.
After recent spikes in violence, several Shia militia groups issued statements accusing U.S. forces of pushing ISIS to launch these attacks and of plotting to divide Iraq. Even as the world grapples with the COVID-19 pandemic, nations and armed groups alike continue to bicker and fight among themselves. ISIS, far from finished, is seemingly using the chaos to its advantage to reestablish itself.
The pandemic may be able to grind the world's economies to a halt, but not its wars.