There are few things that I enjoy in life more than a good story over a good cup of coffee. I'm sure I'm not the only one, or at least that's the hunch I was betting on when I met with the Black Rifle Coffee Company's leadership about two months ago in San Antonio.
I was in town to discuss starting a new publication that would be a significant departure from their regular menu of content. Of course, the company already had a blog, and you would find my byline numerous times if you perused the content on there. But the blog, in my opinion, didn't measure up to the other premium content the company regularly produces — or the premium coffee they sell. So I told them they should take it down and let me start fresh.
More specifically, start an online lifestyle magazine. One that would feature interesting stories that were thoroughly reported, professionally edited, and accompanied by quality photography and original video content. It wouldn't alienate their existing audience; rather, it would find common ground between them and everyone else who either wasn't interested in Black Rifle or hadn't heard of them.
I was intimidated by the board room filled with 15 or so of the company's best and brightest (although I think I did a fair job of not letting it show). I had no idea how they would receive my pitch; it was ambitious, to say the least. I had known most everyone in the room for years, and hell, I've even waterboarded the founder and CEO.
But knowing them as the men and women that they are off-camera is exactly what should make anyone nervous to pitch them. They are some of the most creative, driven, and intelligent humans I've come across. You might not necessarily guess it from the on-camera personas that many know them by, but they're fiercely competitive and have developed a keen sense for bullshit over the years. It's no surprise that BRCC has gone from scrappy start-up to multi-million dollar company in only a few years.
Fortunately for me (and you!), they blessed off on the idea.
I began work immediately, expanding my plan, talking to prospective writers, and lining up the magazine's first big story. My newfound mission was akin to hopping a train traveling at full speed, but I was up to the challenge. BRCC's Coffee or Die Magazine was born.
What's in a name?
We initially experimented with a few different names for this new magazine, but much like a good coffee roast, getting it right often requires a few attempts. We eventually settled on Coffee or Die Magazine. This title reflects the magazine's coffee roots, ties into existing branding, and, unlike the other two names, embodies the company's edgy nature. But what really sold the idea for me was the root phrase it was based on: Join, or Die.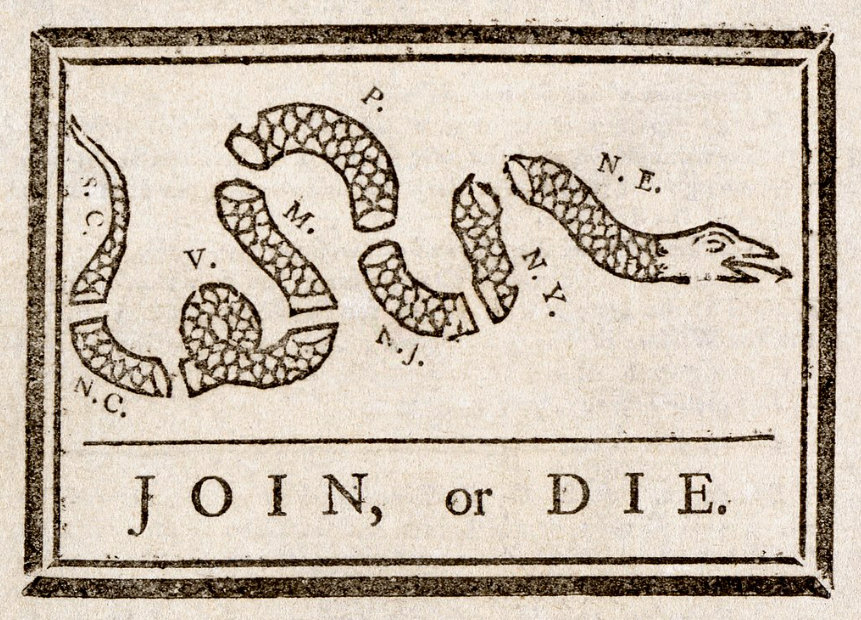 The infamous "JOIN, or DIE" sketch was originally penned by none other than the great Benjamin Franklin — the father of American satire. It first appeared in his publication, the Pennsylvania Gazette, as a satirical political cartoon in 1754. The image featured a serpent partitioned into eight sections, which represented the original 13 colonies (the four New England colonies were lumped together, and Georgia was omitted entirely) with the words "JOIN, or DIE" below. At the time, the political cartoon was meant to illustrate the "either/or" fallacy being applied to the debate about uniting the colonies against the French and Indians.
Black Rifle Coffee Co. has embraced satire as a tool for social commentary and marketing since the company's inception, and our magazine will be featuring a weekly satire column as well (you've heard of Jack Mandaville … right?). It only makes sense for a BRCC publication to pay homage to one of the most famous pieces of American satire ever printed.
But Coffee or Die Magazine is not a purely satirical publication, nor was the Join, or Die symbology used only for satirical purposes throughout history. "JOIN, or DIE" was later applied by a variety of publications as the patriots began to build toward revolution, using the cartoon synonymously with the idea of uniting as one America or dying in a situation that would surely devolve under the British. The symbol became more than a simple satirical cartoon at that point — it became a national symbol of unity.
But I know that the Coffee or Die Magazine, symbol of unity atop our masthead, can provide fertile ground for good stories and intelligent discussion with your fellow man — hopefully over a cup of good coffee.
Today, America is as divided as any other time in recent memory; the concept of unity is one that holds particular relevance right now. I, nor BRCC proper, assume to have all the answers to every problem in the world. But we can lead by example by running stories that often find the common ground between our existing fans and customers and everyone else. The company has a clear stance on a variety of issues, and we're not moving away from that. But I know that the Coffee or Die Magazine, a symbol of unity atop our masthead, can provide fertile ground for good stories and intelligent discussion with your fellow man — hopefully over a cup of good coffee.
You should be excited.
So, we're starting a magazine. What kind of company is BRCC anyway? Are we a coffee company or a media company? It's a fair question given the amount of content the company puts out: podcasts, short films, music videos, and now a magazine (to name a few). But at the end of the day, we are a coffee company. According to our Chief Marketing Officer Joe Staffel, we are "a premium coffee company. We also have a strong brand, content, culture, and following, all of which translates into a strong media presence."
This all comes together when you factor in that one of BRCC's primary missions is to inform and entertain — two areas in which Coffee or Die Magazine will play a major role. But what kind of stories can you expect to find us publishing?
Our stories will generally be of the human-interest variety. You'll find articles profiling notable or interesting people, like Justen Charter's forthcoming look at a man who served as the FBI's chief counterintelligence executive under James Clapper. We'll be taking a look at culture, too: Martin Stokes, our resident South African, wrote a fascinating piece about an underground musical trio in Berlin for his first byline in our magazine. And, of course, we'll be tapping some of the best storytellers to come out of our generation for a good yarn from time to time — Leo Jenkins' piece on his experience training commandos in the Peruvian jungle is one you won't want to miss.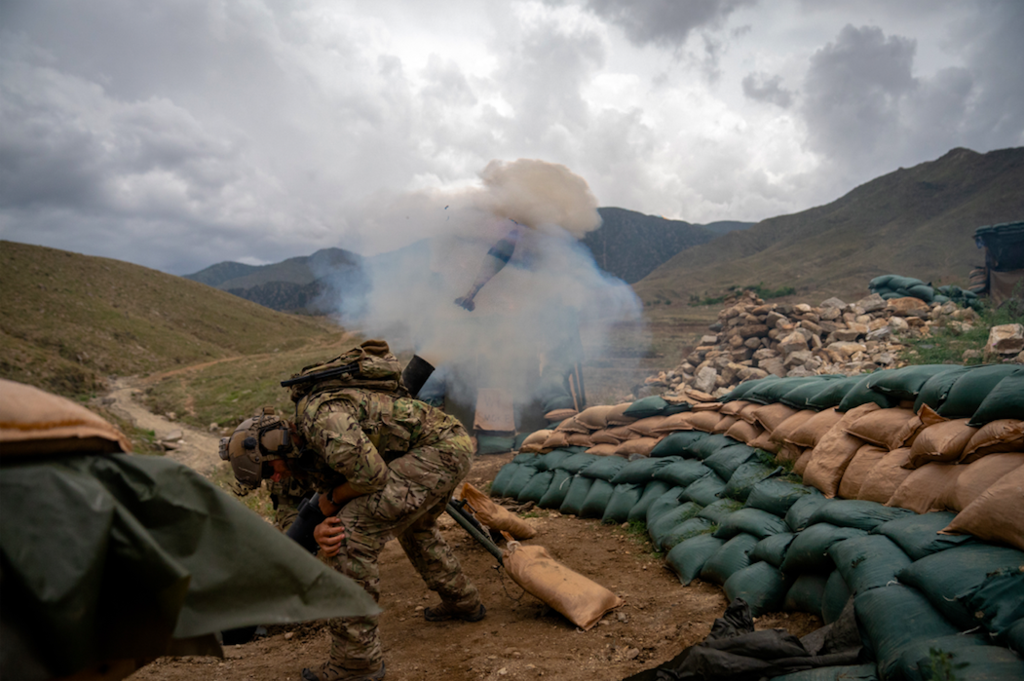 One of the cornerstones of this magazine will be our long-form feature stories. They'll take you a bit longer to read, but they'll be rich with content — including short film vignettes and original, high-quality photography embedded within the written text for a full storytelling experience. As an example, last month I embedded with an American Special Forces team that is on the front lines of the fight with ISIS-K in Afghanistan. I captured a compelling story about what life is like for them, to include exclusive photographs and videos I captured during a firefight with ISIS.
What won't we be doing? Covering breaking news isn't a priority for us, but we'll still publish the occasional investigative journalism feature. Opinion pieces, although often entertaining and fun to write, are not going to be published on this platform — everyone has an opinion, and just because you can eloquently state yours doesn't make it any more special than the next guy's.
As I mentioned before, finding stories and topics that would be considered common ground between the existing BRCC demographic and "everyone else" is a priority for me as the executive editor. If anyone reading this has followed my past work, you'll know that I usually take the position that we're all more alike than we'd like to admit, and the truth is usually somewhere in the middle. My editorial direction will reflect that.
Finally, you'll find that Coffee or Die Magazine holds itself to high standards for publication. There is a lot of distrust of the media and journalists right now, but our publication will earn your respect. Not only will our stories be original, compelling, and well-written, they are also edited by professionals. All stories will adhere to high ethical standards and, when applicable, fact-checked by an independent third party and/or reviewed by BRCC's legal department. That's not to say that a mistake will never happen, but as the editor, my promise to our readers is that we will always own those mistakes and learn from them.
With the publishing of this letter, Coffee or Die Magazine is officially launched. I can't wait to see where we go and what stories we publish. If you want to catch every story, make sure to sign up for our weekly newsletter and follow us on Facebook, Instagram, and Twitter. And if you ever want to reach out about a story (we'll be publishing one "letter to the editor" every month), or have a story you think might be of interest to us, please don't hesitate to find me at [email protected].
Come for the story, stay for the coffee.
Executive Editor, Coffee or Die Magazine