Sainte-Mère-Église is a quaint village in the Normandy region of France. It's spotted with brick buildings and cobblestone streets. A church overlooks the town square; a paratrooper mannequin hangs from his parachute from the steeple. It's just a small town in the French countryside.
Today, June 7, 2019, the town is celebrating the 75th anniversary of the D-Day invasion. This commemoration is special for Sainte-Mère-Église because it was the first town liberated from Nazi occupation. It was also a remarkably different scene in 1944 when 13,787 soldiers' bodies were scattered across the town. All died carrying out their mission to fight for control of this French town.
Today was a cold and rainy day. Cliché as it may seem, it's perfectly fitting for a ceremony commemorating the area's three temporary cemeteries built to hold the corpses of thousands of soldiers that died during that brutal battle.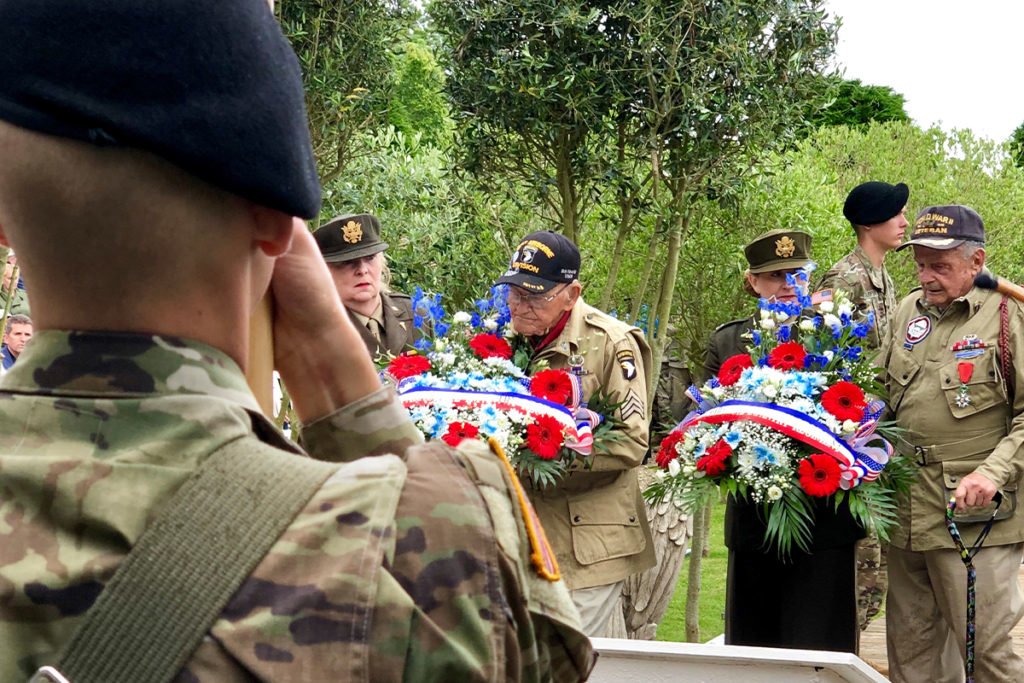 The town's mayor, Jean Quetier, spoke to a crowd that included members of the French and German militaries, current members of the U.S. Army's 82nd Airborne Division, and a few of the dwindling number of World War II veterans.
Quetier explained that cemetery number one, located 200 yards from where everyone was gathered, initially held 3,195 buried soldiers. Cemetery number two, situated along the road of Chef-du-Pont, held the bodies of 4,788 soldiers — including General Theodore Roosevelt Jr. Cemetery number three, 2 miles away in Carquebut, held 5,804 buried soldiers. After the war ended in 1948, roughly two-thirds of the American soldiers' bodies were repatriated to the United States at the request of their families.
Today, Sainte-Mère-Église has a population of just over 4,000 people. It's harrowing to think about the vast amount of bodies stacked in the area. One speaker tried to paint that picture for the crowd, saying, "Imagine after the joy of having been liberated, the reality of the war making an urgent impression … Parachutes are pulled from the trees … Imagine, during days and weeks, the temporary cemeteries expanding in Sainte-Mère-Église."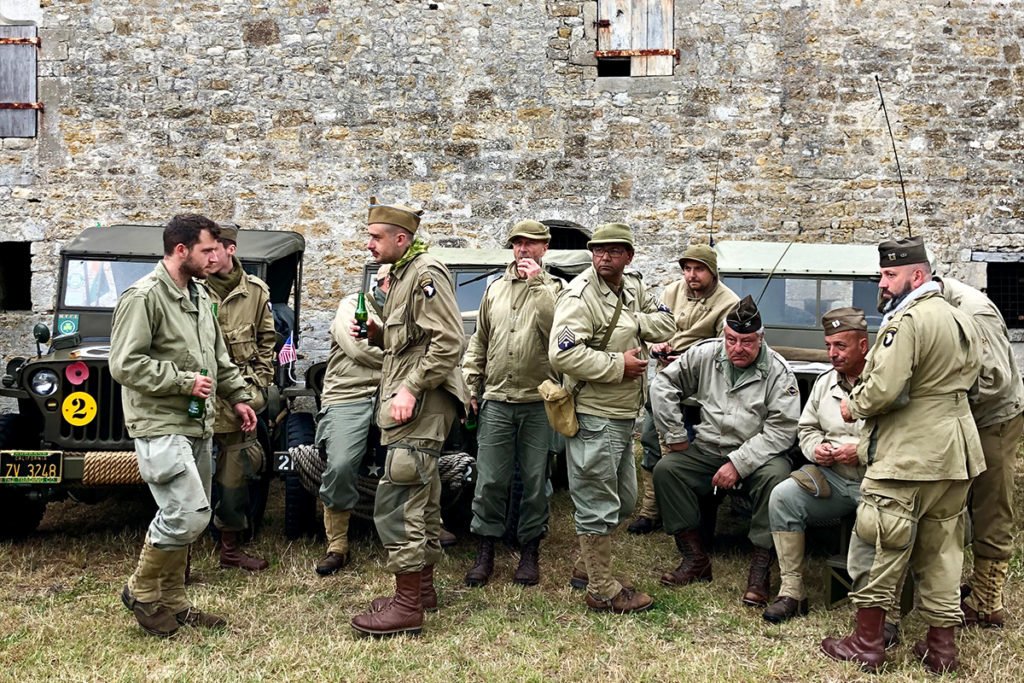 I couldn't help but imagine. "The men digging while the trucks with white crosses bring their bodies. Imagine vast cemeteries, simple crosses, fresh graves as far as the eye can see. Imagine 13,000 graves here in this small town. Imagine that, if you can. And remember these men, who lost their lives so that others could keep theirs. Remember them always so that at any moment you can cultivate peace with others — and also with yourself — so that here we shall never know the graves with white crosses as far as the eye can see."
After hearing her speak, I'm sure I'll never forget.
It was particularly moving to walk through the town and see the various storefronts painted with signs thanking Americans and Allied Forces for their contribution — even 75 years later. As an American, this was something I'd never felt before. It often seems that we are supposed to feel embarrassed to be American, and even apologize for our country of origin.
"Imagine vast cemeteries, simple crosses, fresh graves as far as the eye can see. Imagine 13,000 graves here in this small town."
When I first traveled to Lyon, France, for a study abroad program in the summer of 2003 — during George W. Bush's presidency — the disgust toward Americans was palpable. At that time, being American was something we were told to hide. Our teachers warned us that we might have a hard time getting around, and sometimes that was true. When the small percentage of French people who felt exceptional animosity toward Americans pointed us out or heard our accents, they would bully us and yell at us as we walked down the streets. Some students even went so far as to put Canadian patches on their backpacks so they would not be bothered.
At one point, I was chased off a train.
But as I stood here today in Normandy and felt the love, compassion, and harmony of all of these countries coming together, to include our German brothers and sisters, I was moved to tears. And what better way to represent this unity than through music.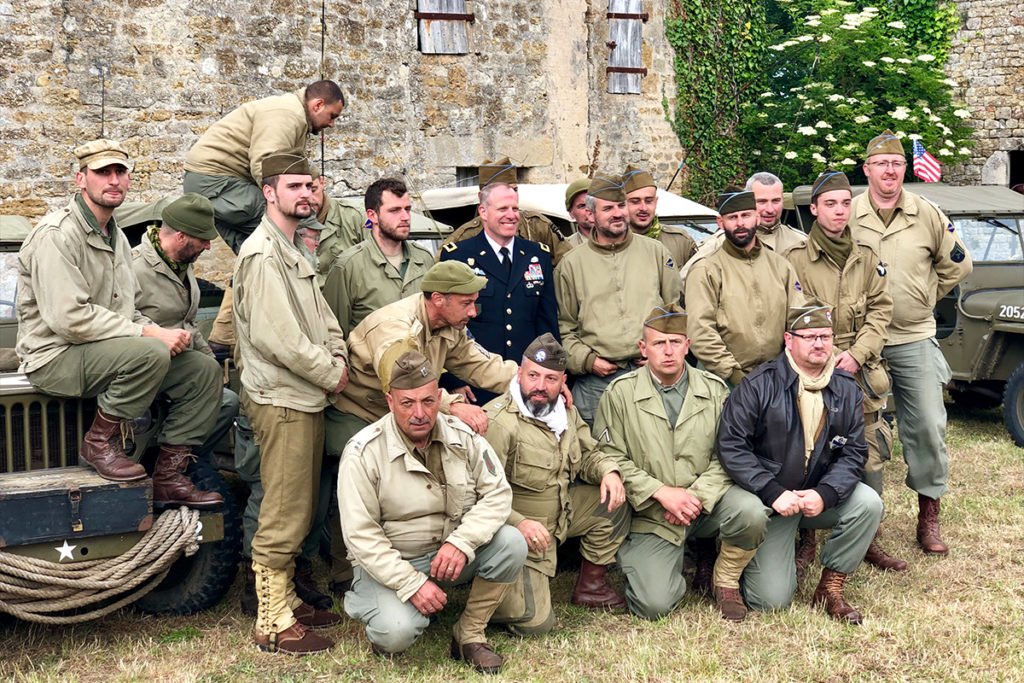 The band played "Taps" and "The Star-Spangled Banner" as the Americans in the crowd proudly saluted. Later, a small group of Germans sang in a hushed voice as the band played their anthem, "Deutschlandlied." And, finally, when the band played "La Marseillaise," the French portion of the audience burst into song to support their national anthem, loud and proud.
Because of the sacrifices made 75 years ago, Americans, French, and Germans are able to come together as friends. Together, we're all able to remember why we should remain friends.
---
This is the fourth in a series of dispatches while Coffee or Die is in Normandy, France, for the 75th anniversary of D-Day.