October means fall is in full swing — and so is Halloween season. With the weather cooling down, it's the perfect time to enjoy your coffee, and spice it up a little for the holiday. Don't skip this recipe for a red eye sambuca!
The drink's name is twofold, both an homage to the fact that it utilizes components of a cafe-style red eye, and a nod to its garnishing style. For an extra Halloween twist, we use whipped cream, a maraschino cherry, chocolate syrup, red food coloring, and corn syrup to mimic an actual red eye.
A red eye supposedly gets its name for its ability to keep a person up during a red-eye overnight flight. It is typically 8 ounces of drip coffee with a shot of espresso. While the drink may sound familiar, you may know it by a different name. Depending on where you are in the US, it can be referred to as a sludge cup, oil spill, or mondo. This will be the base for our cocktail. We'll be combining it with sambuca, which is an anise-flavored liqueur that mixes well with the depth of the red eye.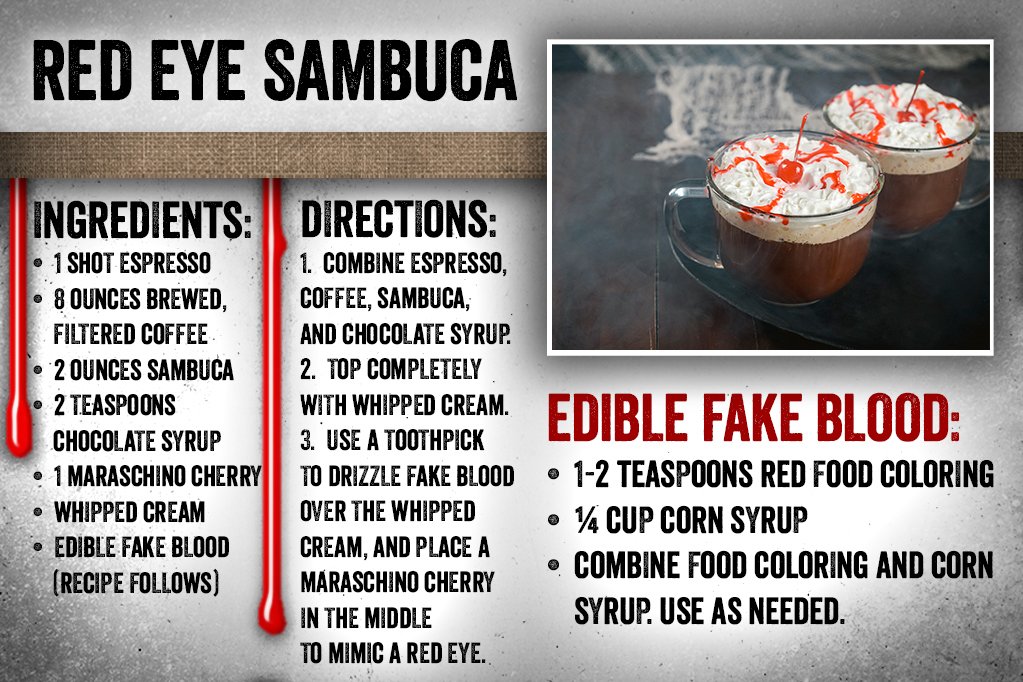 If sambuca isn't to your taste, don't worry. You have the option to replace it with your favorite liqueur. To richen and sweeten our drink, we'll also be mixing chocolate syrup into the coffee base.
For garnish, we're going to be making edible "blood." This may sound intimidating, but it's a fairly painless process. All you have to do is add one to two drops of liquid red food coloring into 1/4 cup of corn syrup and mix until well combined.
To assemble the drink, add a generous amount of whipped cream on top of the coffee base. Using a toothpick, drizzle the fake blood to mimic veins in the eyeball. To finish, simply place a maraschino cherry in the center to mimic the pupil of the "eyeball."