US Army Staff Sgt. Ryan Knauss went to a Christian school. He prayed. The devoted husband loved God and his country.
And that's why Wayne Knauss knows his grandson Ryan is going to greet him in heaven.
"We have five grandchildren. Now we're down to four," Knauss, 79, of Corryton, Tennessee, said in a telephone interview with Coffee or Die Magazine. "It's a sad day for us, but we take comfort in we'll see him in heaven.
"It means a lot to us."
Knauss, 23, was the sole soldier killed Thursday, Aug. 26, by a suicide bombing near the Abbey Gate at Kabul's airport. The other dozen dead belonged to the Marine Corps and Navy. On his second deployment to Afghanistan, Knauss was a member of Company B, 9th Battalion, 8th Psychological Operations Group (Airborne), at Fort Bragg, North Carolina.
[ig_post url="https://twitter.com/1st_SF_Command/status/1431665977394094084″ /]
While in surgery, he succumbed to wounds sustained in the attack. He had arrived in Afghanistan only a week before he died.
"Ryan was the embodiment of an Army Special Operations Forces soldier, a testament to the professionalism of the non-commissioned officer corps, and a steadfast husband and teammate," 8th Psychological Operations Group commander Col. Jeremy Mushtare said in a prepared statement released on social media.
Wayne Knauss believes his grandson's wife, Alena, 23, was the first family member to learn of the tragedy.
She and Ryan bought a home near Fort Bragg in Pinebluff, North Carolina, in late 2019.
"They fixed it up," the elder Knauss said. "It had a garden. It had a little chicken house that had some chickens there and a little hothouse for the wintertime for some plants to grow. They were working on the house, making it nicer. We were really proud of the way they work. They were moving along really nice — just an ideal, lovely young couple."
In Tennessee, the bad news fell first to Ryan's stepmother, Linnae. She answered her door Thursday and met a senior Army officer flanked by a chaplain and a female soldier from 8th Psychological Operations Group, among others in uniform.
"Ryan's stepmother, Linnae, knew it was something bad," Wayne said. "So, she said … 'You can follow me where Ryan's father is."
A telephone call from Linnae, her voice breaking, brought Wayne and Evalena, Ryan's grandmother, to join them.
"We pretty well knew that something bad was going on," Wayne Knauss said. "When you see all this, all these black vans and the officers there in their dress, we knew it was bad news."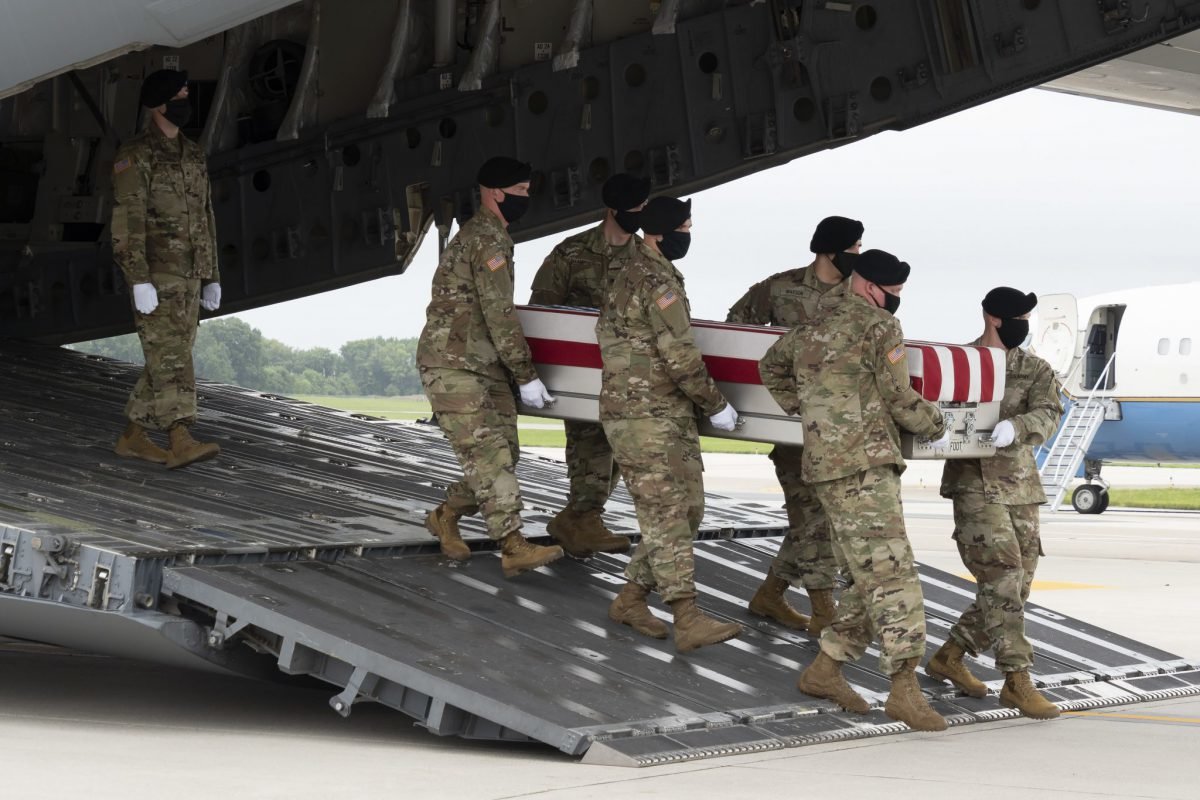 He still held out hope that maybe the officers would tell them his grandson was only wounded.
Staff Sgt. Knauss will be buried at Arlington National Cemetery.
Alena Knauss was with President Joe Biden on Sunday when the remains of the 13 service members arrived at Dover Air Force Base in Delaware, Wayne Knauss said.
"He was a great model," Wayne Knauss said of his grandson. "He'd always finish second or third — somewhere high. He was a competitor. He always wanted to be the best."
But before he was a soldier, Ryan was a Christian. And he died a Christian.
"We take great comfort in that," Wayne Knauss said. "We will see him again."
The 13 American service members killed in the Aug. 26 bombing were:
Lance Cpl. David Lee Espinoza, USMC | Laredo, TX

Sgt. Nicole Gee, USMC | Roseville, CA

Staff Sgt. Taylor Hoover, USMC | Salt Lake City, UT

Staff Sgt. Ryan Knauss, US Army | Knoxville, TN

Cpl. Hunter Lopez, USMC | Indio, CA

Lance Cpl. Rylee McCollum, USMC | Bondurant, WY

Cpl. Dylan Merola, USMC | Rancho Cucamonga, CA

Lance Cpl. Kareem Nikoui, USMC | Norco, CA

Cpl. Daegan William-Tyeler Page, USMC | Omaha, NE

Sgt. Johanny Rosario, USMC | Lawrence, MA

Cpl. Humberto Sanchez, USMC | Logansport, IN

Lance Cpl. Jared Schmitz, USMC | Wentzville, MO

Navy Corpsman Maxton Soviak, US Navy | Berlin Heights, OH
Read Next: Last Round: Bars, Restaurants Set Aside 13 Beers as Kabul Tribute
---
Editor's Note: This article has been updated to reflect that Staff Sgt. Ryan Knauss and his wife bought a home in Pinebluff, North Carolina, not Pine Bluff, Arkansas.