"To judge by the number of people who lend a credulous ear to the story of General Butler's 500,000 Fascists […] marching on Washington to seize the Government," wrote The New York Times on Nov. 22, 1934, apparently people can believe anything. "The whole story sounds like a gigantic hoax. General Butler himself does not appear to more than half credit it."
The story of a plot by Wall Street interests to overthrow President Franklin Delano Roosevelt and establish a fascist dictatorship backed by a private army of former World War I soldiers sounds like a fever dream, right?
Maj. Gen. Smedley Butler, however, had the evidence to prove it. The retired Marine veteran of some 33 years of active military service was one of just two Marines to receive the Medal of Honor twice, for two distinct acts of heroism. Butler was an honest speaker who toured the nation during the Great Depression, offering insights as a critic of the military-industrial complex.
He was an advocate for veterans' rights and gave fiery speeches, including one in Washington, DC, in front of World War I Bonus Army veterans. His support of the disgruntled military veterans contesting the government's unwillingness to provide immediate benefits grabbed the attention of Wall Street tycoons who were envisioning a radical plot behind closed doors.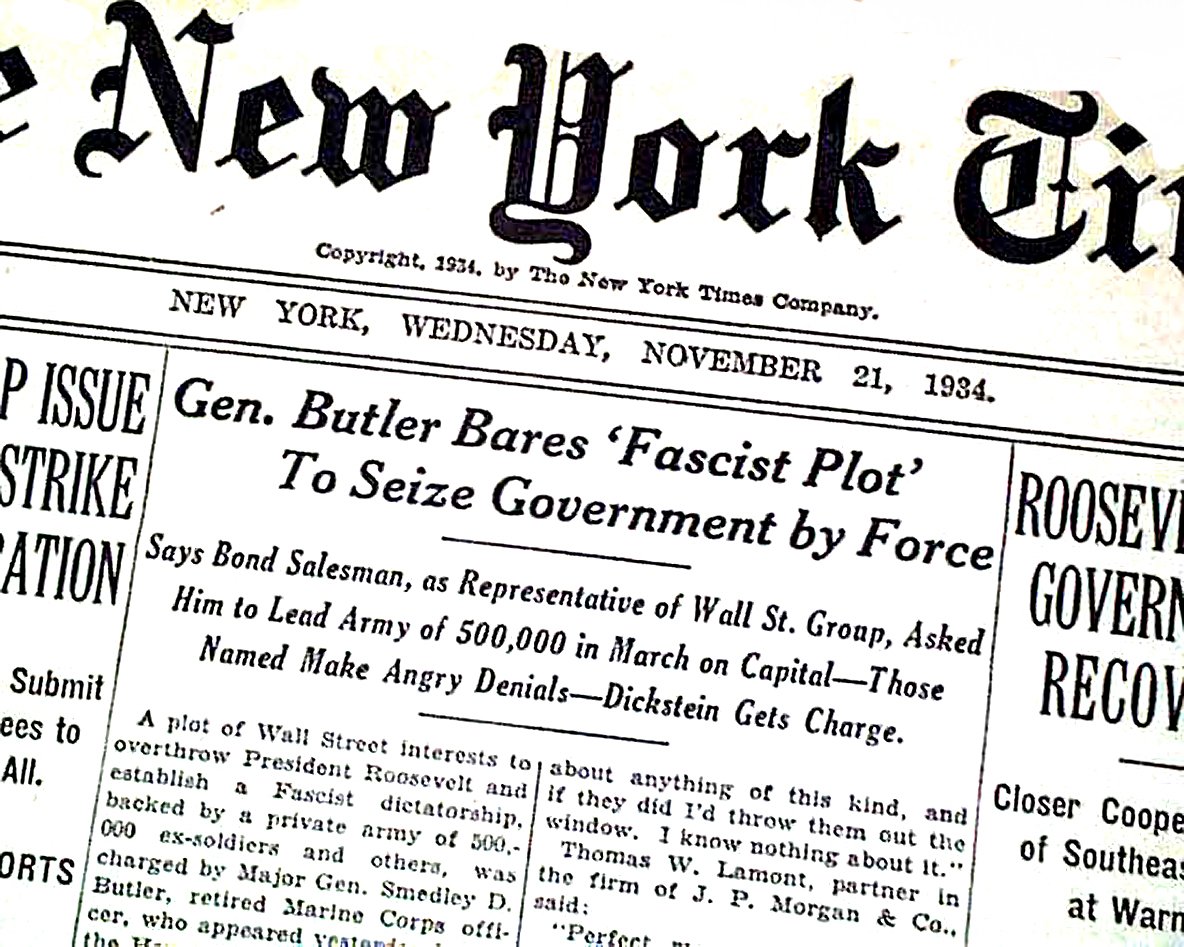 Gerald "Jerry" MacGuire, himself a World War I veteran, commander of the American Legion's Connecticut division, and a Wall Street bond salesman, attempted to recruit Butler. MacGuire first disguised his intentions, leading Butler to believe he simply wanted Butler's support regarding veterans' issues. He showed Butler bank statements of $100,000 (equivalent to $2 million today) he could use to bring veterans to an American Legion convention in Chicago.
In following meetings, however, the focus shifted to a negative view of FDR's separation from the gold standard. There was also concern over FDR's New Deal policies surrounding relief for the poor and unemployed and reform of the financial system.
Only later did MacGuire reveal the most appalling part of the plan: to have Butler lead an army of veterans as part of a coup d'état against the White House. This would become known as "The Business Plot."
MacGuire told Butler about a group of elites backing the outlandish proposal, including Robert Sterling Clark, the "millionaire lieutenant" with a $30 million net worth derived from the Singer sewing machine; Grayson M.P. Murphy, a private banker, co-founder of the American Legion, and recipient of the Order of the Crown of Italy from Fascist Prime Minister Benito Mussolini; and Prescott Bush, Wall Street executive and the father and grandfather of two American presidents.
They planned to acquire the arms and ammunition needed to install a new government through the Remington Arms Co., in which the prominent du Pont family held a controlling interest.
Butler contacted Paul Comly French, a reporter for the Philadelphia Record, to act as a second witness to MacGuire's bold claims. MacGuire asked Butler once more if he had decided to join their march on Washington, to which Butler bluntly replied, "If you get 500,000 soldiers advocating for anything smelling of Fascism, I am going to get 500,000 more and lick the hell out of you, and we will have a real war right here at home."
Butler took his intelligence first to J. Edgar Hoover, the director of the FBI, and then to Congress to testify under oath before the McCormack-Dickstein Committee, later called the House of Representatives' Committee on Un-American Activities.
"In the last few weeks of the committee's official life it received evidence showing that certain persons had made an attempt to establish a fascist organization in this country," read the official report of the committee, according to the BBC. "There is no question that these attempts were discussed, were planned, and might have been placed in execution, when and if the financial backers deemed it expedient."
Despite the evidence presented that cast some of America's wealthiest citizens as traitors in a scandalous betrayal, no charges were filed. Any pressure Butler might have expected from investigative reporters never came to be because the facts were too preposterous. In addition, FDR himself intervened to suppress transcripts of the hearings from the public; they remained hidden for some 30 years.
Butler famously authored the book War Is a Racket, published in 1935, which further exposed businesses, banks, and war profiteers.
"I spent 33 years and four months in active military service and during that period I spent most of my time as a high class muscle man for Big Business, for Wall Street and the Bankers," he writes in his book. "In short, I was a racketeer, a gangster for capitalism. I helped make Mexico and especially Tampico safe for American oil interests in 1914. I helped make Haiti and Cuba a decent place for National City Bank Boys to collect revenues in.
"I helped in the raping of half a dozen Central American republics for the benefit of Wall Street. I helped purify Nicaragua for the International Banking House of Brown Brothers in 1902-1912. I brought light to the Dominican Republic for the American sugar interests in 1916. I helped make Honduras right for the American fruit companies in 1903. In China in 1927 I helped see to it that Standard Oil went on its way unmolested. Looking back on it, I might have given Al Capone a few hints. The best he could do was to operate his racket in three districts. I operated on three continents."
The Business Plot didn't progress beyond the stage of discussion, yet the machinations of America's most powerful and influential business titans remain as relevant and alarming today as nearly a century ago.