ARLINGTON, VIRGINIA — A leaked memo from the U.S. Department of Defense revealed that the much-anticipated U.S. Space Force has officially started to fill their ranks. According to the memo, the recruiting effort for the controversial new military branch has been focused on attracting former enlisted military veterans for the highly anticipated space shuttle door gunner positions.
Military occupational specialty (MOS) 1776X — Space Shuttle Door Gunner doesn't appear to come with an enlistment bonus, but according to a very non-scientific poll of current and former servicemembers, they generally "don't give a fuck." This is probably because the job is expected to be significantly more awesome than anything previously available in the military, but definitely not because enlisted servicemembers have reckless financial habits and would just blow the money on strippers and used Ford Mustangs anyway.
One senior defense official — who definitely does not have ties to the aerospace industry — was quick to defend the need for Space Force in general and space shuttle door gunners in particular.
"Look, our crooked congress won't fund a wall around the world, so we can't delay on the Space Force initiative. We got space ISIS and space communists roaming around the galaxy as we speak. They could strike at any moment. We need these space shuttle door gunners now more than ever!"
The official, who agreed to speak off the record because that's what DoD officials do, explained what he's looking for in future space shuttle door gunners: "I want the saltiest, most disgruntled, non-adjusted, dip-spitting vets out there to raise their right hands one more time, strap on their space boots, and go kill space commies for God and country!"
He clarified that under no circumstance does he want females to apply for the position, because "it's spaceMAN, not spaceWOMAN!"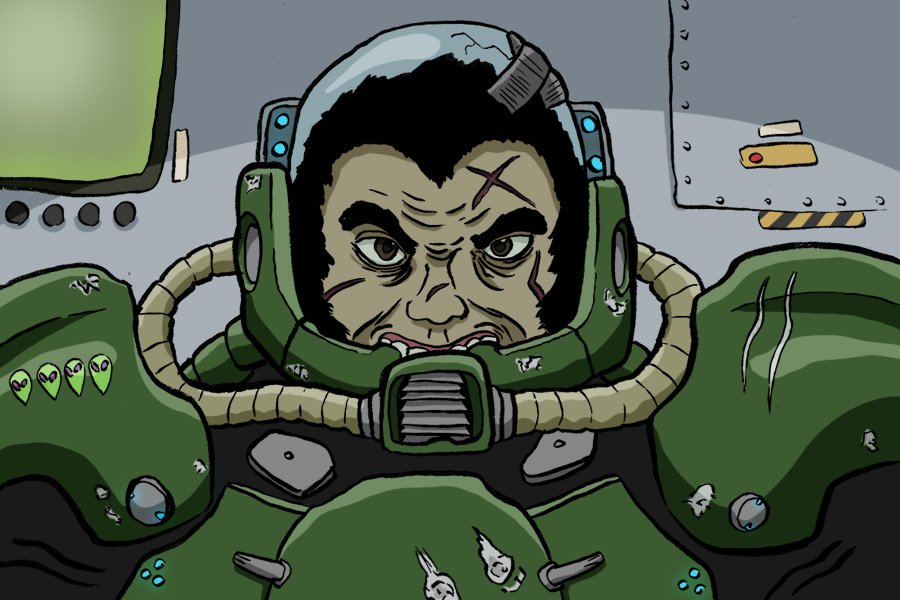 The military recruiters who have been assigned to this new effort have been pulled from the best of the best of all four legacy military branches (according to everyone we asked, Coast Guard doesn't count). Their mission is simple: scrub the database for prior-service veterans and tell them whatever they want to hear, so long as they sign up again.
"You'd think they woulda learned their lesson the first time," said Army recruiting Staff Sgt. Greg Kowalski, while eating an entire Six-Pack and A Pound from Taco Johns. "But here we are again, telling them it's gonna be nothing but guts and glory, and I guarantee as soon as they make it out to the space fleet they're gonna be doin' nothin' but cleaning the space barracks and getting sent out to paint space rocks."
It's unclear why Staff Sgt. Kowalski continues to cold call 16-year-old high school girls for appointments.
Some of the initial volunteers are looking forward to the opportunities inherent in joining Space Force.
"I've shammed at Fort Benning, Fort Bragg, Iraq, and Afghanistan," said 27-year-old former cavalry scout Spc. Chad Simmons — one of the first "spacemen" to enlist as a space shuttle door gunner.
"And now I'm gonna be one of the first E-4s to sham in space. This is a new frontier in the art of military shamming — if I don't take advantage, I'll be letting down the elite ranks of the E-4 Mafia all over the world."
The interview was cut short because Simmons had a "dental appointment I really can't miss."
He was later seen sleeping in his car, just off post.
Editor's note: Just in case you haven't figured it out, this is a satire article and is in no way meant to be an accurate depiction of actual events.