Adding alcohol to coffee is often enough to draw any connoisseur's curiosity. But if you add fire to the equation, well, now you have their attention.
While many flaming cocktails are more about novelty than taste, Spanish coffee is a fiery concoction that hit the sweet spot in American palates when it was introduced in Portland, Oregon, in the 1970s by James Louie, co-owner of Huber's Cafe — Portland's oldest restaurant. In spite of the name, the beverage has a long history that sprawls across North America.
Louie developed his beverage after seeing a similar cocktail made at the Fernwood Inn in Milwaukie, Oregon, just south of Portland. Believing he'd appropriated the drink from the Fernwood Inn, Louie asked Inn owner Horst Zwicker for forgiveness, only to discover the concept had been taken from a restaurant in Mexico.
More than anything, the drink seems to share roots with the carajillo, a hot coffee cocktail popular in Spain and Latin America. Variations of the carajillo use different liquor and coffee combinations. In Spain and some South American countries, Brandy is often the liquor of choice for the hot cocktail. In Mexico, Licor 43, mezcal, or coffee liqueur are common pairings. Other variations call for rum, bourbon, and Cardamaro. Varying regions also use different degrees of heat to achieve their desired result.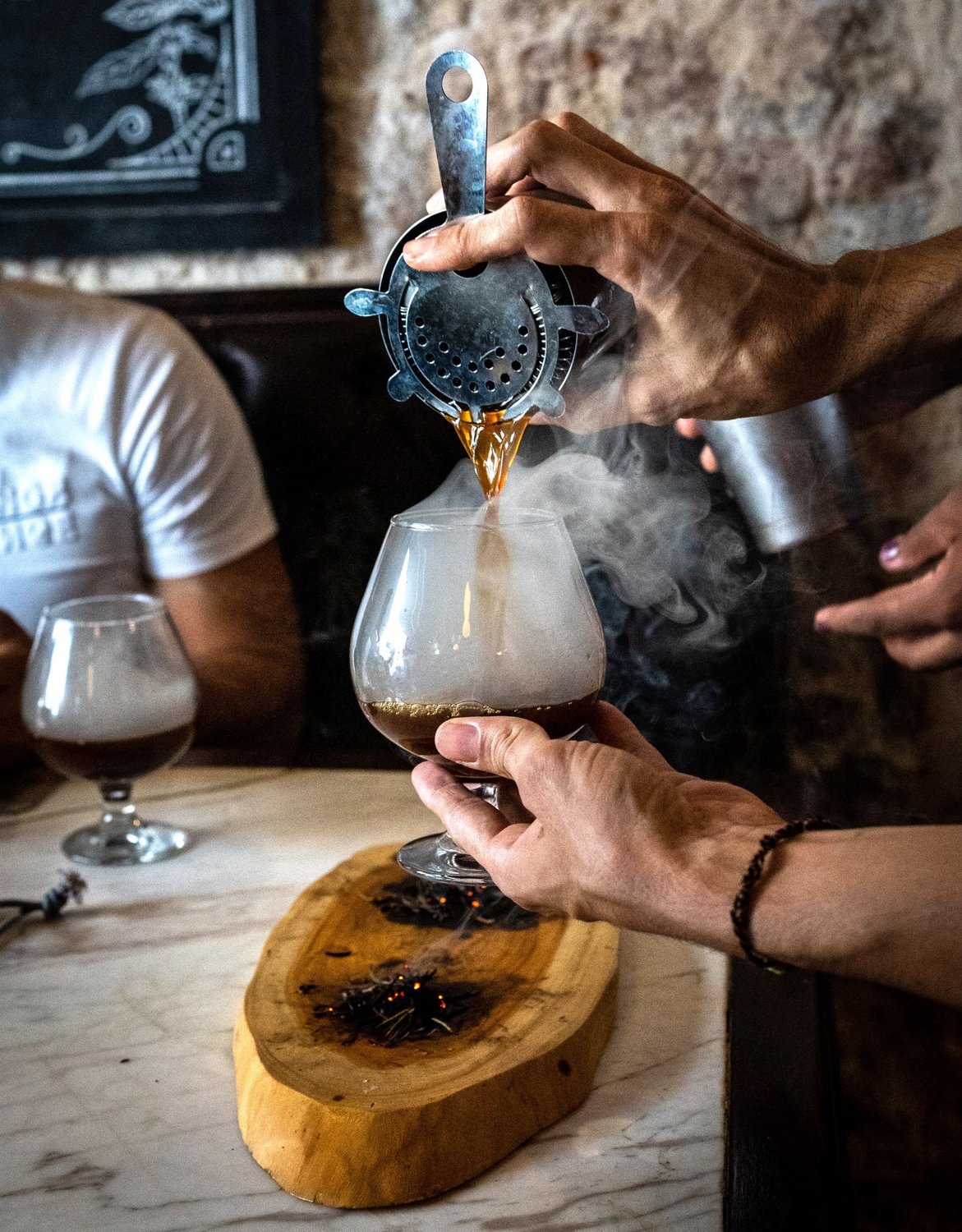 At Huber's in Portland, Louie developed his flaming Spanish coffee cocktail with the goal of creating an immersive spectacle for patrons who ordered the drink. Bartenders prepare the restaurant's now famous cocktail in front of patrons, rimming a glass with sugar and pouring 151-proof rum in impressively ostentatious arcs. Using a match lit with one hand, the preparer lights the rum on fire, letting it caramelize the sugar. Coffee, Kahlua, and triple sec are then added to extinguish the flame, and the drink is topped with whipped cream and nutmeg.
"We basically wanted to create a theatrical presentation of a cocktail," Louie told Coffee or Die Magazine recently. "A lot of bartenders are showmen, and great ones at that. It's far from easy to be working with a flame on a crowded floor every night, but we've been doing this for 46 years, and we've had no injuries."
Louie says Huber's immaculate and entertaining table-side service and its cocktail's enhanced flavor profile are the factors that set Huber's Spanish coffee apart from other flaming coffee beverages.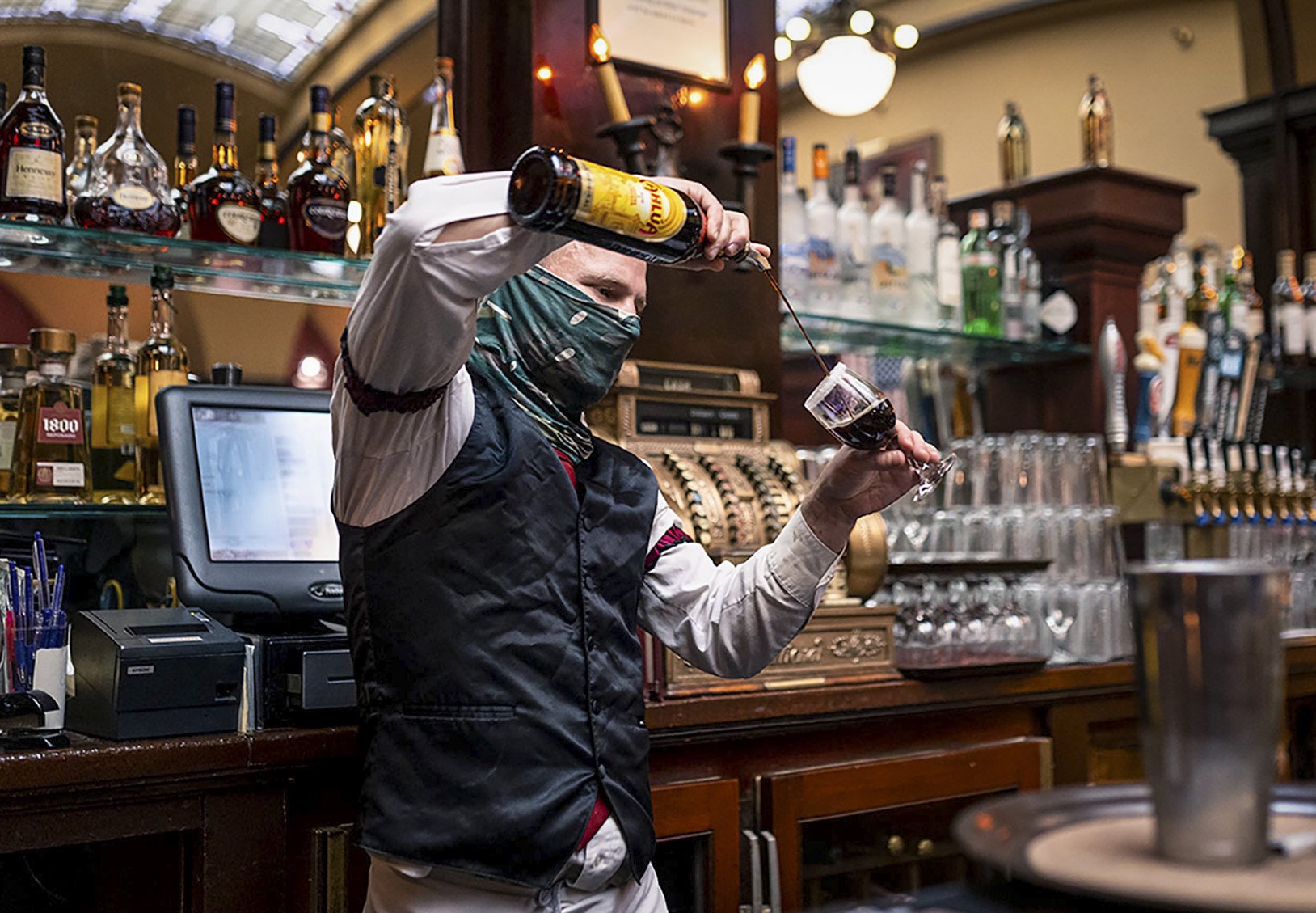 "Initially, the Spanish coffee had no nutmeg or triple sec, so we made those additions," he said. "Then it was about lighting the match with one hand, and lastly, Alex started doing two at a time."
As a customer at Huber's, Alex Perez, who was working as a server at another business, told Louie he wanted to give him some competition in serving Spanish coffees. Louie hired Perez, who took the restaurant's signature spectacle to the next level.
"He was the one that pioneered making multiple Spanish coffees at once," Louie said. "I refer to him as the Baryshnikov of Spanish Coffee making. He was poetry in motion, and all of our current bartenders patterned their presentation after him."
Huber's cocktail and the theatrics that come with it are extremely popular with restaurant patrons, and Huber's now offers an iced version of its Spanish coffee during summer months.
"I've brought all my friends to Huber's just to have a Spanish coffee," a longtime Portland resident named Carol told Coffee or Die. "They don't even have to like coffee. It's just so much fun to watch."
Louie says the entertaining spectacle his patrons know and love today has been highly refined over the years.
"At first, I tried to train our waiters to make Spanish coffees, but because they were often afraid of getting burned, I ended up making them all myself," Louie said.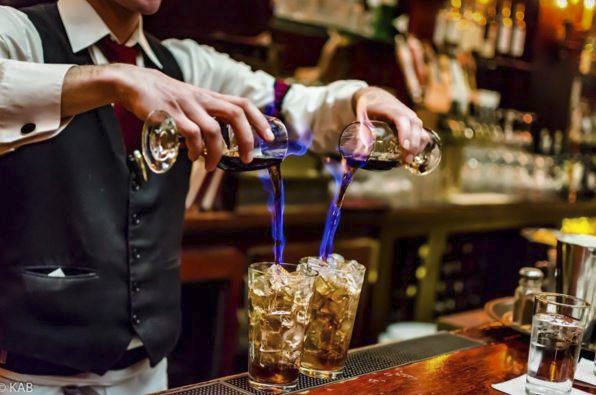 For those looking to recreate the drink at home, Louie offered some tips to ensure a safe and smooth experience.
While Huber's cocktail uses 151 rum, any aged or high-proof rum can do the trick. Dark rum will offer a more caramelized flavor, but a light rum will offer a crisper finish and lighter mouthfeel. Spanish coffee lives and dies by the warmth and sweetness created by its blaze, so lemon and sugar are absolute necessities for rimming the glass and creating that thick band of glassy sugar associated with the drink.
Setting the rum on fire mellows the alcohol while caramelizing additional sugars to create the rich flavor and signature profile of the classic drink, but Louie advises caution, as kitchen flames can be unpredictable. While it may seem intuitive to opt for flame-resistant glass, Louie says that may not be the safest approach.
"The thing about tempered glasses is that you get to a certain temperature and it shatters, whereas untempered glass only cracks, so we found that to be a little safer," Louie said. "Additionally, we found that glasses that are too thick retain more heat and will also shatter when the coffee is added and the drink is cooled down."
With this warning in mind, there are two preferred methods for lighting the rum. Louie's method calls for a match lit with a single hand, which can be a little unruly. Those seeking a less technical approach can use a butane kitchen torch, but the torch should be kept at least three inches from the liquor to minimize butane deposits, which can ruin the flavor of the alcohol.
Of course, Spanish coffee — or some variation of it — is now a popular cocktail offered at bars and restaurants all over the world, but if you want the wholly unique experience made famous by James Louie, you'll have to visit Portland's oldest restaurant.
Read Next: