This week, Super Coffee, one of the biggest bottled coffee brands in the US, announced two-time Olympic medalist Gabby Thomas was joining the brand's team of athletic superstar endorsers. Thomas was appointed Super Coffee's health and wellness advocate and joined an impressive lineup of A-list celebrities spreading the word on removing sugar from the American diet.
The announcement was made at Faneuil Hall in Boston, Massachusetts — Thomas' home state. The event also paid homage to the Olympic athlete's time spent at Harvard University, where she studied neurobiology and global health.
"Years ago I started drinking Super Coffee before training sessions, so when the opportunity presented itself to be a part of the brand in a bigger way, I ran to it, pun intended," Thomas said in a press release. "I felt an instant connection to the DeCicco brothers' story of wanting to create a good for you coffee drink with zero added sugar because the options they were left to turn to also before 5 am practices were filled with sugar. As an athlete with a background in public health, helping guide Super Coffee's fight against sugar in the right direction is an honor."
The Olympic track-and-field athlete will travel across the country to educate the next generation of consumers about the dangerous health effects of sugar. A study published by the Centers for Disease Control and Prevention found that, on average, 63% of American children and some 49% of adults drank at least one sugar-sweetened beverage a day between 2011 and 2014.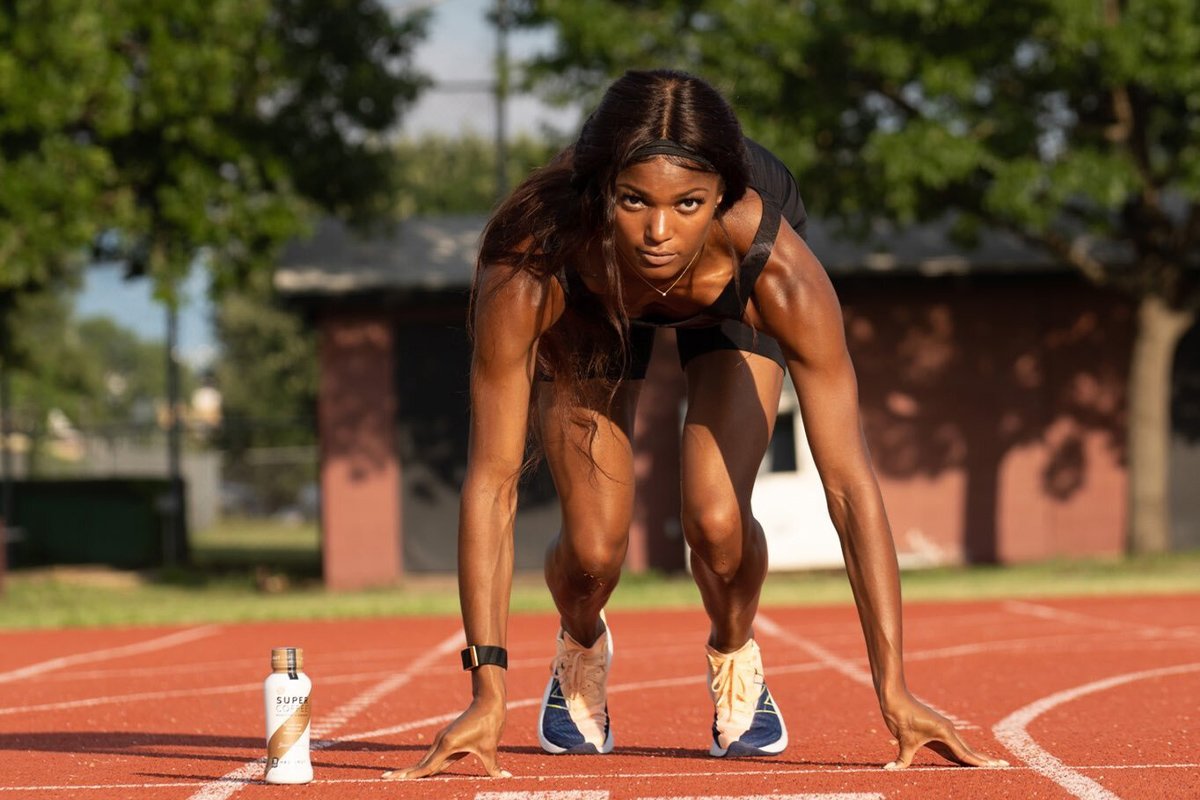 "Gabby Thomas is a living embodiment of our brand," Jimmy DeCicco, CEO of Super Coffee, said in a release. "At Super Coffee, we embrace a 'yes, and' attitude: yes it is coffee, AND protein, AND healthy fats, etc. Yes, Gabby is a Harvard grad/epidemiologist, AND a public health advocate, AND an Olympic medalist, AND she's just getting started."
According to the company's website, Super Coffee exists to help people create positive change by making enhanced coffee products that are fortified with vitamins and antioxidants and that boost energy without added sugar. Super Coffee offers 30 products that are naturally sweetened with monk fruit and contain medium-chain triglycerides and L-theanine for easing stress. According to Inc., Super Coffee was the fastest-growing private food and beverage company of 2020.
The company's lineup of products includes ready-to-drink beverages, creamers, espresso, cold brew, pods, grounds, and a plant-based line, as well as coffee subscription services. Thomas adds to the company's growing roster of athlete and celebrity supporters, which includes Alex Rodriguez, Jennifer Lopez, Kevin Hart, Amy Jo Martin, Aaron Rodgers, Patrick Schwarzenegger, Baron Davis, and Boomer Esiason.
Read Next: