Often dubbed "Mexican Halloween" for its colorful decorations and use of sugary sweets, Dia de los Muertos, or Day of the Dead, is specifically dedicated to honoring one's dead relatives. Throughout Mexico, ancestors are celebrated with offerings of food and calaveras, or brilliantly decorated skulls made of sugar. To properly honor this Mexican holiday, we're getting our coffee inspiration from one of the nation's most popular desserts: tres leches cake.
If you've had tres leches cake from your local cafe or at a friend's birthday party, you know it is a particularly moist cake. This dessert derives its richness from a milk mixture made of (you guessed it) three milks, or tres leches. Traditionally, the cake is made and soaked in a mixture of cream, evaporated milk, and condensed milk.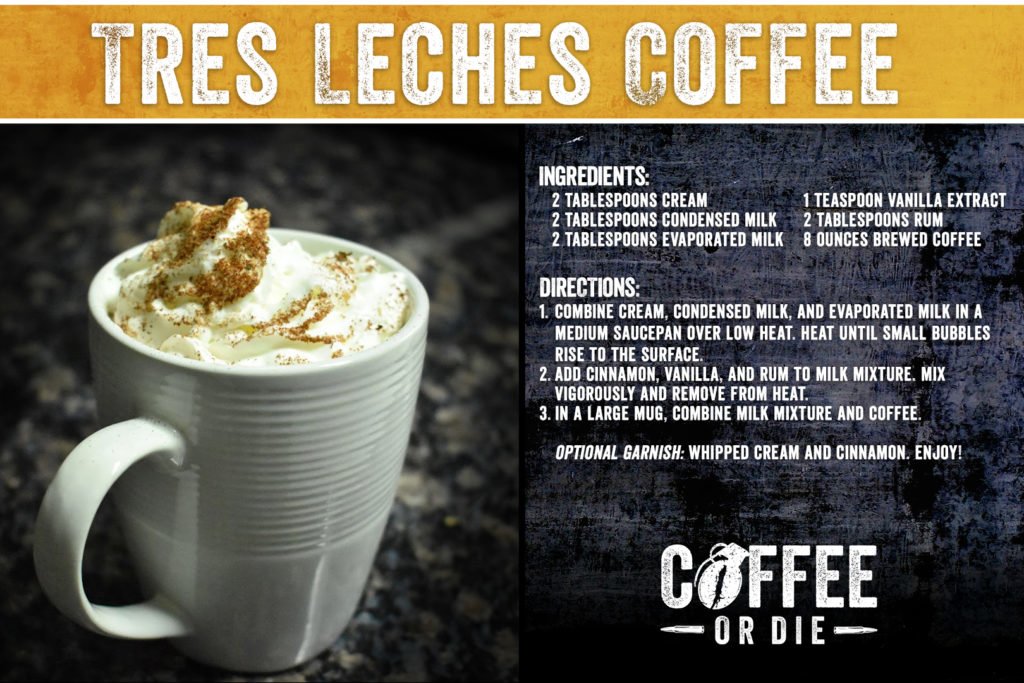 We'll be employing that concept to flavor our coffee today. Combining our three milks with vanilla, cinnamon, and rum, this cup of Tres Leches Coffee has all the elements of the dessert we love without losing the essence of our coffee. Rum adds a sweet, warm depth to balance the bitterness of the coffee and richness of the cream.
Combining the cream, evaporated milk, and condensed milk over the stovetop helps dissolve and thin out the condensed milk so that it properly combines with the other two. After little bubbles start to form, whisk in the rum, ground cinnamon, and vanilla. Remove from heat and add it to your favorite brewed coffee.