Operating undercover as an Allied spy was stressful work. They disguised themselves as ordinary citizens, developing false identities, documents, and cover stories while building trust amongst networks forged in secrecy through shared misery and purpose. And they did all of this under constant threat of being discovered by French double agents, Nazi sympathizers, or the Gestapo. Many were caught and executed by shooting or by hanging.
The members of the French Resistance, Special Operations Executive (SOE), and the Office of Strategic Services (OSS) fought sophisticated and complex battles that turned the tide in World War II. One of their most notorious operatives was Virginia Hall Goillot.
Hall served more than 20 years with the SOE, OSS, and CIA. Her compatriots in the French Resistance referred to her as La Dame Qui Boite, the lady who limps. The nickname was later uttered by the Gestapo in whispers about her successes against them. However, fascination and intrigue were all that materialized — she was never apprehended by those who pursued her. Even after her historic career, she rarely talked about her experience because "too many of my friends were killed because they talked too much."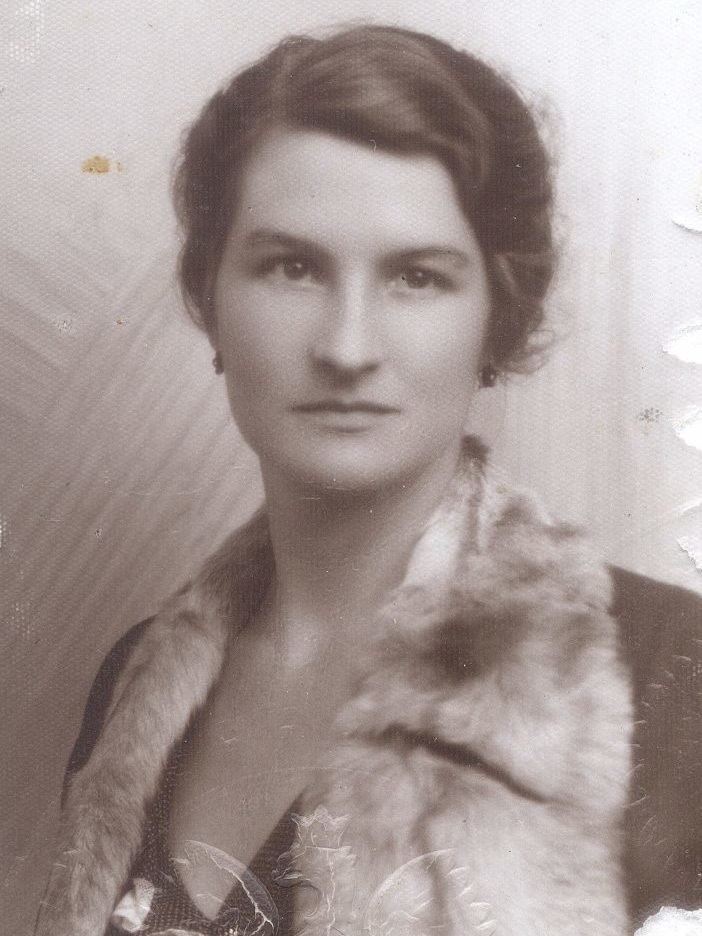 Hall's journey into the U.S. Foreign Service was not straightforward. She failed two entry exams in December 1929 and July 1930. She decided to pad her resume with overseas travel and experience that proved she could think rationally during volatile situations. Her admiration and skill for French, German, and Italian languages enabled her to receive an education and mingle within the culture in cities like Paris and Vienna.
Hall eventually earned a spot as an unconventional candidate for an elite intelligence and paramilitary unit across the pond. It may not seem important on the surface, but knowing the names of streets, locations, and landmarks without the use of a map are vital in establishing a network of contacts. Shortcuts, locals-only spots, and fieldcraft used by natives are crucial for a spy to retain cover. Even subtle movements, such as turning one's head to the left instead of the right while crossing the street, could draw attention and give away the spy's intent. These subliminal lessons and encounters would prove very useful during her career.
Hall was fitted for a wooden prosthetic, which she named Cuthbert, and added the setback as a positive focal point in her mystique.
Hall's first overseas assignment brought her to the American Embassy in Warsaw, Poland. The pay wasn't much — she earned $2,500 salary a year as a consular clerk — but the job brought her one step closer to achieving her goal of becoming a Foreign Service Officer (FSO). This two-year assignment gave her insight into the world of diplomacy but didn't make her feel as though she was making a substantial difference. Hall eventually transferred to the coastal port city of Izmir (then Smyrna), Turkey to work for the U.S. Consulate.
During a hunting trip on Dec. 8, 1933, her dreams of working for the U.S. Foreign Service were shattered when a shotgun slipped from her grasp. She reached for the weapon but hit the trigger and fired into her left foot. The wound damaged the tissue in her leg beyond repair, so a surgeon from Istanbul had to amputate below the knee. Hall was fitted for a wooden prosthetic, which she named Cuthbert, and added the setback as a positive focal point in her mystique.
Unfortunately, that mystique didn't change the minds of the Foreign Service, who rejected her a third time for the FSO position, citing that recruits had to be "able-bodied." The odds were already stacked against her: the Foreign Service culture had yet to evolve, and there were only six women among the 1,500 FSOs in 1937. Hall ultimately decided to leave the Foreign Service and move to France for an ambulance driving position with the Services Sanitaires de L'Armee.
Many wondered about the woman with the limp handling first-aid for those wounded by the Germans during the "Phony War," a term journalists adopted to describe the lack of armed conflict. When Germany occupied France in June 1940, she left the ambulance service and traveled through neutral Spain en route to England.
Betty McIntosh, an OSS veteran and author of "Women of the OSS: Sisterhood of Spies," writes that Hall obtained a job as a code clerk for a military attaché in the U.S. Embassy. The British SOE recruited her into their ranks by the end of 1940.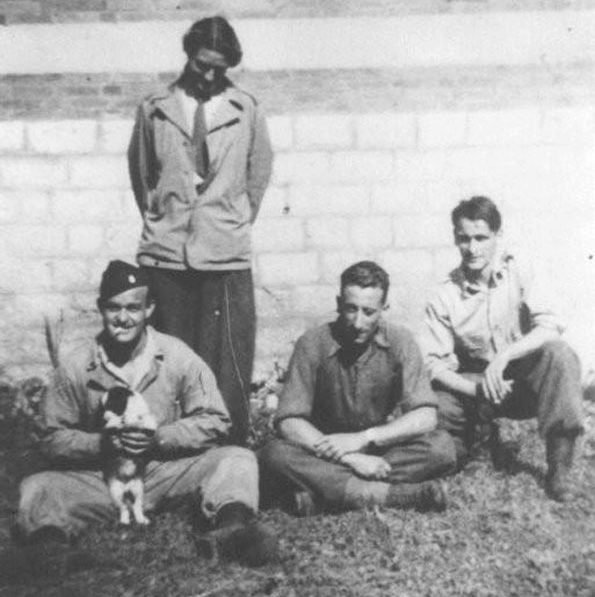 The SOE had a legendary reputation among intelligence and resistance circles. The majority of SOE officers underwent training in tradecraft basics they were expected to use: weapons handling, sabotage, communications, surveillance, security, and subversion. Hall's physical disability limited her training in guerilla warfare but didn't limit her effectiveness to plan paramilitary operations, where she used her exceedingly capable teams to execute missions.
"Hall became the first woman in SOE to establish resistance networks out of Vichy, France, beginning in August 1941," McIntosh writes. Hall worked under General Maurice Buckmaster, the head of (F) Section, comprised of more than 400 officers — General Dwight D. Eisenhower commented that "it was equivalent to 15 divisions" — and it helped shorten the war's length by six months.
As with any good spy, cover stories are essential to not only avoid foreign adversaries, but also to maintain secrecy amongst peers in the event they are captured. Real names, real home addresses, and real occupations put people and families at risk for mass reprisals from the Germans. Interrogation and torture were the Gestapo's norm, and spirits were often broken. Hall's cover as a French-American stringer for the New York Post allowed her reports to be published uncensored because, at that time, the U.S. was still a neutral nation in the war. Her byline, Brigitte LeContre, became her public persona, while her reports to the SOE were delivered under several codenames throughout the war, including Marie Monin, Diane, Germaine, and Nicolas.
When France was on the verge of falling to the Germans, Hall was ordered to leave. She hired a Spanish guide and journeyed on foot over the snow-covered Pyrenees mountain range…
Hall was tasked with assisting escaped prisoners of war (POWs) and downed airmen after her contacts in the French Resistance in Paris received her messages. The years she spent in France before the war benefited her greatly as she influenced French citizens, both men and women, to cooperate and establish safe houses. She ran these missions from Vichy to her apartment at 3 Place Olliers in Lyon. In the streets, she frequented restaurants and familiar bouchons where she exchanged messages between her assets. She continued her cover on the side and reported on the deteriorating conditions of civilian life due to the war.
In a wire story to the New York Post dated Sept. 4, 1941, she wrote: "The years have rolled back here in Vichy. There are no taxis at the station, only half a dozen buses and a few one-horse shays. I took a bus using gazogene, charcoal instead of gas, to my hotel. Vichy is a tiny town used once by summer visitors to take the cure. It is an infinitesimally small place to accommodate the government of France and the French Empire which has commandeered most of the hotels."
When France was on the verge of falling to the Germans, Hall was ordered to leave. She hired a Spanish guide and journeyed on foot over the snow-covered Pyrenees mountain range with two Frenchman and a Belgian army captain. She transmitted a message to London that said, "Cuthbert is giving me trouble, but I can cope." Her message was received, and an unknown staffer replied, "If Cuthbert is giving you trouble, have him eliminated."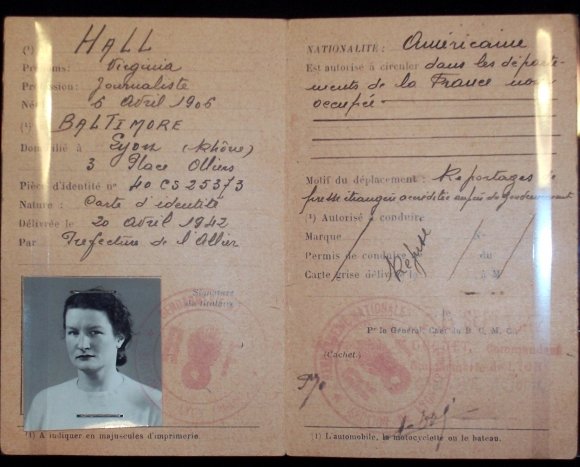 When traveling, especially during wartime in Europe, proper documents were scrutinized, but since they didn't carry any, they were arrested and imprisoned on the border in the town of San Juan de las Abadesses. Hall befriended a Spanish prostitute, instructed her to smuggle a letter to the American consulate in Barcelona, and waited.
Upon her release weeks later, Hall was assigned to D/F Section of the SOE in Madrid, which is well-known for their escape and evasion practices. She acted as a courier running important people between safe houses, created lasting contacts, and assumed a new cover as a reporter for the Chicago Times. McIntosh stated that Hall sent a letter to headquarters describing her displeasure in the new role: "I thought I could help in Spain, but I'm not doing a job. I am living pleasantly and wasting time. It isn't worthwhile and after all, my neck is my own. If I am willing to get a crick in it, I think that's my prerogative."
Hall's intentions were to make an impact on the warfront and evolve with each new role. Her contacts proved to be a solution to her demands. An American named William Grell, a seasoned OSS captain who made history as the first American assigned to work alongside SOE forces, befriended her.
"I have always had the greatest respect for that lady. Her courage knew no bounds."
"We were working with an unusual type of individual," Grell said, recalling the nature of supply drops across France. "Many had natures that fed on danger and excitement. It was not unusual to find a good measure of temper thrown in."
Hall informed Grell of her intention to become a wireless operator, and he decided to help her make the transition into the OSS.
William Temple Hornaday II — a lifetime public servant of the OSS, CIA, and FBI whose father was the founder of the American conservation movement — remembered Hall's fierce professionalism, mastery of radio transmission procedures, and steadfast commitment to improve her skill set. She even studied how to pack parachutes.
"She was just back from Spain for SOE briefings," Hornaday said. "She sometimes carried her detachable brass foot in a pack or leg bag. I have always had the greatest respect for that lady. Her courage knew no bounds."
Working in disguise for the OSS, she relocated often, assumed new aliases, and utilized tactics specific to her character. As D-Day approached, Gestapo and Nazi sympathizers hunted for suspected spies, and she was their most prized. Hall assumed the identity of a milkmaid, wore old, frail clothes, and dyed gray her naturally brown hair. Her normal duties as a farmer were furtive during the day, and at night she ran resistance missions. Sometimes the meetings were to exchange German troop movements and information, others included air drops to the Maquis. In order to hide the evidence of the drops from nearby surveillance teams, Hall concealed the parachutes in a donkey cart and handled the supplies.
A month after the Allies launched D-Day, Hall moved to establish a resistance force in Le Chambon-sur-Lignon, a remote region surrounded by farms, forests, and mountains. Allied pilots often missed their designated areas because of the terrain. Hall became the forward air controller of her time and reported back to London. Edmund Lebrat, a member of her team, took an old bicycle and jerry-rigged it to turn an electric generator to power her radio. Through codes, like les marguerites fleuriront ce soir ("the daisies will bloom tonight"), she was able to schedule more accurate airdrops.
"My life in Haute-Loire was different and difficult," she said. "I spent my time looking for fields for receptions, bicycling up and down mountains, checking drop zones, visiting various contacts, doing my wireless transmissions and then spending the nights out waiting, for the most part in vain, for the deliveries."
The Allied invasion of southern France on August 15 during Operation Anvil-Dragoon reinforced efforts to Hall's position. Two Americans and one French officer from an OSS Jedburgh team organized sabotage operations to be carried out by three battalions of the Forces Francaises d'Interieur. Their successes resulted in four destroyed bridges, derailed trains, the cutting of strategic lines of communications, and the capture of more than 500 German soldiers.
Hall worked with the OSS until the war's end, met her future husband — fellow OSS veteran Paul Goillot — and served with the Central Intelligence Group before it merged into the CIA in 1947. William Donovan, the head of the OSS, and President Harry Truman awarded her the Distinguished Service Cross, making her the only woman in World War II to earn the honor.
McIntosh writes that Hall worked in the National Committee of Free Europe, a CIA front organization responsible for interviewing refugees from Baltic nations and issuing propaganda in direct support of resistance forces that operated there.
Hall was a "gung-ho lady left over from the OSS days overseas," said CIA official Angus Thuermer. "Young women in sweater sets and pearls listened raptly to Virginia Hall gas with muscular paramilitary officers who would stop by her desk to tell war stories."
In 1966, at the age of 60, Hall accepted her mandatory retirement. On March 21, 2018, U.S. Congress awarded the OSS the Congressional Gold Medal, the highest civilian honor. Inscribed on the coin is "Cuthbert," which pays homage to "the limping lady," the most decorated female civilian of World War II. The OSS Society, which helped bring the medal to fruition, exists to preserve the memory of their historic accomplishments.