South Vietnamese air force pilot Maj. Buang-Ly (sometimes spelled Buong Le or Bung) and his family raced to the runway on Con Son Island in South Vietnam. It was April 30, 1975, and the US military was in the midst of Operation Frequent Wind, the mass helicopter evacuation of some 7,000 Americans and "at risk" South Vietnamese under threat of being overrun in the capital city of Saigon.
The operation, since labeled as the largest helicopter and humanitarian evacuation in US military history, had not planned on the arrival of desperate South Vietnamese pilots and their families who, like Afghan contractors today, faced persecution and death if they did not flee with American forces. When aircraft filled the space aboard the USS Midway, $10 million worth of helicopters would be pushed over the side and into the South China Sea.
With his family anxiously waiting, Buang-Ly hot-wired a Cessna O-1 Bird Dog, a tiny two-seat plane. Buang-Ly, his wife, and their five young children squeezed inside. Once airborne, he pointed the plane toward the vast South China Sea in an attempt to locate Task Force 76 of the US fleet. Despite being shot at and running low on fuel, the South Vietnamese pilot located the USS Midway, one of the busiest airports at sea.
"At one point we counted twenty-six Hueys circling around the ship," recalled Vern Jumper, the air boss on the USS Midway responsible for all flight operations, "and not one had radio contact."
With no other way to contact the ship, Buang-Ly scribbled a message on a scrap of paper and released it in a low and slow pass over the Midway's deck. But wind picked up and blew his message overboard. After several unsuccessful attempts to deliver a message, Buang-Ly thought of a sure way to show the Americans below he meant no harm but did intend to land: He dropped a leather pistol holster onto the deck. One of the sailors opened the holster to reveal a message: "Can you move these Helicopter to the other side, I can land on your runway, I can fly 1 hour more, we have enough time to mouve. Please rescue me. Major Bung, wife and 5 child."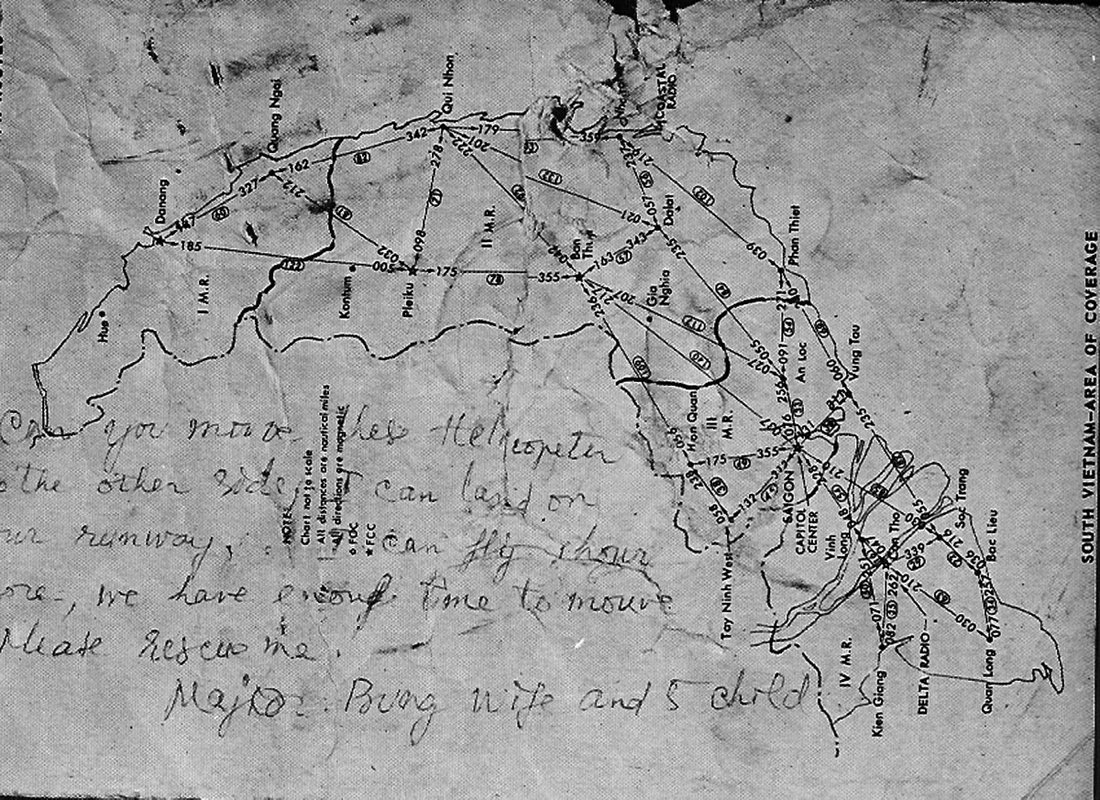 Midway's captain, Larry Chambers, ordered helicopters pushed overboard to make room.
"We pushed over the side four Huey helicopters and one Chinook," Jumper said. "He made a couple of low passes just looking at the deck and on his third pass he made a beautiful carrier landing."
Buang-Ly and his family's escape to the Midway is just one story of the thousands who flew and floated to rescue during Operation Frequent Wind. In 2014, Buang-Ly and his family were presented with a replica model of his airplane at the Sun 'n Fun International Fly-In & Expo in Lakeland, Florida, in honor of his courageous flight.
Read Next: